Monday, December 10, 2012
When Life Gives You Lemons...
Categories: Arts & Culture
"It's like there's this whole group of us - people you'd think would be doing better but for whatever reasons aren't - and we're all kind of invisible. We have jobs. We're educated. We talk intelligently. We know the right things to want, to aspire to. We just can't get there ourselves." - Elyse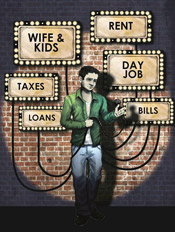 Ever hear the one about the struggling comedian and his garbage-sculpting wife? They strive for the American Dream while struggling to pay their bills, escape eviction and cope with friends who increasingly seem like strangers. Life, they tell their kids, is sort of like Dad's monologues: no matter how fearlessly you struggle, you're only as good as your punch line. "I'm trying to teach my kids how to be funny so they know how to joke when things don't work out," Gus says.
LEMONADE will make you laugh. Gus is a seasoned stand-up comedian who tells great jokes. But he's also honest; he talks about the things most people don't like to talk about: money, bills, debt, eviction. Good things should happen to good people who work hard, but no matter how hard Gus and Elyse work, the American Dream still eludes them. While the jokes are funny, reality is sometime sobering.
This is one of my favorite BPP shows. The heavy material is tempered with some really funny moments. Daniel J. Petrie delivers jokes like a pro and Riley Paulin has a line about poop that made me almost fall out of my seat. Who doesn't love a good poop joke?
LEMONADE by Mark Krause is showing at the Bloomington Playwrights Project through December 15th. Visit newplays.org for dates, times and tickets.
---
Special thanks to our guest blogger for today, Jessica Reed. Jessica is the managing director at the Bloomington Playwrights Project, Indiana's only professional theatre company dedicated to producing new, never-before-seen plays.