Tuesday, January 18, 2022
Where to Take Engagement Photos in Bloomington
Categories: Wedding & Event Planning
One of the most fun aspects of being engaged is planning your engagement photoshoot, and Bloomington is the perfect destination for those coveted prenuptial pics. As a city that skillfully balances historical beauty, modern advancements, and sprawling nature scenes, there are many options for shoot locations, depending on the look and feel you're after. 
 
Downtown Bloomington
Within downtown itself, there are a lot of directions you could go in for photo locations. Fountain Square Mall's famous pink wall is a popular backdrop, offering an elegant and simple aesthetic that puts the visual focus on you. There are also several coffee shops in the area that make for cozy and intimate engagement photos — The Inkwell is a favorite.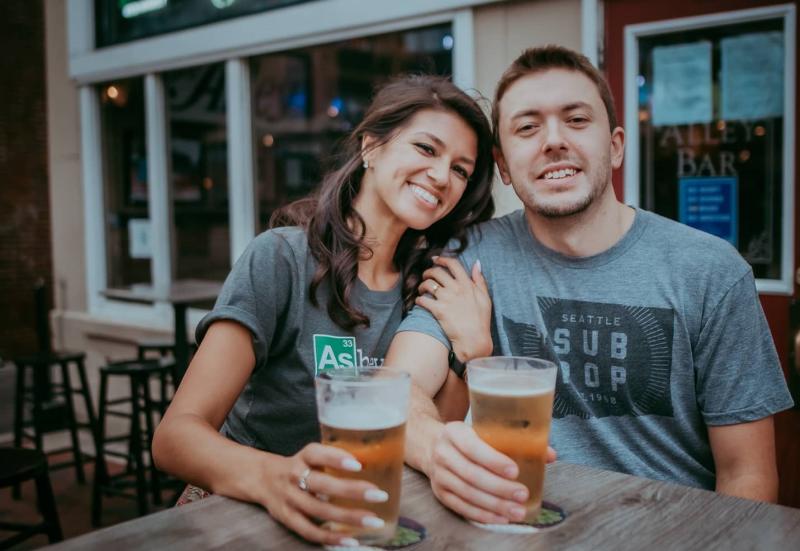 Photo by Leslie Stillions Photography
For a more casual shoot, head to your favorite B-Town bar or brewery and pose on their patio — this is an especially cute idea if you're a couple that bonds over craft beer. A photo session in front of the historic Buskirk-Chumley Theater is great if you're going for an old-timey, vintage vibe. You could also have your engagement photos shot atop a downtown parking garage at sunset for sweeping views veiled in pastel colors. There are a lot of directions you could go in — consider taking an afternoon to explore the area with your photographer for additional ideas and inspiration!

Hoosier National Forest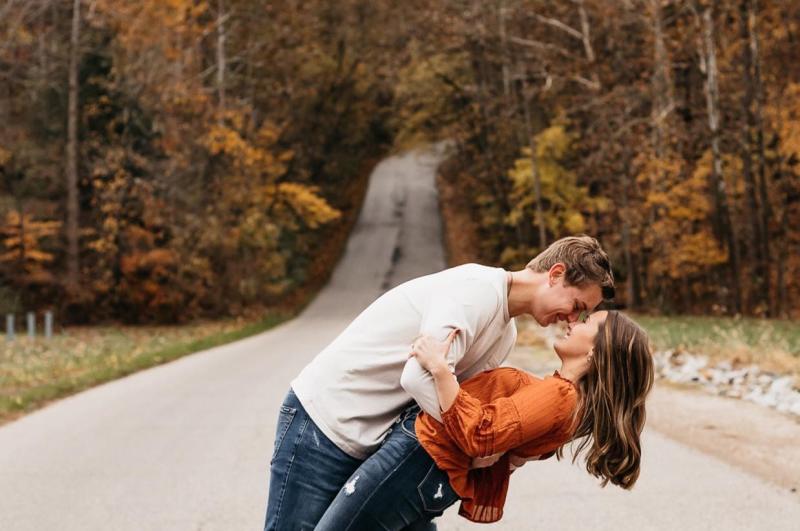 Photo by Capturing Simplicity Photography
The vast and sprawling rolling hills of the Hoosier National Forest are a great engagement photoshoot location, especially during fall. Beautiful during any season, you'll find several tree-lined winding roads, rocky lakeside shores, and the 110-foot-tall Hickory Ridge Fire Tower. Whether you're shooting from the ground or from the sky with the treetops in the background, save the date photos captured at the state's only national forest are sure to be magical.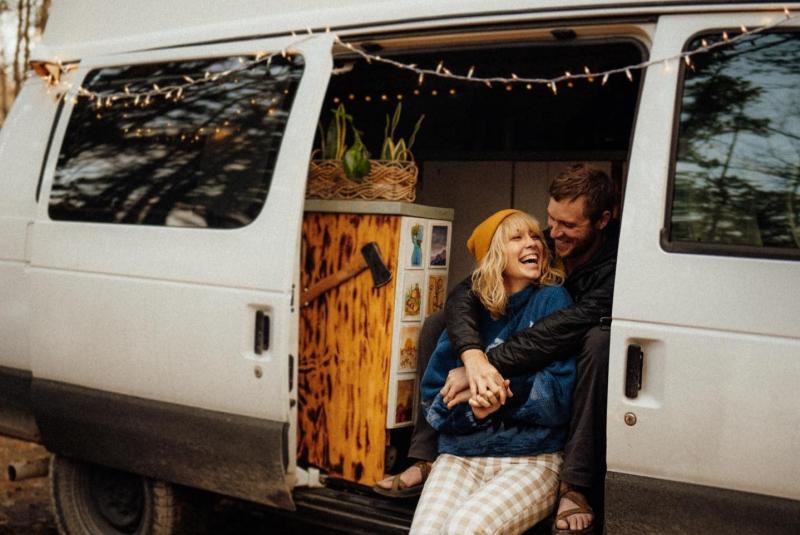 Photo by Cassandra Mitchell Photography
If one of your frequent pastimes together is camping, work with your photographer to make that the theme of the shoot. Whether its in a camper van or around a blazing bonfire in the middle of the forest, there's magic to be captured in the scenery. It's the perfect B-Town location for couples who love nature, and there are plenty of stunning backgrounds to choose from.
 
Indiana University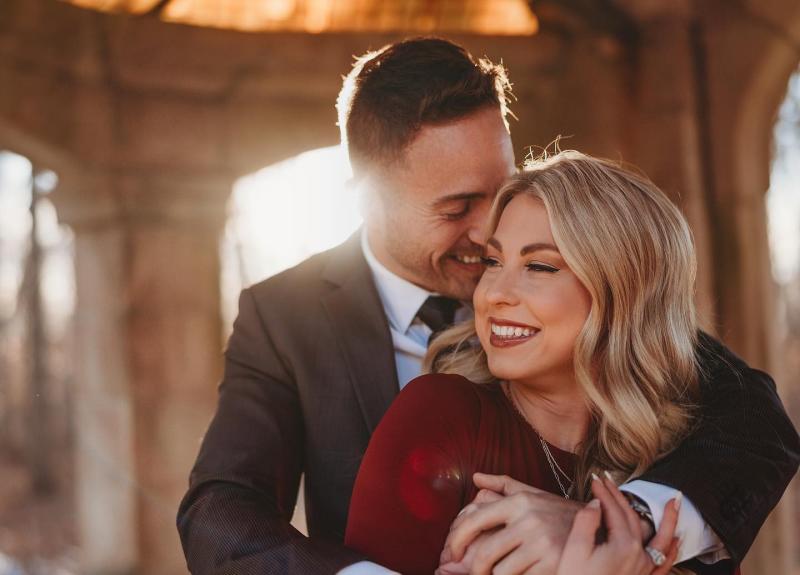 Photo by Jessica Dee Photography
The Indiana University grounds offer a seemingly-endless selection of gorgeous photo locations in every nook and cranny of campus. It sounds like an exaggeration, but it truly isn't. The timeless beauty of the limestone architecture, the neat & lush flower beds, the centuries-old trees — it's a photographer's dream for an engagement shoot. Pose in Dunn Woods for a fairytale-esque forest feel, under the Rose Well House's stained-glass ceiling for a classically elegant aesthetic, or in front of Beck Chapel for a Snow White-esque woodland atmosphere.
Maxwell Hall houses a small hidden courtyard complete with dazzling hydrangea bushes and a bubbling water fountain that would make for a whimsical secret garden shoot, and you can't go wrong with a session in the Cox Arboretum during summer when the flowers are in full bloom and the waterfall is running in front of its limestone gazebo. There's also the beautiful Biology Greenhouse, which makes for an intimate, earthy atmosphere with a variety of different backgrounds, all in one building. Like downtown, campus is a location that's well-worth exploring ahead of time with your photographer since there are just so many options. 
 
Monroe Lake

Photo by Capturing Simplicity Photography
Remember those rocky lakeside shores we mentioned above? Those would be the breathtaking shores of Monroe Lake. Another fantastic photo op option, the largest lake in Indiana offers some of the best views in Bloomington thanks to the general beauty of the water, the sprawling rolling hills full of trees in the background of every shore, and the many miles of shoreline itself — some grassy, some rocky, and some sandy.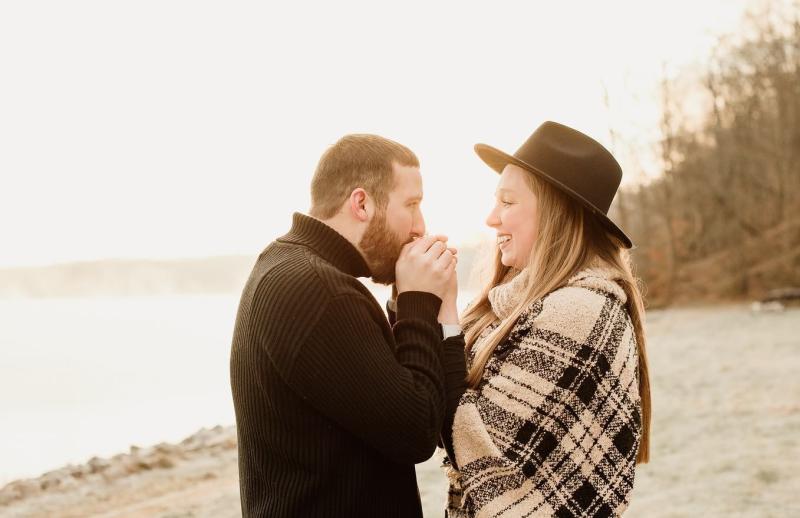 Photo by Ashley Chastain Photography
The lake is stunning in every season, and at any time of day. Capture your photos during winter at sparkling sunset, during fall with the multi-colored foliage in the background, during spring as the sun paints the sky and its reflection in the lake cotton candy colors, or during a picture-perfect, sunny summer day. Tug at the romantic heartstrings one step further by having a "If you're a bird, I'm a bird" moment in the water. If you know, you know. 
 
Oliver Winery
Oliver Winery is one of the nation's most renowned wineries, and its grounds are just as incredible as its wine. Featuring lush landscaping, a sweeping patio, and a pond nestled in the valley of their wooded grounds, an engagement shoot at the winery is a whimsical dream in any season.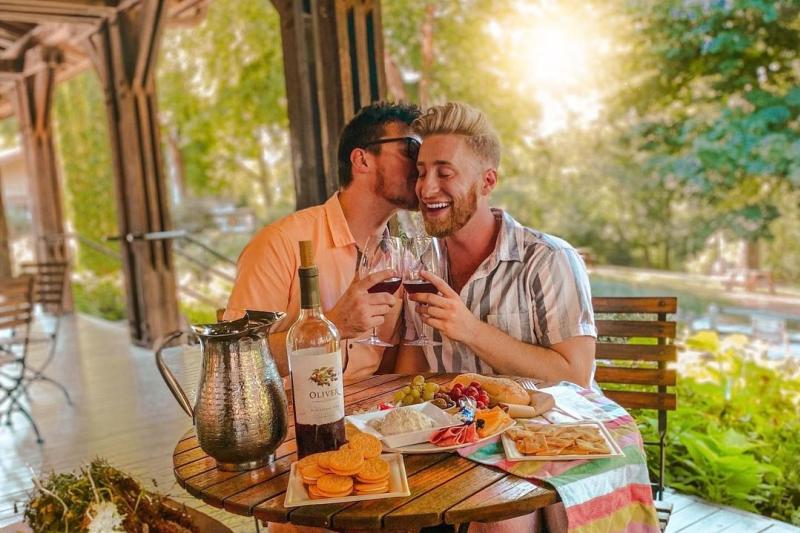 Photo by Jase's Journey
Truly stunning at all times of the year, there are a variety of directions you can go in with a shoot at Oliver. Pose under the twinkling lights of the patio during winter, with pillows of snow in the background. Get the effect of a lakeside photo session at the shore of the winery's pond — its especially beautiful during summer and fall with the towering trees on the horizon. During spring, there's no other option than a stunning wildflower shoot with the colorful, fresh blooms. Be sure to enjoy a wine tasting after your session is over, cheers-ing to another item crossed off the wedding to-do list!
 
Looking for more photo inspo in B-Town? Check out these blogs: