Monday, December 29, 2014
Why My Partner and I Moved Back to Bloomington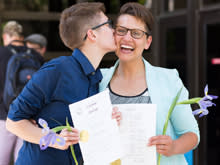 It's been a tremendous year for LGBTQ people and our allies across the country. For me, the biggest change was when marriage equality came to Indiana. I married the lovely Sarah Perfetti in August, and just a few months later, our marriage became legal in the state we have always called home.
When I moved to Bloomington in 2009 to get my MA at Indiana University, I got involved with the Bloomington PRIDE Film Festival, which was founded in 2003 and has been showing the best new gay, lesbian, bisexual, transgender and queer film for over a decade. I had no idea what I was in for.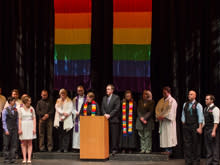 Each day of the late-January festival, as the Buskirk-Chumley Theater filled with more than 500 people of all backgrounds from across the spectrum of diversity, I realized how friendly Bloomington truly is. What I realized that first night at the festival, my first pride event ever, is that Bloomington as a whole supports and encourages the LGBTQ community. Business owners, politicians, clergy and families -- gay, straight, or other -- all embrace diversity as if it were the most normal thing in the world. And if you've traveled to some other parts of the country or the world, you know how unique that can be.
So when Sarah and I moved to Indianapolis for my job after we graduated, we quickly realized that we left a big part of our hearts in Bloomington. I'll always love Indianapolis, but Bloomington has a special character that can't be replaced. No matter what part of town we're in, we can walk down the streets holding hands. When we go out to eat, servers treat us like we're on a date, not like we're friends (or sisters -- eek!). When I mention my wife/partner to strangers, they don't bat an eyelash. It's just normal here.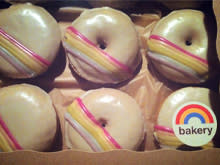 We moved back to Btown just one year later, bought a little house, and are raising our three dogs and three chickens in a quiet neighborhood on the south side. We've built up a bigger network of LGBTQ friends in Bloomington than we could in Indianapolis, thanks to the tight-knit structure that's so characteristic of this city.
Whether you're stopping by Bloomington for a quick trip or thinking about moving here, know that your family will be welcomed no matter what.
The Bloomington PRIDE Film Festival takes place January 29-31, 2015 at the Buskirk-Chumley Theater. That same weekend is the IU GLBT Alumni Association's annual Homecoming Weekend. Some other major LGBTQ assets include:
For more information, check out our LGBT section.