Wednesday, August 8, 2012
Win a Date Night on Visit Bloomington!
Categories: Indiana University, Arts & Culture, Wine & Culinary, B-town Giveaways
Yes, you read that correctly, we're giving away a fun B-town Date Night to one lucky winner! Getting entered is super-easy and here's the run down on what our winner will receive: 

Two Tickets to Solana from the Indiana Festival Theatre
Adopted Asian-American Chloe Ellsworth finishes college and returns home to her family farm in Middle Valley, Indiana, but her royal birth family demands that she immediately return to her native land to take her place on the throne. This life-altering disruption sends her on a fairy-tale journey, that reveals her true identity and her true place in the world.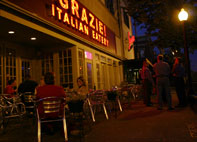 Dinner at Grazie! Italian Eatery
One of B-town's favorite downtown eateries, Grazie! is located on the north side of the downtown square and specializes in Italian cuisine. 
This is the time of year when everyone's in a flurry of activity, getting ready to head back to school. Many elementary and high schools have already begun the fall semester and Indiana University is right behind them with students moving into dorms next week!
So, here's how you get entered to win a B-town date night on us:
Leave us a note in the comments section with your best advice for incoming freshmen about living in Bloomington, don't-miss IU traditions or college life in general. We'll choose one of the comments and announce our winner right here on Monday morning, so be sure to check back to see if you've won. Good luck!