Tuesday, November 29, 2011
Win tickets to the Chimes of Christmas!
Categories: Indiana University, Arts & Culture, Family Fun
Downtown Bloomington is, well... lit up like a Christmas tree, and we're ready to start celebrating the holiday season! We've even got a gift for one lucky B-town Blog reader - two tickets to this year's performance of the Chimes of Christmas at the IU Auditorium.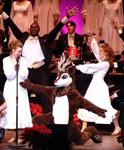 A true Indiana University tradition, the Chimes features performances from incredible ensembles from the Jacobs School of Music and great holiday music, perfect for a fun holiday evening out.
So, for a chance to win two tickets to the Chimes of Christmas and a Grazie! Italian Eatery gift certificate, leave us a comment and tell us all about your most favorite thing about the holiday season in Bloomington!
We'll announce a winner on Friday. Good luck!