WonderLab's Simple Machine Mania
Categories: Family Fun
This summer, WonderLab, Bloomington's fun science, health and technology museum for kids, is featuring a cool new exhibit called Simple Machine Mania!  I'm not terribly inclined in the technology department, but in a nutshell the exhibit features levers and pulleys - thankfully for me, they are very simple.  I recently took my three and half year old daughter, Ellie, to check it out and we had a lot of fun.  For a toddler, the simple rope and pulley connected to a basket (for lifting teddy bears and stuffed animals of course) was a great "machine" experience.  Ellie and some other kids loved hoisting and lowering animals, and throwing them from the second story of the playhouse.   Sometimes the simplest machine is your own hand!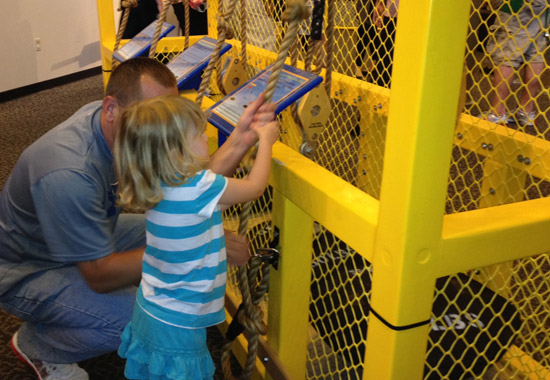 There were several really fun displays, but the coolest gadget was a (seemingly not that simple) robotic hand.  This thing was like four feet tall!  All the adults and older kids were clamoring to play with it, which is why I always say WonderLab is just as much fun for adults.  Seriously, it is.  So back to the robot hand; it looked like a giant replica of the Terminator's hand, and you could use push buttons to move the fingers in various ways.  I learned that it was made in Indiana (sweet!) and that WonderLab is the only place you can play with one.  At least for now, because I imagine most children's museums will be ordering one in the near future.  But for now, you can only see it at WonderLab.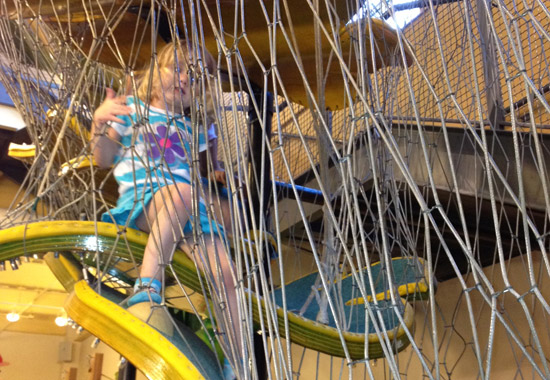 Of course, the rest of the museum was awesome too.  Ellie climbed the grapevine climber for the first time and it was pretty nerve wracking for me and my husband, but it was great exercise and a good confidence builder for Ellie. That's probably the exact reason it was installed!  The water feature is still one of our favorites, because what kid doesn't want to get soaking wet and splash mom and dad?  (Plus we like to play in it too.) 
Bottom line: go to WonderLab to check out the new exhibit, it's fun for all ages!


WonderLab is located in downtown Bloomington on West 4th Street within easy walking distance of the City of Bloomington's Garage Art and dozens of great shopping and dining opportunities.
Simple Machine Mania will be on display until September 23. The museum is closed on Mondays.