Tuesday, October 21, 2014
Visit Bloomington Launches "Cities of the Big Ten" Collaborative Website
Categories: press releases
Contact: Jordan Riley, jordan@visitbloomington.com
Direct: 812-355-7726, Cell: 812-360-5565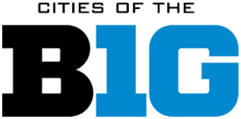 Bloomington, Ind. (October 21, 2014) -- Visit Bloomington has partnered with other Big Ten Conference cities on a new website called Cities of the Big Ten (www.citiesofthebigten.com). The site is designed to promote the destinations that represent the member institutions of the Big Ten Conference to visiting fans.
Nearly 120 years after its inception, the Big Ten remains a national leader in intercollegiate athletics on and off the field. The Cities of the Big Ten host hundreds of athletic events throughout the year and continue to extend the ultimate in hospitality to the enthusiastic followers of conference teams.
Indiana University Athletic Director, Fred Glass, sees the need for the collaborative site and said, "Highlighted by our gorgeous campus and diverse and outstanding dining, shopping, and entertainment options, Bloomington is an incredible getaway for both IU fans and supporters of our opponents. With one of the largest and most passionate alumni and fan bases in the country, fans will love their visit to the capital of Hoosier Nation."
With the introduction of Nebraska in 2011 and Maryland and Rutgers in 2014, there was no better time to create a landing-page website that will direct visitors to each city's information on transportation, hotel, dining and entertainment options when traveling to Big Ten Conference events. Each city agreed to collaborate in cross-promoting each other with the goals being to increase travel by fans to Big Ten events and enhance the sports tourism experience for fans by providing easy access to information needed in planning.
"We applaud the cities of the Big Ten for taking the initiative to build this website for fans to use when traveling to each campus," said Big Ten Deputy Commissioner Brad Traviolia. "This will be a great resource for each school's fan base, especially the new fans that we've welcomed to the conference over the last few years."
About the Big Ten Conference: The Big Ten Conference is an association of world-class universities whose member institutions share a common mission of research, graduate, professional and undergraduate teaching and public service. Founded in 1896, the Big Ten has sustained a comprehensive set of shared practices and policies that enforce the priority of academics in student-athletes' lives and emphasize the values of integrity, fairness and competitiveness. The broad-based athletic programs of the 14 Big Ten institutions provide nearly $200 million in direct financial aid to almost 9,500 student-athletes for more than 11,000 participation opportunities on 350 teams in 42 different sports. The Big Ten sponsors 28 official conference sports, 14 for men and 14 for women, including the addition of men's and women's lacrosse as official sports for the 2014-15 academic year. For more information, visit www.bigten.org.