Question: Where can I see Indiana Limestone in use?
You can find Indiana Limestone in a number of iconic buildings across the United States. You may be surprised to learn that in New York City alone there are several examples of Indiana Limestone in use including Ellis Island, the Metropolitan Museum of Art, and Grand Central Station. Scroll down to see more examples of Indiana Limestone in use. 
The Pentagon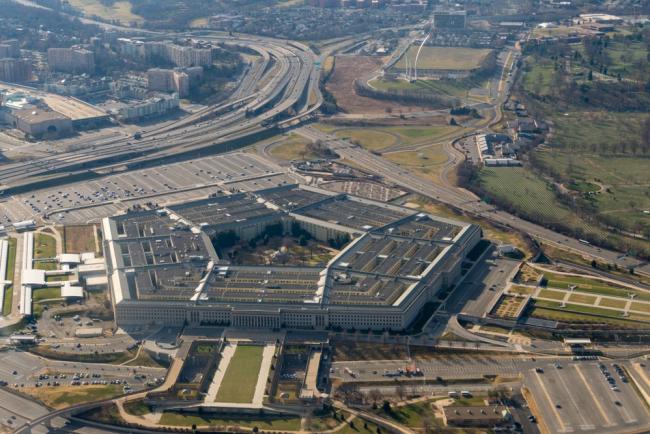 Located in Arlington, Virginia, the Pentagon serves as headquarters to the United States Department of Defense. On September 11, 2001 a hijacked plane crashed into the western side of the building. The reconstruction used Indiana Limestone fabricated by Bybee Stone Company in Ellettsville, Indiana. It was rededicated one year later on September 11, 2002.
 
Lincoln Memorial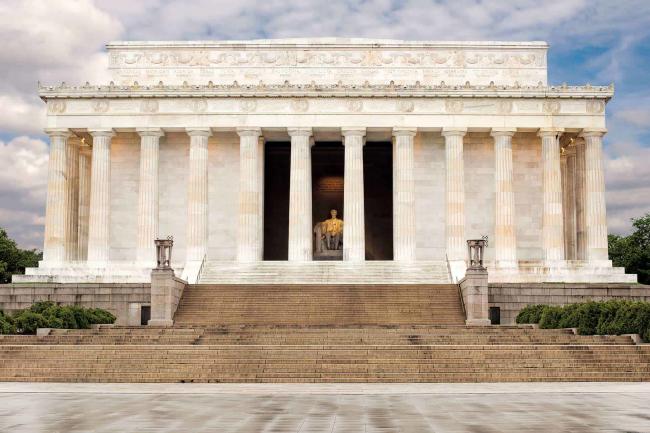 Look for Indiana limestone on the interior walls and columns of the Lincoln Memorial, dedicated in 1922 to honor Abraham Lincoln, the 16th president. Indiana limestone and other materials are representative of different regions of the United States.
 
United States Holocaust Memorial Museum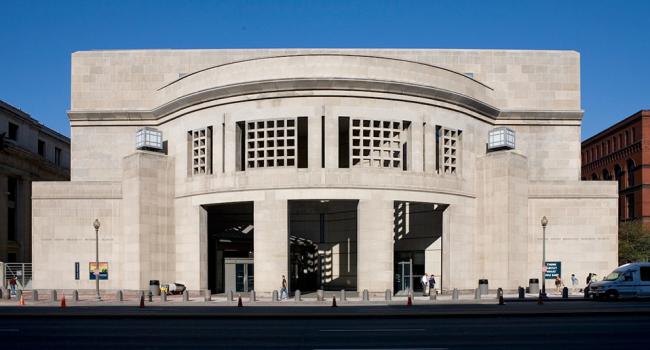 In 1980, Congress voted to establish this museum with an Indiana limestone exterior. It first opened in 1993 in Washington D.C. and has since had more than 30 million visitors.
 
Empire State Building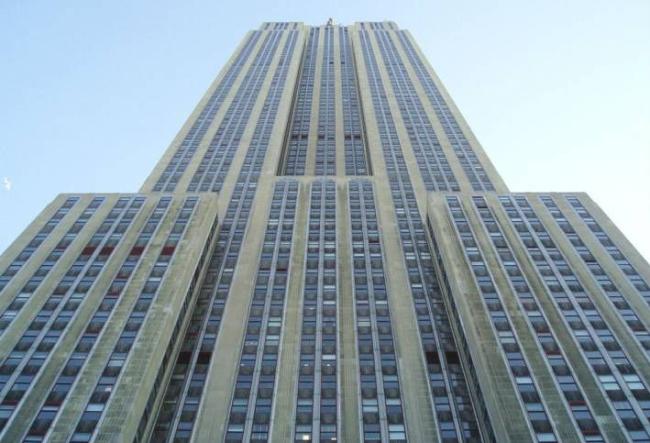 Named after New York's state nickname, the "Empire State," and completed in 1931, the once-tallest building in the world is made of Indiana Limestone and remains one of the tallest and most impressive buildings in New York City.
 
Rockefeller Center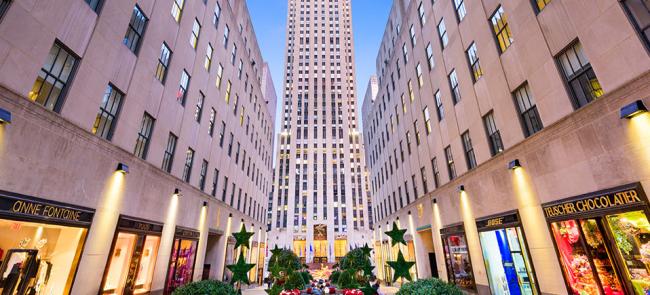 An estimated one million people walk through Rockefeller Center every day in Midtown Manhattan.
Built by the Rockefeller family, it was constructed of Indiana limestone and was completed in May 1933. 
 
Tribune Tower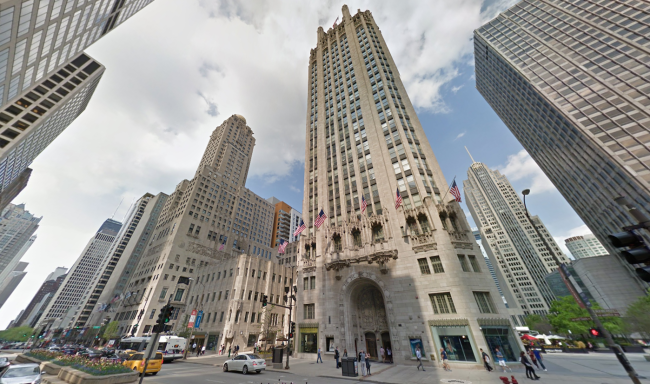 Sitting on Michigan Avenue in Chicago, the home of The Chicago Tribune was completed in 1925, incorporating Indiana limestone into the design as well as several other famous stones,
including rock from the Roman Colosseum and China's Great Wall. 
Where can I learn more about the Indiana Limestone industry?
Indiana Bedrock Project
This cooperative project seeks to research, catalog and ultimately digitize various photographs, letters, newspaper clippings, business records and other ephemera relating to the Matthews Brothers Stone Company, a limestone quarry which operated out of Ellettsville, Indiana from 1862 to 1978. Though especially concerned with the Matthews Brothers Stone Company, the project seeks to uncover the development of the Indiana limestone industry across the nineteenth and twentieth centuries.
Indiana Geological and Water Survey
The IGWS is located on the Indiana University campus and is a wealth of information about all types of rocks, fossils, and minerals found in the Hoosier state. Here, you'll learn about the type of Limestone found in this part of Indiana, some of the history of quarrying and the properties of Indiana limestone that make it so sought after. 
Indiana Limestone Institute of America
The Indiana Limestone Institute of America is a resource for architects, contractors, building owners and others seeking accurate, unbiased information about the use of Indiana Limestone in construction. ILI's technical publications and their "Indiana Limestone Handbook" are widely recognized as being among the best "how to" books in the construction industry. 
Indiana University Archives
A department within the Indiana University Library System, the IU Archives are a wealth of information about all things related to Indiana University. This includes historical and cultural information, such as historic photographs and articles about various happenings on campus, such as the quarrying of limestone and the construction of new buildings and landmarks.
Lawrence County Museum of History
Located in downtown Bedford, Indiana, the Lawrence County Museum of History is a great resource for learning more about the heritage of Indiana Limestone in the Bedford and Lawrence County community. Much of downtown Bedford is constructed from the local stone and the area's limestone companies, cutters, and carvers have profoundly affected the development of communities within Lawrence County. 
Monroe County History Center
The Monroe County History Center is your resource for all things related to the history and heritage of Monroe County. In their permanent exhibit, you'll find vestiges of the Limestone industry's history and heritage, including tools, models and a video. Learn more about how the area's vibrant limestone industry helped shape the community.  
Are people still working with and carving limestone today?
Yes! Today's carvers are a diverse group of artists. Some are born to it, still working in the industrial side of the business alongside or in the tradition of their fathers, uncles or brothers who have done the same. Others are artists who have sought out the beauty and ease of limestone, sometimes across long distances, after exploring other mediums. 
Indiana Limestone Symposium
Each June, the Indiana Limestone Symposium brings together experienced carvers, hopeful artists and complete novices in an open area on the grounds of the Bybee Stone Company in Ellettsville, Indiana. Instructed by nationally-known stone artists with ears of carving experience in sculptural and architectural carving, these artists learn to carve or improve their technique under the Indiana summer sun.
Amy Brier
A co-founder of the Indiana Limestone Symposium, Amy has exhibited her work locally, nationally and internationally. She is a board member of the Stone Carver's Guild. Amy combines traditional carving techniques with contemporary art ideas such as public interaction and appropriation. Amy's architectural carvings can be seen on the new Simon Hall on the IU campus and her sculpture Impression can be seen on the Bloomington campus of Ivy Tech. Amy's unique Roliquery series features a carved limestone sphere on a bed of sand that the viewer can use to create images in the sand.  
Dale Enochs 
Creator of the centerpiece sculpture located near City Hall on Bloomington's B-Line Trail, Dale Enochs is a local artist working in limestone. Dale's work has been on display at the Indianapolis International Airport, in Bloomington area art galleries and restaurants and at the Indiana Governor's Residence. His sculptures range from small tabletop pieces to huge, outdoor installations. 
James Lax
The works of this stone carver range from traditional architectural elements to lifelike sculpture. His work can be seen locally at the Karst Dog Park and on his website.