Meet the people who build, paint, print, and create in Bloomington.
by Erica Sagon
photos by Andrew Grodner
This article was published in the 2016 Bloomington Visitors Guide. To request a free copy of the guide, click here. To see a PDF of this article, click here.
Bloomington's art scene is bursting with talent and energy in every medium you can think of. It's a community where you'll find everything from engaging public art to edgy pieces from local artists hanging on the walls of restaurants and bars. Several eclectic galleries and pop-up events that dot the city's walkable downtown give artists a place to showcase their work and a place for locals and visitors to take it all in.
The scene is made even more dynamic by the people who flow in and out of Indiana University's top-notch arts programs - many of whom end up sticking around to do what they love most. Artists themselves describe their home base as overflowing with inspiration, character, and camaraderie.
"Bloomington is an amazingly supportive community for creating art and making a career as a working artist," says Bloomington fiber artist Martina Celerin. "Art is valued in this community, and people who create art are appreciated and respected for their contribution to our society. "From emerging artists to established ones, here's a look at a few of the people who make the city's scene so remarkable.
Michael Finger
fine art photographer
michaelfingerphotography.squarespace.com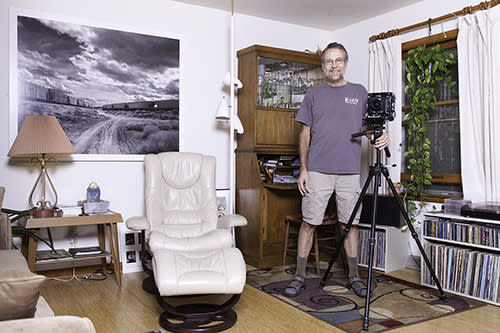 Living and photographing here for 25 years, Finger has certainly found a muse in Bloomington, but not in the polished way that you might expect. His large, striking black-and-white prints capture forgotten industrial architecture and related debris encountered by poking around landmarks like the Woolery Stone Mill and Johnson's Creamery. He seeks out ragged rubble, abandoned mechanical equipment, and peeling paint.
"I'm sort of trespassing in a very benign way a lot," Finger says of finding his subjects. "I'll start looking closely at something that you'd normally walk past and not notice."
Finger has an old-school approach with a modern spin. He takes photos with a large-format film camera and develops the 4-by-5-inch negatives in a darkroom, then scans the negatives and tinkers with the digital files in Photoshop. The goal is to get the image as sharp and detailed as possible, he says. More than 20 of his prints documenting the once-abandoned Johnson's Creamery site now hang in the renovated building downtown.
Elizabeth Busey
printmaker
elizabethbusey.com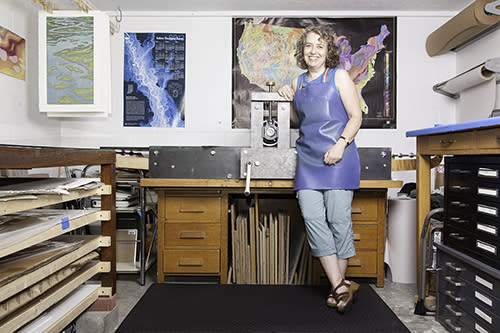 For her vibrant take on patterns in nature, Busey sometimes zooms way in - say, vessels and veins of plant parts - and sometimes she zooms way out, taking a bird's-eye views of fields and streams.
Each of her mesmerizing linocut prints is created using a single linoleum block which is carved away in stages. At each stage, ink is rolled onto the block and then printed on paper, meaning a piece has six to 10 meticulously planned layers of ink.
"I am constantly surprised when a new color layer completely changes the effect of the image," Busey says. "And because I use both transparent and opaque inks, I am always creating unexpected new colors that I could not have imagined myself."
The one color she won't use? Black. "I am always trying to create some kind of depth in my work, and I find that black flattens the work. Instead I use purples for the darkest parts of the prints."
Drew Etienne
painter
drewetienne.com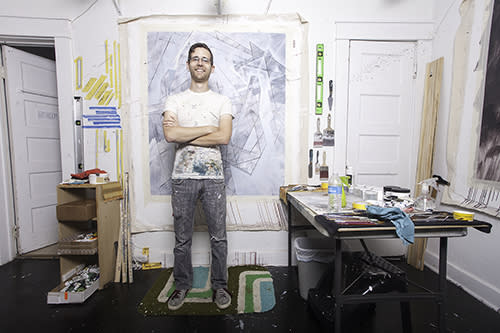 Etienne's pieces aren't traditional landscape art - he depicts surreal and abstract places, after all - but you get the strange sense that each one is a snapshot of a larger world that he knows well. Etienne, who earned his bachelor of fine arts at Indiana University, says his work is guided by mystery, exploration, and discovery.
"Video games had a huge influence on me when I was a kid," Etienne says. "It was my first and most impactful introduction to imaginary worlds. I was enthralled by the bright colors and mysterious other-worldly settings. I think to this day it was the biggest influence on my desire to create my 
own worlds."
Etienne says the video games can be seen in his use of vivid colors, obsessive exactness, and complex shapes made out of simple polygons. And, perhaps a nod to growing up in the Appalachian region and hiking, his paintings often splice digital elements like geometric structures into lush forests and valleys.
Martina Celerin
fiber artist
martinacelerin.com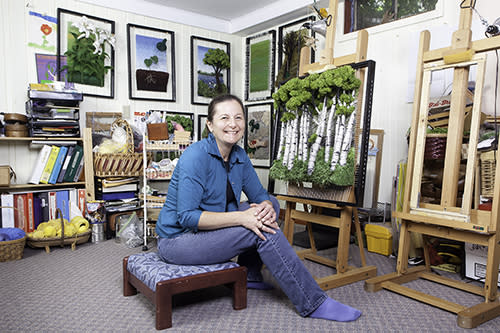 Celerin's 3D tapestries almost always elicit a closer look - she manipulates her medium, yarn, in such a fascinating way that you can't help but be curious about how she does it. Her intricate, beautifully textured nature scenes are a medley of techniques including crochet, weaving, needle felting, and embroidery. She might use as many as 50 different yarns to create a seemingly simple blue sky, and the scenes often incorporate found objects like stones, twigs, feathers, and everyday items.
"They are primarily reused and recycled materials, but it goes beyond that. Many of the materials that I incorporate into the piece have a history or story of their own," she says. Celerin has cut a miniature pair of pants from an old pair of her son's jeans; created the inside of a tree trunk with a piece of her father-in-law's old army blanket; and yanked the wires from spiral notebooks and wrapped them with threads to replicate tree branches.
Michal Ann Carley
metal fabricator and glass-jewelry maker 
lunasongdesign.com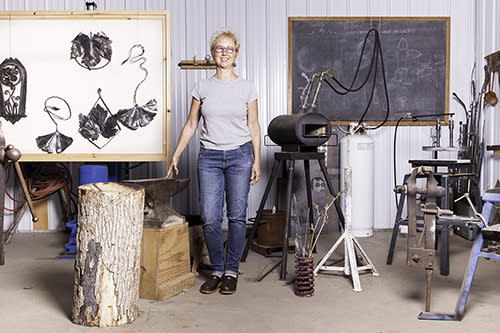 Carley works in two entirely different mediums and scales - shaping metal into sculptures and glass into small beads for jewelry - and yet they're more connected than one would think. Nature is the common thread for Carley. Colors, motifs, and forms in her surroundings drive her creative output. Take, for example, her abstract sculpture of a sandhill crane she saw perform a mournful dance after losing its partner. Or, her necklace that captures the dusty rose hues of coneflowers that have begun to turn.
Both metal and glass are transformative, she says, a fact that echoes her own story as an artist. Carley worked for many years as a painter and art professor. After recovering from an illness that forced her to learn to walk all over again, she felt compelled to do something much more physical. At her Luna Song Design studio, Carley fires up her forge, heating metal until it is red hot and workable, then hammers it into shape.
"You see the marks, the traces of all that heat, in the work," Carley says. "There's no illusion. It's all there."
Mary Hambly
paper artist
maryhamblyart.blogspot.com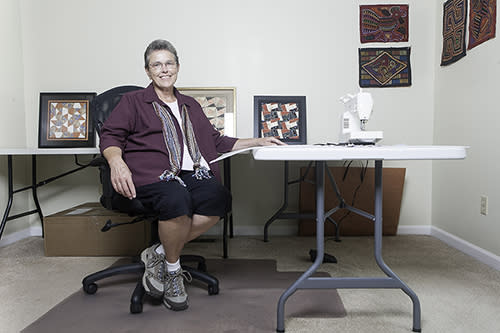 Glancing at Hambly's quilts, you might assume they're made of cloth. But Hambly takes the traditional craft of quilting and gives it a contemporary twist by using Japanese paper that has been screen-printed by hand, often with nature-inspired patterns.
Her process is much like traditional quilting - she even uses a sewing machine, a portable Singer. Straight, perfect stitches are a hallmark of her work, which is not an easy feat. Paper is much less forgiving than cloth, and a misplaced stitch is irreparable.
"The stitching is like a meditative process because it has to be exactly right," says Hambly, who earned her master of fine arts at Indiana University.
Hambly encourages people to observe her work in two ways: from far away, to take in her original patterns and the piece as a whole, and then up close to see the stitches, patterns, and textures. "I think the paper quilts are so satisfying to me because I enjoy the amount of detail that is involved," she says.