Some of the best places for craft cocktails
by Erica Sagon
This article was published in the 2016 Bloomington Visitors Guide. To request a free copy of the guide, click here. To see a PDF of this article, click here.
Where do the grown-ups drink in our college town? There's a whole world beyond well drinks and pitchers of beer. Here are the best bars in Bloomington for fantastic cocktails.
Uptown Café
It's hard to imagine Bloomington without this cocktail spot - it feels like such an icon, and yet, the bar side has only been around for five years. It was an expansion of the Uptown Café, the long-time Creole- and Cajun-inspired restaurant just off the square. This stately bar shakes and stirs classic cocktails plus specialty drinks thought up by the expert bar crew. If you have the chance, sit right at the bar and soak in this lively place.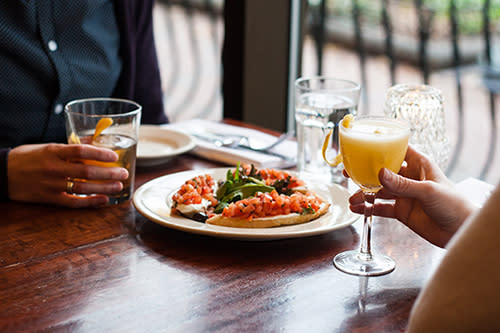 What to order: You can't go wrong with the venerable House Sazerac. 
Instagram this: An enviable weekend brunch - a Bloody Mary, coffee, eggs benedict, and cinnamon roll coffee cake.
Snack on: Artichoke and kalamata olive dip always hits the spot.
the-uptown.com
Cardinal Spirits
Bloomington's craft distillery makes premium, small-batch spirits like vodka, gin, rum, and botanical liqueurs in one room. In the next room over, it serves them in creative cocktails in a clean-lined, modern bar. Cocktails don't get more local than this. A mile south of downtown, its spacious patio overlooking the B-Line walking and biking trail offers spectacular people watching.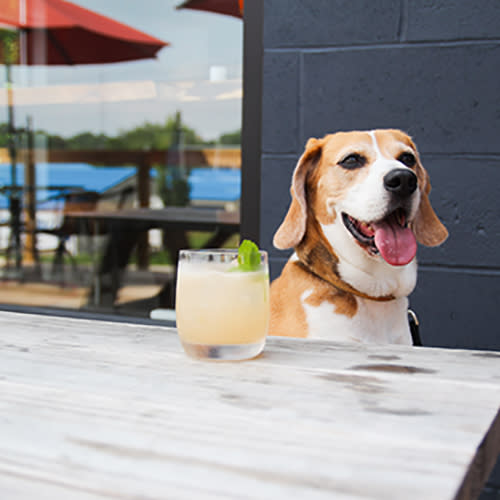 Russell loves that dogs are allowed on the Cardinal Spirits Patio.
Check out #BtownBeagle on Instagram for more adventures.
What to order: The smooth Café à l'Orange, made with Songbird Craft Coffee Liqueur and a misting of orange oil, will make you wonder where the outstanding combo of coffee and orange has been all your life.
Instagram this: While taking a tour of the distillery, post pics of the giant copper still and barrels of bourbon. 
Snack on: A charcuterie plate, or carry in chorizo nachos from the taco truck stationed in the parking lot. 
cardinalspirits.com
C3
This swanky take on a neighborhood bar is off the beaten path on the city's southeast side, and seemingly worlds away from the bustle on Kirkwood. Its stylish cocktails combine craft spirits with fun ingredients that you probably wouldn't go through the trouble to make at home. C3 isn't overly fixated on whiskey like a lot of craft cocktail bars - refreshingly, it gives equal weight to all spirits.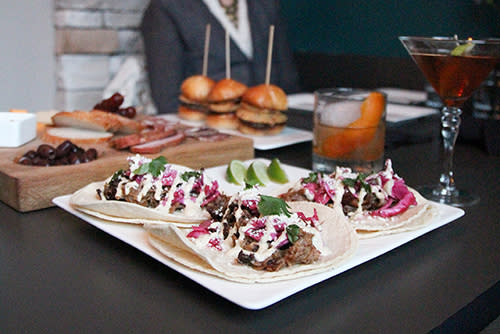 What to order: Scan the ever-changing menu for one-of-a-kind cocktails with house-infused ingredients - like roasted peanut-infused bourbon and tea-infused dry vermouth.
Instagram this: Beer cocktails! Just as thoughtfully constructed as the rest of the menu.
Snack on: Treat yourself to upscale snacks like ceviche and salt-and-pepper kale chips.
c3bloomington.com
Malibu Grill
If you're an IU alum, you might remember Malibu as the fancy restaurant where you went with a date or with your parents when they were in town. It's time for a revisit to this timeless restaurant and bar on the Square, whose cocktail menu has only grown more focused, sophisticated, and intriguing over the years - just like you. A handful of big TVs means you can catch the game, too.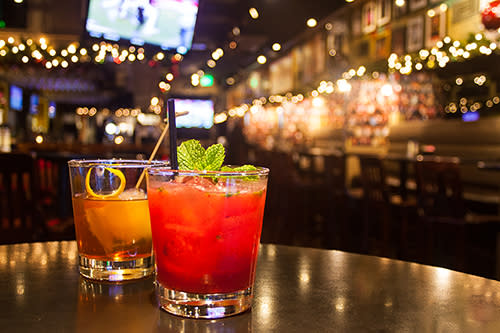 What to order: A well-made classic, like a Manhattan.
Instagram this: The off-the-menu Deantini - Grey Goose vodka on the rocks with two bleu cheese-stuffed olives and a lemon twist - named after Dean Kleinschmidt, a Malibu regular for years and years, and a former head athletic trainer for Indiana University's football team.
Snack on: The seared rare yellowfin tuna with Sriracha is the way to kick off happy hour. 
malibugrill.net
FARMbloomington
People go to FARM just off the Square for food that feels familiar, but executed with an intriguing twist; the same goes for its cocktails, too. Whether it's a paloma, negroni, or mai tai, it's surely got that FARM flourish that makes it unique. If after a drink or two you feel like a change of scenery, you won't have to go far: The Root Cellar is a funky speakeasy in the basement.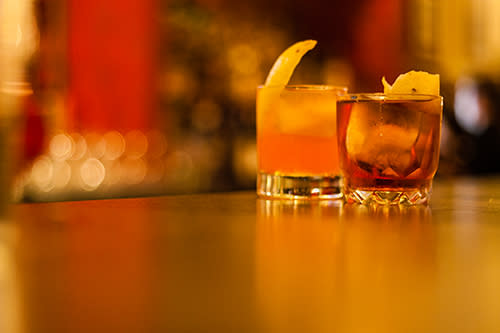 What to order: Something that gets you out of your comfort zone. Maybe a port-wine-and-rye cocktail or a shrub, which is a tart drinking vinegar sweetened with fruit.
Instagram this: The bedpan collection hanging on the wall outside the restrooms. It's no cocktail, but it's the perfect "I was here" snapshot.
Snack on: A giant bowl of legendary garlic fries with parmesan, chili flakes, and lemon zest.
farm-bloomington.com