Ten of Bloomington's favorite vegetarian and vegan restaurants
by Aubrey Dunnuck
This article was published in the 2016 Bloomington Visitors Guide. To request a free copy of the guide, click here. To see a PDF of this article, click here.
If you're a vegetarian visiting Bloomington, consider yourself lucky. From the plethora of earth-conscious restaurants surrounding the downtown square to the abundance of unique international restaurants on Fourth Street, a delicious, meat-free meal is easy to find and devour. And we're not just vegetarian friendly; if you're vegan or gluten-free, you'll find more delectable options than you'd expect even from a progressive place like Bloomington. These locally owned and operated restaurants are just a few of our favorites.
The Owlery
This meat-free restaurant on the Square stands out as much for its collection of owl kitsch as for its all-vegetarian comfort food. You must try the Canadian classic, Poutine. Crispy fries smothered in hot gravy and melted cheese curds (vegan or dairy), need we say more? theowleryrestaurant.com
Anyetsang's Little Tibet
Follow the colorful Tibetan Prayer flags to find this Fourth Street gem. Share some Tibetan dumplings, or momos, with half Tsel, stuffed with cabbage and carrots and half Shogo, filled with mashed potatoes and onions. Lunch specials are a great deal - they include a small salad with an addictive ginger dressing, followed by the ultra-creamy coconut red curry. anyetsangs.com
Rainbow Bakery
Walking into Rainbow Bakery might feel like you've entered a retro 1960s bakery until you notice the vegan and gluten-free goodies like Fauxstess cupcakes and caramel almond crunch donuts. The delightful baked goods are so beautiful that it's almost impossible to choose just one. Everything is vegan, with plenty of gluten-free options, too. rainbowbakery.net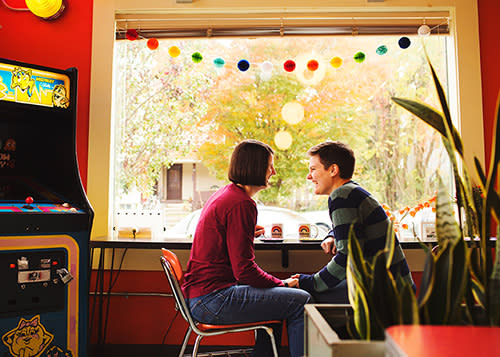 Samira
You can't find Afghan cuisine everywhere, but you can find it in Bloomington at Samira. Here, every meal starts with a complimentary appetizer of garlicky grilled eggplant and carrots, so good that you might want to order a whole plate. Meatless highlights include the vegetarian Aushak and Manto dumplings and the Badenjan, silky baked eggplant topped with tomato sauce, and spiced yogurt. 
My Thai Café
There are several good Thai options in Bloomington, and My Thai Café is one of the best. Start with the spring rolls, packed with fresh herbs like mint and cilantro. Follow up with an order of Drunken Man Fried Rice, full of garlic and basil, or the Tofu Pad Prig Khing, a rich coconut-less curry paste flavored with kaffir lime leaves. mythaicafeusa.com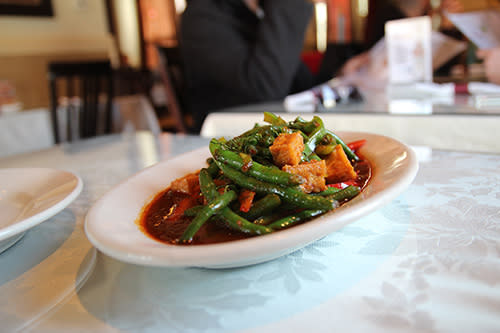 Runcible Spoon
From the mismatched coffee mugs to the koi fish in the bathtub, brunch at the Runcible Spoon is truly a taste of Bloomington. There are pancakes of course, made even more delectable with a handful of blueberries if you please. Or go for the savory Veggie Bennie: two poached eggs with spinach, tomato, and plenty of creamy hollandaise. Go carb crazy with a side of seasoned home fries. runciblespoonrestaurant.com
Food Truck Friday
A little of this, a little of that: the best way to experience a Food Truck Friday is to try everything! Have a tamale from The Tamale Cart, maybe roasted red pepper or creamy sweet potato and goat cheese. Wash it down with a fizzy gourmet pop from Bea's Soda Bar. Then hit up Lochwood Kitchen for a vegan option, like a Grits Cake topped with green apple mint salsa. And you can't leave without a frozen treat from the host of Food Truck Friday, The Chocolate Moose!