Swimming holes just perfect for those hot summer months
by Aubrey Dunnuck
This article was published in the 2016 Bloomington Visitors Guide. To request a free copy of the guide, click here. To see a PDF of this article, click here.
From Memorial Day to Labor Day, we're getting our feet (and knees, and stomachs, and shoulders) wet in Bloomington. Splashing around in the water is a summer tradition, and there are plenty of places to do just that. Stay close to town with a swim in one of several beautiful pools, or connect with nature at Monroe Lake and Lake Lemon. Whether you're the type to cannonball straight into the deep end or wade in gradually, we've got a swimming spot for you.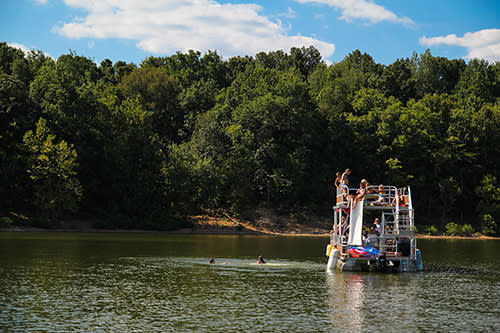 Bryan Park Pool
Talk about kid appeal - with three water slides and a shallow splash area for the tots, Bryan Park Pool is hard to beat. Luckily there's a snack bar on site, because a hungry tummy might just be the only thing to tear your kids away from the fun. 
1001 S. Henderson St.
Mills Pool
On a smaller scale than Bryan Park Pool, Mills Pool is also a great choice for families. There's something for every age - a water slide for big kids, a zero-depth area for little ones, plus umbrellas and deck chairs for lounging parents.
1100 W. 14th St.
Karst Farm Park
If you're looking to cool off but don't need the full pool experience, head out to the Splash Pad, located behind the soccer fields at Karst Farm Park. The fountains and sprinklers are a welcome respite from a long day of activities. There's also a great playground next to the water area. Best of all: it's all free! 
2450 S. Endwright Rd.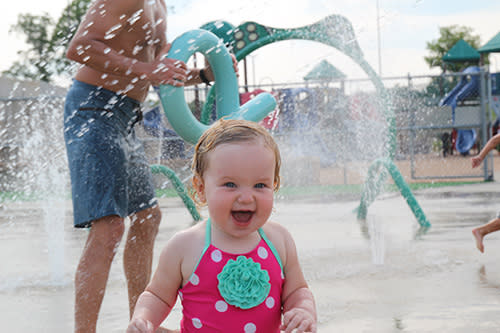 Counsilman Billingsley Aquatic Center
While some of us may wish for 365 days of summer, four distinct seasons in Bloomington means the outdoor pools have to close when the cool weather arrives. So if you're itching to jump in the pool and the weather isn't cooperating, try the state-of-the-art pool at IU's Student Recreational Sports Center. Call or check for family swim hours on weekends.
1601 Law Ln.
IU Outdoor Pool
Looking to get your laps in? The IU Outdoor Pool has 10 lanes dedicated to staying between the lines. There's a shallow pool for kids, spring diving boards, and a multi-story diving platform that might just inspire a few dares. Are you brave enough to jump off the 10-meter platform?
1833 N. Fee Ln.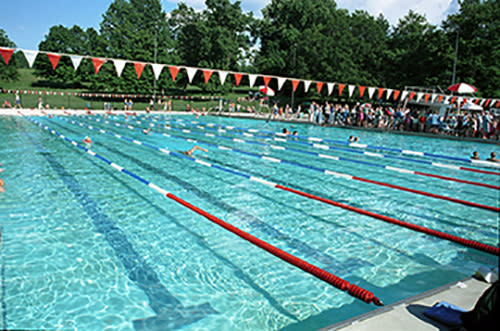 Paynetown State Recreation Area
(Monroe Lake)
Monroe Lake is the largest in Indiana, snaking its way through the southeast corner of the county. Surrounded by thousands of acres of gorgeous forest, the lake is home to three beaches. First up is Paynetown Beach, situated in the middle of a sunny peninsula and full of rustic charm. There are also lots of rentable boats from Lake Monroe Boat Rental to get you out onto the water, from kayaks to jet skis to double decker pontoon boats. If you want to participate in some land-based happenings, the activity center hosts programming throughout the year. 
4850 S. State Road 446
Hardin Ridge Recreation Area
(Monroe Lake)
For a more secluded swimming spot, head south to the scenic Hardin Ridge Recreation Area, part of the Hoosier National Forest. The picturesque beach offers 300 feet of swimming real estate, plus a grassy shaded area that's great for picnics.
6464 Hardin Ridge Rd.
Fairfax State Recreation Area
(Monroe Lake)
Across the lake (or around it, if you're driving) you'll find the biggest beach of the bunch at Fairfax State Recreation Area. Get your daily dose of vitamin D on its sandy shores or rent a boat from the Fourwinds Lakeside Inn and Marina to spend the day cruising the lake. 
9301 S. Fairfax Rd.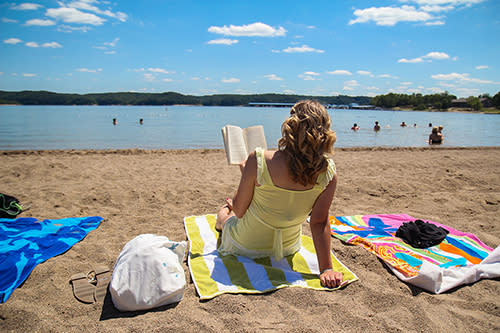 Riddle Point Park
(Lake Lemon)
The beach at Riddle Point Park, part of the Lake Lemon Conservancy District, is a lovely alternative to popular Monroe Lake. Plan the perfect day with a morning hike on the Tulip Trace Nature Trail, a picnic lunch, then swimming and sunbathing at the beach. 
7599 N. Tunnel Rd.