We will see you in February 2022, for the Bloomington Music Expo!
 
The Basics

The Bloomington Music Expo is Bloomington, Indiana's only public vinyl show. Expect vinyl, CDs, tapes, art, apparel, and food and craft beer. It can't be a music expo without live music! There will be sounds from an array of genres. 2020 was your chance to hear music from Songs: Molina – A Memorial Electric Co, Will Johnson, Amy O and more. The Bloomington Music Expo spanned across February 7-8, 2020. The main event is at the Monroe Convention Center, but other locations include Lennie's and Orbit Room. 
 
The 2020 Schedule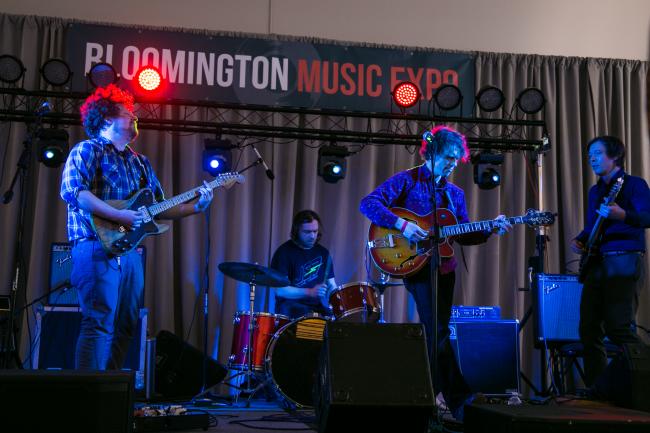 Friday
Will Johnson at Lennie's: February 7 | Lennie's & Bloomington Brewing Co. Brewpub | 5:00 pm - 7:00 pm
There will be a free musical performance and art show by Will Johnson, Texas musician who made the Molina & Johnson record with Jason Molina in 2009. 
Saturday
Bloomington Music Expo: February 8 | Monroe Convention Center | 10:00 am - 4:00 pm
Vinyl, CDs, apparel and so much more will be on sale from 10:00 am - 4:00 pm. Food and drink will be available. Early-bird tickets are available, entry at 9:00 am. 
Music Lineup:
9:00 am - 10:00 am: Live DJs
10:15 am - 11:00 am: Shai Marie
11:15 pm - 11:45 pm: Glitter Brains
12:00 pm - 1:00 pm: Live DJs
1:15 pm - 2:00 pm: Lara Lynn & The Kid performing the music of Hoagy Carmichael 
2:15 pm - 2:45 pm: Amy O
3:00 pm - 4:00 pm: Songs: Molina - Memorial Electric Co.
Reading from Erin Osmon: February 8 | Orbit Room | Time TBA
Author and music journalist Erin Osmon will be reading from her book Jason Molina: Riding with that Ghost followed by live music. 
Whelmed, Cadmium Orange & The Coke Dares: February 8 | Orbit Room | 8:00 pm
The Coke Dares headline this triple bill Expo after party of three old-school Bloomington rock bands. $10 cover charge. 
For more updates, follow Bloomington Music Expo on Facebook and Instagram!
Thank You to Our Sponsors!