Fall in Bloomington, Indiana
The vibrant colors, warm flavors, and cozy temperatures of fall transform Bloomington into a magical place. From college football to stunning foliage and incredible views to seasonal festivals, there's much to experience during a three-day getaway to B-Town this fall.

Frolic in the foliage.
One of the most magical aspects of fall is the stunning blend of autumnal tones that decorate trees and other plant life for the season. Bloomington offers an incredible expanse of natural attractions, both close to town and off the beaten path, for visitors to discover views that seem to only be found in magazines.
The Hoosier National Forest offers the most breathtaking fall foliage views in Monroe County. Hike through the trees at a leisurely pace to really take in the beauty of the forest in its golden state, or climb the 133-step Hickory Ridge Fire Tower to admire a fall view like none other in Bloomington. Other incredible fall vistas to be discovered on foot can be found at the Indiana University campus, Beanblossom Bottoms Nature Preserve, Clear Creek Trail, Leonard Springs Nature Park, Cedar Bluff Nature Preserve, and the Tibetan Mongolian Buddhist Cultural Center.
Want to see as much fall foliage as possible during your short stay? Go on a micro-road trip around Monroe County. Must-see destinations that can be glimpsed by car include the Cedar Ford Covered Bridge, Griffy Lake Nature Preserve, Morgan-Monroe State Forest, Monroe Lake, and Maple Grove Road. A drive around Monroe Lake is a breathtaking scenic journey in itself, but if you'd like to turn your adventure into an afternoon fall treasure hunt of sorts, be sure to visit each destination listed above. Capture the magical scenery on camera so you can share your best fall photos on the 'Gram — don't forget to tag us using #visitbtown and #btownfall!
 
Savor the fall flavors.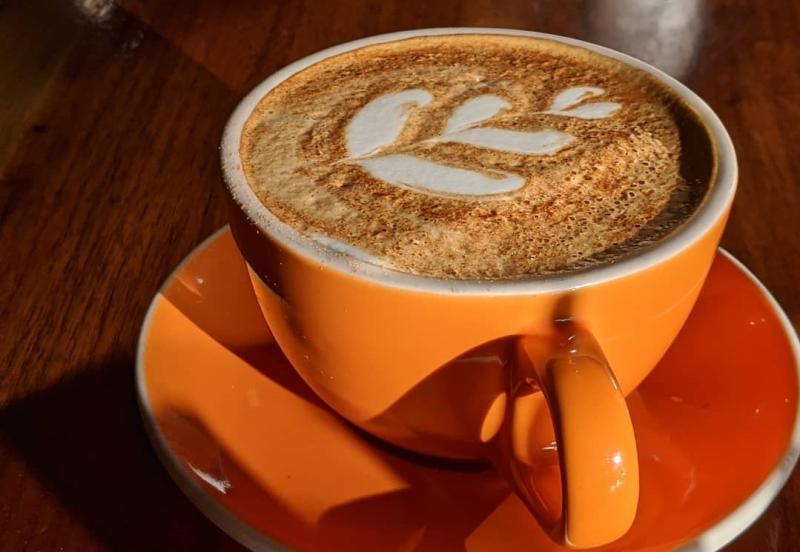 Photo by Needmore Coffee Roasters
It wouldn't be fall without the warm and cozy menu additions at local eateries, and Bloomington's restaurants do not mess around when it comes to fall flavors.
We of course have to begin by telling you where to grab a handcrafted pumpkin spice latte in town — Starbucks may have put the fall-favorite drink on the map, but you're missing out if you don't try a pumpkin spice latte at one of Bloomington's best coffeehouses, including Soma Coffee House and Juice Bar, Hopscotch Coffee, Needmore Coffee Roasters, Poindexter Cafe, Brilliant Coffee Co., and more. If you're not a PSL fan, cozy up to a mug of coffee with a sprinkle of nutmeg and cinnamon for a yummy treat on an autumn day.
For those with a sweet tooth, B-Town's bakeries have you covered with all kinds of delectable fall-flavored treats. Head to Two Sticks Bakery or Rainbow Bakery for an assortment of sweet and savory selections — you'll be thrilled to find the usual pumpkin- and apple-flavored treats, in addition to some unique varieties that are worth stepping out-of-the-box for. Summer may be the peak season for ice cream, but fall definitely isn't the time to go on a hiatus from the chilly treat. Visit Bloomington's local ice creameries for delicious and unique fall-flavored scoops — Hartzell's Ice Cream and the Chocolate Moose are two fan-favorites.
The change in season brings seasonal menu items to local restaurants, wineries, and breweries as well. Annual staples include Laughing Planet Cafe's Fall Harvest Burrito, the Oktoberfest menu at Upland Brewpub, and Village Deli's pumpkin pancakes, made with local Dillman Farm Pumpkin Butter. Visiting beer connoisseurs will find fall brews on tap at Metal Works Brewing Company, The Tap, and Switchyard Brewing Co. If wine and cocktails are more your speed, you'll enjoy Oliver Winery's insanely popular Apple Pie wine and Cardinal Spirits' variety of fall-flavored cocktails.
There are many, many other eateries that offer fall-themed specials, so be sure to look up menus at restaurants you'd like to check out to get the scoop on their seasonal offerings.
 
Attend the best fall festivals and events.
The beautiful fall scenery and mouthwatering fall flavors are enough of a reason to visit B-Town in the fall, but the huge variety of incredible fall events are an added bonus you don't want to miss out on.
It wouldn't be fall in Bloomington without Hoosier football — immerse yourself in Indiana University culture by touring campus on Friday, tailgating Saturday morning, attending a football game in the afternoon, then celebrating victory (hopefully) with fellow IU fans at a Hoosier mainstay like Nick's English Hut, BuffaLouie's, or Yogi's Bar & Grill. Find inspiration and tips for a fall gameday getaway here.
If you're searching for fall-themed festivals and seasonal attractions, look no further than the Stinesville Stone Quarry Festival, Great Glass Pumpkin Patch, and Fowler Pumpkin Patch. The Stone Quarry Festival features craft vendors, food booths, live music, a pie competition, an antique tractor show, and a parade; the Great Glass Pumpkin Patch is a display of over 500 blown-glass pumpkins for admiration and sale, and Fowler Pumpkin Patch offers the classic fall pumpkin patch experience: pick the perfect pumpkin, go on a hayride, befriend animals at the petting zoo, and find your way through a corn maze.
There are also several non-fall-themed festivals and events that take place in Bloomington during the fall season, such as the Lotus World Music & Arts Festival, Pridefest, Indiana Kiwanis Balloon Festival, Fourth Street Festival of the Arts & Crafts, and Hoosier Hysteria, each offering incredible experiences and tons of fun to both locals and visitors. Consider planning your trip around the fall festivals and events you wish to attend.
 
Enjoy a cozy stay.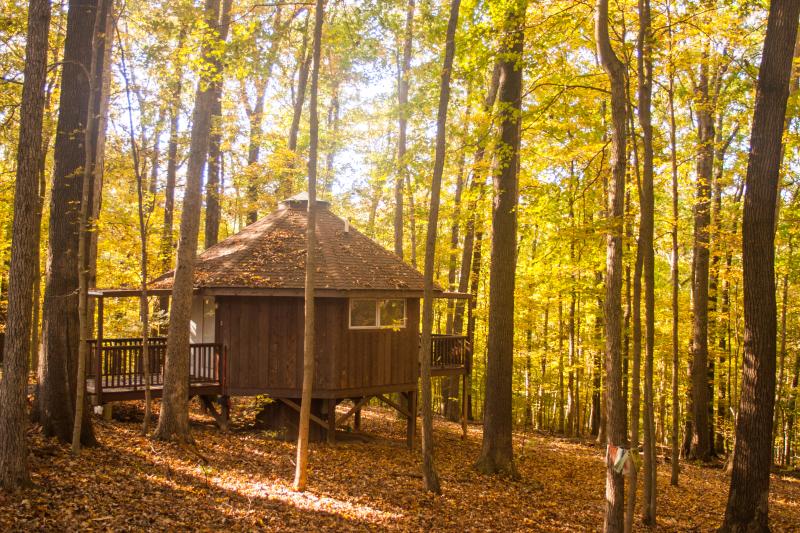 Immerse yourself in fall to the fullest extent by staying at a yurt at the Tibetan Mongolian Buddhist Cultural Center, a lakeside vacation rental, or a cabin in the rolling hills. Do note that due to the limited number of these types of rentals, they tend to book quite quickly. Schedule your stay well in advance of your trip, and consider booking a mid-week stay for the best chance of securing your desired lodging. For a full list of vacation properties in Bloomington, check out Airbnb and Vrbo. 
If a traditional hotel stay is more your speed, Bloomington has plenty of options to offer. Enjoy a stay downtown to be in the center of the hustle & bustle and close to campus, or book a room at a hotel along Interstate 69 for quick access to any destination in town. Browse our hotel listings to find the perfect fit for your trip activities and group needs.
 
LOOKING FOR MORE BLOOMINGTON TRIP IDEAS & INSPIRATION THIS FALL? CHECK OUT THESE BLOGS: