Summer in Bloomington, Indiana
Summer in Bloomington is a special experience — with our beloved IU students absent for the season, B-Town becomes a quieter, slower-paced version of itself. Break away from reality for three days to relax and recharge under our shining summer sun. 

Have fun in the sun.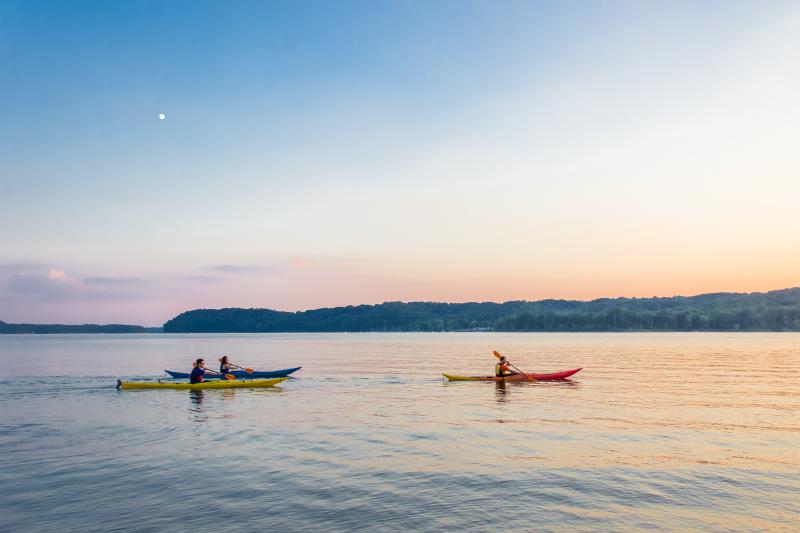 Spend a day exploring our vibrant and eclectic downtown district. Bloomington's city streets are lined with gorgeous historic homes, a multitude of shops, and some of the best eateries in the Midwest. Rent an electric scooter to take a break from walking around in the heat — you'll be able to see more of the city as you zip around on your scooter than you would be able to on foot anyway. If you happen to visit town on a Saturday, treat yourself to our Community Farmers' Market — a downtown favorite featuring fresh food and homemade goods from local and regional farmers, or make a weekend of it and laugh it up at the Limestone Comedy Festival.
Trade your scooter for a paddle as you venture out to Indiana's largest body of water, Monroe Lake. Spend the day lazing on a pontoon boat, speeding across the water on a jet ski, or exploring the lake at your own pace in a kayak. Visit the Fairfax State Recreation Area to lay out on the beach, dip your toes in the water, and have the perfect summer picnic. Bring your fishing poles and try your luck with the lake's bass, bluegill, crappie, and catfish.
Water activities aren't the only thing Monroe Lake has to offer — lace up your hiking shoes and set out on one of the three trails at the Paynetown State Recreation Area, or head over to the nearby Amy Weingartner Branigin Peninsula for a hike like no other in town. If mountain biking is your thing, pack up your bicycle so you can hit the trails on two wheels. Birders and wildlife lovers will enjoy Stillwater-North Fork State Wildlife Refuge and Middlefork Waterfowl Resting Area, two marsh habitats located on Monroe Lake.
Not feeling a lake day? No problem. Treat the family to an afternoon of mini golf at Hoosier Putt Hole, then head over to Jiffy Treet, located right next to the golf course, for a refreshing ice cream cone. Looking for one more activity to do before dinner? Take a short drive from Jiffy Treet to the Beanblossom Bottoms Nature Preserve for a two-mile boardwalk hike. There's something for everyone to enjoy under B-Town's summer sun.
 
Enjoy peak patio season.
Summer is primetime patio dining season in B-Town. Enjoy the sights and sounds of the season while chowing on some delicious local grub under the shade of an umbrella-covered table — Bloomington even has extended patio seating in temporary pedestrian-only spaces, an initiative headed by the city to provide additional spaces for patrons to spread out and enjoy all downtown has to offer.
Cruise a quiet campus.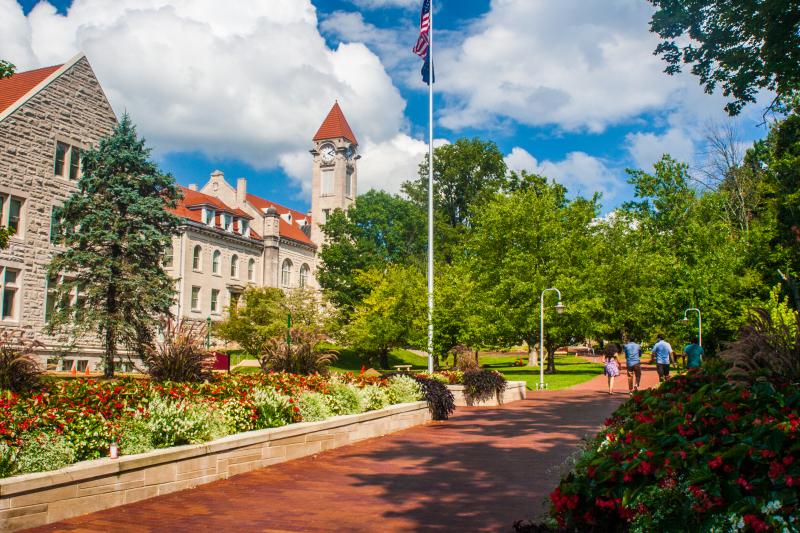 With the university's students on summer break, campus takes on a peaceful, quiet regality that's seldom seen during the high-energy, bustling months of the school year. Enjoy a leisurely stroll around the limestone-clad campus as you get to know its most beautiful spots: Sample Gates, Old Crescent & the Rose Well House, Dunn Woods, the Memorial Union & Beck Chapel, Dunn Meadow & the "mighty" Campus River, Bryan House & the Conrad Presbys Amphitheater, Lilly Library, the Eskenazi Museum of Art, Showalter Fountain & the IU Auditorium, the Cox Arboretum & Wells Library, Assembly Hall & Memorial Stadium, and so much more. As you cruise around the campus grounds, see how many of these IU bucket list activities you can cross off the list.
 
Paradise is closer to home than you think.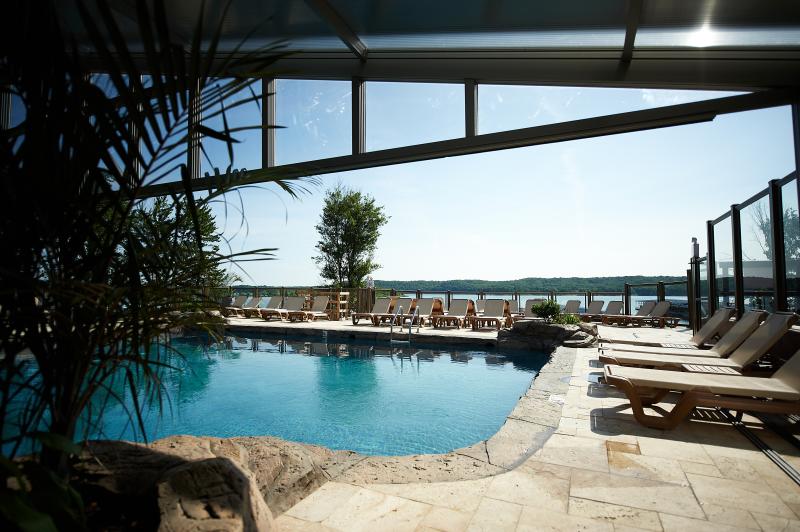 Our little Midwestern slice of paradise has its own waterside resort: the Fourwinds Lakeside Inn & Marina offers incredible views of Monroe Lake, multiple private pools, two on-site restaurants, beach access, and more, just 20 minutes from downtown Bloomington.
If unplugged life on the lake is what you're seeking, check out some of the camping options around Monroe Lake. Hardin Ridge Recreation Center and Paynetown State Recreation Center offer primitive campsites, RV hookups, and cabins for the nature lover spending time in Bloomington. For family fun, book a stay at Yogi Bear's Jellystone Park, complete with RV hook-ups, cabin rentals, deluxe lodging, an outdoor pool & waterpark, a playground & sandbox, and more.
For those looking to return to the city after a day at the lake, embrace Bloomington's downtown charm at the Grant Street Inn. A stay at this late 1800s modernized-boutique inn puts you within six blocks of some of the best local shopping, dining, and nightlife on The Square and just two blocks from our beautiful Hoosier campus.
Regardless of the adventure you choose for your summer getaway in Bloomington, we can promise a sense of rejuvenation as you hit the road to head back home. We'll be eagerly awaiting your return as fall approaches — it's another magical season in B-Town that you don't want to miss.
 
Looking for more Bloomington trip ideas & inspiration this summer? Check out these blogs: