Winter in Bloomington, Indiana
Snow-covered rolling hills, downtown's twinkling lights, and magical holiday happenings transform B-Town into a picturesque winter wonderland. Whether you decide to cozy up or embrace the chill, a getaway to Bloomington this season is sure to be an enchanting experience.
 
Step in the sparkling snow.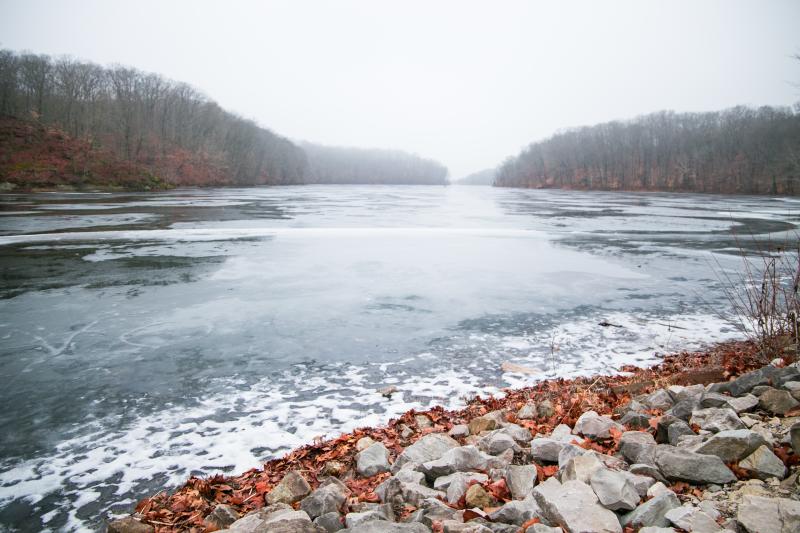 Most people are in the camp of wanting to take cover indoors during winter, but with so many incredible outdoor attractions in Bloomington, facing the chill is worth it. Head to Griffy Lake Nature Preserve for eight short hiking trails, all less than two miles in length, and for beautiful views of the frozen lake. Load up your mountain bike for a ride on the Bloomington Rail Trail, which transforms into a stunning tunnel of tangled, icy branches during the chilliest months of the year. For nature lovers, Muscatatuck National Wildlife Refuge is a must. Once winter arrives, so do the tundra swans, sandhill cranes, and many species of ducks. River otters also become fairly easy to spot popping in and out of fishing holes in the frozen marshland.
If you're not interested in going on a full-blown outdoor adventure, simply take a walk around downtown to admire the holiday decorations, twinkling lights, ice-covered trees, and snowy storefronts — it's a picturesque Hallmark movie scene brought to life.
 
Opt for indoor excitement.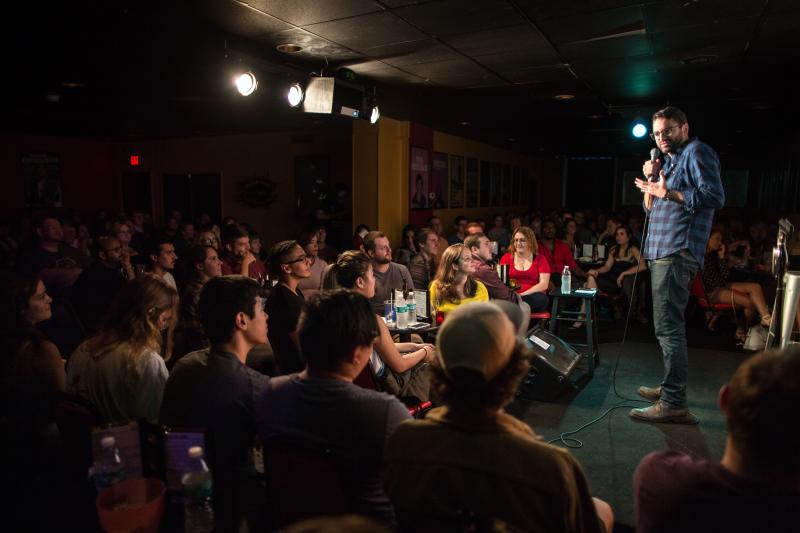 If you just can't stand the cold, Bloomington has plenty of other entertainment options for you. Visit one of our many museums: the world-renowned Lilly Library, the historically-rich Cook Hall, or the locally-revered Monroe County History Center. Get active with the whole family at Classic Lanes Bowling Center, Western Skateland, or Frank Southern Ice Arena. Take the indoor fun from day-to-night by seeing a play at the Musical Arts Center or a performance at the Buskirk-Chumley Theater. 
Looking for more indoor activities and entertainment in Bloomington? Find kid-friendly fun here and general indoor entertainment here.
 
Delight in warm & cozy dishes.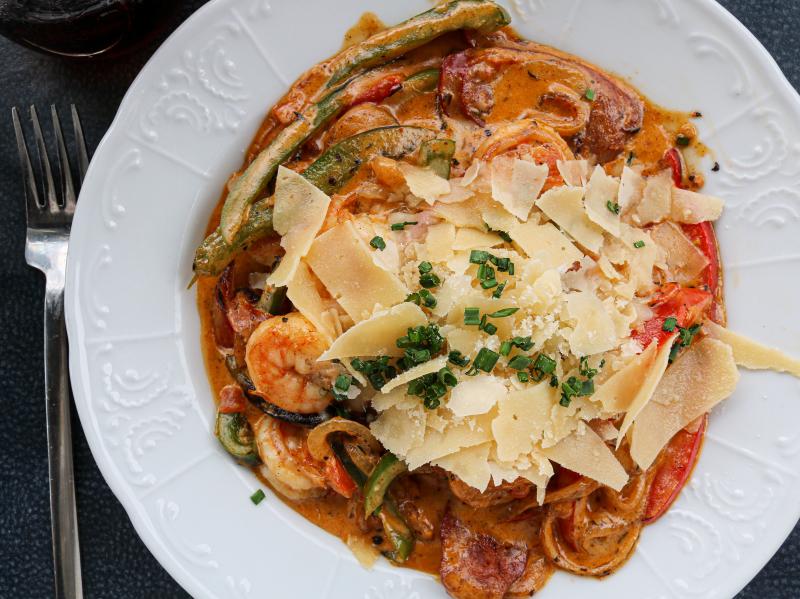 Winter's spirit of hibernation makes us crave comfort food, and Bloomington's restaurants have plenty of delicious items to offer. Enjoy an authentic bowl of Celtic Stew or Coddle at the warm & inviting Irish Lion; delight in the quirky & cozy ambiance of Runcible Spoon while savoring a plate of Corned Beef Hash; stay warm with a Soup Flight and Cajun Seasoning cocktail from Southern Stone; experience one of Taste of India's incredible, authentic curry dishes with an order of freshly-baked Naan; enjoy a seasonal brew and a flatbread from Metal Works Brewing Company — the list goes on and on!
 
Stay by the fire.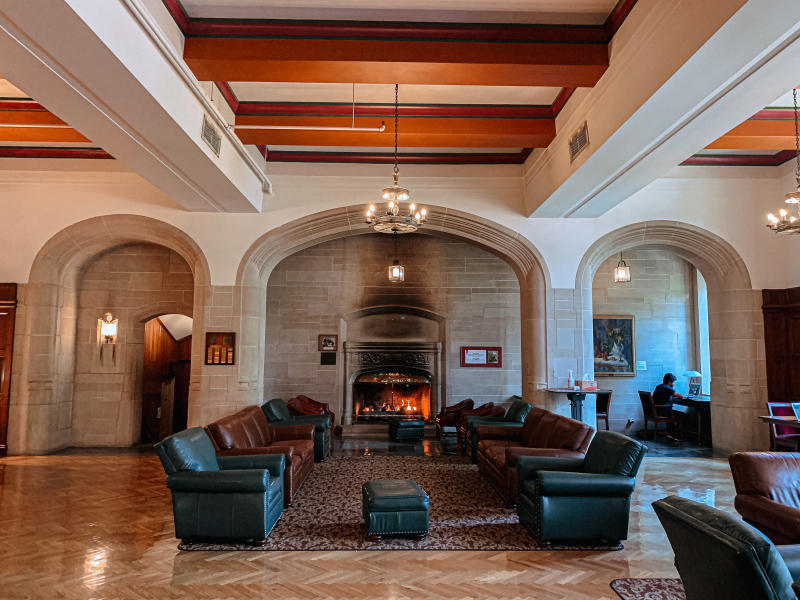 There's no place like the Indiana Memorial Union Biddle Hotel & Conference Center for a warm & cozy stay in Bloomington. The building itself feels magically akin to the Hogwarts castle, and its complete with cushy leather chairs & couches for lounging, a massive fireplace for staying warm, one of the largest Starbucks' in the nation for easy access to your favorite holiday beverages, IMU Bowling & Billiards for a day full of indoor excitement, and a fantastic variety of restaurants, cafes, and bakeries for all of your comfort food cravings. Add the fact that the IMU is in a central location to downtown, other university attractions, and Griffy Lake, and you've got the perfect hotel for your winter B-Town excursion.
 
Don't leave vacation days on the table.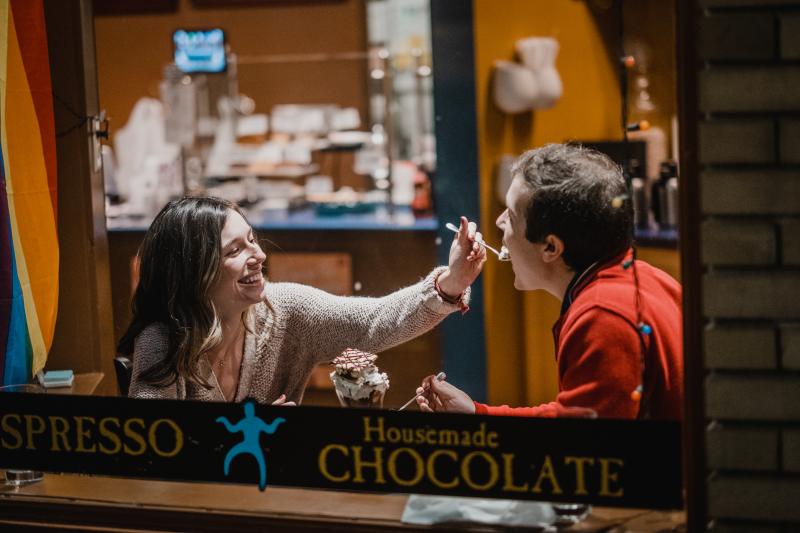 Have paid time off and energy to burn from canceled trips? Bloomington has plenty of activities to keep the whole family busy this winter. Climb a two-story grapevine or learn what makes hot air balloons float at the WonderLab Museum. For more indoor fun, take the gang to the Hoosier Heights rock-climbing gym or Urban Air Adventure Park. Enjoy a meal at one of Bloomington's family-friendly restaurants, then treat your little Hoosiers to an IU Basketball game, followed by an exciting late-night game of bowling at IMU Bowling & Billiards.
Or, maybe you're in need of a couples getaway — drop off the kids at grandma's and treat your partner to a weekend away. Indulge in delicious seasonal treats at locally-owned bakeries like Crumble Coffee & Bakery, Rainbow Bakery, and Feast Market & Cellar. Take a stroll through the Eskenazi Museum of Art at Indiana University to admire contemporary works, ancient artifacts, and Renaissance masterpieces. Savor a romantic meal at Truffles,or Osteria Rago, then enjoy a live music performance at one of Bloomington's many venues, or see a stand-up show at The Comedy Attic. 
Whichever adventure you choose to pursue, Bloomington will be waiting to greet you with a warm welcome this winter.
 
LOOKING FOR MORE BLOOMINGTON TRIP IDEAS & INSPIRATION THIS WINTER? CHECK OUT THESE BLOGS: