2016 Entertainment Schedule - check back for 2017 schedule!
Kids' Festivities
3:00-7:00pm
Activities include:
face painting: $3-$5
Excalibur Castle (bounce house): free for all Taste attendees!
Son of the Eliminator (obstacle course): free for all Taste attendees!
Cherry Bomb (obstacle course similar to the show Wipeout): free for all Taste attendees!
Morton Street Stage
Payton Brothers
3:00-3:50pm
The Payton Brothers Band are an American roots rock band from Bloomington, IN. Band members are Ryan Payton, Jason Payton, Grady Ferguson, and Matt Floyd.
Lilly Meister
4:00-4:20pm
16-year-old Lilly Meister is from Bloomington and is a sophomore at Edgewood High School. At only 7 years old, Lilly asked for a guitar so that she could put her music to words.  Lilly embraces many genres of music and covers songs by John Prine, Dolly Parton, Houndmouth, the Cranberries, Halsey, Flaming Lips, and pretty much everything in between.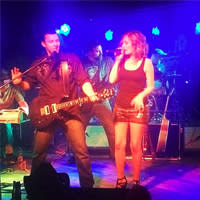 All Access Band
4:40-5:30pm
A Bloomington-based country/rock band. Band members are Bobby Thompson,Bob Hall, Chris SPencer, Chuck Morris, Paul Smith, and Tiffany Waldrip.
Durand Jones
6:00-7:15pm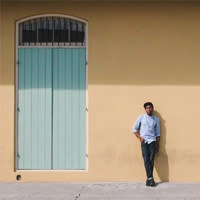 Bayou-born soul sensation, Durand Jones got his start in the church, after being forced to sing in the choir of his rural hometown Hillaryville, Louisiana because his Grandmother thought he sang too much at home. When his music career took him to Bloomington, Indiana, he was selected to join the legendary Indiana University Soul Revue, and it was through his involvement that he met writer/producer duo Aaron Frazer and Blake Rhein. The three began writing original soul music, recording themselves straight to tape in the basements of Bloomington - and their debut 45 is now available on our record label, Colemine Records. 
Sheila Stephen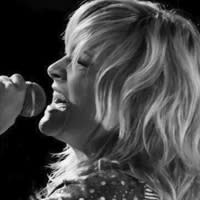 7:45-9:00pm 
Sheila Stephen is a Bloomington country singer who hosts the midday show on WHCC 105.1 FM, Hoosier Country. She has had the opportunity to open for many of the greatest country legends of all time including David Allan Coe, George Strait, Randy Travis, and Charley Pride.
Jake Dodds
9:30-11:00pm
From entertaining any willing crowd at a young age to entertaining across the country, Jake Dodds has quickly become one of Country music's rising artist. Blending old with the new, Jake's high-energy shows and carefree attitude help him connect with the audience on another level. Often compared to the likes of Luke Bryan and Garth Brooks, Jake has opened for national acts such as Lee Brice, Tyler Farr, and Dustin Lynch, among others. In 2015, Jake Dodds released his first Country Radio single and Debut EP.
North Stage
Rough Draft
3:00-4:00pm
This Bloomington cover band includes a wide range of genres, from 70s rock through contemporary hits.
White Lightning Boys
4:30-5:30pm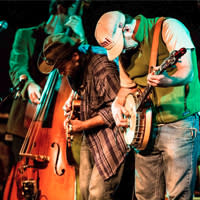 The White Lightning Boys have toured all over Brown County, Indiana, up every hill and down every holler, occasionally venturing as far as Jasper, Indiana. The Boys have also shared stages, spotlights and sometimes cookie recipes with local, regional, national and international touring artists such as Tim Grimm, Ockerville River, Travelin' McCourys, Cornmeal, Rumpke Mountain Boys, and Henhouse Prowlers.
PolkaBoy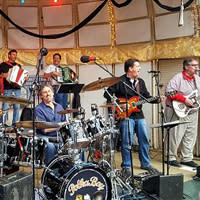 6:00-7:30pm
PolkaBoy takes the traditional "oom-pah-pah" sound and shakes it up with a modern twist. Audiences can be dancing to "Beer Barrel Polka" one minute, then a Frank Sinatra song with a Teutonic twist.
Hairbangers Ball
8:00-9:30pm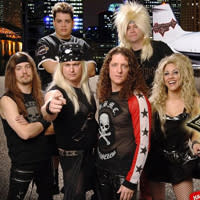 Not so long ago, bands like Poison, Guns N' Roses, Mötley Crüe and Skid Row were selling millions of records and playing sold-out arenas across the country. One tribute band has tapped into the nostalgic energy of the "Decade of Decadence" like no other. It's called Hairbangers Ball, and the crazy train has left the station, complete with the monster hair, the tattoos, the leopard print spandex, pyrotechnic masterpieces and all the make-up you can handle. As the name suggests, this is not just a band. It is a chronic party on maximum overdrive.
The Phunk Nastys
10:00-11:00pm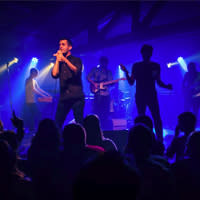 Bloomington's most versatile group! The best cover band in town, playing all of your favorite top 40 and oldie hits. Also a groovy jam band that draws from a wide range of influences from Miles Davis to Phish and Umphrey's Mcgee. No matter what style of music we are playing, we aim to create great, high energy, danceable music that is fun for everyone! 
Jazz Stage
BHSN Combo and Future of Jazz All-Stars

3:00-3:45pm

 

June Lee Trio

4:00-4:50pm

 

Joey Kendrick Quartet

5:00-5:50pm

 

Richard Baskin

6:00-6:50pm

 

Pat Harbison & Butterfly Dreams

7:00-7:50pm

 

Stardusters

8:00-8:50pm

 

Trio Collective

9:00-9:50pm

 

Tom Walsh Quartet

10:00-10:50pm