Monroe Lake is Indiana's largest land-bound body of water. At over 10,750 surface acres, this lake has more than ample space for recreation of all types. Whether you're looking for camping in spring, boating in summer, fishing in fall, or hiking in winter, there's a good chance the lake and the thousands of acres surrounding it have something for you!
Swimming
Monroe Lake has three public beaches for all to enjoy. From Memorial Day to Labor Day, dip your toes in the water or get some sun at the Fairfax SRA, Paynetown SRA, and the Hardin Ridge SRA. Bring a basket and a big blanket and spread out for a waterside picnic for the family to keep everyone full throughout the day! No matter how you spend your time at one of Monroe Lake's beaches, a day in the sand is the perfect way to enjoy a waterside staycation and get some unsalted, shark-free beach time in the warmer months.
Fishing
Monroe Lake is home to some truly great fishing throughout the entire year. Bass, bluegill, crappie, and catfish populate the lake's waters and provide an opportunity for hours of relaxation for anglers of all ages. Bring your boat, rent one for the day, or enjoy angling from the banks of the lake, shaded by the lush forests surrounding you.
Make sure you get an Indiana fishing license for all anglers under 17 from the IDNR office.
Boating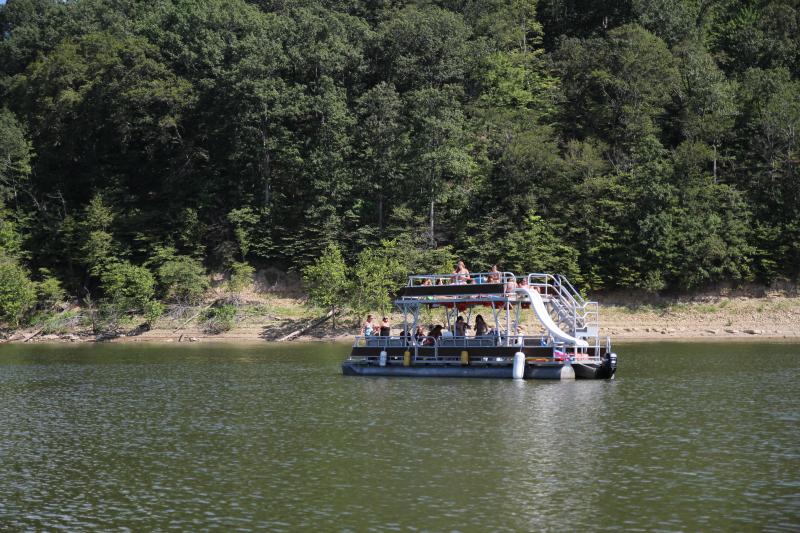 Boaters, rejoice—Monroe Lake is the ideal spot for watercraft of all kinds. Bring your boat or head to one of the many rental locations located along the lakeside to find something that suits your fancy. Spend a day kayaking around and looking for bald eagles at your own pace, or rent a speedboat and a tube for an adventure the kids won't forget.
Camping and Lodging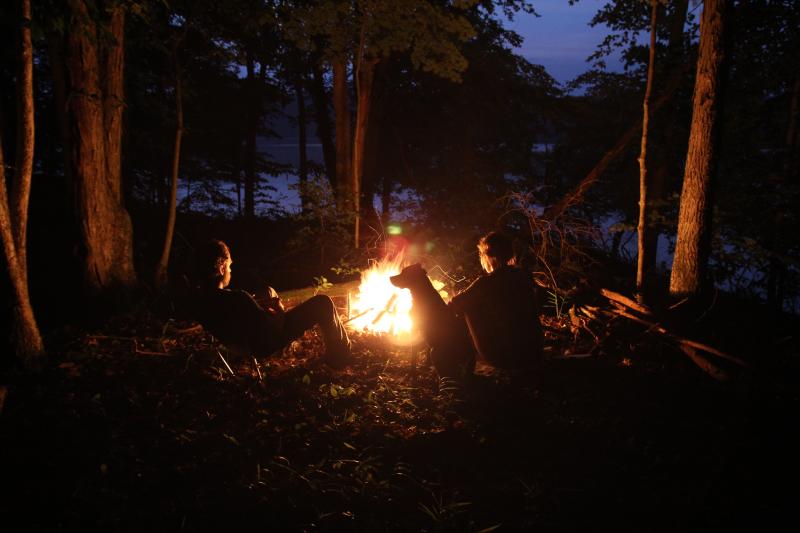 Don't want to leave the lakeside at the end of the day? Good news, you don't have to with the variety of camping options available at Monroe Lake.
From RV sites to log cabins and rustic tent camping, your options are limitless at the water's edge. Lakeside lodges have amenities from lakeside pools to mini-golf, and RV villages allow you to mingle with other nature-lovers.
For the primitive campers, the Hoosier National Forest may become your favorite camping area in Monroe County. Primitive camping is allowed throughout the forest, and there's plenty of lakeside camping real estate to ensure you get a good view without the distraction of modern amenities.
State Recreation Areas
Indiana's largest lake is surrounded by a variety of State Recreation Areas, offering recreation opportunities from mountain biking to hiking and even horseback riding. The proximity to the lake gives you choices for an array of water-based activities, or the option to stay dry and have the lake as soothing nearby scenery.
Surrounding the lake, you will find eight SRAs, all with opportunities for recreation. Make sure to check the Indiana DNR website for events hosted at the SRAs year-round!
Sustainability
Home to a variety of wildlife, a thriving forest, and memories for many Hoosiers, Monroe Lake, is more than just another body of water. Land stewardship is key to keep this beautiful lake accessible for the recreation you love. When visiting, whether for a day on the water or a weekend in the woods, make sure to practice Leave No Trace principles and respect the land around you.
If you're interested in the wildlife and plants in and around Monroe Lake, check out some of the DNR's educational programs, hosted year-round, at nearby SRAs!