Things to Do at Griffy Lake
Categories: Outdoors
Griffy Lake Nature Preserve is comprised of a 109-acre lake surrounded by a 1,200-acre nature preserve. The stunning grounds are located mere minutes from Indiana University's campus, a pleasantly shocking discovery for those who have never stumbled across the serene property. Take a break from the hustle and bustle of town to ground yourself in nature at the preserve — there are several activities to choose from at Griffy Lake. Please note: swimming is prohibited. 
Boating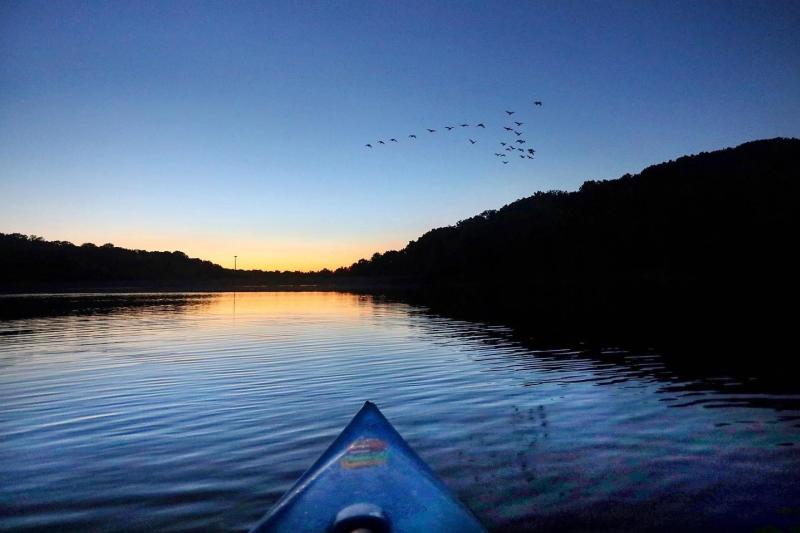 Photo by @sunnhunt on Instagram
Griffy Lake is the smallest lake in Bloomington, but that doesn't mean it's any less fun than Monroe Lake or Lake Lemon. Offering a quieter alternative for recreation, Griffy is a great place to bring a kayak, canoe, paddleboard, or non-motorized fishing boat. Perks of a lake without motorized watercrafts are less water turbulence and increased safety for non-motorized watercraft users. Visitors are more than welcome to bring their own boats to launch at the lake's ramp, or guests can rent a paddleboard, canoe, kayak, or rowboat from the Griffy Lake Boathouse.  To launch a private watercraft at Griffy Lake (motors limited to electric trolling motors only), you need a City of Bloomington launch permit, which can be either a daily launch or an annual launch permit. Permits may be purchased at the boathouse during business hours.
Fishing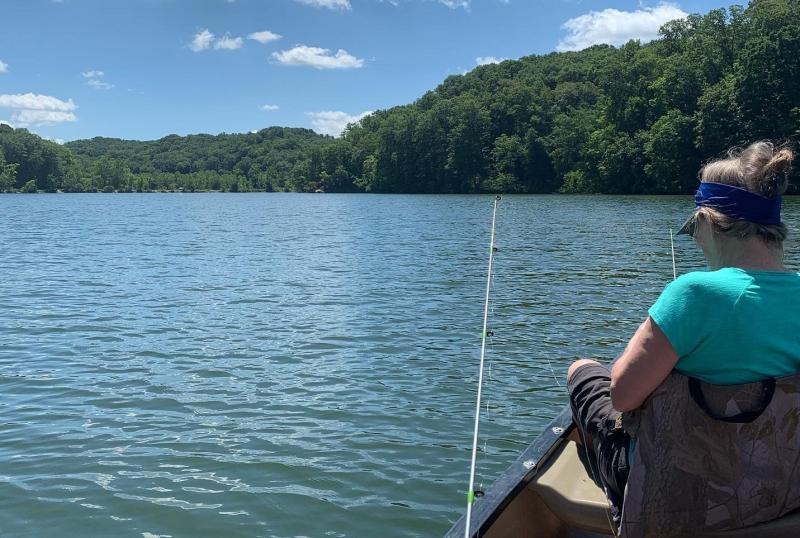 Photo by Stephanie Lou Fulford
Spanning 109 acres with an average depth of about 10 feet, Griffy Lake is stocked with largemouth bass, bluegill, redear sunfish, and channel catfish. Fishers are welcome to cast a line from any shore or from a non-motorized boat. Visitors are more than welcome to bring their own boats to launch at the lake's ramp, or guests can rent from the Griffy Lake Boathouse. Fishing is allowed year-round, including ice fishing, although Griffy Lake advises you to do so with caution. An accessible fishing pier is also available. Please note: a valid Indiana fishing license is required to fish at Griffy Lake.
Hiking
The Griffy Lake Nature Preserve also offers eight hiking trails for visitors to enjoy. All trails are either easy or moderate in difficulty, spanning from as little as 0.2 miles to as much as 1.7 miles. Several trails meet with one another to give hikers the option of an extended trek. 
Trails are as follows:
Wetlands Trail
Nature Trail
East North Shore Loop
Lanam Trail
West North Shore Loop
Cascades Park Trail
Griffy Creek Trail
Hiking Trail
Visit the City of Bloomington website for a trail map before you set off on your hike. Closed-toe shoes and plenty of water are also advised. Please note: mountain biking, horseback riding, and off-road vehicles are prohibited. Dogs are welcome, as long as they're on a leash.
Responsible Recreation & Land Stewardship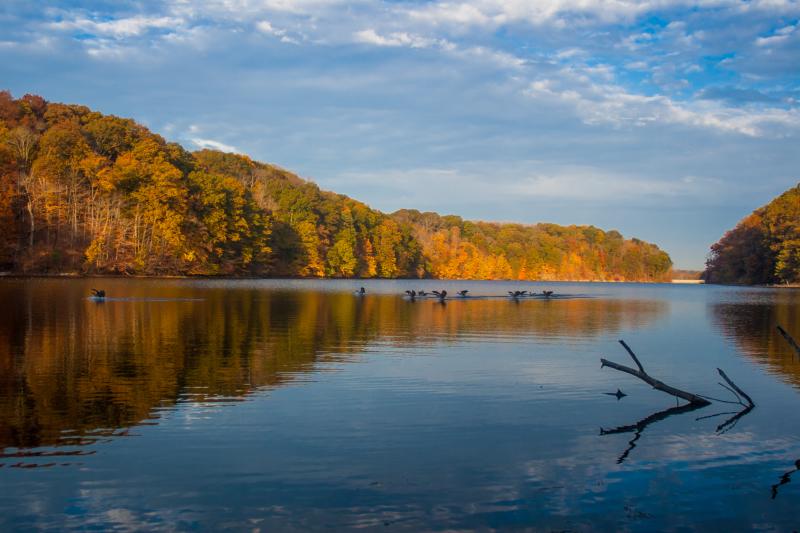 Home to a variety of wildlife, plant species, and fond memories for many Hoosiers, Griffy Lake is more than just another body of water. Land stewardship is key to keeping this beautiful nature preserve accessible for all to enjoy. Please practice Leave No Trace principles and respect the land around you during your visit.
LOOKING FOR MORE INFORMATION ABOUT BLOOMINGTON'S LAKES? CHECK OUT THESE BLOGS: