You may know Bloomington for the beautiful Indiana University campus, or maybe for being home to Monroe Lake, Indiana's largest body of water. But did you know that minutes from town, you can find an expansive national forest?
Over 200,000 acres of Indiana uplands and 266 miles of hiking trails wind through Hoosier National Forest, Monroe County's only nationally recognized forest area. The forest spans multiple counties, but thousands of acres are found in Monroe County, including Indiana's only wilderness area, the Charles C. Deam Wilderness Area.
Read on to see things to do in Hoosier National Forest, including camping, hiking and backpacking, fishing, and more.

Camping
If the fast pace of modern life is getting to be too much for you, take time to get back to basics and rough it for a night or two. Spend a day backpacking through any of the trails in Hoosier National, and then pick a camp to set up a tent and get a nice campfire going.
Camping is free in Hoosier National Forest, and there are multiple primitive campground options as well as dispersed camping. As always, make sure to use Leave No Trace principles when camping. Make sure to pack out anything you pack in, stay on the trail as much as possible, and spread out use at campsites to ensure the area stays a beautiful place for future visitors.
Hiking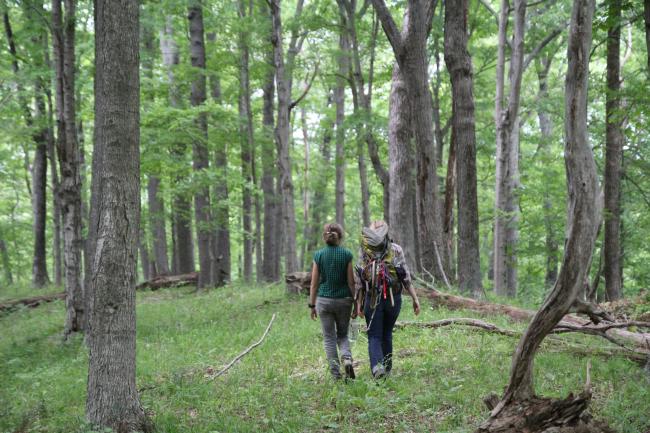 Grab a map and take a hike! Hundreds of miles of trails mean there are endless combinations of day hikes and backpacking trips available for all. Trails range from relatively flat, easy walks to rugged hikes with the potential for getting a little muddy! Bring a group or do some solo hiking—either way, keep an eye out for the beautiful wildflowers, majestic eagles, and sweeping vistas you can find hiking through Hoosier National Forest.
Forest Bathing
Forest bathing is more than just a magazine-worthy idea. Forest bathing, or shinrin-yoku, is the practice of connecting to nature by unplugging from the outside world, taking time to absorb the environment around you through all of your senses. Power off your smartphone, take your time ambling through the trees and enjoy the proven health benefits of forest bathing, including improved cardiovascular health and lower stress levels.
Trail Running
If you really want to get your blood pumping, try out trail running. This fast-paced activity combines the challenge of running with the beauty of natural surroundings, and the variety of trails available within the forest gives you options for how intense you want your workout to be.
Fishing
Rivers, streams, ponds, and lakes are available for fishing throughout Hoosier National. Nine different lakes and ponds within the forest host a variety of stocked and naturally occurring fish, including largemouth bass, bluegill, catfish, redear sunfish, and more.
Fishing licenses are required to fish at ponds, lakes, rivers, and streams within Hoosier National Forest.
Biking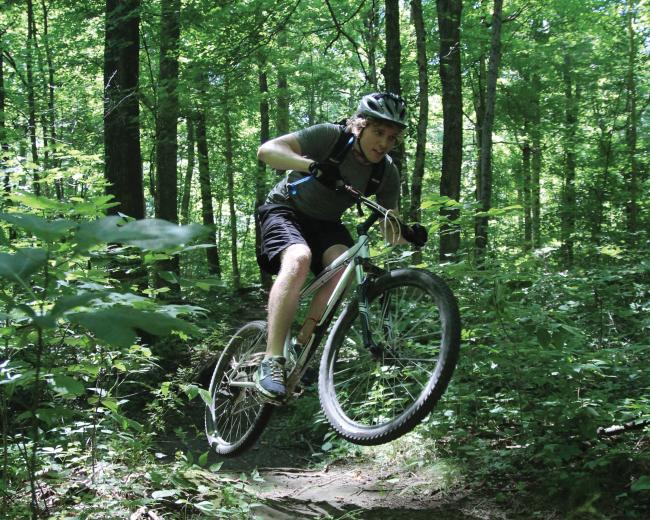 Road biking and mountain biking are both popular in Hoosier National Forest. The roads weaving through the tracts of forest are where iconic scenes for the movie Breaking Away were filmed, and mountain biking trails provide good fun for anyone looking to challenge themselves with some fun terrain.
Always watch out for horseback riders and hikers on the multi-use trails. Trail permits are required for riders 17 and up on forest trails.
Outdoor Education
Hoosier National Forest offers programs and interpretive areas for visitors to get acquainted with the flora and fauna of the area. Guide yourself on one of the many trails with educational signs along the path, or check out visitor programs hosted at the Hardin Ridge Recreation Area, Indian-Celina Lakes Recreation Area, or the Tipsaw Lake Recreation Area.
Sightseeing
Taking in the sights of Hoosier National Forest will remind you just how beautiful the unique hills of southern Indiana are. Take your car on a scenic driving loop around the forest, bring binoculars for birding, climb the historic Hickory Ridge Lookout Tower to watch the sunrise, or go to a guided wildlife and wildflower viewing to soak in the full forest experience.
There are many notable areas in Hoosier National Forest, including the box canyon of Hemlock Cliffs. A short hike will take you to one of southern Indiana's most unique canyon locations with waterfalls, cliffs, and sandstone rock formations. Make sure to check out the Hoosier National Forest's Special Places listings for unique sightseeing opportunities.
Horseback Riding
If you've never taken a day to see some of Indiana's beautiful landscape by horseback, take a ride in Hoosier National. Over 200 miles of trails within the forest are accessible to horseback riders, and there are many camps for horseback riders to enjoy overnight stays in the forest.
While Hoosier National does not provide horses for riders, visitors are welcome to bring their own horses or use a guided riding service from a private company.
Sustainability
Early in Indiana's history, many of our lush forests were cut down to be used as timber for the logging industry. In the early to mid-1900s, there was a push to restore forests back to their former glory, for ecosystem health, economic development, and leisure purposes.
No matter what type of recreation you use the forest for, make sure you act with respect and follow Leave No Trace principles in any outdoor area.