Where to Shop IU Gear in Bloomington
Categories: Indiana University, Shopping
As home to Indiana University, Bloomington has no shortage of places to shop for IU gear. From limited-edition t-shirts and sports memorabilia to candy-striped pants and home decor, our various IU shops offer it all.
 
Greetings
Greetings, located just a block from Sample Gates on Kirkwood, offers unique IU-themed apparel, quirky gifts, home decor, car accessories, and more. Whether you're looking to buy an assortment of items or you're only after some new IU clothing, Greetings' selection should satisfy all of your IU shopping needs.
 
Indiana University Campus Bookstore
The IU Campus Bookstore offers university-exclusive apparel, diploma frames, backpacks & luggage, dorm & home decor, drinkware, pet accessories, keychains & lanyards, banners & pennants, and much more. The bookstore has one of the largest selections of IU gear in town, and their university-exclusive merchandise is definitely worth browsing.
 
IU Varsity Shop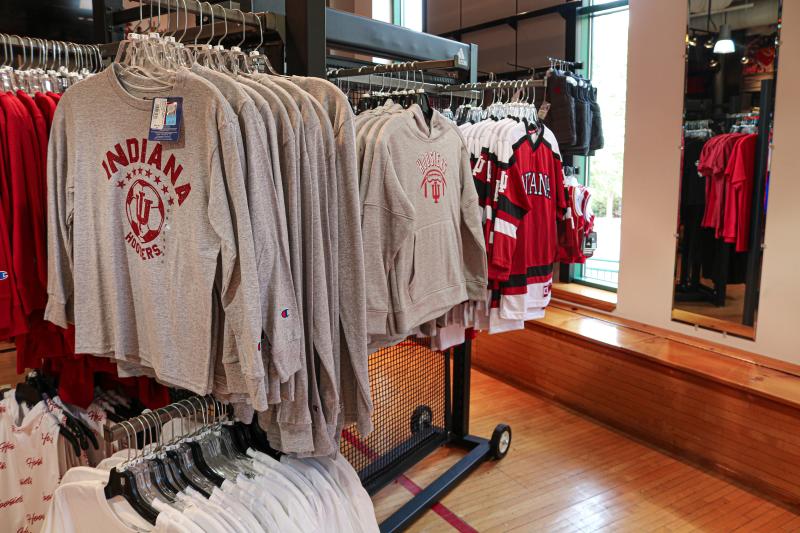 The IU Varsity Shop is the official store of IU Athletics, and as such, they offer a variety of IU sports-themed apparel, including the famous candy-striped pants, as well as a wide range of gifts & accessories, including branded sports gear, tailgate accessories, and home decor. IU Varsity Shop has two locations in Bloomington, one on the corner of Indiana Avenue and Kirkwood Avenue, and another inside Simon Skjodt Assembly Hall.
 
The Indiana Shop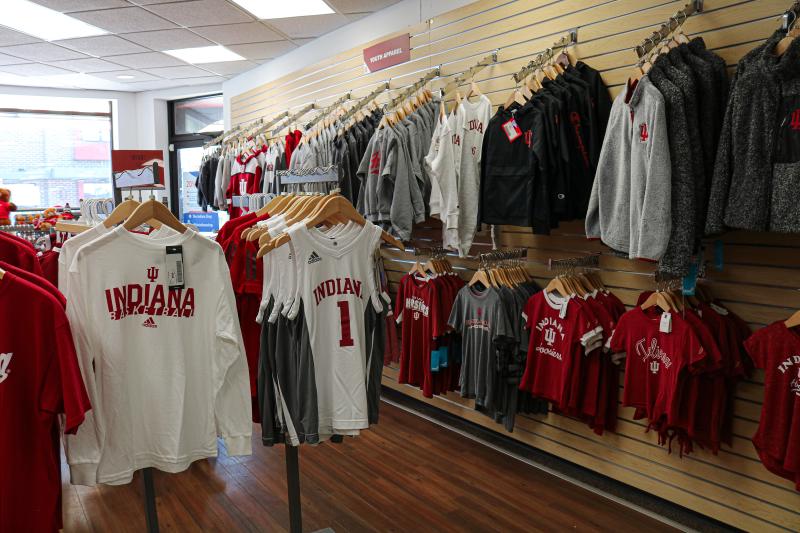 The Indiana Shop is known as the ultimate Indiana University fan shop. With two locations — one next to Nick's English Hut on the iconic Kirkwood Avenue, and another a short walk from the famous Mother Bear's Pizza and across the street from the Jacobs School of Music — the store offers an abundance of IU apparel, home decor, alumni merch, special event gear, and more. 
 
Kilroy's on Kirkwood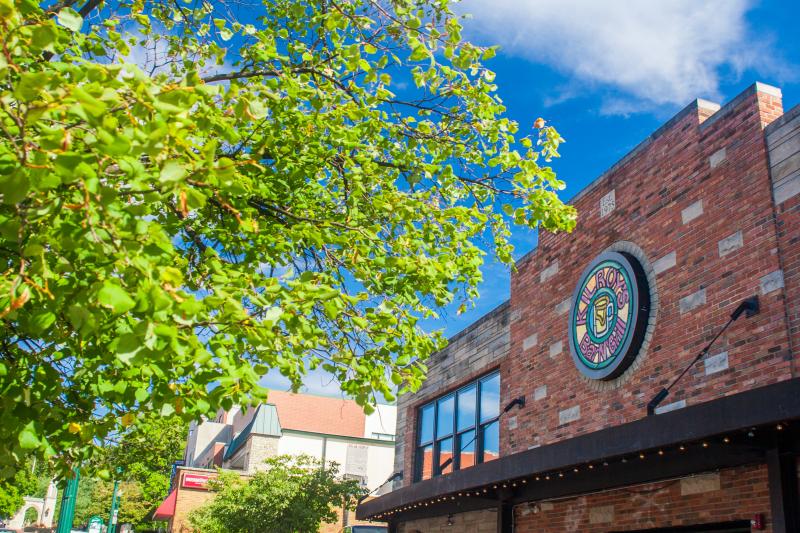 Kilroy's may be known far & wide as IU students' favorite bar, but they're also known for their limited-edition t-shirts. They routinely drop highly-coveted tees that are usually inspired by current events, designed to parody pop culture, sports teams, fashion brands, and more. Swing by Roy's the next time you're in town to see if you can snag one of their legendary shirts  — and order a basket of their famous breadsticks while you're at it.
 
Nick's English Hut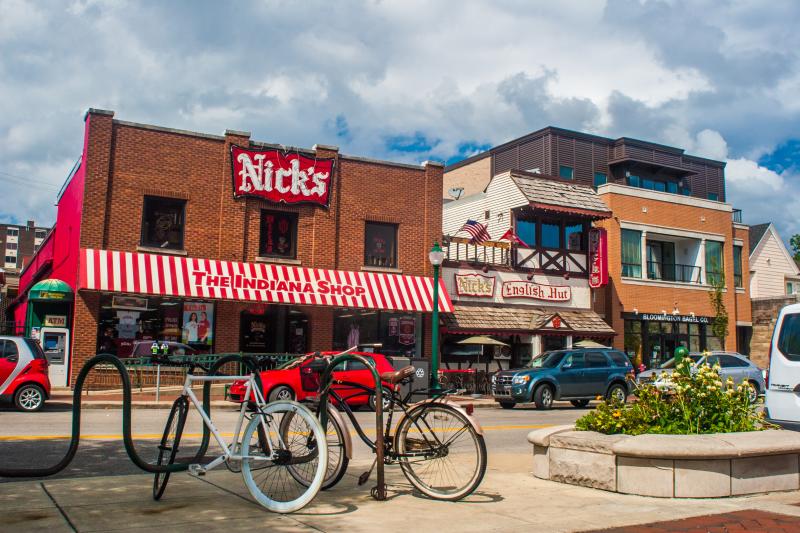 Nick's is another oddball when it comes to shopping, but their unique selection of apparel, home decor, and kitchenwares is worth checking out. From coffee mugs and shot glasses to t-shirts and baseball caps, Nick's offers a variety of unique IU merch that any die-hard Hoosier would love. You can even purchase your own Sink the Biz bucket and dipper cup — it doesn't get any more Hoosier than that!
 
SLCT Stock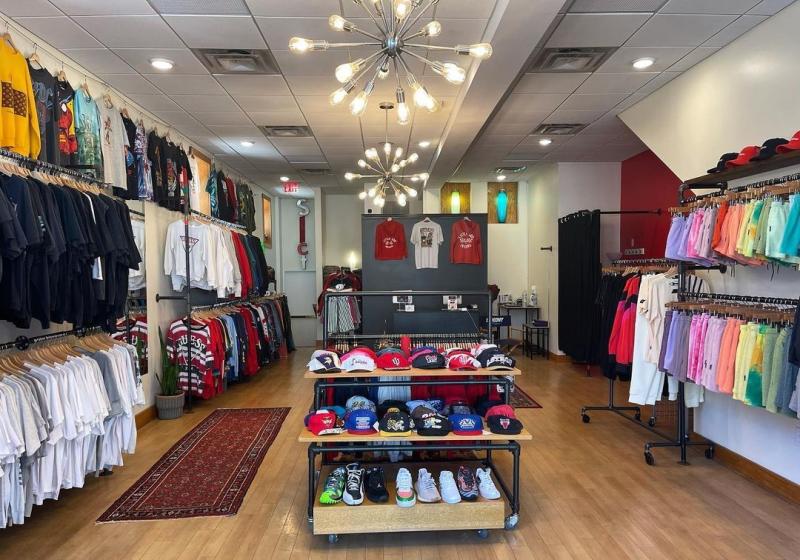 Photo by SLCT Stock
One of The Square's best hidden gems, SLCT Stock is located across the street from Brothers between The Bluebird and Cup & Kettle Tea Co. The apparel store carries a variety of vintage sneakers, t-shirts, hats, and other clothing & accessories. If you love to collect old-school IU apparel, SLCT Stock is going to be your new favorite store. Due to the curated nature of SLCT's stock, items tend to fly off the shelves — follow them on their social channels to stay up-to-date with all new items in the store.
 
Tracks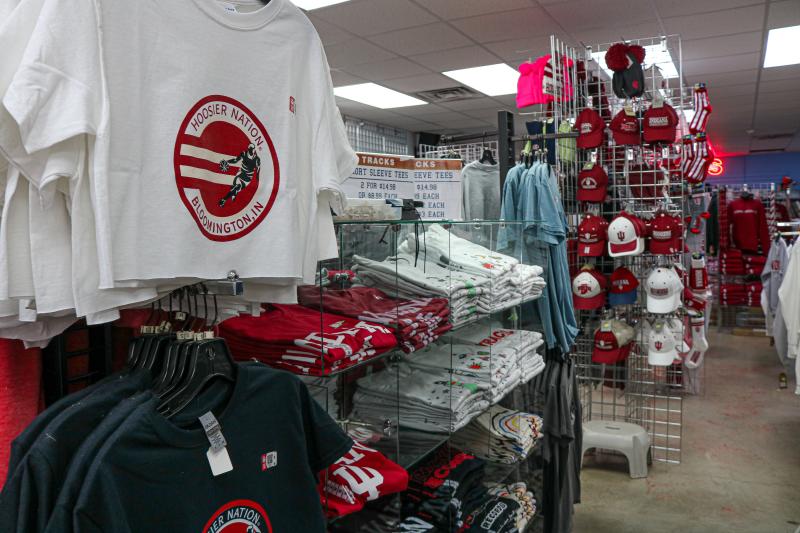 If you're looking for unique IU apparel, Tracks is your place. The clothing and music store offers a wide range of t-shirts, tank tops, sweatshirts, hoodies, and much more, most of which is uniquely designed and only available at the Kirkwood store. Like Kilroy's, Tracks also offers limited-edition shirts inspired by current events on campus. They usually release signature shirts for each football game, as well as for Little 500.
 
Looking for more IU-inspired content? Check out these blogs: