Fourth Street Restaurant Round-Up
Categories: Wine & Culinary
Downtown's beloved 4th Street is home to a variety of international restaurants that serve incredible authentic fare that's isn't found too often in the Midwest. The street, known as "International Row," is well-loved by students, locals, and visitors — there's something for everyone to enjoy, and there's always an abundance of opportunities to try something new. Use this blog as your guide to discovering the cuisine of 4th Street, and let us know what your favorite dishes & restaurants are in the comments!
 
Burmese
Burma Garden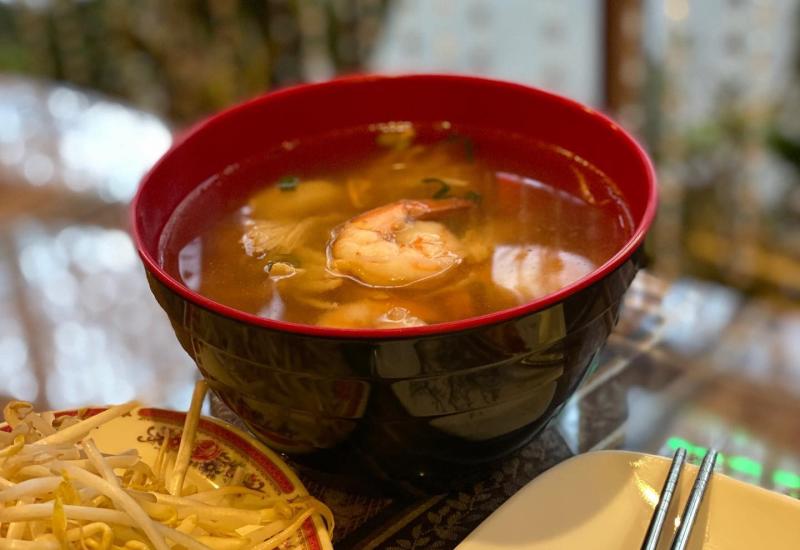 Photo by The Gut Filling
Burma Garden offers a large menu of Burmese cuisine. They serve curries, fried rice dishes, seafood entrees, noodle plates, classic chicken entrees such as orange chicken & sesame chicken, and more. Their pho, tealeaf salad, and Mandalay appetizer platter are extremely popular, but everything on their menu is exceptional. It's the only place you can experience Burmese food in the area, and that makes it a pretty special spot!
 
Cajun
Dat's Cajun Creole Cafe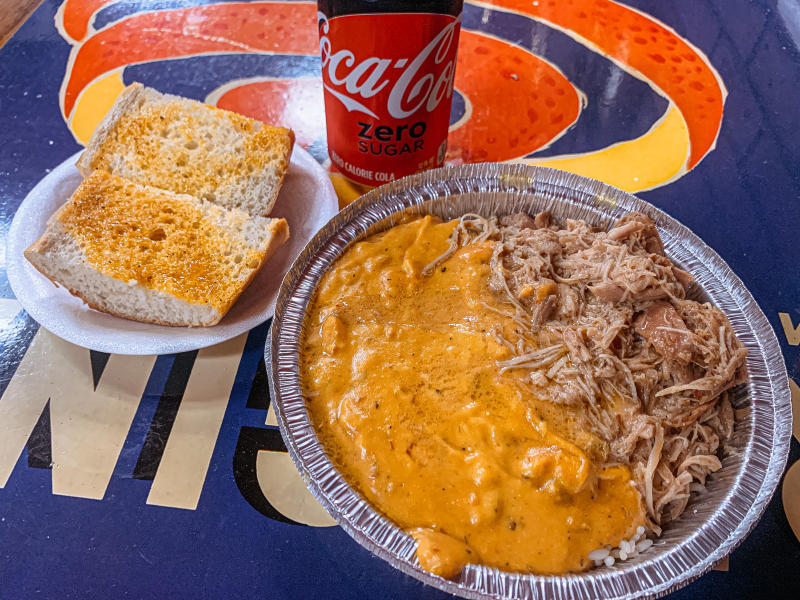 Dat's Cajun Creole Cafe serves a mouth-watering selection of Cajun & Creole dishes, ranging from classic meals to traditional dishes with a twist. The gumbo and jambalaya are the most traditional offerings on the menu, and the chili-cheese etouffee with crawfish, Thai peanut etouffee with chicken, and Datwich sandwich lean on the more unique side of the menu. Unless you supersize your portion, you can enjoy anything on the restaurant's menu for $10.00 or less.

Greek
Btown Gyros
Btown Gyros is a Greek restaurant that serves gyros, falafel, pita & hummus, baba ghanoush, and other Mediterranean specialties. They offer several platter dishes for those wanting to sample a little bit of everything, and nearly the entire menu is $10.00 or less. Not quite sure what you want to try? The lamb & beef gyro is one of the restaurant's most popular items.

 
Indian
Indian Garden Restaurant
Indian Garden offers nearly 100 authentic Indian dishes on their menu, including everything from vegetable samosas and lamb biryani to saag paneer and chicken vindaloo. The restaurant serves seafood specials, lamb specials, chicken specials, tandoori specials, and nearly 20 vegan and/or vegetarian-friendly dishes. The aforementioned chicken vindaloo and saag paneer are two of Indian Garden's most popular dishes, in addition to their butter chicken, chicken tikka masala, and paneer tikka masala.
Taste of India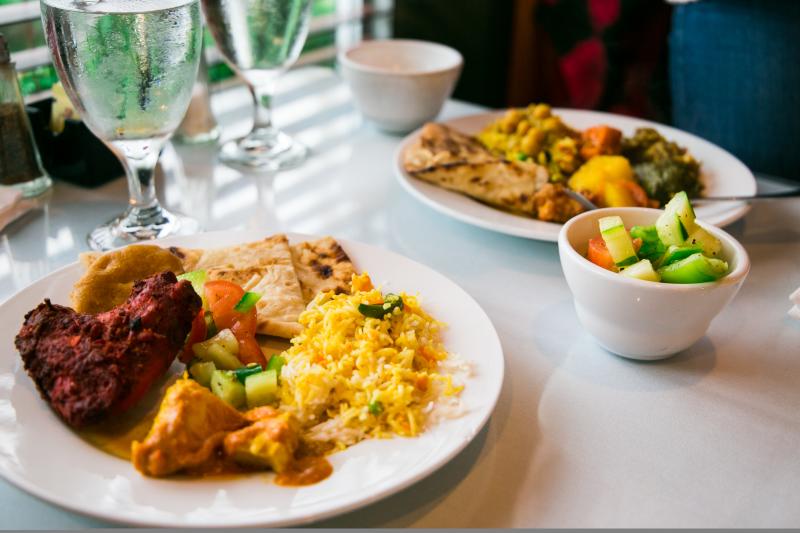 Taste of India, in Bloomington locals' opinion, is one of the best Indian restaurants in the area. They offer a large menu of authentic Indian dishes, from butter chicken and chicken tikka masala to a delicious assortment of flavored naan. Other selections on the menu include kebabs, curries, vindaloos, and more. Taste of India is also vegetarian-friendly, offering ten vegetarian dishes and even more vegetarian appetizers, soups, and salads.
 
Korean
Do Asian Fusion Cuisine
Do Asian Fusion Cuisine primarily serves Korean food, but they infuse elements of other Asian cuisines into their dishes. Their Korean fried chicken and beef bulgogi are two of their most popular offerings, but they also serve a variety of hot pots, fried rice entrees, bibimbaps, noodle dishes, and more. If you're feeling adventurous, try the kimchi pancake, spicy fish egg stew, or spicy squid stir-fry. 

Korea Restaurant
Korea Restaurant, like Do Asian Fusion, serves Korean food. Menu offerings include Korean sushi rolls (kimbap), noodle & rice entrees, soups & stews, stir-fries, and grilled protein entrees including grilled beef ribs, grilled pork belly, and chicken bulgogi. Popular dishes are the hot stone bibimbap, beef bulgogi, and fried dumplings.
 
Thai
My Thai Cafe Plus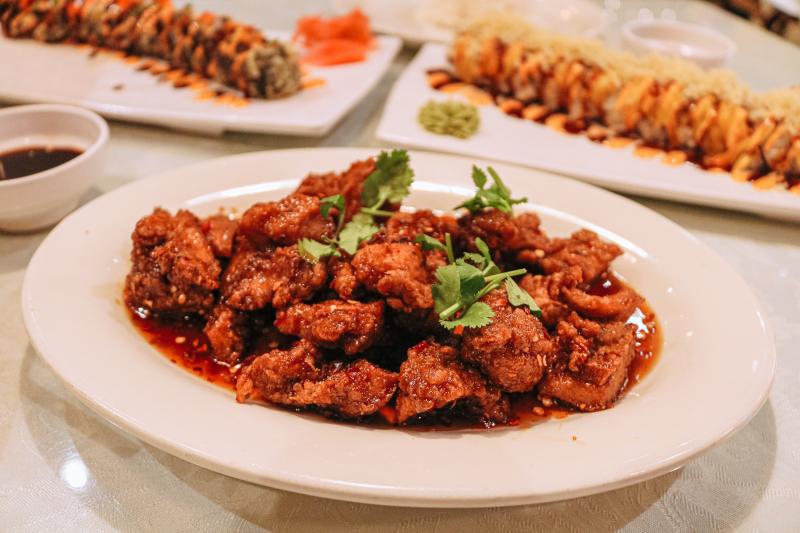 My Thai offers a great selection of Thai dishes, including pad Thai, tom yum noodle soup, basil chicken, and pad kee mow. The pad Thai and pad kee mow are local favorites, along with the drunken man fried rice and Thai spring rolls. My Thai also serves a variety of Thai curry dishes for curry lovers. If you want to order the perfect meal for an Instagram shot, ask for the crispy chicken with pineapple — the stir-fried meal is served inside a fresh pineapple.

Siam House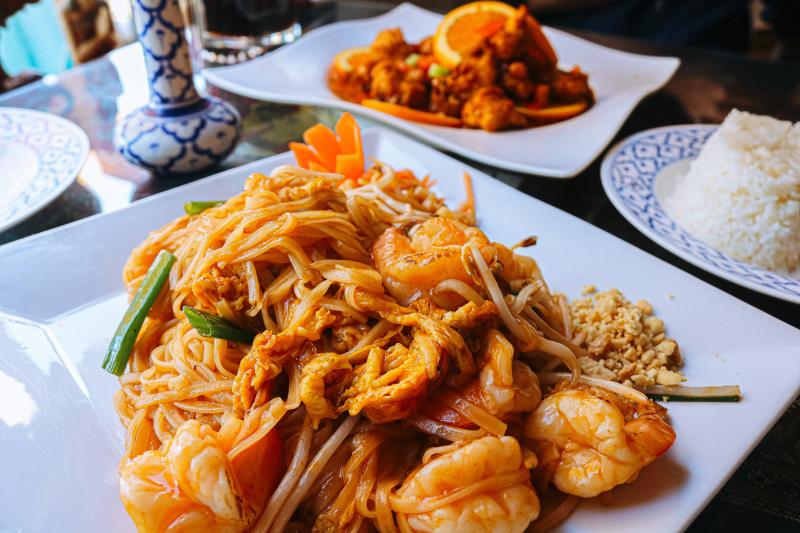 Siam House is another incredible Thai restaurant on 4th Street. The restaurant serves many dishes similar to those at My Thai, as well as their own signature meals, such as pad talay, a seafood and vegetable stir-fry with a double-cooked chili sauce. Other popular dishes are the spicy basil fried rice, yellow curry, pad ped, and volcano shrimp.
 
Tibetan
Anyetsang's Little Tibet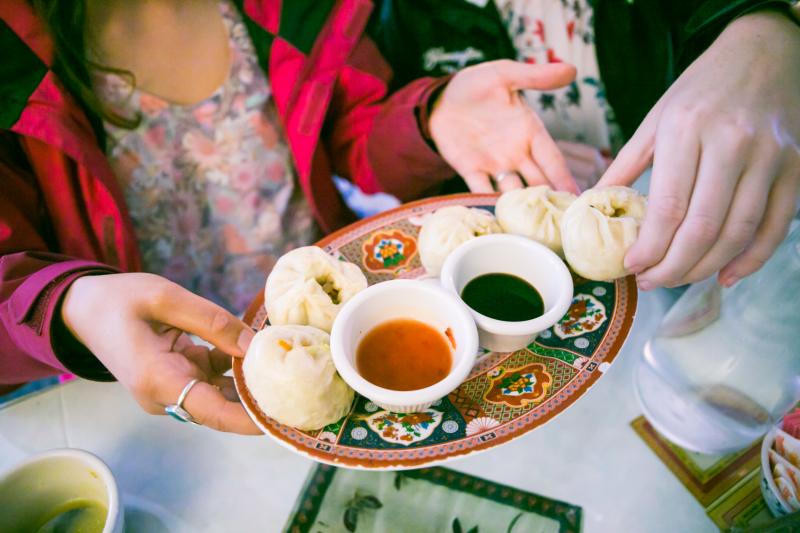 Anyetsang's Little Tibet is Bloomington's only Tibetan restaurant. Their Tibetan specials include a variety of mo mos (dumplings), kham amdo thugpa (a hearty stew), temo sha tsel (stir-fried vegetables in a garlic sauce), and a few other dishes. Little Tibet also serves a selection of Indian and Thai dishes, and they offer a great combo deal — two entrees, two soups, two salads, and two drinks — for $25.95. Everything on their lunch menu, served every day from 11:00 am-3:00 pm, is $10.00 or less.
 

Looking for more of B-Town's best cuisine? Check out these blogs: