How to Spend a Day on The Square
Categories: Shopping
The Square is one of downtown Bloomington's most popular areas. Centered around the Monroe County Courthouse, The Square is home to over 30 locally-owned businesses, which include clothing boutiques, art galleries, restaurants, book stores, cafes, nail salons, and more. With a variety of dining, shopping, and entertainment offerings, it's easy to find yourself spending an entire day on The Square! Use this guide to help you determine what you'd like to do during your visit to the heart of downtown B-Town.
 
Shop
There are more than a dozen Bloomington-owned stores to browse on The Square. From unique gift stores to outdoor recreation gear to cookware and much more, there's a store for a variety of interests.
Clothing & Accessories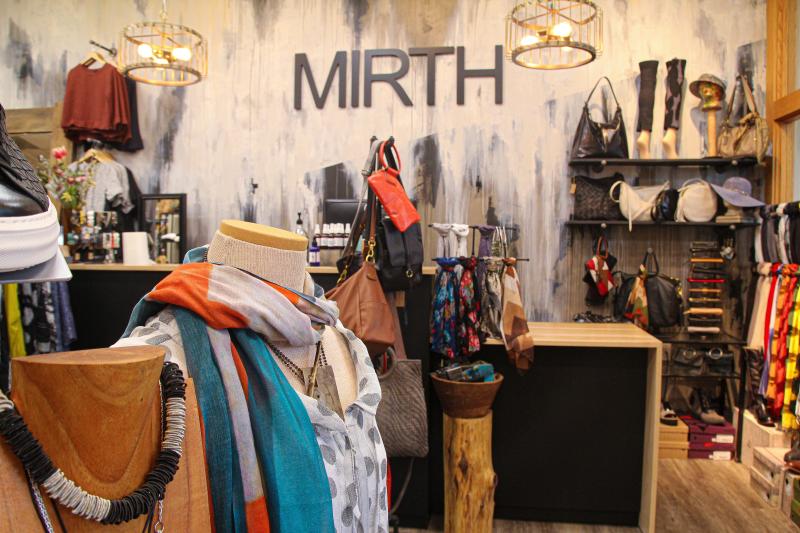 Mirth Market
This women's apparel, accessories, and footwear boutique specializes in curated collections of contemporary, casual, and business attire from various European & American design houses. You'll find an assortment of modern designs that boast both style and comfort.
Andrew Davis Clothiers
If you're interested in men's fashion and sophisticated clothing & accessories, you'll love Andrew Davis Clothiers. The retailer prides itself on its curated collections and high-quality product, and their sartorial advisors strive to make your experience fun & self-esteem enhancing.

Tivoli Fashions
Tivoli is a women's designer clothing & accessories boutique that offers name-brand merchandise from Geiger, Eileen Fisher, Pendleton, and other upscale brands. Their selections are geared toward career, casual, and special occasion needs.

O'Child Children's Boutique
Offering baby & children's clothes, shoes, and gifts, O'Child is a boutique that focuses on unique & luxury children's products. If you're looking for a gift for an expecting mother, a child's birthday, or to simply spoil the little ones in your life, O'Child is the perfect store to browse!
Entertainment & Recreation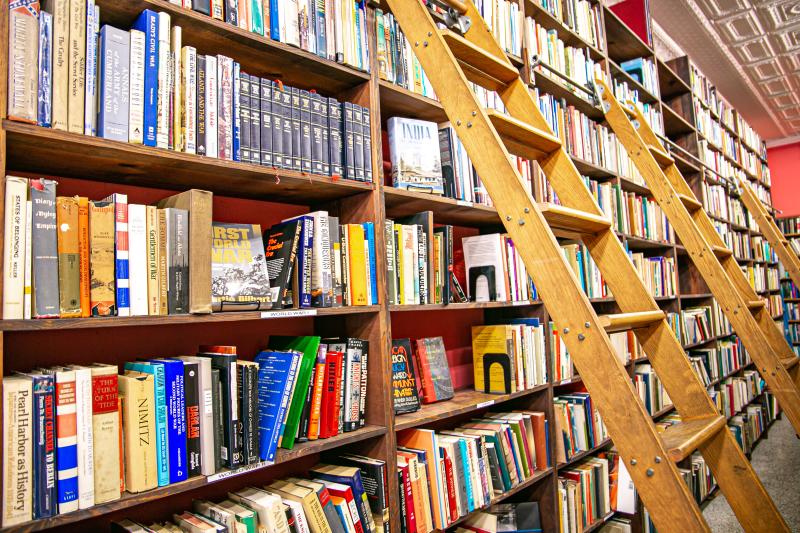 Caveat Emptor Used Books
Specializing in used & rare books, Caveat Emptor has been selling books in B-Town since 1971. They strive to offer a unique book-browsing experience for their patrons — they allow interested customers the opportunity to rent out the shop on an hourly basis for a one-of-a-kind experience. They also buy quality collections from those seeking to give their books a new life.
J.L. Waters & Co.
J.L. Waters is your one-stop-shop for all things outdoor recreation & adventure. Founded in 1973, the outfitter sells outdoor-activity apparel & footwear, climbing gear, backpacking gear, camping gear, canoes, kayaks, paddle boards, luggage, fly-fishing gear, GPS systems, and much more. If you plan to go on a hike at one of our many trails during your stay, consider picking up some new gear for your adventure!

The Briar & The Burley
Another long-standing Bloomington business, The Briar & The Burley has specialized in quality tobacco, luggage, and leather goods since 1972. Over the years, they've grown to offer a little bit of everything, including motor sports/racing memorabilia, fine pens & writing products, and shaving equipment. It's a great local shop to find a gift for the masculine figure in your life!
Book Corner
This family-owned independent book store has been in Bloomington since 1964. You can expect to find current best sellers, notable classics, puzzles, children's books, plush toys, specialty greeting cards, and unique gifts for the avid reader in your life.
Home & Gifts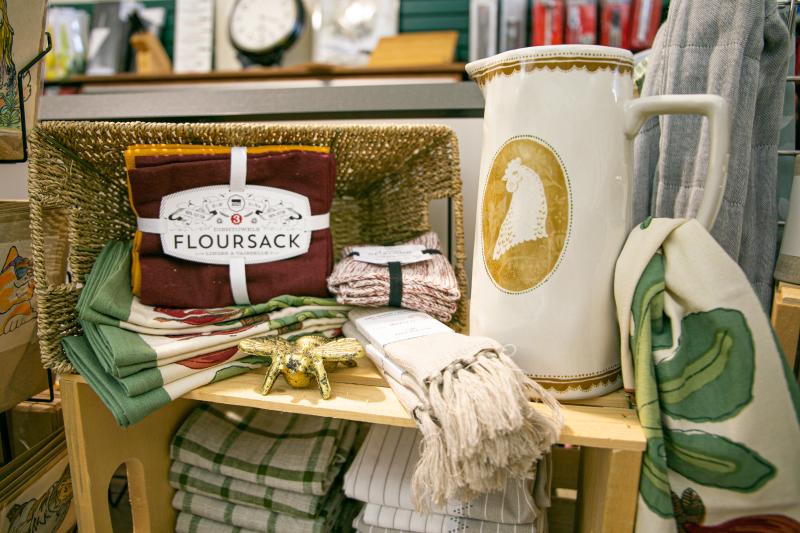 Goods for Cooks
Offering classic cookware, gourmet food, and kitchen decor, Goods for Cooks has been a staple in B-Town's culinary community for over 45 years. If you love cooking and the connections food establishes between us, you'll love this downtown shop.
Lola & Co.
This home-goods boutique offers a curated collection of new & vintage furnishings, gifts, and accents for the home. Lola & Co. is the perfect place to pick up a new conversation piece for your abode, or a housewarming gift for the new home-owner in your life.

A Propos Gifts & Jewelry
This eclectic gift shop has stood in Bloomington for over 30 years. The store has a gallery-like atmosphere — every product is curated by the shop owner. On any given visit, you may find items like Kenyan fair-trade stuffed animals, whimsical children's toys, and Japanese ceramics, as well as silk scarves, Frank Lloyd Wright-design ties, and a vast collection of jewelry.
Gather :handmade shoppe & co:
Gather is a gift shop that showcases handmade goods created by emerging & independent artists. Their selections include jewelry, bath products, crystals, plants, children's toys, pottery, candles, clothing, and much more. You could easily spend an hour+ browsing all of the beautiful craft products here!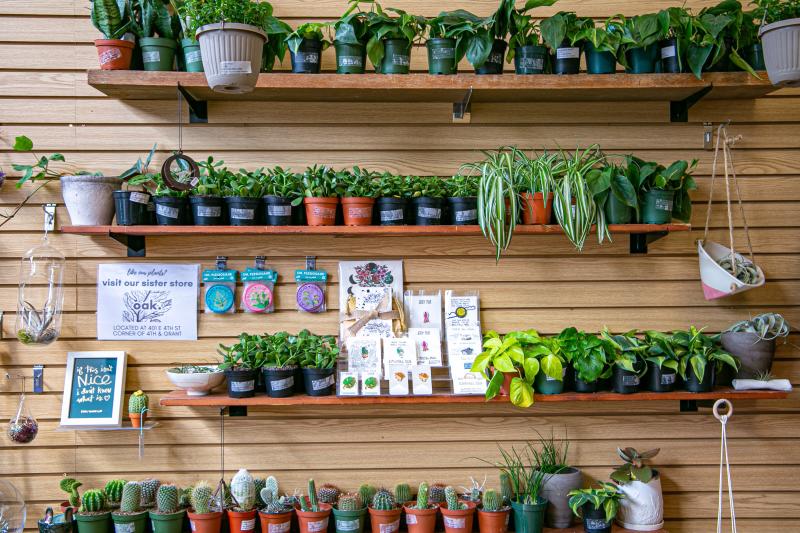 Ellie Mae's Boutique
Ellie Mae's is an affordable luxury gift shop offering items like jewelry, home decor, sunglasses, and candles. Featured brands include Nordic Beach, PANDORA, Simply Southern, and Finch Berry.

Global Gifts
Carrying handmade, one-of-a-kind items from over 40 countries, Global Gifts is a non-profit business that strives to create sustainable economic opportunities and safe working conditions for disadvantaged artists & farmers around the world. All products are fair trade, so you not only take home a unique item, but you also support communities across the globe with your purchase.
 
Art, Culture, and Entertainment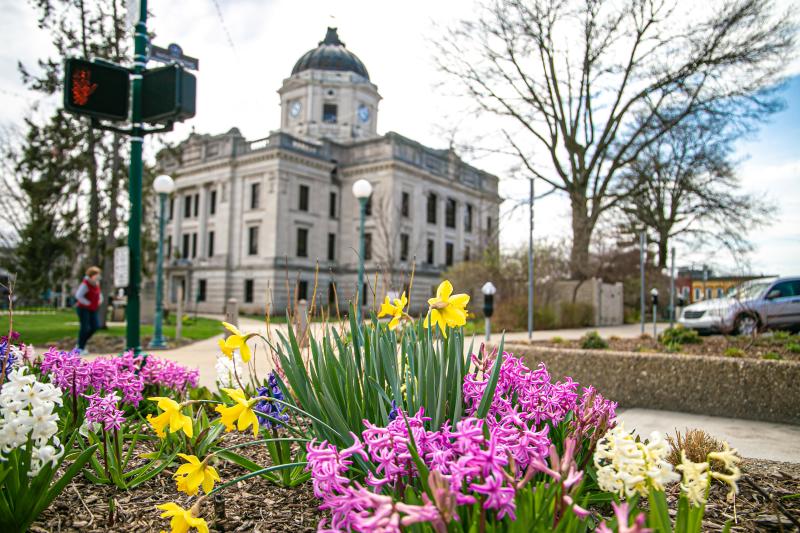 If you've had your fill of shopping, check out The Square's art galleries, escape room, and historic courthouse grounds.
Monroe County Courthouse
Standing in the center of The Square since 1907, the Monroe County Courthouse was listed on the National Register of Historic Places in 1990. The limestone building is a source of community pride and commitment to historic preservation. If you need an intermission while shopping, walk around the center of The Square to take in the architectural beauty of the Courthouse. The lawn also makes for a perfect picnic spot — on a nice day, grab your breakfast or lunch to-go and find a spot to eat it on the Courthouse grounds.
By Hand Gallery
Sharing art in the Bloomington community for over 40 years, By Hand Gallery is a locally-owned cooperative gallery comprised of 13 artisan members. They curate, showcase, and sell artist-made jewelry, ceramics, 2D art & photography, 3D art & mixed media, and wood, glass, and fiber works. Happen to be visiting on the first Friday of the month? By Hand Gallery participates in Gallery Walk, a special event in which multiple downtown art galleries host special exhibits and serve refreshments from 5:00-8:00 pm. 

GallerySCG
This Bloomington art gallery showcases art from emerging & established local, regional, national, and international artists. GallerySCG frequently features photography, jewelry, pottery, wooden bowls & objects, metal fish sculptures, and digital art. They invite visitors to shop their gallery for local handcrafted art & gifts. Like By Hand Gallery, GallerySCG also takes part in Gallery Walk.

The Code & Key Escape Rooms
A must for groups, The Code & Key Escape Rooms offer an hour-long immersive entertainment experience for everyone involved. With two rooms to choose from — secret-agent-themed or archeological-adventure-themed — the downtown escape rooms are an out-of-the-box, incredibly fun way to spend an hour (or two, if you decide to do both rooms!) in B-Town.

Self-Care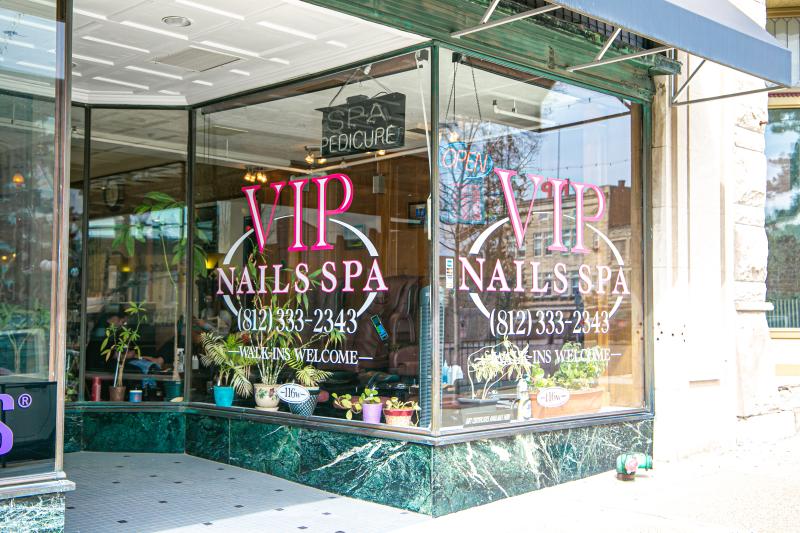 Hoping for a more laid-back visit? The Square offers a variety of pampering self-care services.
Drink & Dine 
Whether you're looking for breakfast, brunch, lunch, dinner, or a quick snack, The Square has a dozen locally-owned eateries for you to choose from.
International Flavors
Social Cantina
If you're craving Mexican food, Social Cantina is the place to go! The restaurant offers a menu of modern Mexican street fare, including unique tacos, cantina bowls, and more. In addition to its food specialties, Social Cantina is known for their robust variety of tequila. For those of drinking age, their margaritas are a must.  
Social Cantina serves lunch, dinner, and weekend brunch.

Samira
Samira is a Middle Eastern restaurant that specializes in Afghan cuisine. They serve wide variety of authentic Afghan kebabs & dumplings, baba ganouj, hummus, and more at a great price point. Samira also offers 11 vegetarian meals for those who follow a plant-based lifestyle.
Samira serves lunch and dinner.
 
Blooming Thai
Blooming Thai is The Square's newest restaurant, offering a very large menu of Thai and Asian Fusion plates. You can order everything from pho to orange chicken to yellow curry to pad thai to spring rolls to shrimp tempura, and much more! The restaurant also offers a wide variety of milk & fruit teas, Italian sodas, and smoothies.
Blooming Thai serves lunch and dinner.

The Amrit India
Serving authentic Indian and Indo Chinese cuisine, The Amrit India offers an astounding 100+ dishes — the restaurant bakes nine incredible varieties of naan bread alone! Serving both classic and more adventurous dishes, there's something for everyone to enjoy here.
The Amrit India serves lunch and dinner.
American Grub
The Tap
Craving an ice cold beer with your meal? The Tap is the place to go. Offering 90 different brews on tap (20 being original to The Tap) and over 400 bottled varieties from around the globe, this eatery is a beer enthusiasts' dream come true. They offer a large menu of upscale pub-style food to pair perfectly with your brew of choice. If you're looking for a laid-back bar to hang out at into the evening hours, this is a great spot on The Square.

The Tap serves lunch, dinner, and weekend brunch.
SmokeWorks
If barbecue is your thing, definitely stop by SmokeWorks for a meal. The restaurant specializes in Memphis dry-rub barbecue + whiskey, bourbon, and moonshine. They offer a variety of proteins and southern sides — be sure to try each of their five scratch-made barbecue sauces with your order!

SmokeWorks serves lunch, dinner, and weekend brunch. 

Malibu Grill
Celebrating a special occasion, or simply want to treat yourself to a gourmet meal? Malibu Grill is The Square's resident seafood & steak restaurant — although they stray from traditional surf & turf offerings. Options include Hawaiian ribeye, caramelized salmon, steak chimichurri, and more. 

Malibu Grill serves dinner throughout the week and lunch & dinner on the weekend.
Quick Bites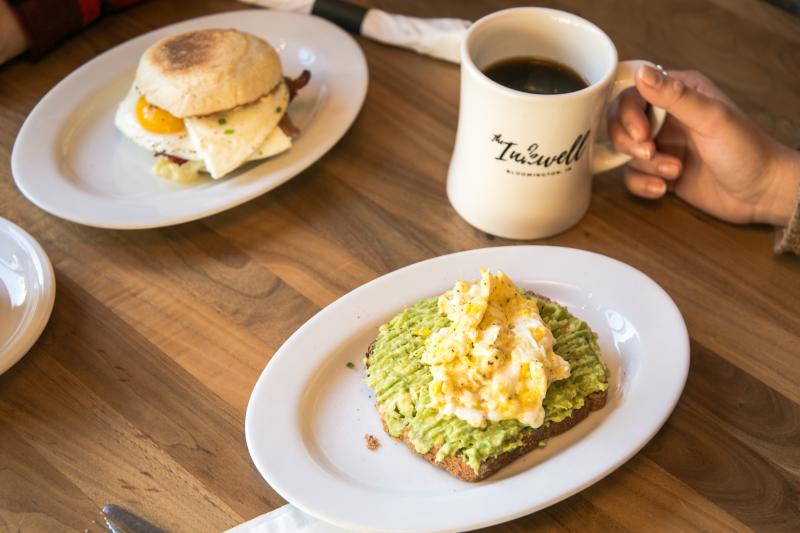 The Inkwell Bakery & Cafe
Serving breakfast, lunch, and coffee beverages, The Inkwell lives by the motto "Eat Well. Drink Well. Think Well." The cafe offers a variety of classics with gourmet, health-minded twists. For breakfast, try the loaded avocado toast. For lunch, order the capicola sandwich. For a quick caffeine pick-me-up, step out-of-the-box and try their cortado. 
The Inkwell serves breakfast and lunch.
Soul Juice
Health nuts, this one is for you! Soul Juice is The Square's resident smoothie bowl & juice joint. While they offer a variety of delicious & beautiful smoothie bowls, they also offer vegetarian-friendly waffles, gourmet toasts, and chia puddings. Inspired by the island culture of Turks & Caicos, Soul Juice strives to provide Bloomington with the taste of fresh, organic, nutrient-dense foods.
Soul Juice serves breakfast, lunch, and early dinner.
The Owlery
The Owlery is The Square's resident vegetarian eatery. The menu focuses on vegetarian & vegan comfort food, and every offering is delightfully unique. Adventurous eaters will love the jerk tofu tacos, red onion jam sandwich, and sesame miso bowl. The Owlery also carries beverages from other local businesses, including tea from Cup & Kettle Co. and beer from Upland Brewing Co.
The Owlery serves lunch, dinner, and weekend brunch.
Bar Scene

While The Tap, SmokeWorks, and Social Cantina all offer incredible adult beverages in addition to their food menus, The Orbit Room is The Square's resident bar. Open Tuesday through Saturday from 5:00-10:00 pm, The Orbit Room is known for their collection of pin ball machines, live music, and drinks. If you find yourself getting snacky toward the end of the night, try one of their five gourmet hot dogs.
 
Looking for more downtown shopping, restaurants, and nightlife? Check out these blogs: