Tuesday, January 22, 2019
Valentine's Day in Bloomington
Categories: Shopping, Wine & Culinary
There's enough love to go around for everyone in February. To help with your Valentine's Day plans we've rounded up all things love for you: events, restaurant specials, and more. Celebrate with your sweetie, friends, or just have a #treatyoself day. 
 
Where to Eat
Bloomington Bagel Company
BBC is spreading the love with red heart-shaped bagels and Valentine's Day themed iced sugar cookies. 
Cardinal Spirits
Spend the day of love at Bloomington's first distillery. There will be a five-course dinner and live jazz for entertainment. The dinner is $60 per person and cocktails are a la carte. Seating is from 6 pm - 8 pm; reservations and pre-payment required.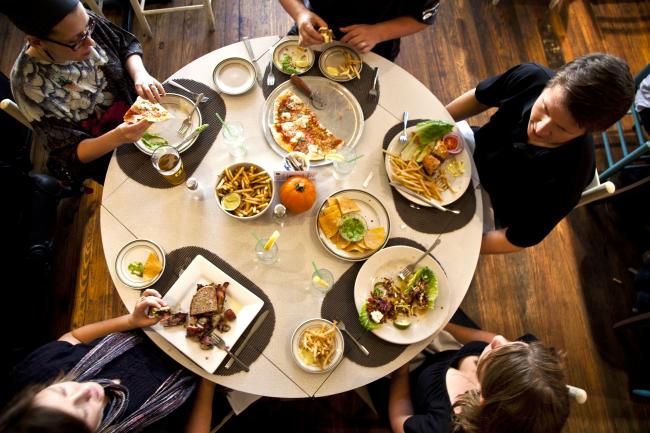 FARM Bloomington
Farm is offering a prix fixe menu for $52 per person. The menu is subject to change but the theme is fitting for the holiday with ingredients or dishes that relate to the history of love. They are also offering 25% off champagne. 
Irish Lion
Irish Lion is serving up a select menu for Valentine's Day and the day after from 4 pm - 10 pm. The dinner is $55 per person plus tax and gratuity. They will also have Valentine's Day themed cocktails, desserts, and wine and champagne specials. Reservations recommended. 
King Dough
The artisanal pizza joint is offering any pizza and any salad for $22 as well as half off bottles of wine. Margherita and one topping pizzas can also be made into hearts upon request. 
La Vie en Rose Cafe
The French cafe has a special menu for their first ever Valentine's Day dinner. The dinner will start at 6:30 pm and will go until they close at 8:30 pm. Starting February 1, La Vie en Rose Cafe will also be selling and taking orders for heart-shaped macarons, heart decorated bags of meringues, and gift cards. Book in person at the cafe. 
Le Petit Café
Le Petit is offering two entrees (with a side soup or salad), dessert, and a bottle of wine for $100 per couple including gratuity. The entrees or steak, chicken, or fish with vegetarian options available. To make reservations, call Marina at (812) 334-9747.
Mother Bear's Pizza
Mother Bear's is offering a heart-shaped pizza. The Valentine's Day themed 'za is starting at $14 for delivery, carry-out, and inside dining.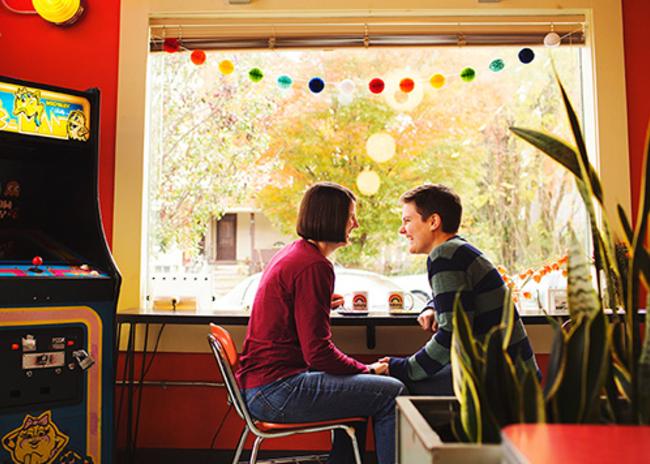 Rainbow Bakery
The local bakery is whipping up something special for the day of love. Rainbow Bakery is offering a Valentine's cupcake 4-pack featuring hot fudge sundae, lemon curd, chocolate covered strawberry, and pink coconut snowball cupcakes. They will also have a Sweetheart Cake, a 4" black velvet cake with raspberry filling and dark chocolate buttercream. Preorder for these treats closes February 5. Through Valentine's Day, they will also be selling conversation heart cookies, cupcakes, and more in-store. 
Scenic View
Spend the holiday having a romantic evening overlooking Monroe Lake at Scenic View. Their Valentine's Day special (4 pm - 9 pm) is Italian themed with classics such as chicken parmesan, grilled shrimp bruschetta, and tiramisu. 
Sweet Grass
Sweet Grass is offering a five-course and an a la carte menu for $75 per person. The menu, which is mostly gluten free with vegetarian options, is available from February 14 - February 16. 
Two Sticks Bakery
Two Sticks has special mini treats and make-your-own boxes. They are also offering handmade cards by local artists for one-stop shopping. Their list of sweets also includes mini pies, heart-shaped sugar cookies, brownies, mini and loaf cakes, cupcakes, and chocolate covered raspberry marshmallows. 
Upland Brewery
The brewpub will be delighted to offer lovebirds a delightful dining option that will include an appetizer to share, two main dishes and a dessert to share for $45. This deal does not include alcohol and is pre-tax. The Valentine's Day festivities will begin at the pub at 5 pm. The Woodshop opens at 4 pm.
Upland Wood Shop
On Valentine's Day, the Woodshop will be showcasing a cask-conditioned version of our Russian Imperial Stout, Teddy Bear Kisses, that has been loaded with cherry and Cacao nibs. It will be a delightful companion to the Woodshop bite plate curated by Bloomingfoods. The bite plate features Smoking Goose slow cured meats and smoked meats, local cheese, and assorted nuts and fruits.   

What to Do
The Bluebird
Pigeons Playing Ping Pong is performing at The Bluebird with opening act, Mungion. 
Buskirk-Chumley Theater Presents Casablanca on Valentine's Day
The Buskirk-Chumley Theater is pleased to screen Casablanca on Thursday, February 14, at 7:00 pm. All tickets are $7.00 and can be purchased at BCTBoxOffice.org, at 812-323-3020, or at the BCT Box Office and Downtown Visitors Center at 114 E. Kirkwood Ave.
Cup & Kettle Tea Co. 
Spend the holiday with those you love playing games at Cup & Kettle with The Game Preserve. The event will take place from 6 pm - 8 pm. 
Fourwinds Lakeside Inn & Marina
Surprise a loved one with a romantic getaway at Fourwinds. Enjoy a four-course dinner with a Lakeside King room for $199 per night. Dinner for two at their Tradewinds Restaurant is $40 per person not including tax and gratuity. While you're there also take in the Lakeside Room that looks over Monroe Lake. This offer is only for Valentine's Day and February 16 (regular rates apply on February 15). For more information or to reserve your stay, call (812) 824-2628.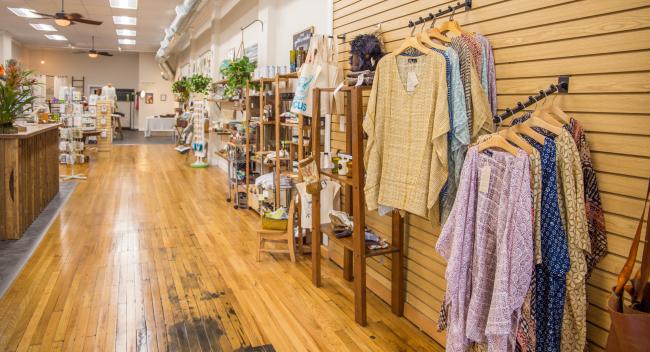 Gather :handmade shoppe & co.:
Gather has a lineup of events for Valentine's Day. February 1, Gather has a First Friday - Gallery Walk - Love Letter Exhibition with love letters written by community members. The event is from 5 pm - 8 pm and starting at 6 pm, special guest Lisa Kwong kicks off the reading of love letters and poems. To participate in writing the love letters, sign up here. February 10 is Crafternoon at Switchyard from 2 pm - 4 pm. If you register early ($15) your ticket will include the cost of materials and one beer. You can also register the day of at Switchyard ($15), but your ticket only includes the cost of materials. All skill levels and ages welcome. Gather is also hosting a Galentine's event in their store. Grab a group of gal pals for a special viewing of "A Simple Favor" and breakfast treats and mimosas. Ladies also get 20% off for the evening. The event is from 6:30 pm - 8:30 pm.
Global Gifts
Give Love. Get Love. Treat your sweetheart (or yourself) to a handcrafted fair trade gift that will continue to give long after February 14th! Fairtrade ensures artisans are treated with dignity and respect, given equal opportunity and provided with fair wages in a safe working environment.  When you support fair trade, you're helping marginalized adults build better lives for themselves and their family. Now through Valentine's Day, Global Gifts will be offering 20% off their entire line of Maroma Aromatherapy products including pulse point sprays, bath salts, and incense. Global Gifts will also be featuring special "Forever Flower" bouquets from India, Kisii stone hearts from Kenya, and real butterfly wing jewelry from Peru. Mention this blog article to receive discount.
Lovelorn at the Lilly
This Valentine's Day, experience love letters drawn from the Lilly Library's rich collections of literary and historical manuscripts with live readings from the IU Department of Theatre and Dance. Hear voices of the past address the beginning of love, illicit love, enduring love, and the end of love, with examples from Edgar Allan Poe, John Keats, Vita Sackville-West, and more. The original letters being read will be on display throughout the program. Light refreshments to follow. The event is on Valentine's Day at 4 pm.
Valentine's Day Weekend Starring Nicole Byer! 
Nicole Byer is an actress, comedian, and writer most known for hosting Netflix original, Nailed It and MTV's Girl Code. She has also been seen on late night television and has her own Facebook Watch sitcom, Loosely Exactly Nicole, and podcast, Why Won't You Date Me. She has been featured in many articles as a comedian to watch and during Valentine's Day Weekend, she will be performing at The Comedy Attic. 
WonderLab
WonderLab is having an adults-only event for Valentine's Day weekend. On February 16 from 6 pm - 9 pm, head down to the museum for WonderLab After Dark: Chocolate. This 21+ event is part of LifeDesigns Week of Chocolate. There will be Peacetree Mountain truffles, chocolate soap making, chocolate trivia, chocolate tasting, and so much more! Local food, drinks, and, of course, chocolate will be available as well.