Wednesday, August 23, 2023
Where to Shop for Her in Bloomington
Shopping for the "her" in your life can be tricky — there are so many options that it can be overwhelming to choose which direction to go in, and simultaneously such a big task that you may feel stumped on where to even begin. Lucky for you, we've put together this guide on where to shop for her in Bloomington. Whether it be for the holidays, a birthday, an anniversary, Valentine's Day, or just because, these local stores promise a gift that will delight her on any occasion.
 
For the Antique Collector
If the woman in your life is a collector of antique wares and retro goods, check out the Bloomington Antique Mall. The store carries an astonishing amount of vintage items, from dish sets and vases to decorative signs and knick-knacks — and well beyond. If you're looking for a particularly eclectic gift, check out Jeff's Warehouse. His handpicked collection of items ranges from vintage busts and framed art to ornate lamps and table decor, and, like the aforementioned two stores, much more.
Browse all of Bloomington's vintage stores here.

For the Art Lover
If she's passionate about art, Bloomington has plenty of stores for you to hunt for the perfect present. For a fine art gift, shop the selection of artist-made works at By Hand Gallery. You'll find unique ceramics, stunning woodwork, captivating sculptures, breathtaking photography, and more. For more casual, contemporary art, check out Gather :handmade shoppe & co.:. The huge selection of artisan-made goods ranges from art prints and stickers to pottery and planters, and (of course) much more.
Perhaps she prefers creating her own art rather than collecting art made by another — in that case, Griffy's Art Supply is the perfect place to shop for her. The local store sells art materials of all kinds, from painting and drawing supplies to printmaking and film photography materials.
Browse all of Bloomington's artisan shops here.

For the Book Worm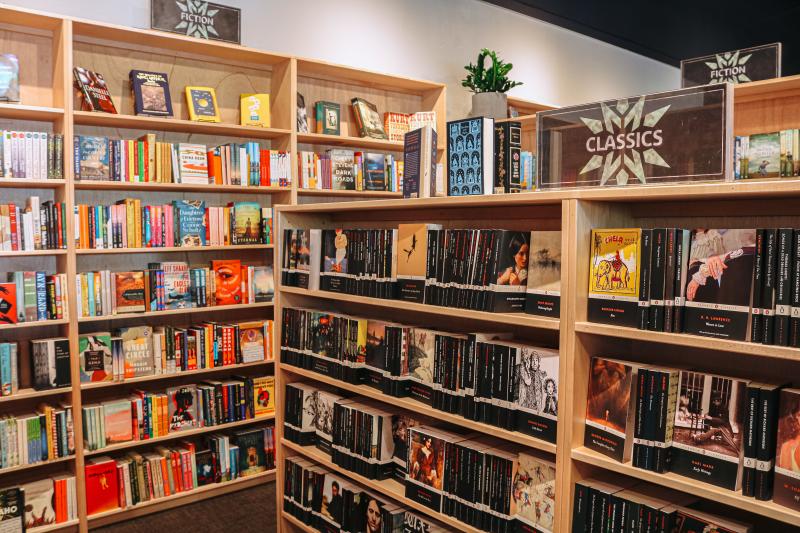 If the woman in your life loves nothing more than curling up on the couch with a good book, head to Book Corner or Morgenstern Books. Both locally-owned stores carry classics, best-sellers, and new releases in many genres, as well as a selection of artisan-made goods (which work really well as holiday stocking-stuffers!). If collecting rare and/or vintage books is particularly exciting for her, make a trip to Caveat Emptor Used Books. The store carries case-upon-case of novels with ornate covers, collections of rare tomes, and vintage books waiting to delight their next reader.
Browse all of Bloomington's book stores here.

For the Fashionista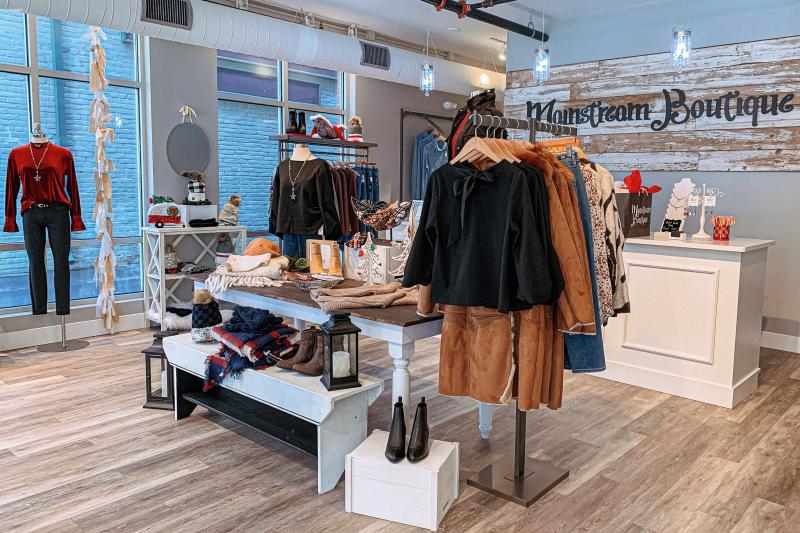 If you're shopping for a fashionista, you'll be thrilled to know Bloomington is home to several fabulous women's boutiques. For trendy clothes, accessories, and footwear spanning lounge apparel to business attire, check out Mainstream Boutique and Mirth Market. If you need suggestions on the perfect item(s) to purchase for her, don't hesitate to ask one of the stores' friendly associates for guidance. 
Does she prefer vintage clothing to modern apparel? Cherry Canary Vintage Clothing is an absolute must for exciting pieces from the 1960s onward. If she's particularly fond of '80s and '90s streetwear, SLCT Stock is your go-to. The store carries an ever-rotating selection of retro pop culture, sports, and IU-related pieces from popular brands such as Polo, Ralph Lauren, Nike, and more.
Browse all of Bloomington's clothing & jewelry stores here.

For the Home Chef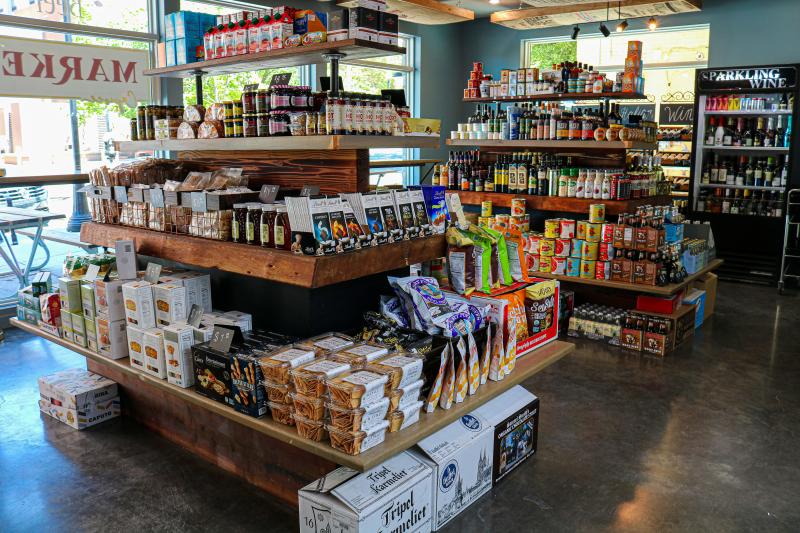 If she loves all things food, cooking, and/or baking-related, there are several shops you should check out. Goods for Cooks is the perfect place to find cooking tools, kitchen decor, and an exciting selection of specialty gourmet food items. Consider curating a basket of food products for her to get creative with — grab a few gourmet condiments from Goods, then head to Capisce Market for fine Italian meats and oils, then round out the basket with a few exciting international products from World Foods Market. If you're looking to take it the extra mile, head to Cardinal Spirits to purchase a bottle of one of their award-winning spirits.
Browse all of Bloomington's culinary markets here.

For the Interior Design Diva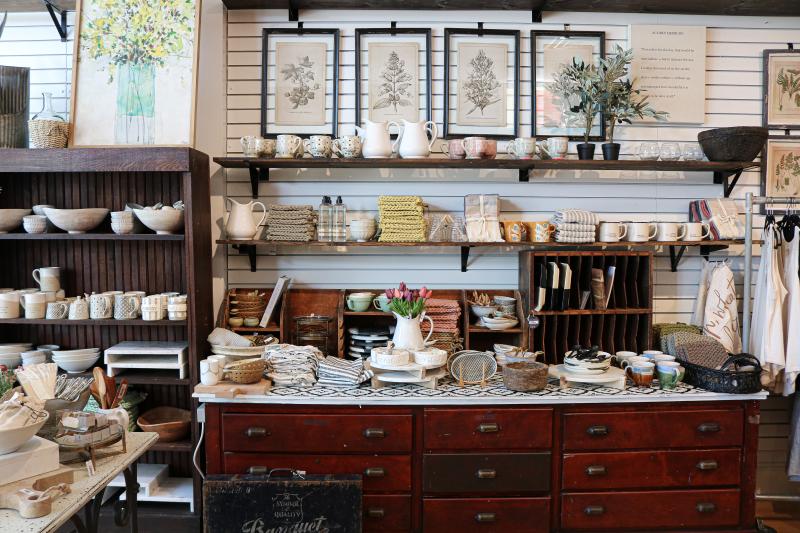 If the woman in your life loves nothing more than designing and decorating your space at home, Bloomington is the perfect place to find a new statement piece or assortment of decorative items to surprise her with. ETC for the Home carries a huge selection of homewares spanning a variety of styles, from eclectic and traditional to modern and industrial. If her style is the Joanna Gaines, modern farmhouse vibe, skip the Magnolia section at Target and make a trip to Lola + Co. and Simply Primitive instead. Looking for a truly one-of-a-kind piece? Check out the aforementioned antique stores in town to find an item as wonderfully unique as she is.
Browse all of Bloomington's home decor and furniture stores here.
 
For the Luxury Lover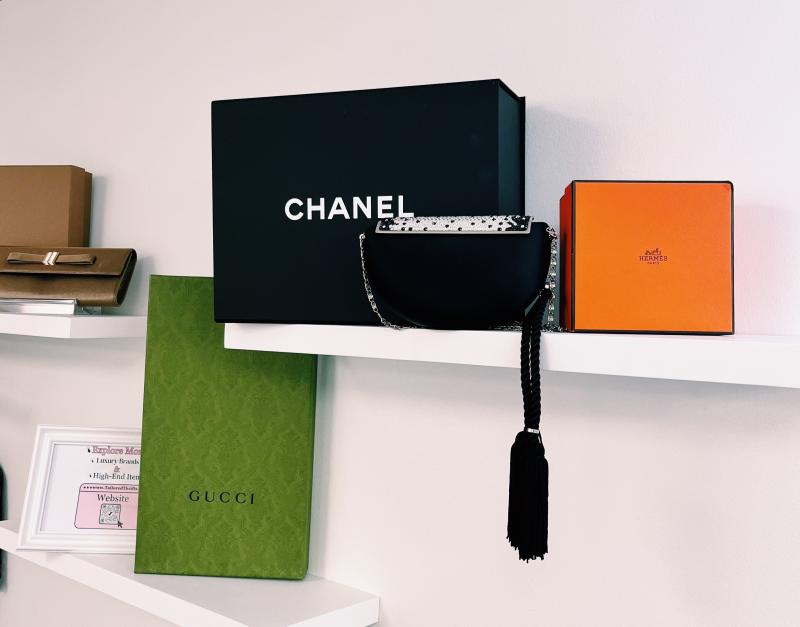 If your special someone would love a special, designer treat, Tailored Thrifts is the place to go. With their luxury goods and various trendy secondhand items, you will find a great staple piece for a great price. While they have beautiful modern clothing and accessories, don't be fooled. They also have an array of vintage items as well. From chunky vintage jewelry, to leather jackets, to Christian Dior sweaters, to Chanel bags, check out what Tailored Thrifts has to offer.
Can't make it to their shop? Visit their website and order online!
For the Music Mogul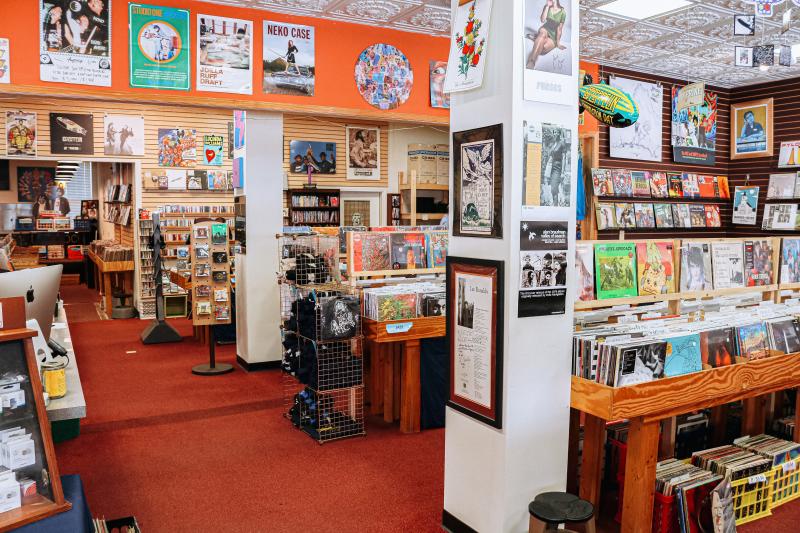 If music is what really speaks to her, Bloomington offers several stores that cover all of the music bases. Surprise her with a collection of her favorite artists' vinyl records and music-related artwork from Landlocked Music, or gift her a stack of CDs & LPs from TD's CDs and LPs. If she plays music herself, check out Melody Music Shop for instruments and instrument accessories. You could go as grand as gifting her a new instrument, or as thoughtful as surprising her with a collection of accessories — think tuners, cases, stands, new strings or pedals, etc. — that she's been wanting.
Browse all of Bloomington's music stores here.
 
For the Outdoor Adventurer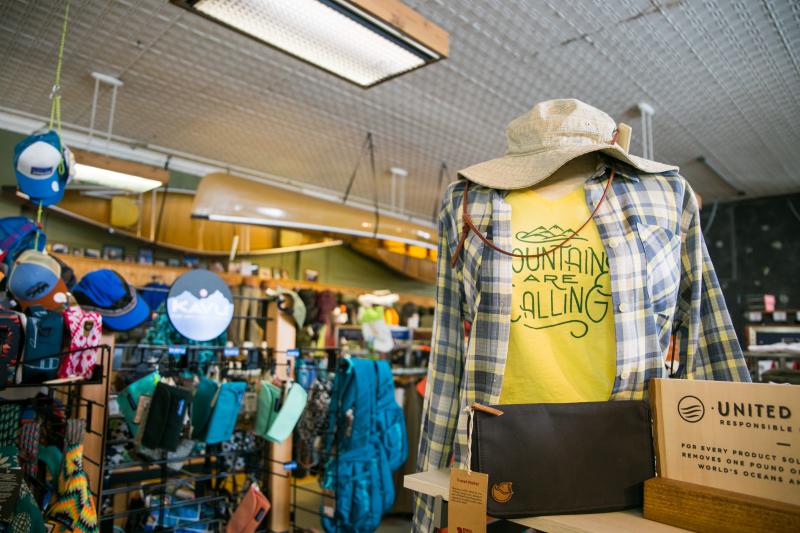 If her true passion is spending time outdoors, Bloomington is home to several stores that fit that bill as well. For the dedicated cyclist, make a trip to Bicycle Garage, Bikesmiths, or Revolution Bike & Bean. You'll find everything from new bikes to cycling clothing to bike parts and more at each shop. For a truly Bloomington cycling gift, head to Upland Brewing Co. to buy her an Upland bike jersey. 
If she loves the outdoors but not necessarily cycling, head to J.L. Waters & Co. The outdoor outfitter carries gear, clothing, and accessories for pretty much every outdoor hobby you can think of — hiking, kayaking, camping, fishing, climbing, and much more — making it a one-stop-shop for a gift that reflects her favorite outdoor activities.
Browse all of Bloomington outdoor & sports equipment stores here.
 
For the Ultimate Hoosier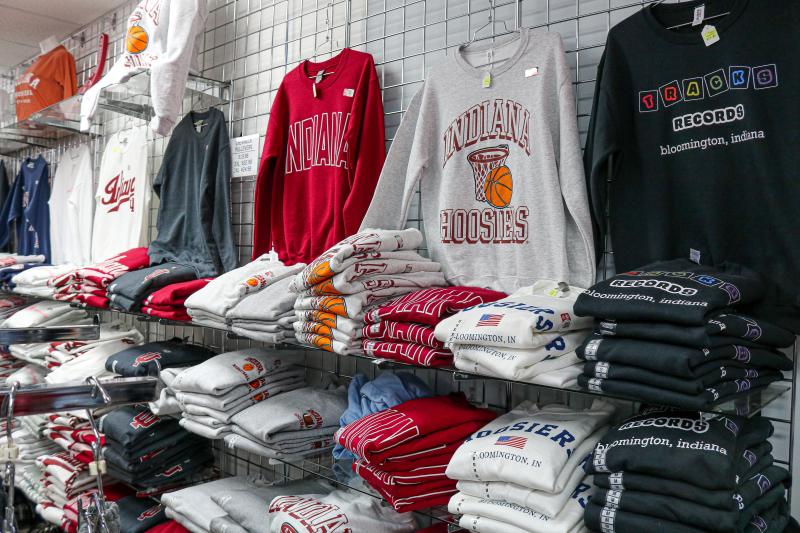 If she's an IU alumna, proud Hoosier mama, or life-long Cream & Crimson fan, the perfect gift is new IU gear. For one-of-a-kind clothing, make a trip to Greetings or Tracks. Both stores carry a great selection of unique tees, sweatshirts, and other apparel that you won't find anywhere else. Looking to gift her classic apparel or Hoosier home decor, such as a blanket or garden flag? Head to the IU Bookstore inside the Indiana Memorial Union to peruse the university's official collection of Hoosier merch. 
Browse all of Bloomington's IU-related stores here.

Looking for other gift-giving inspiration? Check out these blogs: