Monday, November 13, 2023
Bloomington's Best Coffeehouses & Cafes
Categories: Wine & Culinary
Coffee connoisseurs will be delighted with the selection of locally-roasted java and handcrafted espresso beverages in Bloomington. Whether you're craving an iced coffee on a hot day, a pumpkin spice latte during your fall visit, or a steaming cuppa Joe to keep you warm in the cooler months, these B-Town coffeehouses and cafes will leave you questioning why you ever loved Starbucks so much.
We've separated Bloomington's best coffeehouses and cafes into two categories: dedicated coffee shops and cafes that serve coffee. Dedicated coffee shops include any local coffee joints that roast, grind, brew, and serve their own coffee. Cafes that serve coffee include any local cafes that serve small-batch coffee crafted by an independent artisan or business.
 
Dedicated Coffee Shops
Brilliant Coffee Co.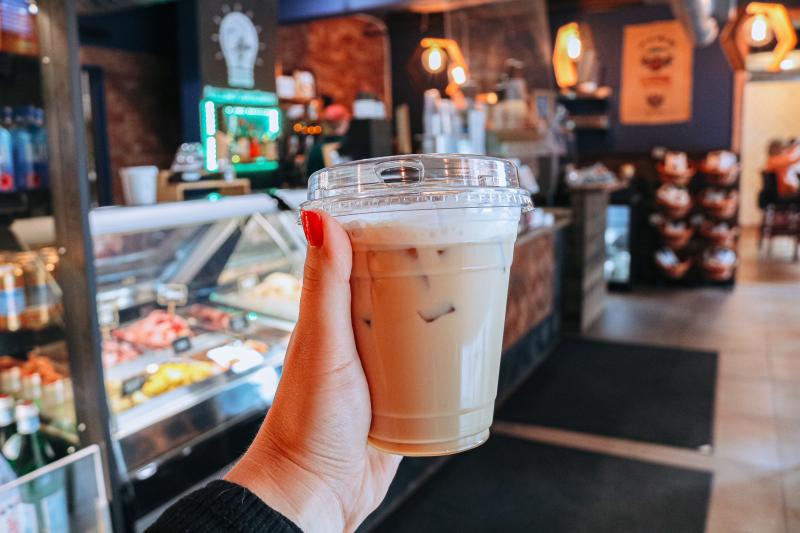 Brilliant Coffee Co. strives to offer an artisan, Italian-inspired experience to its patrons. They roast their own coffee in-house using a state-of-the-art coffee machine from Denmark, resulting in a rich, luscious java to enjoy drip-style or as a handcrafted espresso beverage. Menu offerings include your classic iced & hot coffee beverages, including cappuccinos, cafe lattes, and macchiatos, as well as flavored espresso drinks, including a Cherry Jubilee Latte, Hazelnut Mocha, and Butter Pecan Latte. Bonus for those of drinking age: you can even order your coffee boozy-style!
Insider Tip: Brilliant also specializes in Italian-style gelato and sorbetto — turn your coffee into an affogato by requesting a scoop of the silky treat with a shot of espresso over the top.
 
Hopscotch Coffee
Hopscotch Coffee was started by Bloomington's Jane Kupersmith. With the support of friends & family and her partnership with passionate barista, Jeff Grant, the pair opened Hopscotch Coffee's flagship location on the B-Line trail. Hopscotch serves some of the community's favorite drip coffee, espresso drinks, cold brew, cobra verde, and beans-by-the-bag at not one, but two locations in Bloomington. In 2022 Hopscotch Kitchen opened next door to the original, serving breakfast, lunch and weekend brunch..
Insider Tip: For a uniquely-Bloomington coffee experience, order the Little Wizard (a double-shot of espresso with honey, cayenne, cinnamon, and a splash of almond milk) on a cold day or the Mango Cobra (mango puree and Tajin mixed in their Cobra Verde) on a hot day.
 
Needmore Coffee Roasters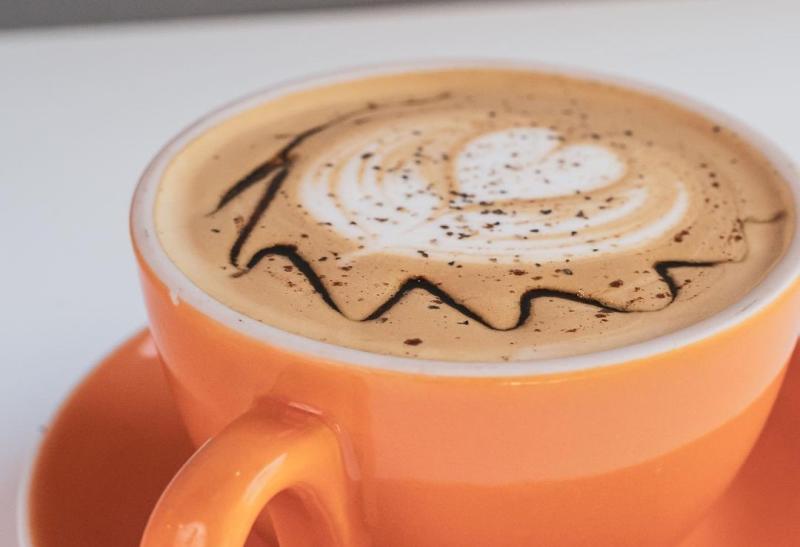 Photo by Needmore Coffee Roasters
Needmore Coffee Roasters started with one woman and a one-pound electric roaster. Today, owner Katie Mysliwiec roasts all of Needmore's coffee on-site in a three-kilo drum roaster, which offers a slower, more gentle roasting process for a more refined bean. All coffee is organic and ethically-sourced from small-scale farmers around the world, and the business' used coffee grounds are donated to local gardening groups and farmers to help foster a positive environmental impact. Java offerings include drip, pour-over, and French-press coffee, as well as cold brew, iced & hot espresso drinks, and a slew of signature lattes.
Insider Tip: If you're visiting during fall, the Campfire Latte is an absolute must — espresso, sweet liquid smoke, marshmallow, milk, and chocolate make it the perfect fall coffee concoction.
 
Soma Coffeehouse & Juice Bar
Serving the community since 1997, Soma is beloved by locals and students due to their wide range of coffee offerings and quirky, laid-back ambiance. The coffeehouse offers nearly 20 different roasts of coffee, available for purchase in-shop on a rotating basis and by bag. In addition to your standard coffee staples — drip, cold brew, latte, cappuccino, etc. — Soma's menu also includes over 10 specialty espresso beverages. Two fan-favorites are the Zombie (a light-roast coffee with your choice of sweet-ground chocolate or white chocolate, milk of your choice, and whipped cream) and the PB Cup of Joe (creamy peanut butter and dark chocolate mixed with house espresso and dairy of your choice).
Insider Tip: Soma has three locations in Bloomington, one downtown, one on campus, and one on the southeast side of town.
 
Cafes That Serve Coffee
The Chocolate Moose
The Chocolate Moose is known for their ice cream, but they also serve a large menu of coffee beverages using roasts from neighboring Nashville's Brown County Coffee. Like most coffeehouses and cafes, The Chocolate Moose offers classic espresso drinks, as well as drip and pour-over coffee. What sets them apart from the others is their robust selection of frappes. With nearly 10 flavors to choose from, including tiramisu, salted caramel, raspberry, and mocha, the frozen coffee beverage is a delicious caffeinated treat. Like Brilliant Coffee Co., The Chocolate Moose also offers affogatos — order a scoop of your favorite ice cream and have it topped with a shot of espresso for a caffeine boost!
Insider Tip: Craving ice cream while you're on campus? The Chocolate Moose has a location inside of the Indiana Memorial Union!
 
Crumble Coffee & Bakery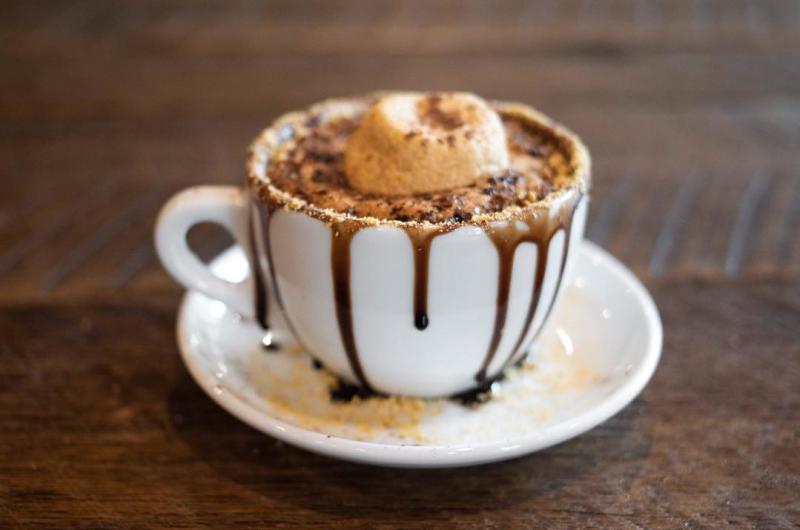 Photo by Crumble Coffee & Bakery
Crumble Coffee & Bakery is one of Bloomington's favorite cafes, serving a scrumptious assortment of pastries, teas, and coffee beverages. Using locally-roasted blends from Quarrymen Coffee, Crumble offers its patrons drip coffee, cold brew, lattes, and classic iced & hot drinks. A few beverages that are unique to the cafe are the Mexican Mocha (espresso, milk, Ghirardelli dark chocolate, cinnamon, nutmeg, and cayenne) and the Masala Latte (espresso, milk, vanilla, cardamom, and ginger).
Insider Tip: Crumble has two locations in town, one on the east side and one downtown.
 
The Inkwell Bakery & Cafe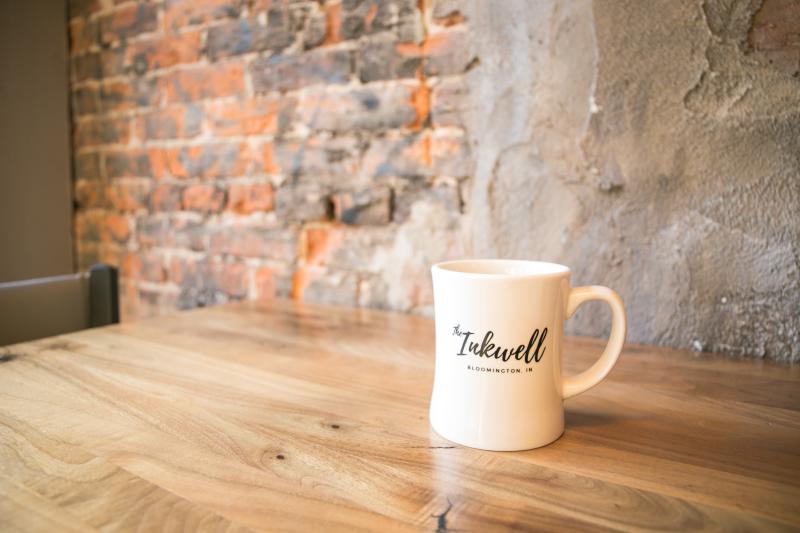 The Inkwell is known for their delicious menu of healthy meals, their house-made poptarts, and their cozy ambiance, but they also serve drip coffee and classic java beverages featuring Hopscotch Coffee's bean blends. Head to the cafe during breakfast for Loaded Avocado Toast and a cuppa Joe, grab a Capicola Sandwich and a cortado for lunch, or swing by for a latte and poptart to-go. 
Insider Tip: The Inkwell is opened a second location in the fall of 2021 near the south side of the Indiana University campus!
 
Poindexter Coffee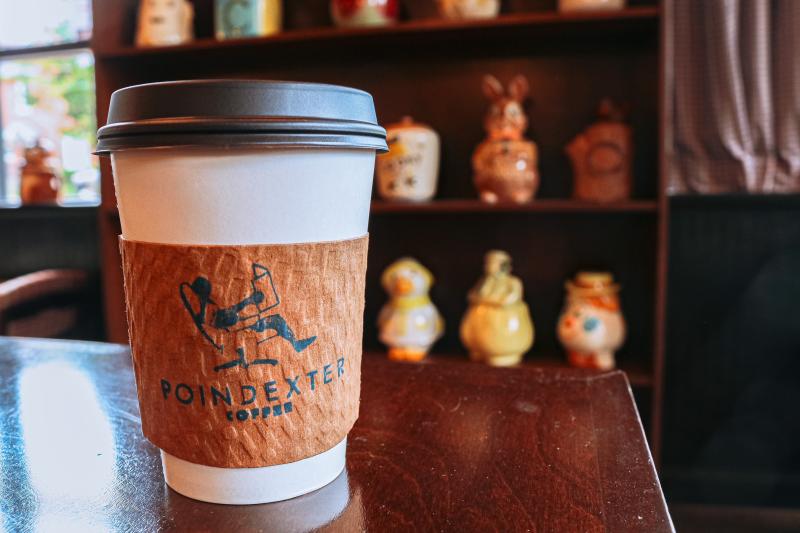 A true hidden gem, Poindexter Coffee is located inside the Graduate Hotel on Kirkwood Avenue. The cafe serves an assortment of Indiana-inspired comfort food for breakfast, lunch, and dinner, and as a popular spot for students and visiting families, they also serve a selection of hot and cold coffee beverages using bean blends from Verve Coffee Roasters. Their menu is straightforward — drip coffee, espresso, cortado, cappuccino, latte, nitro cold brew, iced coffee — but their kitschy, colorful aesthetic and beautiful latte art make for a 10/10 coffee moment on Instagram.
Insider Tip: Poindexter also offers a rotating menu of specialty lattes aside from their regular menu — browse the chalkboard next to their coffee bar for the day's options!

Looking for more of Bloomington's best eats? Check out these blogs: