Monday, September 23, 2019
Free Events at Lotus World Music Arts Festival 2019
Categories: Live Music, Festivals, Events, Arts & Culture, General
Guest Post: By Sara Sheikh
For over 25 years, the Lotus World Music & Arts Festival has delivered sights and sounds from around the globe to the heart of Bloomington. To celebrate the 26th annual Lotus World Music & Arts Festival, Lotus will feature the festival's largest lineup to date as 30 international artists take the stage at 14 downtown venues from September 26-29.
In addition to ticketed events like the Lotus Kick-Off Concert (9/26), Friday & Saturday Evening Showcases (9/27-28), and the Sunday World Spirit Concert (9/29), Lotus will host an array of special activities and spectacles that are free and open to the public:
 
Thursday, September 26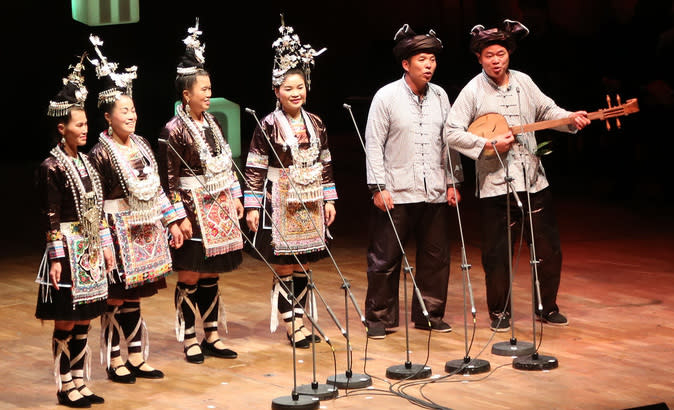 Photo Credit: Lotus Festival 
Cicada Song - A Workshop/Demonstration of Music and Culture of the Dong (Kam) People of Southwestern China
September 26 | 5:00 pm - 6:00 pm | Mathers Museum of World Cultures 
The Dong (Kam) people have developed a unique culture in which music plays a central part. Without a traditional written language of their own, the Dong people transmit much of their history, culture, and knowledge through songs hosted by ethnomusicologist Mu Qian and performed by the Yandong Grand Singers, this workshop/demonstration will showcase Dong songs and their contexts, such as courting songs performed as part of young people's social events. The musicians will also teach participants to sing songs like the Cicada Song, in which the singers imitate the flickering of cicadas' wings with quick sextuplets. 
Lotus in the Meadow
September 26 | 9:00 pm - 11:00 pm  | Dunn Meadow, N. Indiana Avenue
Indiana University Union Board in collaboration with the IMU brings Rosegirl to provide music as people gather, then Huckleberry Funk as the opening band starting at 9:00 pm. The evening's featured set follows with 47Soul – a Jordanian/Palestinian group with a relentless, beat-driven "Shamstep." Activities during the event include free hot air balloon rides, and information tables featuring IU First-Year Experience and the newly launched IU Lotus Booster Club. There will also be a variety of food trucks. 
Saturday, September 28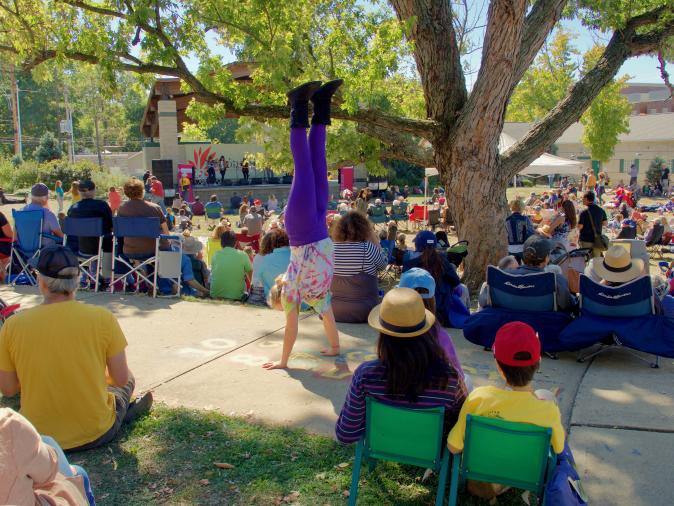 Photo credit: Daniel Axler
Lotus in the Park
September 28 | Noon - 5:00 p.m. | Waldron, Hill & Buskirk Park (3rd St. Park)
Bring a blanket or chair to enjoy outdoor performances and demonstrations or participate in hands-on arts and crafts. Suitable for all ages.
Drumline
September 28 | 8:40 pm - 9:00 pm | Kirkwood Ave and Monroe County Courthouse Lawn
Led by drumline director Ben Handel, the IU drumline bridges Indiana University Marching Hundred Drumlinebeats from gown to town!
Frontera Bugalu Connecting Borders Community Celebration
September 28 | 11 a.m. - 12:00 p.m. | FAR Center for Contemporary Arts
Participate in an interactive workshop with Frontera Bugalú, learning rhythms of "border folk" music, along with some choruses to songs touching on social issues experienced by those who live on the Mexico/US border. This is a bilingual program in Spanish and English.
Sunday, September 29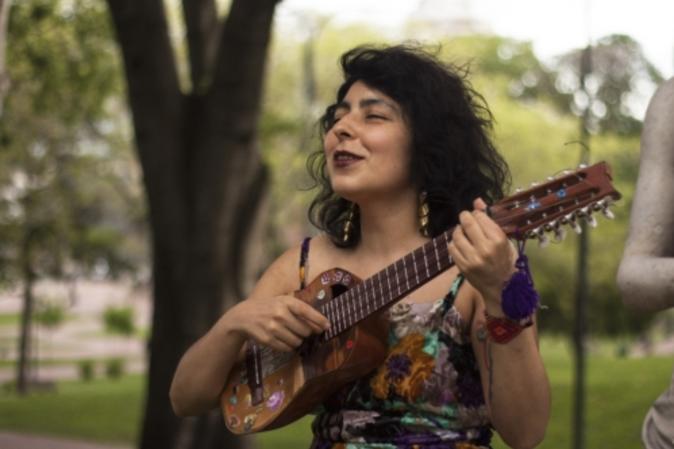 Photo credit: Lotus Festival
Songwriting Workshop with Sofía Viola & Dat Garcia
September 29 | 1:00 pm - 3:00 pm | Monroe County Public Library  
All women and non-binary people are invited to learn songwriting from Lotus artist Sofa Viola with Dat Garcia on her debut U.S. tour. This is a bilingual program in Spanish and English, limited capacity, for women ages 12+. Instruments are not required but encouraged. Register here.
September 28 & 29
Yoga at Lotus
September 28 & 29 | Times and Locations varies. See website.
Students of all levels are welcome to join and are encouraged to work at their own pace. Multiple teachers will be on hand to demonstrate. Voluntary donations welcome.
Visit lotusfest.org for additional info, tickets, and more!