Hidden Gems Near Kirkwood Avenue
Categories: General
Kirkwood Avenue is Bloomington's most well-known street. Lined with iconic bars, popular restaurants, Bloomington landmarks, and great local stores, it's a fun place to spend a day in town. While we absolutely love the businesses that line Kirkwood, there are some hidden gems in the area that deserve some spotlight, too. We rounded up every hidden gem that's in very near proximity to Kirkwood — spend some time exploring them next time you visit downtown!
 
Attractions
Monroe County History Center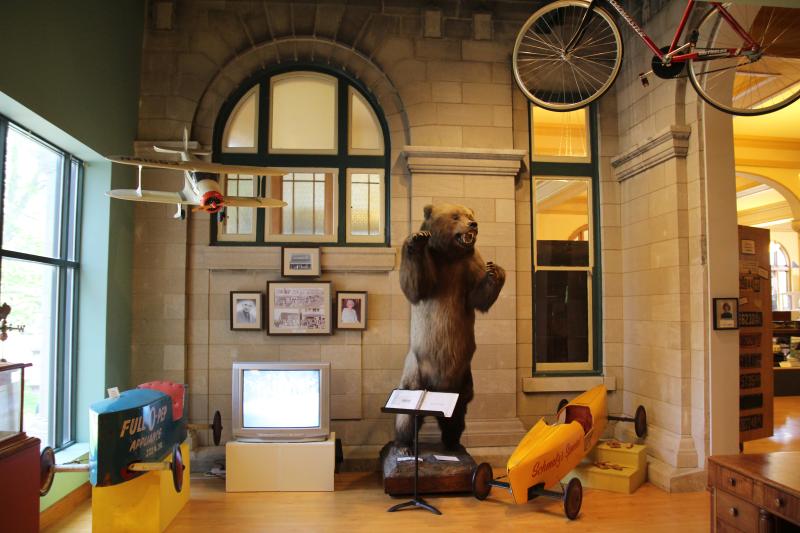 Located one block north of Kirkwood on 6th Street, the Monroe County History Center strives to collect, interpret, and present the genealogy, history, and artifacts of Monroe County in order to best depict the heritage & culture of the community. The museum is located in a historical building that was previously a Carnegie Library, and before that, a school for Black children in late 1800s & early 1900s. Here, you can learn about the history of Bloomington's limestone industry, Monroe County transportation, local sports & athletes, and more. The History Center also features rotating exhibits throughout the year that cover a wide range of topics. 
Insider Tip: Visiting the History Center is both budget-friendly and a great rainy day activity! Admission is free for children ages 0-5 years, $1.00 per child ages 6-12 years, and $2.00 per adult.
 
Bars
The Library

The Library is one of the truest hidden gems on this list. Located in a secret room at the back of The Upstairs Pub, The Library admits guests on a reservations-only basis. Specializing in highly-unique, upscale cocktails, the speakeasy offers an experience like no other in Bloomington. With a conservative amount of seating, the bar is a bit exclusive, but its intimate atmosphere is great for a night out with your partner or conversation with friends.
Insider Tip: The Library has a fun gadget that can print your photo on a foamy beverage — simply download the Ripples app and send your desired photo to the gadget, and your bartender will do the rest. Be sure to snap a pic before you start sipping!
 
Root Cellar Lounge

The Root Cellar Lounge is another true hidden gem with a speakeasy vibe. Located in the basement of FARMbloomington, the underground bar is decorated with an assortment of Americana-style wares, including an extensive beer can collection. Well-loved by locals due to it's funky, fun atmosphere Root Cellar Lounge frequently hosts bands, DJs, and karaoke, all three of which often result in dance parties that are so fun, guests keep coming back for more.
Insider Tip: The Root Cellar offers a cheap drinks special every Tuesday night. Wednesdays are reserved for karaoke, and Thursdays are when you can catch a live band. Fridays and Saturdays are reserved for DJs.

Eateries
Baked! of Bloomington
Baked! is a late-night favorite in B-Town, located just half a block north of Kirkwood on Washington Street. Born out of the need to satiate sweets cravings at any hour of the day (or night), Baked! offers customizable cookies delivered right to your door. Choose your dough, mix-ins, and after-bakes for the ultimate cookie creation — don't forget to order a pint of milk to wash them down! 
Insider Tip: Order the Quick Fix if you're snacking solo, the Munchie Special if you're eating with your other half, or the Hotbox Special for a slightly larger group.
 
Bapu Teahouse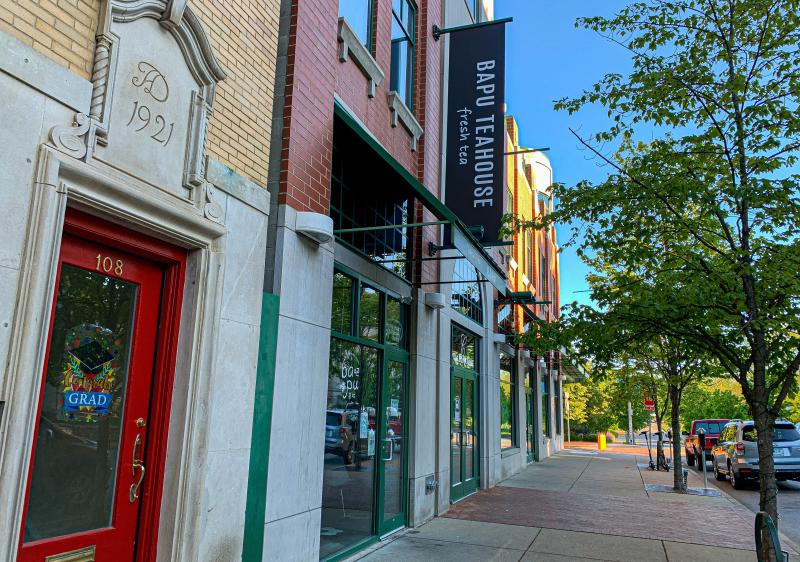 Bapu Teahouse is located just down the street from the corner of Indiana and Kirkwood Avenues. The teahouse specializes in bubble tea and smoothies, serving unique flavor combinations to those who frequent downtown and campus. Their menu includes over 40 different drinks, from milk tea and coffee to fruit tea and smoothies, and they also serve a small variety grab-and-go-style snacks.
Insider Tip: Add popping boba to your tea or smoothie for a drink experience like no other!
 
Big Woods Bloomington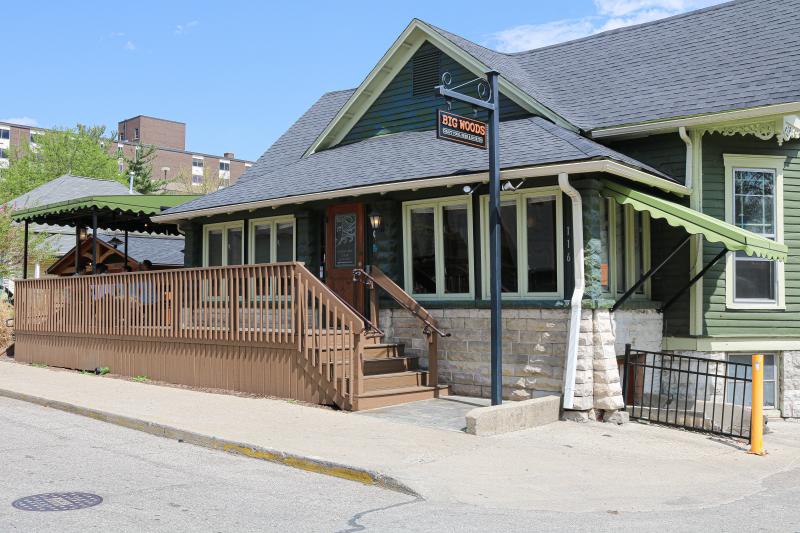 Big Woods is a cozy brewpub on Grant Street, just a block north of Kirkwood. The Big Woods family includes Quaff ON! Brewing Co. and Hard Truth Distilling Co., their craft beer and craft distillery brands. At Big Woods, you can expect a full menu of artisan, pub-style food, fantastic monthly features, a broad craft beer & cider selection anchored by their Quaff ON! brews, and a full spirits & cocktails menu largely featuring Hard Truth liquors. Enjoy a meal and drinks at an intimate table in their house-turned-restaurant, at their laid-back bar, outdoors on their patio, or on their seasonal beer garden out back.
Insider Tip: Looking for recommendations? We suggest their Go Big Burger, Peanut Butter Busted Knuckle beer, and New Old Mojito. Don't be afraid to try something on the featured menu of the month — you'll enjoy what you order so much, you'll wish it was on the permanent menu.
 
Bloomington Bagel Company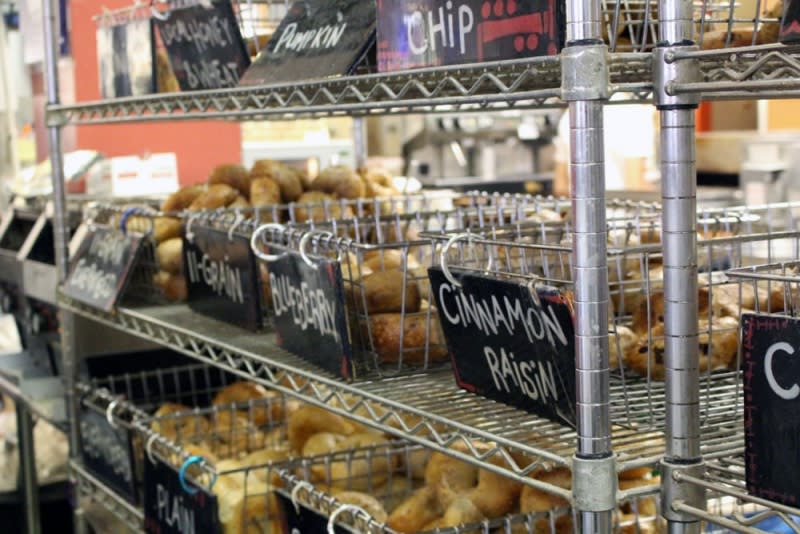 Bloomington Bagel Company (BBC) has four locations around Bloomington, with their location near Kirkwood just one black north of Peoples Park on Dunn Street. You'll usually find a line at each bagel joint because they're so well-loved — and totally worth the wait. BBC offers a variety of bagel sandwiches, deemed "bagelwiches," for as low as $1.94 (the Willa's Choice PB&J) and no more than $9.95 (the Lotsa Lox). Two of their bagelwiches are vegetarian-friendly, and anything on their menu can be customized to your liking. If you're looking for a quick bite before you begin your day's adventure, BBC is where it's at.
Insider Tip: Stop by any Bloomington Bagel Company location during Pride Month to grab a rainbow bagel for the 'Gram and for your belly!
 
BuffaLouie's at the Gables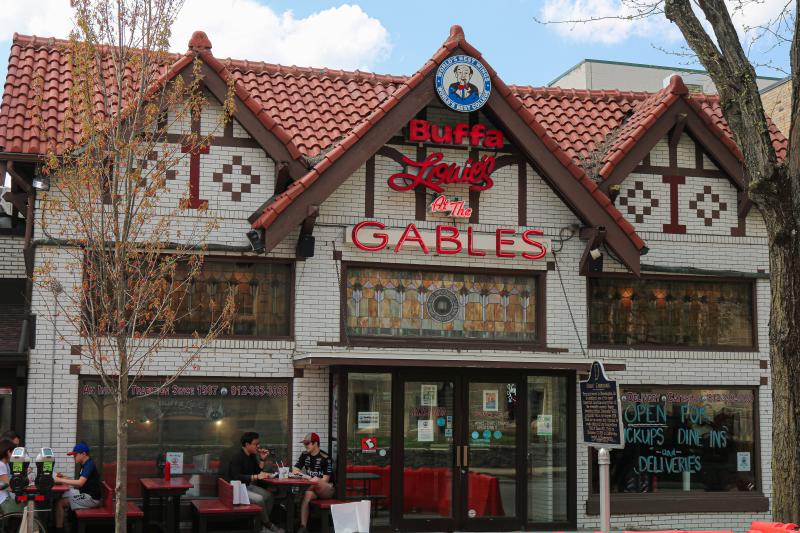 BuffaLouie's, located around the corner from Kirkwood on Indiana Avenue, is Bloomington's favorite place to get wings. Ranked by USA Today as one of the Top 10 wing joints in the country, BuffaLouie's uses original family recipes & fresh ingredients and operates under a made-to-order, served-with-a-smile philosophy. Their wing selection includes traditional & boneless options, six buffalo sauces, six barbecue sauces, six specialty sauces, and two dry rubs. For those who aren't big chicken wing fans, Buffa's also offers a delicious selection of burgers, salads, vegetarian-friendly sandwiches, hot sandwiches & subs, fish & tenders, and an array of mouth-watering side dishes.
In addition to their awesome food, BuffaLouie's also has a great atmosphere. The inside of the restaurant is decorated from floor-to-ceiling with IU sports memorabilia, art, and fan-fare. There are multiple distinct areas to enjoy your meal: a loft-type section, two sunken sections, and large booths & bar-height tables lining the center of the restaurant. You can even sit outside on their patio at a picnic table and watch the campus traffic move around you as you eat.
Insider Tip: Can't handle spice? Order traditional wings with teriyaki sauce, and prepare to be floored by the flavor. Always order a side of curly fries with cheese sauce. For the non-wing-loving visitor, give their Sweet Lou burger a go. 
 
Dagwood's Deli & Sub Shop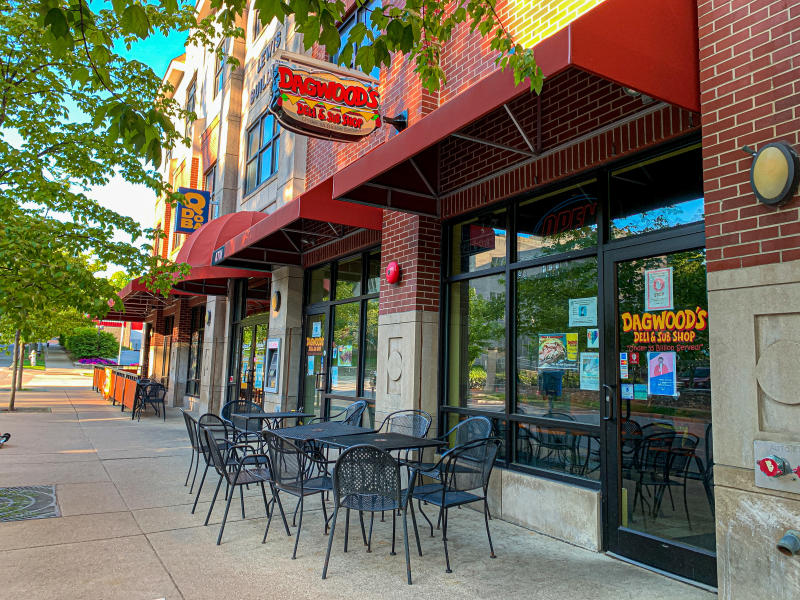 Dagwood's Deli & Sub Shop is an award-winning sandwich shop located right next to BuffaLouie's. In addition to their robust variety of sub sandwiches, they also serve wraps and salads. Dagwood's takes pride in providing Bloomington with the biggest subs and the best flavor, without compromising on the quality of their ingredients. Nearly every single one of their subs and wraps are less than $10.00, and they also serve a half-sandwich and soup combo for $7.59, making them a local-favorite for a quick & cheap meal.
Insider Tip: Embrace Hoosier culture to the fullest by ordering The Hoosier Hoagie (roast beef, turkey, and Swiss cheese with your choice of toppings) or The Bloomington Sub (ham, genoa salami, bologna, and provolone cheese with your choice of toppings).
 
Hartzell's Ice Cream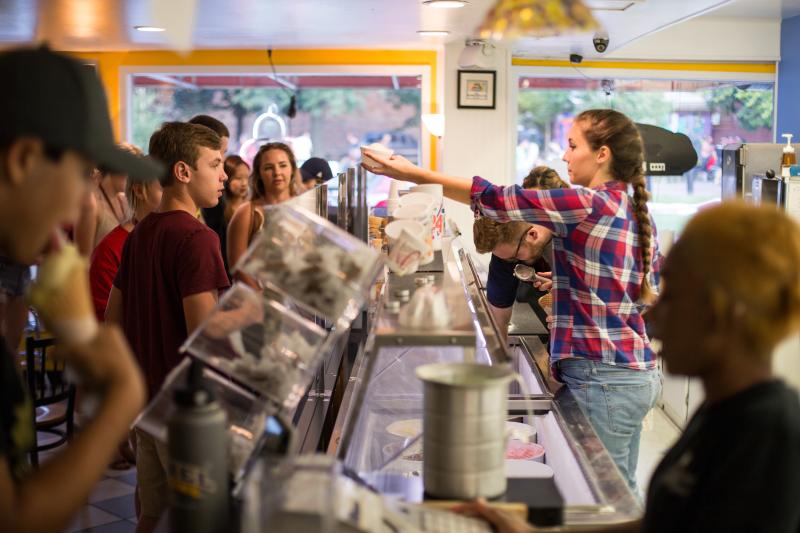 Hartzell's is a local favorite for handmade ice cream, stationed just across the street from Peoples Park on Dunn Street. The shop prides itself on its handcrafted, small-batch, inventive ice cream flavors, locally sourcing ingredients whenever possible. Hartzell's offers just about every variety of the cold treat: homemade ice cream, soft serve, frozen yogurt, Carbolite (lactose- & fat-free ice cream), specialty sundaes, Spinners (like a Dairy Queen Blizzard), and parfaits, all customizable through the flavor, mix-in, and topping selections.
Their signature homemade ice cream flavors are usually quite out-of-the-box, featuring flavors like Chocolate Sweet Italian Basil and Kaju Draksh — an Indian-style cashew raisin ice cream. Don't let that spook you though; they also offer classics like Mint Chocolate Chip, Cookie Dough, and French Vanilla.
Insider Tip: Ask for a sample of flavors you'd like to try but aren't sure you'll enjoy enough to order!
 
Japonee Express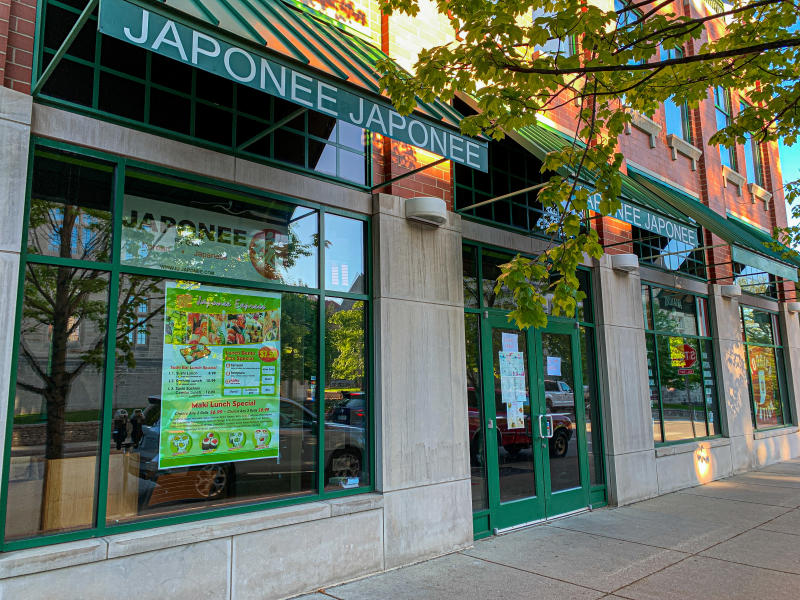 Japonee Express, located right next to Bapu Teahouse, is an authentic Japanese and Korean restaurant. They serve a large menu of food, including over 70 different sushi rolls and a variety of noodle soups, teriyaki entrees, bento boxes, and more. Their convenient location, lunch specials, and affordable prices make them another favorite for a quick & cheap meal near campus. For sushi lovers, the restaurant is a must.
Insider Tip: Japonee Express offers one of the best sushi specials in town: order three rolls from a limited (but not small) menu for just $10.00.
 
Osteria Rago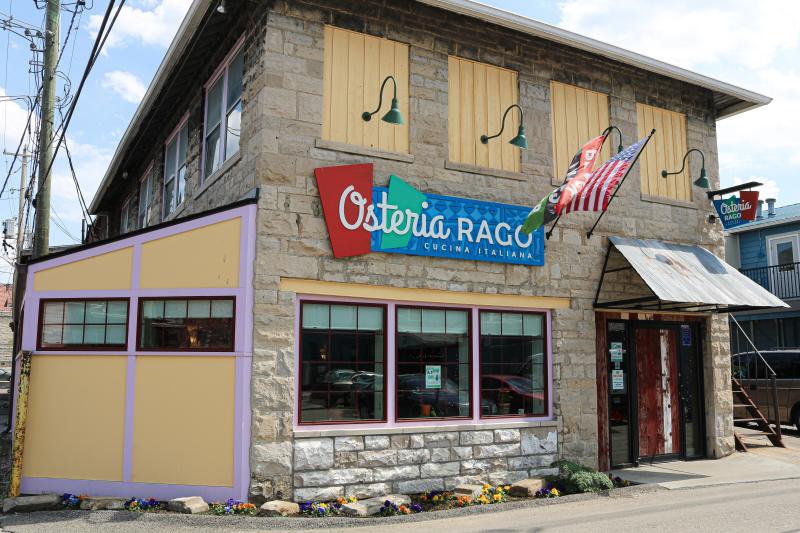 Located in the alley between The Village Deli and Tracks, Osteria Rago is an authentic Italian restaurant & deli that strives to create Italian grandmother-style cooking in a rustic, cozy environment. A true hidden gem, Osteria's owners wanted to mimic the best eateries in Italy, often found off-the-beaten-path in narrow alleys and ancient passageways. The menu includes options for every budget and every Italian craving: sandwiches, wood-fired pizzas, house-made pasta, traditional entrees, and incredible Italian desserts. Osteria is also family-friendly, offering a kids menu for the littles in your life.
Insider Tip: Osteria's sandwiches are not to be underestimated. Our personal favorites are the Di Parma and the Prosciutto Cotto. If you're dining in for a special occasion, the Tuscan Salmon and Veal Braciole are two of the best meals on the menu. Definitely save room for a cannoli... or don't, but eat one anyway!
 
Poindexter Cafe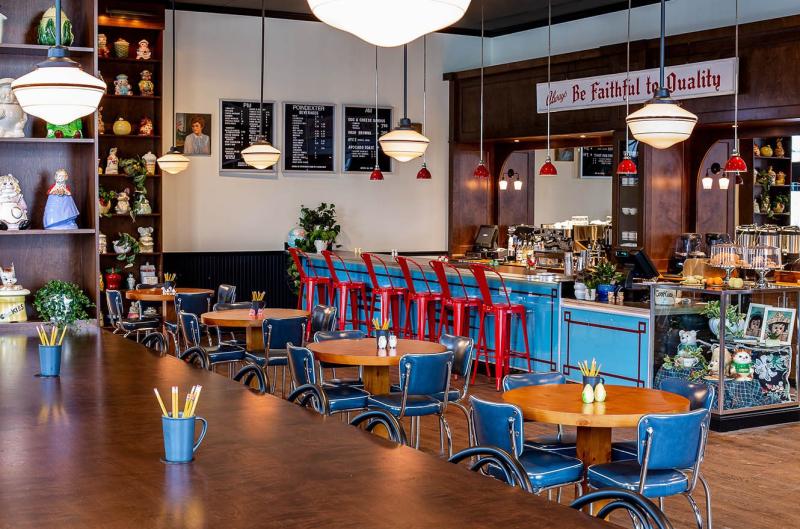 Those who have never stayed at the Graduate Bloomington Hotel may not ever stumble across Poindexter Cafe, but it's is definitely worth a visit. Open to both hotel guests and the public, the Poindexter is a cozy space for meals, coffee breaks, and meetups. Decorated in a very vibrant & kitschy style, the ambiance has a comforting, vintage feel. The Graduate's concept is to celebrate the culture, heritage, and history of both the state and town it resides in through its design & decor — at the Poindexter, you'll find numerous floor-to-ceiling shelves lined with cookie jars, which is a nod to the record-setting Grannies Cookie Jars & Ice Cream in Metamora, Indiana.
Beyond the fascinating decor, you'll find yourself delighted with the food and beverages served by the cafe. Beverages include a wide range of coffee & espresso drinks, as well as kombucha and nitro cold brew on tap. Food options range from morning to evening plates: a Breakfast Burrito & Acai Bowl in the morning, a Grilled Chicken Caesar Wrap & Tomato Soup for lunch or dinner, and locally-made Chocolate Moose ice cream to satisfy your sweets craving any time of day.
Insider Tip: The Graduate is one of the most Instagrammable spots in B-Town. Be sure to snap a few pics to share while you're in the hotel and cafe!
 
The Runcible Spoon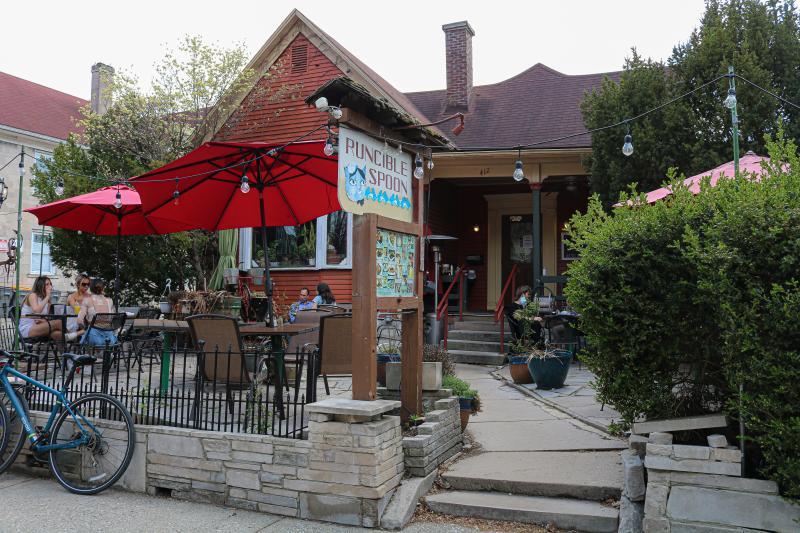 Located one block north of Kirkwood on 6th Street, and also accessible through Osteria Rago's alley, The Runcible Spoon is a charming, whimsical eatery that serves comfort food for breakfast, lunch, and dinner. The Spoon's eclectic, Bohemian-style decor sets the restaurant apart from others in town. The eatery has four seating areas: the front patio, which is reminiscent of a secret garden; the main level inside the house, which has a Victorian library feel to it; the basement of the house, which is a bit more akin to your classic hole-in-the-wall diner, and the back patio, which is a more quiet, relaxed space than the other three.
While the atmosphere is unique, The Spoon's incredible menu of affordable fare is what keeps people coming back. Breakfast is where they truly shine, so much so that they serve it all day. You can enjoy classic egg-toast-protein combos, as well as pancakes & French toast, or you can branch out to try one of their signature dishes, such as the Smoked Salmon & Croissant Bennie or the Corned Beef Hash.
Insider Tip: The Runcible Spoon began as a coffee roastery in 1976 (the first in Bloomington!) and has been roasting coffee on their premises ever since. They offer a wide variety of roasts, including light and dark selections. If you're a coffee lover, definitely order a cup when you go to The Spoon.
 
Soma Coffee House & Juice Bar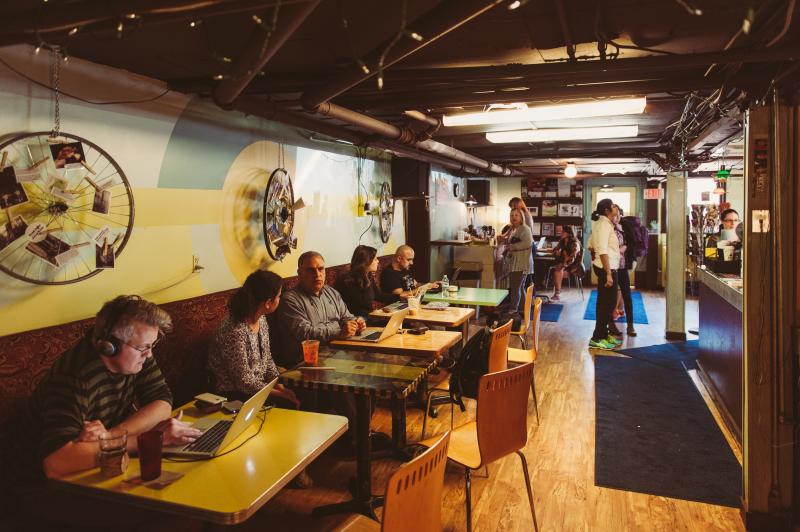 The caffeine-addicted and juice-obsessed will love Soma Coffee House & Juice Bar, located in the basement of the former Laughing Plant Cafe's building. The quirky-cool Bloomington cafe chain offers classic & unique coffee beverages, fresh smoothies & juices, a wide range of hot & iced teas, and a variety of fresh-baked pastries for those who like to have something to munch on while enjoying their brew of choice.
Insider Tip: Soma is another local Bloomington chain with multiple locations around town. If you aren't near Kirkwood, stop by their east location across from the Jacobs School of Music or their south location across the street from Feta Kitchen + Cafe.
Looking for more downtown shopping, restaurants, and nightlife? Check out these blogs: