Summer Fun with Kids in Bloomington
Categories: Family Fun
There's nothing like summer in Bloomington, especially for families. With outdoor attractions like splash pads and playgrounds, great local shops to grab some ice cream, and fun seasonal activities like hitting the community pool and seeing a movie at the drive-in, there's plenty to do with kids in B-Town. Whether you're here for a day, a weekend, or a week, there's plenty of summer fun to be had in the heat of the season.
 
Get Active
Swing & Slide at a B-Town Playground
Bloomington is home to over 30 parks, most of which feature playgrounds. Playgrounds are such a joy for small children, and they provide hours of fun at no cost at all. Nothing beats a free activity! We've even rounded up the best of the best for you, including several accessible playgrounds across town — Switchyard Park and Karst Farm Park are two local-favorites.
 
Bike the B-Line Trail
Get active and have an outdoor adventure with the kids by biking the B-Line Trail. The 3.1-mile paved path weaves by several family-friendly attractions, including the WonderLab Museum and Switchyard Park. You could spend the day biking to the park, playing at the state-of-the-art playground, picnicking for lunch, cooling off on the splash pad, then biking to WonderLab to explore the museum and WonderGarden in the afternoon. Talk about a fun-filled family day!
 
Kayak at Griffy Lake
Griffy Lake is a secluded, peaceful lake nestled in a nature preserve just five minutes from the Indiana University campus. Its calm, low-traffic nature makes it the perfect place to take the kids kayaking on a beautiful summer day. Bring your own watercraft, or rent one from the Griffy Lake Boathouse for just $8.00 per hour.
Make a Splash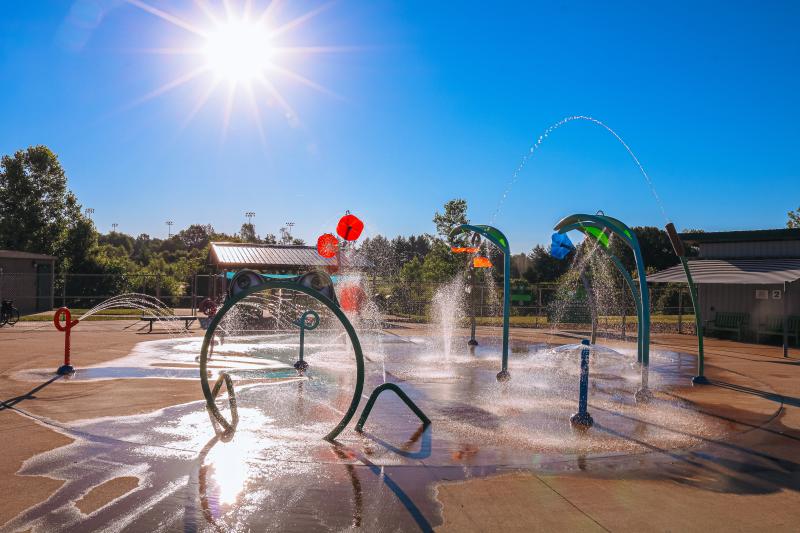 Hit the Bryan Park Pool
Stay cool under the summer sun at Bryan Park Pool. Families can enjoy the Olympic-size pool, the Limestone Lagoon play area & zero-depth pool, a diving board, three water slides, lounge chairs, and a concessions stand. Extend your fun at the park by exploring one of the three playgrounds on the 33-acre property.
 
Go Fishing at Will Detmer Park
Whether your littles are passionate anglers or new to the water activity, Will Detmer Park is a great place to take them to cast their line. The park features a half-acre pond with a wheelchair-accessible fishing pier, which is situated just across the parking lot from the park's playground. If the kids get bored fishing, they can run around on the accessible playground instead!
 
Cool Off at a Splash Pad
Monroe County offers two splash pads, one at Switchyard Park and another at Karst Farm Park. Both parks' splash pads feature various nozzles and misters that spray water in a zero-depth play area. They're also located right next to playgrounds, making for a fantastic summer afternoon under the sun. 
Escape the Heat
Grab an Ice Cream Cone
There's no better time for ice cream than during summer! Treat yourself to a cold scoop at one of Bloomington's best ice creameries. If you're visiting for a few days, try a new ice cream shop each day to determine which local joint is your favorite — long-standing local favorites include The Chocolate Moose, Jiffy Treet, and Hartzell's, all of which have been operating in Bloomington for over 25 years.
 
Check Out Vintage Phoenix Comic Books
Do your kids love all things superheroes? Vintage Phoenix Comic Books is a must if so. The bookstore is a destination for comics, graphic novels, action figures, and more. Marvel-obsessed kids will delight in a trip to the shop, as they carry comics related to the film adaptations and storylines that have yet to hit the big screen. While they have plenty of superhero material to pour over, they carry other genres for readers of all ages as well.
 
Play Games at Yogi's Side Bar
Local-favorite bar & grill, Yogi's, offers more than just great burgers and late-night bites! The restaurant has a variety of fun games, including darts, pool, foosball, shuffle board, board games, and more, in their Side Bar. Pop in for lunch during your visit, and get some relief from the summer heat by playing a few games before or after your meal.
Experience More Summer Recreation
Explore WonderLab Museum
WonderLab Museum is an award-winning children's museum that strives to cultivate an excitement and curiosity for science through interactive exhibits & programs. Explore their outdoor WonderGarden this summer, then take a break from the sun to peruse the museum's indoor exhibits, which include a gallery that showcases live insects, amphibians, and reptiles in their natural habitats, a bubble exhibit for exploring "soapy science," and much more.
 
Catch a Movie at Starlite Drive-In
Originally opened in 1955, Starlite Drive-In is Bloomington's only drive-in movie theater. They book both new movies and special screenings of beloved classics, showing movies Tuesday through Sunday — on Friday through Sunday, they screen a double-feature. Catching a movie at the drive-in is a great activity for anyone, but it's especially magical for families with young kids.
 
Play Mini-Golf at Hoosier Putt Hole
Mini golf is a fun way to pass time no matter how old you are! Play a round or two at the 18-hole Hoosier Putt Hole course in neighboring Monroe County community, Ellettsville, then walk across the lot to Jiffy Treet for a few scoops of ice cream afterward.
Looking for more family-friendly activities in Bloomington? Check out these blogs: