The 10 Best Spots in Bloomington for a Gluten-Free Foodie
Categories: Wine & Culinary
When you're a food enthusiast living with dietary restrictions, eating out can put a serious damper on your appetite. In so many restaurants, the only safe bet is the house salad (hold the croutons), which gets old pretty quickly. Luckily, being the accommodating and food-centric town that Bloomington is, having one or more restrictions doesn't mean you have to sacrifice flavor to eat safely for your condition or lifestyle. Check out our favorite places to grab delicious gluten-free food in Btown, in no particular order.
*This list is based on the experiences and tastes of the author (who is also a vegetarian), and is not comprehensive. Share your favorite places to go for great gluten-free food in the comments!
The day you go gluten-free, the whole wide world of pub food is closed to you. Except at The Irish Lion. The Vegetable Medley dish initially seems simple, with stir-fried vegetables over rice, but the seasoning is phenomenal. The portion is huge, so you'll be set for lunch the next day. This dish is great for those who are gluten-free, vegetarian, and/or vegan. They also always have Magners Irish Cider on draft, so you can get a pint too.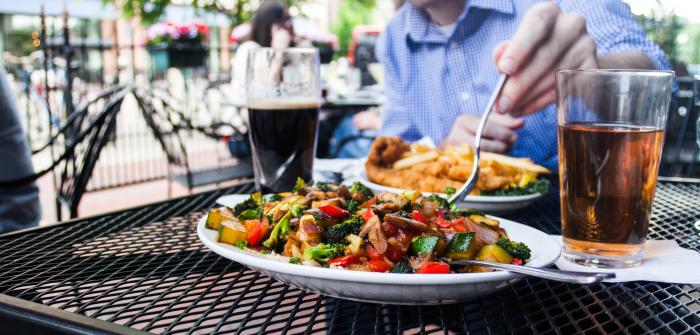 Malibu Grill's menu has icons showing which dishes are gluten-free, vegetarian, and vegan. A huge selection of their entrees are GF, and many can be made GF with substitutions. Try the Yellow Coconut Curry...it's vegan and gluten-free, but meat can be added if you wish. It has great flavor and a bit of a kick, but is still mild enough that a curry rookie would enjoy it. The portion size is perfect, and it is filling without being heavy. Malibu also has an impressive wine list and some fabulous cocktails, for the non-beer-drinkers.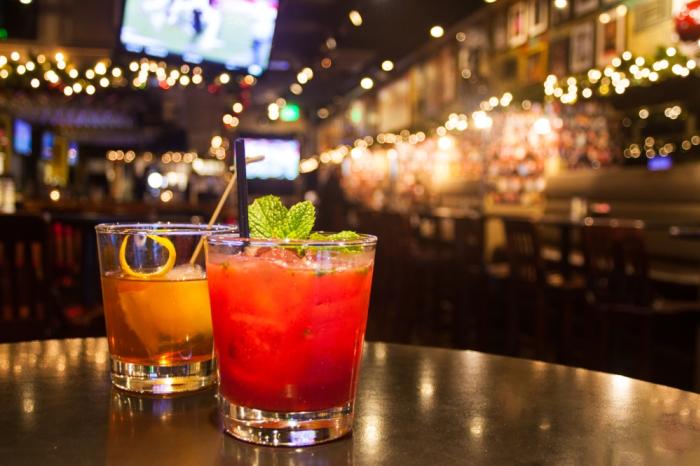 One word: tamales. Made with corn flour and baked in a corn husk, this dish is naturally gluten-free and always awesome. There are different tamales available every day, but there's always a vegetarian option. The Tamale Feast comes with the tamale of your choice, rice, salad, and salsas. If you're not sure if tamales are your thing, stop by for brunch and grab some avocado toast on gluten-free bread.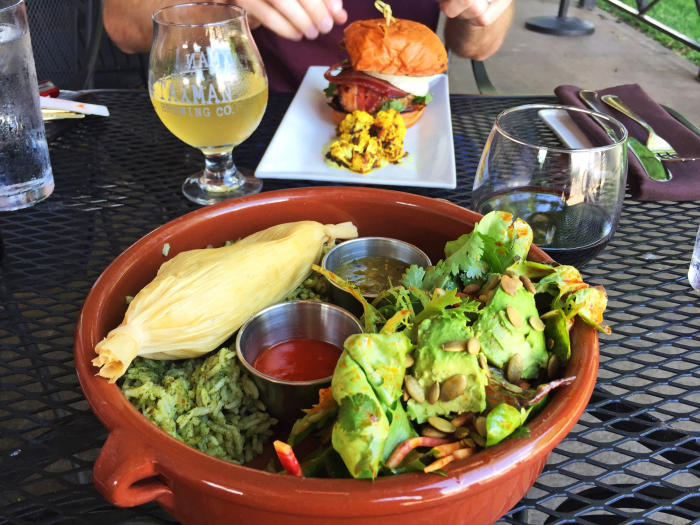 This bakery is all vegan all the time, and also makes a great selection of of gluten-free goodies that get their very own (pretty big) case. The donut and cupcake flavors rotate with a variety of classics and unique flavor combos, but there are some go-to treats in the GF case every day like the oatmeal cream pies, marshmallow chocolate chip cookies, and granola.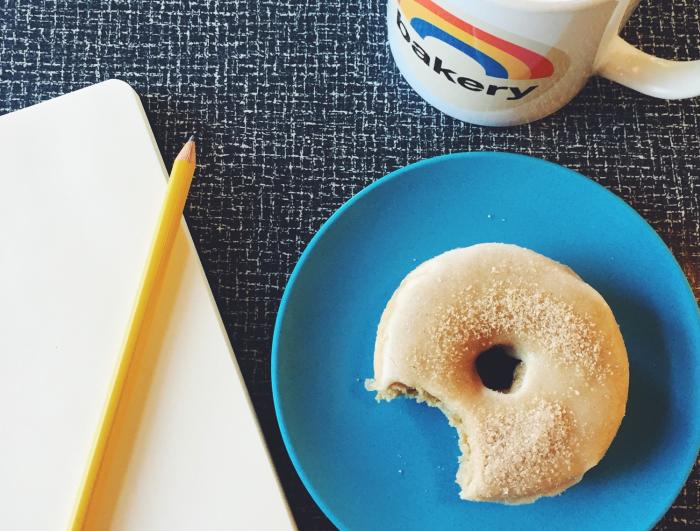 The menu at Uptown Cafe has icons on their menu indicating which items are gluten-free, vegetarian, or vegan, making it easy for those with dietary restrictions to find something they'll like. Red Beans & Rice is a great comfort food dish that's both GF and vegan. You also can't go wrong with the Huevos Rancheros when it's time for brunch.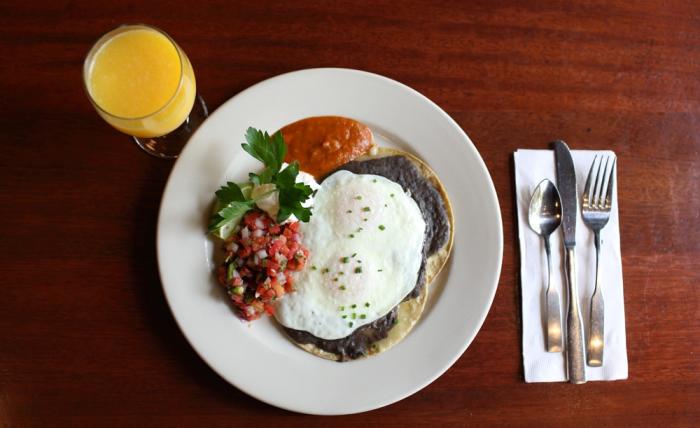 Juancho's Munchies is a local food truck serving up great Venezuelan cuisine. We highly recommend trying an arepa, which is a gluten-free grilled corn patty stuffed with all sorts of goodness, like black beans, cheese, avocado, meat, or veggies. Plus, if you visit them at Food Truck Friday, you can visit all the other trucks and carts for a second meal or dessert.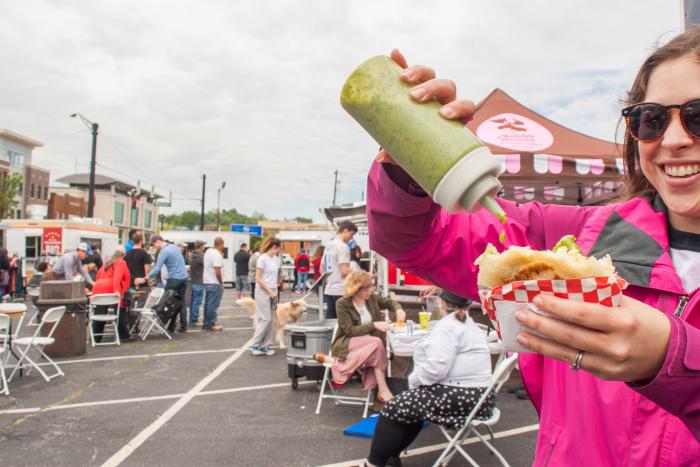 FARM uses locally-sourced ingredients to create original dishes with global flavors. Many of their options are gluten-free, but the staff is very helpful, so if you have questions feel free to ask! While you can't go wrong with the dinner menu, we recommend you stop by for lunch and try the Napa Cabbage Tacos. These unique tacos are filled with spiced walnut "meat," pico de gallo, cilantro, dairy-free sour cream, and lime.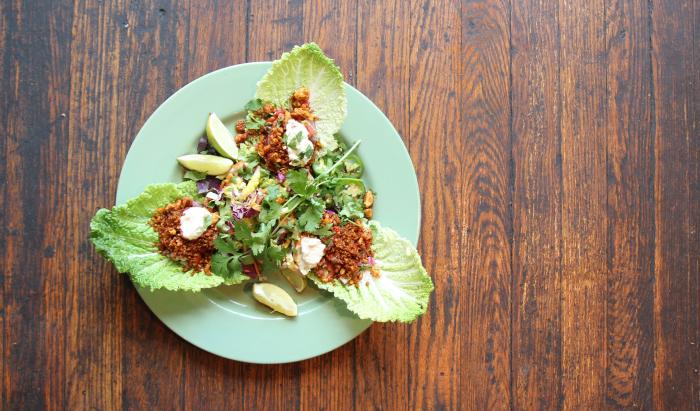 PIZZA
(The GF pizza options in Btown are so good that it gets its own category)
King Dough has perfected their recipe for gluten-free crust. It holds up well to toppings, but also has the right balance of chewy and crispy. You can get any of their uniquely-named specialty pizzas with GF crust, with meaty, vegetarian, and vegan options available. Our vegetarian favorites are the Potato Pie and the Stinky Pete.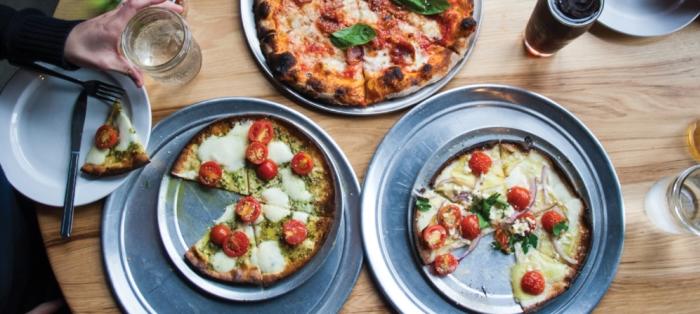 Bucceto's is a great stop for a family of gluten-free food-lovers. You can get one of their specialty pizzas made with the gluten-free crust, or choose your own toppings (try this combo: basil pesto, broccoli, spinach, and ricotta). They also have gluten-free pasta and bruschetta, along with some great soups and gigantic salads to keep everyone happy. You can eat in the restaurant, or get carryout/delivery from either location.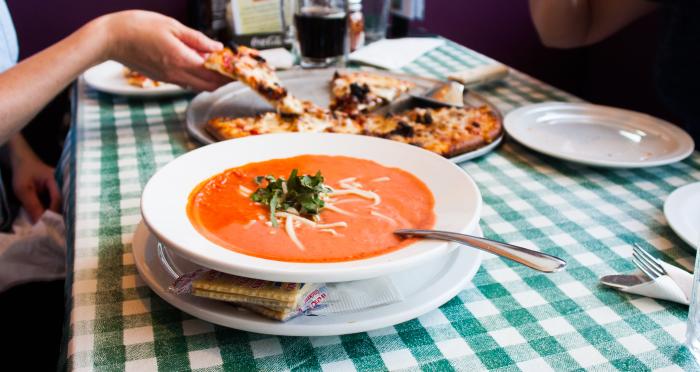 Lennie's and Bloomington Brewing Co. are Bloomington traditions. But even if you can't drink the beer, you can partake in some great gluten-free pizza. Pick a specialty combo or choose your own toppings, and pair with one of the gluten-free beers and ciders they carry in addition to their own brews. If you're not feeling pizza, they also have amazing salad options and soups too, but make sure you ask your server which soups are gluten-free. They will be happy to help you out.