Thursday, October 19, 2017
Vintage Shopping Guide
We have no shortage of unique shops in Bloomington, especially when it comes to all things vintage. From high-end mid-century wares to affordable vinyl classics make sure to check out Bloomington's best vintage shops to score some one of a kind treasures.
Fashion
Cherry Canary - With vintage baubles, clothing, and records, this downtown boutique has a little bit of everything. Owner and buyer, Cassie does the hard work for you. She scours estate sales, thrift stores, and garage sales around Midwest looking for the funkiest and most unique threads for men and women. Beyond clothing and accessories, she has a cool collection of kitschy housewares like pendant lights, planters, glassware, and more. There's even a special section of Halloween costumes.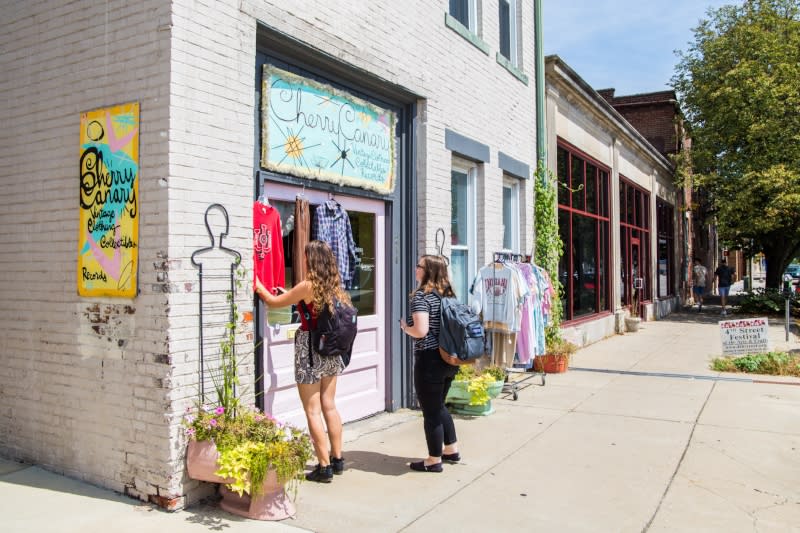 Cactus Flower - Cactus Flower is located next to new Mediterranean-inspired restaurant, Feta Kitchen + Cafe. This women's boutique has contemporary clothing and accessories on the main floor, while upstairs is filled to the brim with eclectic vintage fashions, handbags, and jewelry. You'll find men's and women's clothing from every era including ties, hats, shoes, jewelry, gowns, and other accessories.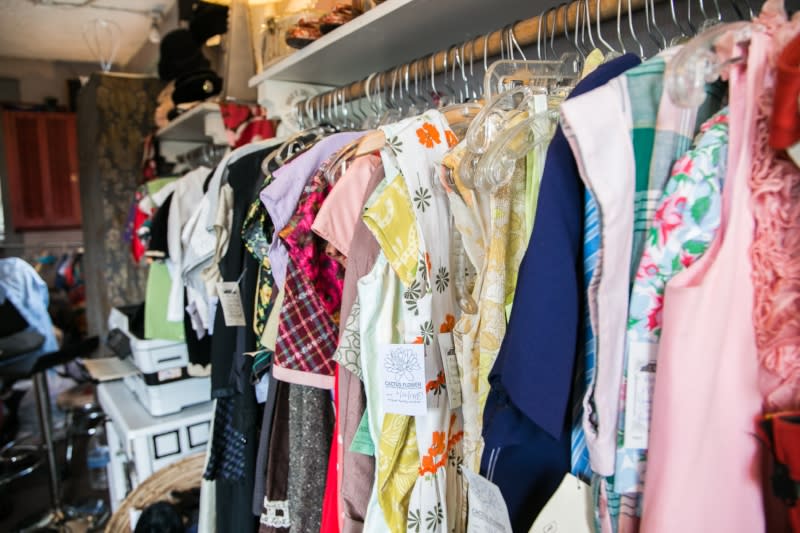 Vintage Vogue - Discover boutique and vintage items that have been donated to Goodwill and then carefully selected and curated by the Vintage Vogue staff. Their Kirkwood Avenue boutique is a treasure trove of affordable fashions for men and women often featuring special deals like 50% off on the first Saturday of every month. There is a small selection of home accents, jewelry, and other accessories. You may even stumble upon some mint condition mid-century furniture.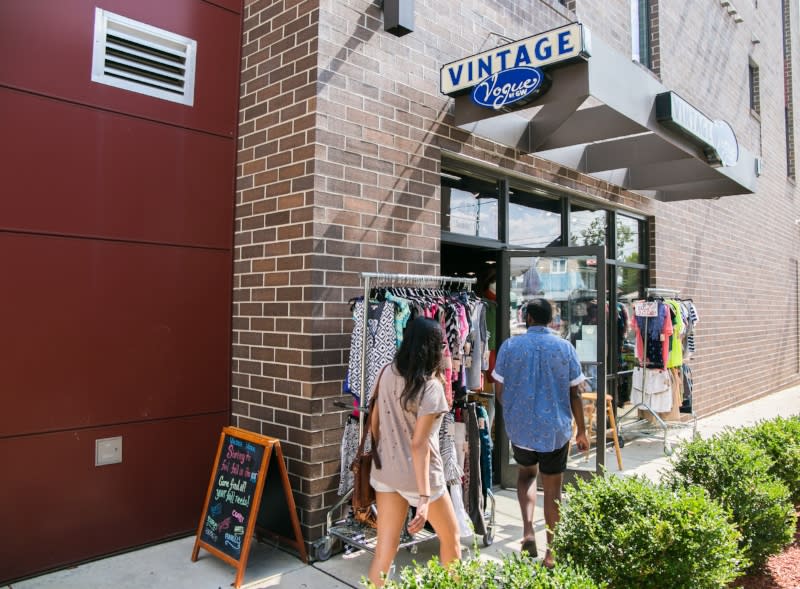 Furniture
Bloomington Antique Mall - I could spend hours in the Antique Mall, and have several times. Their inventory runs the gamut of ages with tons of authentic furniture and china collections to mid-century mod kitsch to 80s t-shirts. This is a great place to explore on a rainy day thanks to three huge floors of funky items.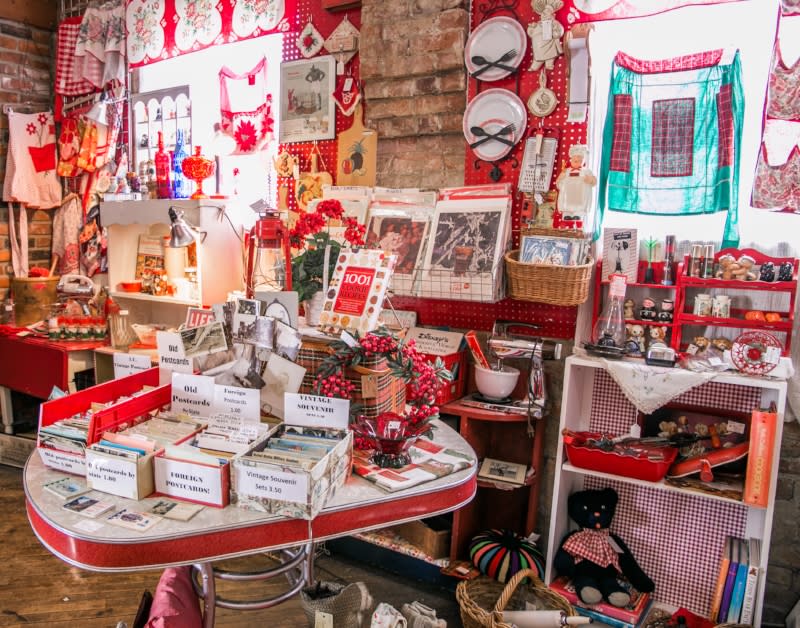 Jeff's Warehouse - This is THE place in Bloomington for authentic mid-century modern furniture and antiques. With two floors packed full, Jeff expertly lays out vignettes with different pieces to inspire customers and show them how to incorporate vintage pieces in their own home. If mid-mod isn't your aesthetic you can find artwork, decorative arts, rugs, and other accessories that span many different decades.  
Habitat Restore - If you're looking to score a mint condition vintage piece at a crazy discount, this is the place for you. The inventory is always changing so you have to be patient when hunting for vintage gold here. Pieces here are priced to move so if you find a gem don't wait because someone else is likely to snatch it up. You can feel good about shopping at Habitat Restore too because money spent there goes to help funding homes in Bloomington.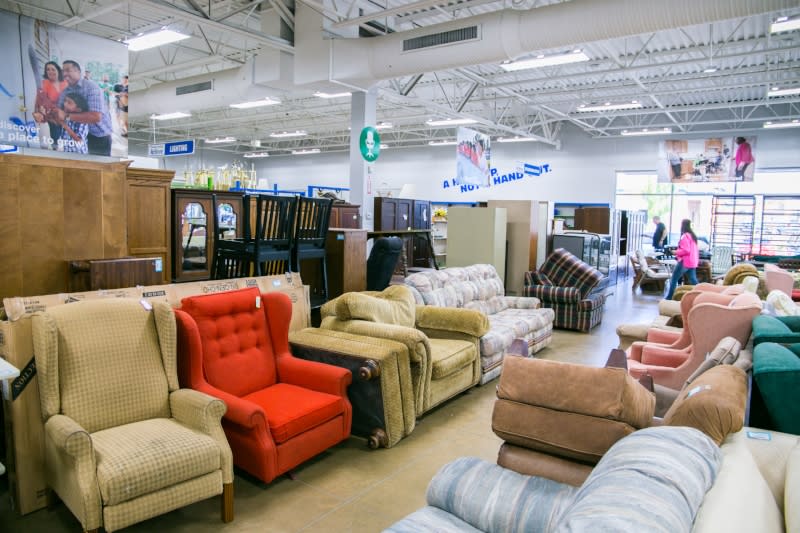 Lola & Company - Lola Rue is a darling shop that just relocated to the Square. It is an eclectic mix of new and old, shabby chic meets French country style here in both vintage and new styles. If you find a piece you love but aren't wild about the color, talk to the owner Lisa. She can customize pieces with Annie Sloan chalk paint which she carries in the store. If you already have a piece at home that you'd like to makeover, get expert advice from Lisa and her staff about how to use the chalk paint and what you need to perfect your piece. You can also find jewelry, clothing, and other unique home accents here.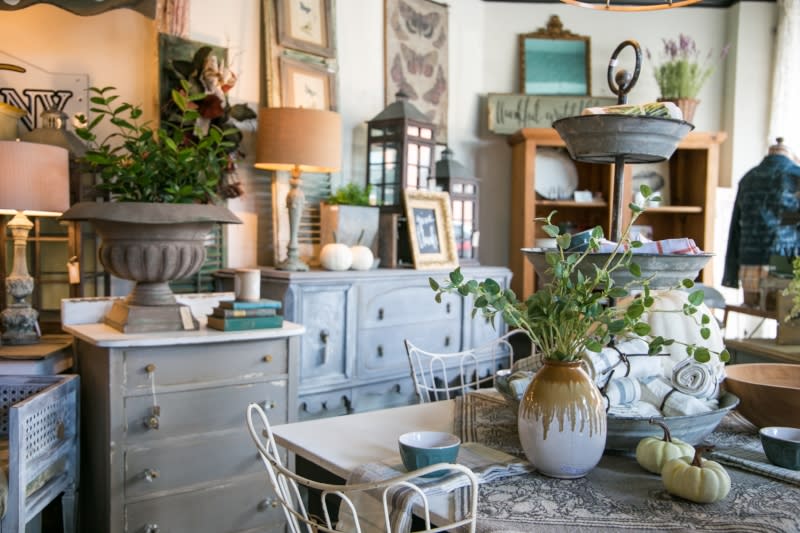 Music
Landlocked Music - Landlocked has been an institution downtown for years. You can find plenty of vintage LPs, tapes, and CDs featuring tunes spanning all genres. They often have vintage turntables available for purchase, replacement needles, and other equipment. In addition to the used collection, you can purchase brand new releases and don't forget to check out their curated local music section. If you love music, their annual Record Store Day celebration is a must.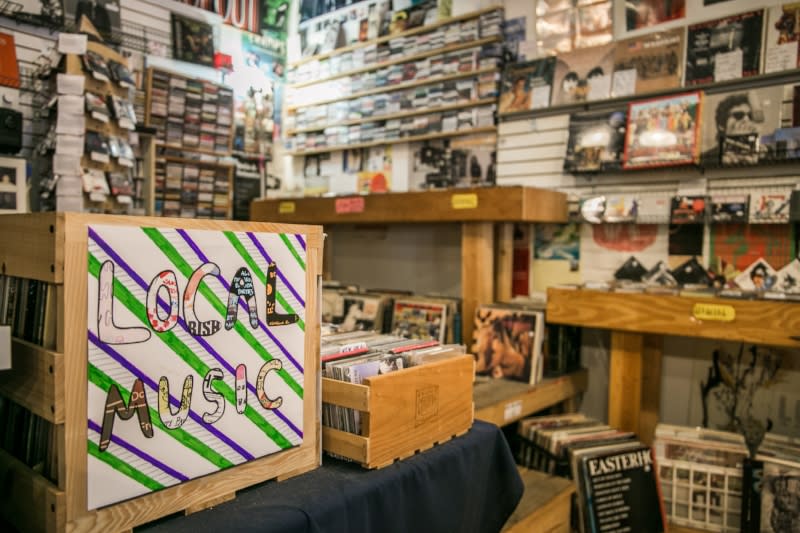 TD's CDs & LPs - Located in the basement of a beautiful Victorian house on Kirkwood, you can buy, sell and trade new and used music at TD's. If you can't find it in the store, ask their friendly staff to help track it down for you. They have excellent deals too like buy 3 get one free on used CDs. Check out the LPs $1 bin; buy 10 from this bin for only $5.