Vintage Shopping Guide
We have no shortage of unique shops in Bloomington, especially when it comes to all things vintage. From high-end mid-century wares to affordable vinyl classics, be sure to check out Bloomington's best vintage shops to score some one-of-a-kind treasures.
 
Fashion
Cherry Canary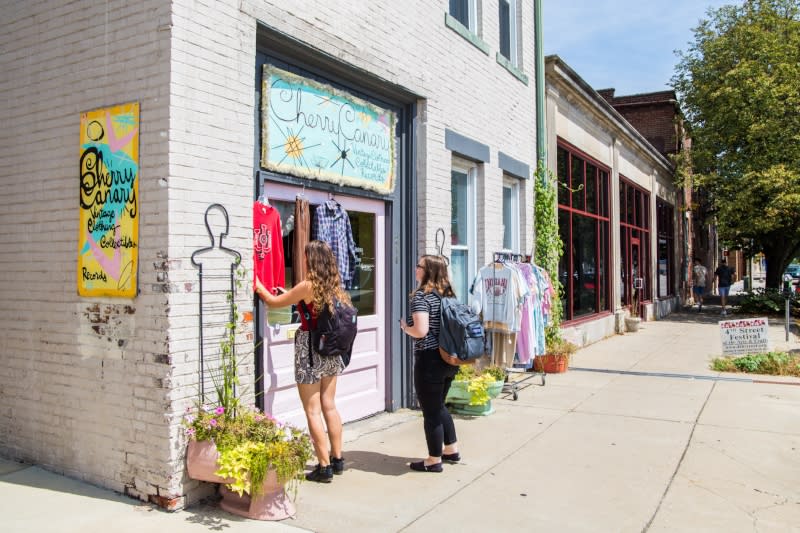 With vintage baubles, clothing, and records, this downtown boutique has a little bit of everything. Cassie, Cherry Canary owner and buyer, does the hard work for you. She scours estate sales, thrift stores, and garage sales around the Midwest, looking for the funkiest and most unique threads for men & women. Beyond clothing and accessories, she has a cool collection of kitschy housewares including pendant lights, planters, glassware, and more. There's even a special section of Halloween costumes!
 
SLCT Stock
One of The Square's best hidden gems, SLCT Stock is located across the street from Brothers between The Bluebird and Cup & Kettle Tea Co. The apparel store carries a variety of vintage sneakers, t-shirts, hats, and other clothing & accessories. If you love to collect old-school pop culture tees, designer clothing & accessories, and IU apparel, SLCT Stock is going to be your new favorite store — it's one of the best places in town to shop for IU gear and vintage fashion items.
Furniture & Decor
Bloomington Antique Mall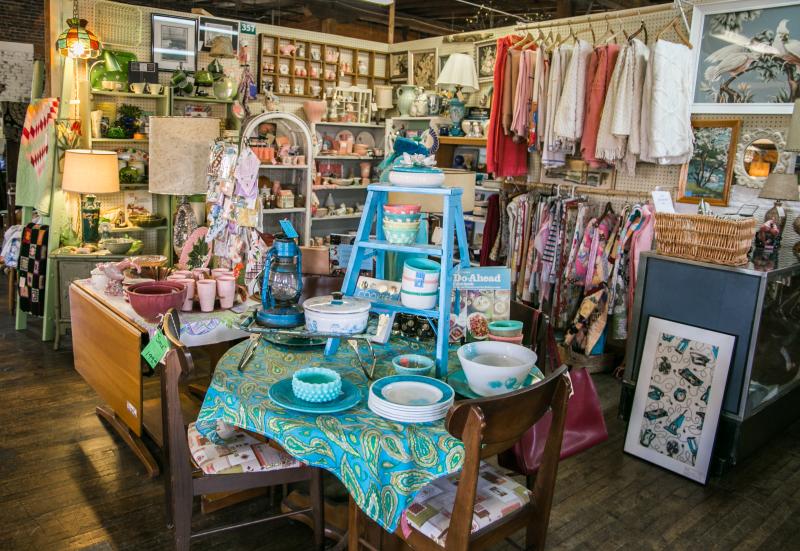 It's easy to spend hours upon hours scouring every booth for treasures at this three-story downtown antique mall. The Bloomington Antique Mall's inventory includes everything from antique furnishings to china collections and mid-century mod-kitsch decor to eighties hair bands t-shirts. There's no better place to explore on a rainy day!
 
Jeff's Warehouse
Jeff's Warehouse is the place in Bloomington for authentic mid-century modern furniture and antiques. With two floors packed full of vintage finds, Jeff expertly lays out vignettes with different pieces to inspire customers and show them how they can incorporate vintage pieces in their own homes. If mid-mod isn't your aesthetic, you'll also find artwork, decorative pieces, rugs, and other accessories that span many different decades.  
 
Habitat Restore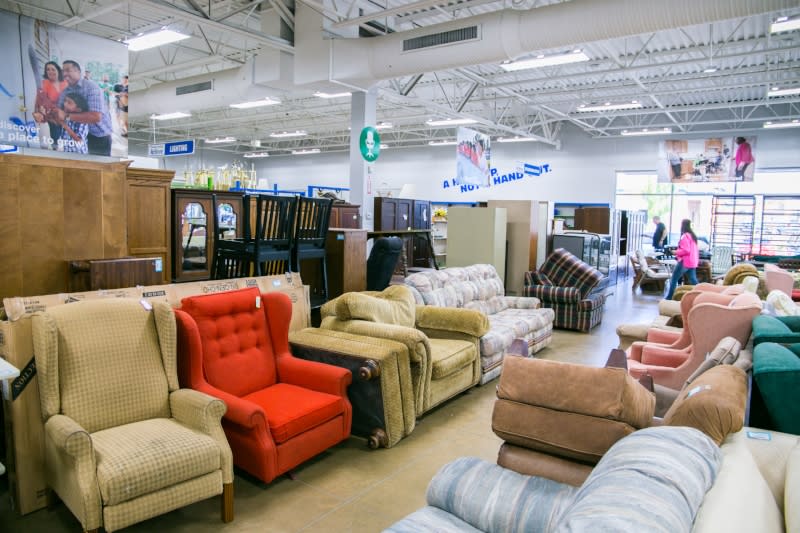 If you're looking to score a mint-condition vintage piece at a crazy discount, the Habitat Restore is the place for you. The inventory is always changing, so you have to be patient when hunting for vintage gold here. Pieces are priced to move quickly, so if you find a gem, don't wait to snag it for yourself, because someone else is likely to snatch it up if you don't. You can also feel good about shopping at the Habitat Restore because money spent there goes toward funding homes in Bloomington.
 
Lola + Company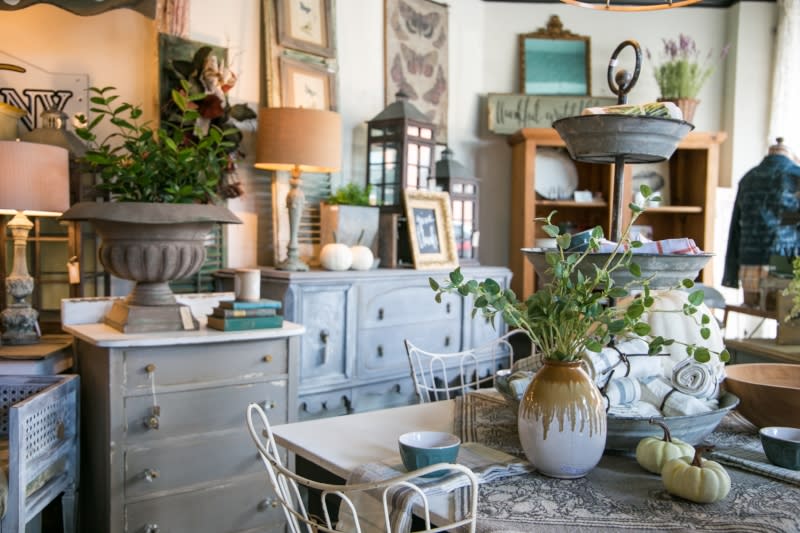 Lola + Co. is a darling shop that lives on The Square. It's an eclectic mix of new & old, shabby-chic-meets-French-countryside in both vintage and new styles. If you find a piece you love but aren't wild about the color, talk to the owner, Lisa. She can customize pieces with Annie Sloan chalk paint, which she carries in the store. If you already have a piece at home that you'd like to make-over, get expert advice from Lisa and her staff about how to use the chalk paint and what you need to perfect your piece. You can also find jewelry, clothing, and other unique home accents here. 
 
Westbury Antique Market

The Westbury Antique Market, located just off of Interstate 69 at the Ellettsville exit, carries antiques, upcycled & refurbished furniture, vintage wall art, chic decor, books & music, IU collectibles, and much more. Those who love to shop will find themselves in heaven while perusing the 22,000-square-foot store's many displays, each thoughtfully curated for the ultimate vintage shopping experience.
Books & Music
Landlocked Music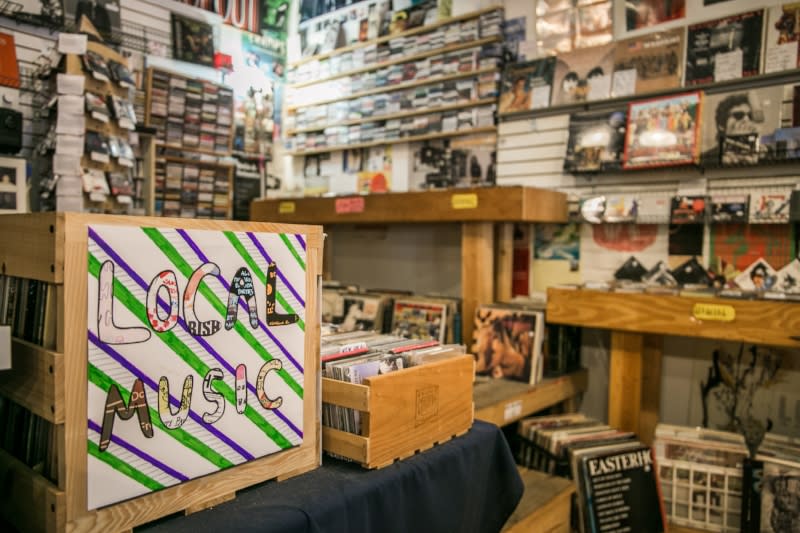 Located next to Pili's Party Deli just off of The Square, Landlocked Music is Bloomington's premier music store. The retailer sells records, CDs, cassettes, DVDs, turntables, magazines, and more — if it's of-interest to music lovers, Landlocked is likely to have it. They also offer a buy/trade program for anyone looking to sell their gently-used CDs, LPs, DVDs, cassettes, and any other material you'd like them to take a look at. Landlocked buys and sells all genres of music and will even take special orders for customers at no additional cost with no money down.
 
Vintage Phoenix Comic Books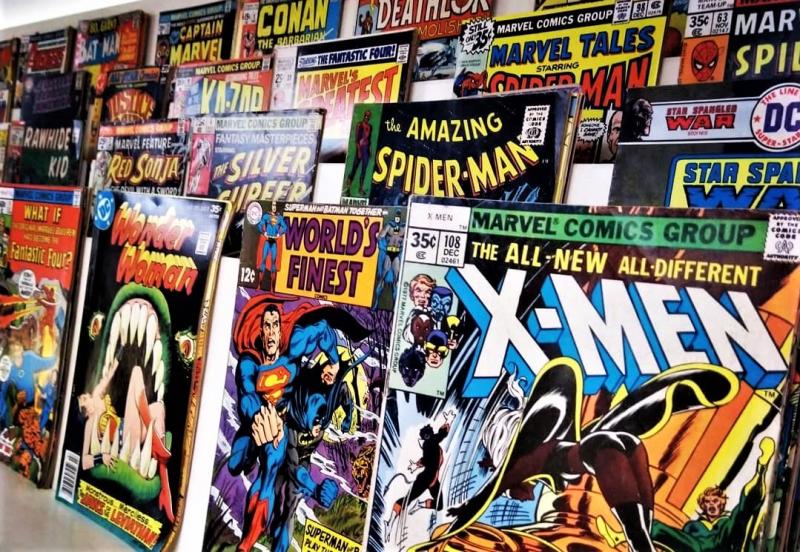 Photo by Vintage Phoenix Comic Books
Vintage Phoenix Comic Books, one of downtown's best hidden gems, is a must for all superhero, anime, and general comic book lovers, as it's a destination for comics, graphic novels, action figures, and more. Marvel-obsessed fans will delight in a trip to the shop, as they carry comics related to the film adaptations and storylines that have yet to hit the big screen. While they have plenty of superhero material to pour over, they carry other genres for readers of all ages as well — it's a great place to visit for both kids and adults.