Bloomington's Best Pizza
Categories: Wine & Culinary
We may be biased, but Bloomington knows what's up when it comes to pizza. In fact, B-Town does pizza so well that it's a bit of a challenge to decide where you want to order your pie! Whether you're on a quest for some Sicilian-inspired 'za or you're craving a late-night, cheese-smothered slice, Bloomington has a pizza joint for every type of pie lover. 
Aver's
Aver's is a major award-winning pizza joint in town. Five of their signature pies are multi-award winners — Cream & Crimson, The Parthenon, Beckon Desire, Lambda Gyro Pi, and Chicken Bacon Ranch for those who are curious — and Aver's itself has been ranked among the nation's top 100 independent pizza operations by Pizza Today magazine for consecutive 10 years. Also voted Best Pizza in Bloomington by several organizations for several years, Aver's offers mouth-watering signature pies, vegan options, and great specials.
Insider Tip: The Cream & Crimson is a must-try pie from Aver's. It's a little out there, but you'll be delightfully shocked by how delicious it is. The pizza features alfredo sauce, oven-roasted garlic-and-dill-seasoned red potatoes, bacon, cheddar, and gorgonzola cheese. Take a leap of faith and give it a go; you won't be disappointed!
 
Big Woods Bloomington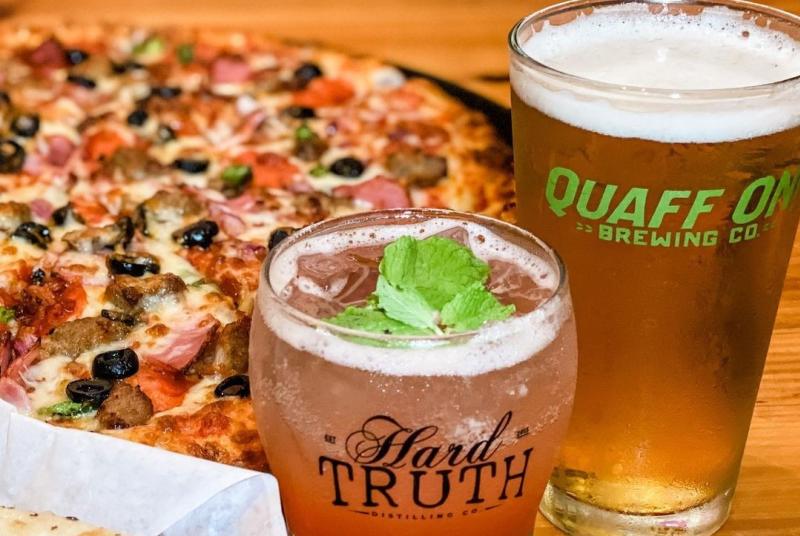 Photo by Big Woods
Big Woods is a beloved fine food & craft beer eatery in town that just so happens to serve up a variety of unique artisan pizzas. Each pie offers an elevated assortment of sauces and toppings for a pizza experience like none-other. We love the Turn 5 Garden 'za: fresh spinach, roma tomato slices, caramelized onion, mushrooms, smoked gouda cheese, black olives, and a mozzarella blend on a garlic-infused olive oil base. Even meat lovers will find themselves savoring this veggie pie.
Insider Tip: Big Woods started out as a brewpub before it dived into fine food, and after they tackled Big Woods Restaurants, they founded Hard Truth Distillery. Their Quaff ON! Brewing Company is known for their Busted Knuckle beers, and their variety of Hard Truth liquors are used in their craft cocktail offerings. Be sure to order a brew or a cocktail to pair with your 'za!
 
Bucceto's Pizza & Pasta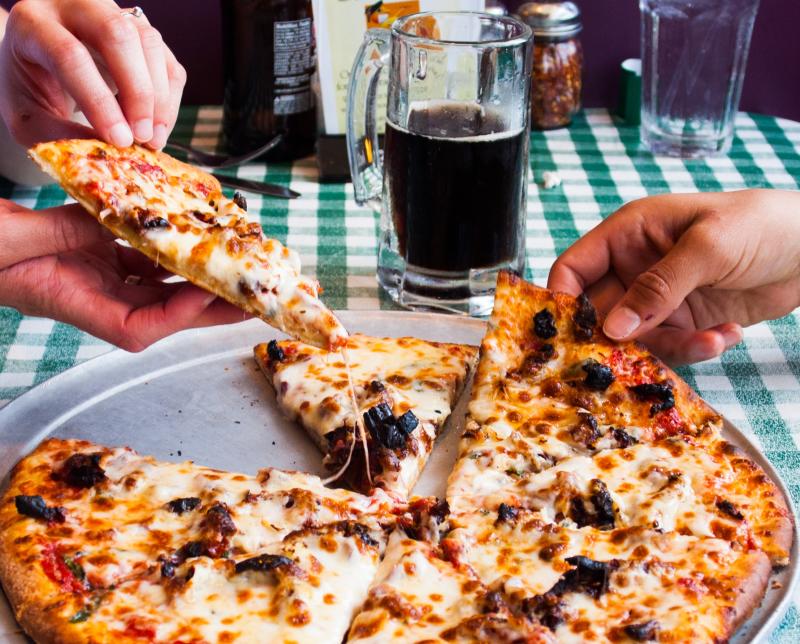 Bucceto's is a consistent contender for best B-Town pizza — they won the 2019 Herald-Times Readers' Choice award for Best Italian Food in Bloomington, so you know it has to be impressive! Their pizzas range from classic to extremely unique; their Twice Baked pizza, for example, includes new potatoes, bacon, green onions, smoked gouda & Bucceto's very own buttermilk herb dressing. You won't find that anywhere else! Bucceto's also offers seven vegetarian pizzas, and nearly every pie on the menu can be made gluten-free.
Insider Tip: On weekdays, Bucceto's offers a slice, salad, and drink lunch special: a large slice of pizza, a fresh garden salad with your choice of dressing, and a large soft drink for $8.25.
 
Cafe Pizzaria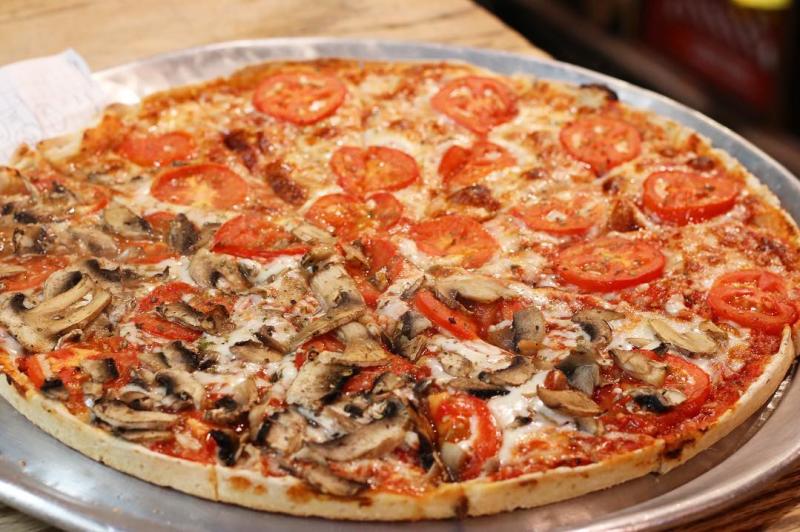 Photo by Cafe Pizzaria
Cafe Pizzaria is Bloomington's original pizza restaurant. Opened in 1953, Cafe Pizzaria has specialized in classic, thin-crust pies made with fresh ingredients, homemade sauce, and hand-rolled dough for nearly 70 years. Any pizza that comes with their crumbled sausage is outrageously delicious, and the atmosphere of the pizzaria is everything you'd expect from a classic, cozy Italian pizza joint.
Insider Tip: While Cafe Pizzaria is known for their pizza, they also have an out-of-this-world pork tenderloin sandwich!

Da Vinci Pizza & Pasta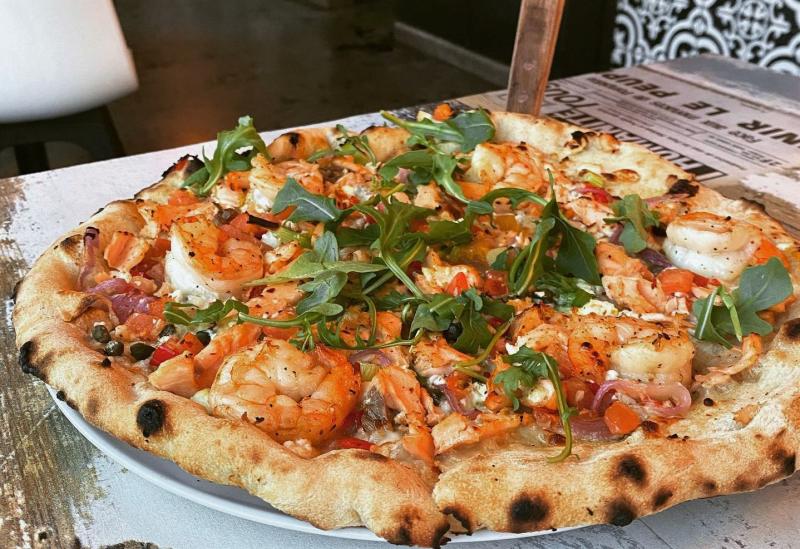 Photo by Da Vinci Pizza & Pasta
Da Vinci is a family-owned restaurant that serves traditional Neapolitan-style pizza & pasta. Their handmade 'zas are made with Italian flour straight from Naples, Italy, and are baked in their wood-burning pizza oven. They offer 23 different signature pizzas, including selections for meat lovers and plant lovers. Each pizza is extremely unique, and it's very apparent that their inspiration is drawn directly from Italy. Take their Parma pizza, for example: salsa bianca, shaved parmesan, la quercia prosciutto, and arugula. Molto bene!
Insider Tip: Every Wednesday is Wine Wednesday at Da Vinci — if you're over 21, enjoy a bottle of wine at 50% of the regular price!
 
DeAngelo's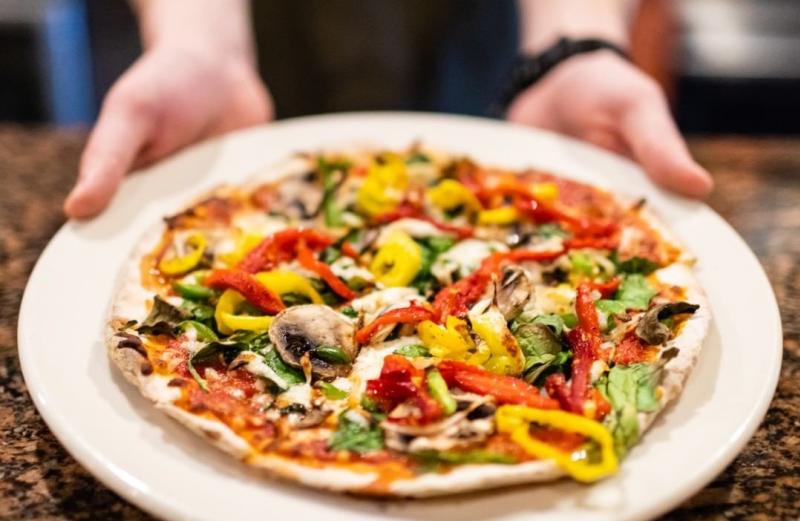 Photo by DeAngelo's
DeAngelo's is a local-favorite Italian eatery that offers scratch-made New York-style pizza & focaccia, as well as oven-baked calzones. Inspired by fresh Italian flavors, every variation of pizza at DeAngelo's offers unique, robust flavors. Mushroom lovers will enjoy their Wild Mushroom calzone or Al Funghi focaccia. Vegetarians will delight in the Super Veggie or Garden pizzas. Meat lovers will find their cravings satisfied by the Florio pizza. There's a pie for everyone at this Italian eatery!
Insider Tip: DeAngelo's offers an incredible special on Mondays: buy one pizza or calzone, get one free.
 
Lennie's
Lennie's introduced Bloomington to gourmet pizza in the late 1980s. Opened by a Bloomington couple who also opened the first Pizza X in town, Lennie's serves five incredible signature pizzas, three signature strombolis, two flatbreads, and the option to create your own 'za or stromboli. Whether you're vegetarian, vegan, or a meat-lover, Lennie's has pizza options to satiate all diets and cravings. We recommend the Hoosier Harvest pizza for a true Bloomington, Indiana flavor experience.
Insider Tip: Be sure to try a pint of local-favorite Bloomington Brewing Company beer with your 'za.
 
Mother Bear's
Mother Bear's is arguably Bloomington's best pizza. Over the years, they've been named "Best Pizza in Bloomington" by the Indiana Daily Student, "one of America's top nine pizzas" by People Magazine, "Best Pizza in Indiana" by USA Today, and have earned Final Four status at the International Pizza Expo in Las Vegas twice.
Mother Bear's bakes their pizzas with cheese & toppings right up to the edge for maximum flavor. Try one of their many signature pies (we love The Big Cheese and The Illinois Central), or make one of your own.
Insider Tip: To get the most bang for your buck, order the Munchie Madness special — a pizza of your choice, either breadsticks or cheese bread, two brownies, and a two-liter of pop.
 
Pizza X
Pizza X is a beloved Bloomington stop for a quick & delicious pizza. Extremely popular with both students and townies, Pizza X has been serving the community since 1982, offering both signature pies and build-your-own options. All variations of dough & sauce are made in house, and ingredients are locally sourced.
Pizza X also prides itself on being environmentally-conscious, including reusable Pizza X cups with every order, recycling & composting when ever possible, and making the shortest trips to-and-from their stores of any delivery operation in Bloomington.
Insider Tip: One of the best late-night snacks in B-Town is Pizza X's cheesestix. If you're feeling something sweet to go with your savory cheesestix, Pizza X also carries Baked! cookies and pints of ice cream from Chocolate Moose and Hartzell's.
 
Rockit's Famous Pizza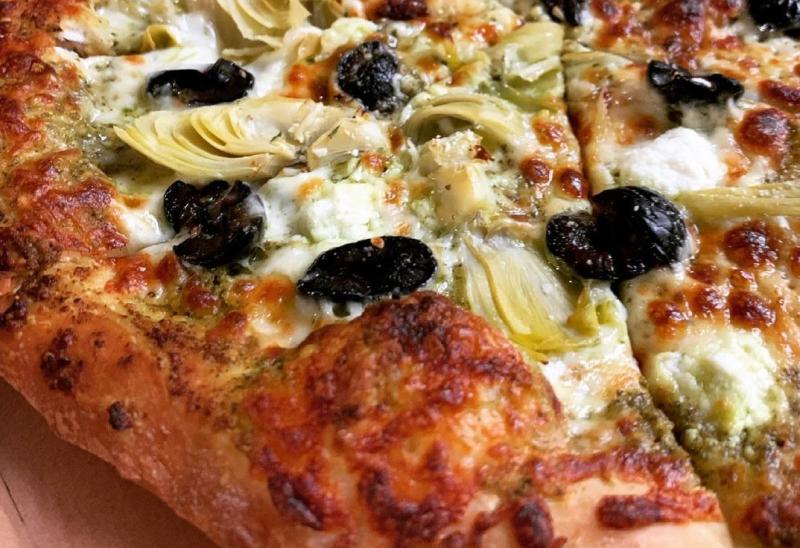 Photo by Rockit's Famous Pizza
Rockit's Famous Pizza is a popular late-night destination for the nightlife crowd in B-Town. Conveniently located next to The Bluebird and across the street from Brother's, The Vid, and The Cade, Rockit's offers a variety of rock-and-roll themed pizzas for anyone craving a late-night slice. 
Insider Tip: Take a gamble and order your 'za based on who it's named after rather than what kind of pizza it is — choose from The King, The Hendrix, Red Hot Chili Peppers, Rolling Stones, The Ramones, and more. Let your favorite legends decide which pie will Rock You Like a Hurricane. 

Trailhead Pizzeria
Trailhead Pizzeria is the pizza spot to hit after a long day on Monroe Lake. The joint offers 14 signature pies inspired by Bloomington's robust nature offerings. Pizzas are cleverly named — Hickory Ridge, The Deam, and Monroe Marghertia being just a few — and offer a variety of unique sauces & toppings to satisfy every craving.
Insider Tip: If you feel like stepping out of the box, we recommend The Ranger (marinara sauce, fresh mozzarella, sopressata, Mike's Hot Honey drizzle, parmesan), the Squatchy Veg (butternut squash sauce, shredded mozzarella, spinach, broccoli, zucchini, leek, crumbled goat cheese), or the Leave No Trace (alfredo sauce, shredded mozzarella, shredded cheddar, chicken, fresh oregano, caramelized onion, mushroom, Mike's Hot Honey drizzle).

Looking for more of Bloomington's best food? Check out these blogs: