Cheap Eats in Bloomington, Indiana
Categories: Wine & Culinary, Family Fun
Bloomington is foodie heaven. From "International Row" on the famous 4th Street to award winning fine dining establishments like FARM bloomington, there are a plethora of restaurants to choose from and there is something for every budget. With school starting back this month, we created this helpful guide to cheap eats around town for all of the new students or for frequent visitors looking for some new places to try. If we forgot one of your favorites, we'd love to hear from you in the comments! 
*For the purpose of this article we've defined cheap as $10 and under for lunch and $12 and under for dinner. 
Lunch for $10 and Under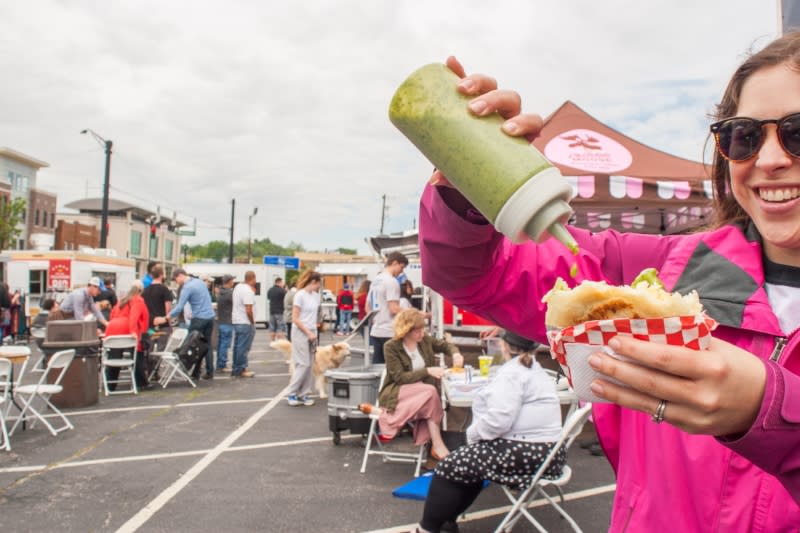 Food Truck Friday
Cafe Pizzaria - Half strombolis and sandwiches are under $10. The veggie strom is always tasty.
Darn Good Soup - Their menu changes daily but you can see what they're serving online. A favorite among most everyone is the Lentil Spinach & Chicken Tortilla. But for real, everything is delicious.
El Rey Azteca - This is a brand new Mexican restaurant on 3rd Street and the menu is packed with authentic dishes. Check out the specialty section of the menu, specifically the Panbazo, a huge sandwich with chorizo and potato.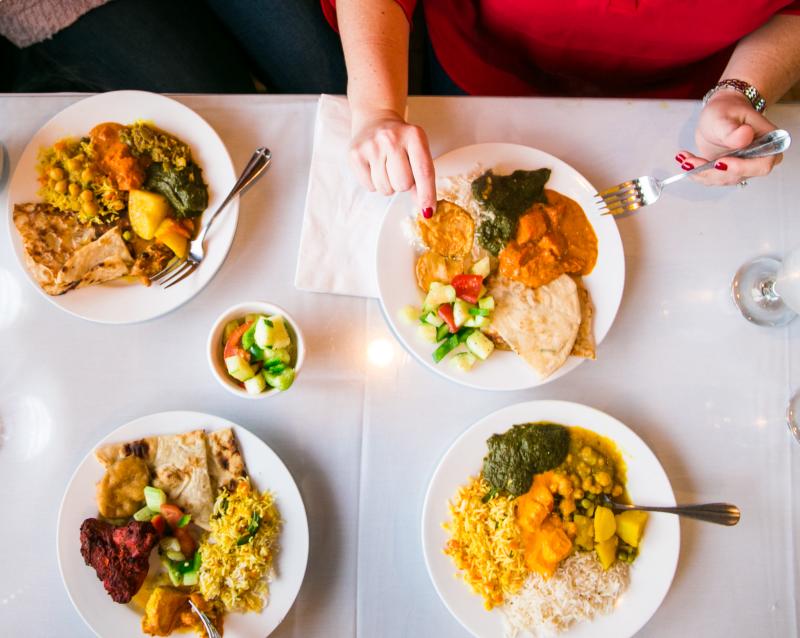 Taste of India
Taste of India - Two words, lunch buffet. From tandoori chicken to palak paneer, sample it all for $10; $9 if you pay cash.
In Bloom Juicery - For something on the lighter side, try the acai bowls at In Bloom. They're all under $10, filling and delicious. For peanut butter addicts so the PB acai is perfect for you, but if you're feeling adventurous try the Blue Majik with algae, blueberries, and coconut.
Food Truck Friday - With a variety of food trucks each week you can please everyone with lunch or dinner at Food Truck Friday. There's often live music and sweet treats too.
Naughty Dog - From Chicago Style to classic chili cheese, you really can't go wrong at Naughty Dog. Don't forget to order some old school crinkle cut fries. 
Anyetsang's Little Tibet Restaurant - Everything on the lunch menu is under $10! Score. Try the Mo Mo's – they're a traditional Tibetan dumpling and taste great with the hot sauce that's served on the side.
Cozy Table - Need a big stack of pancakes at 2 in the afternoon? Not a problem at Cozy Table. This laid-back Greek diner serves breakfast all day long.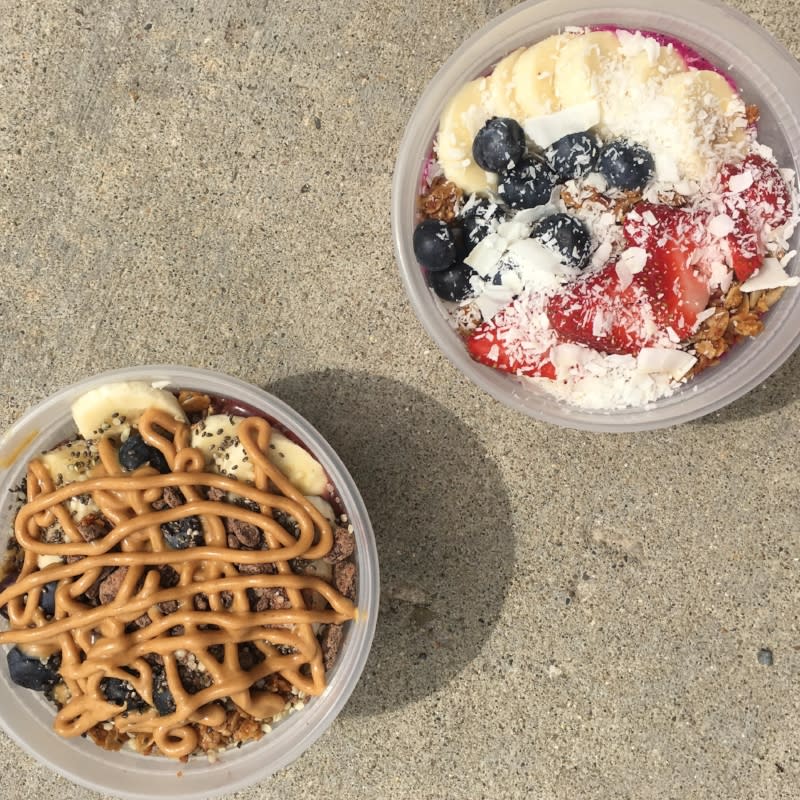 In Bloom Juicery
Dinner Under $12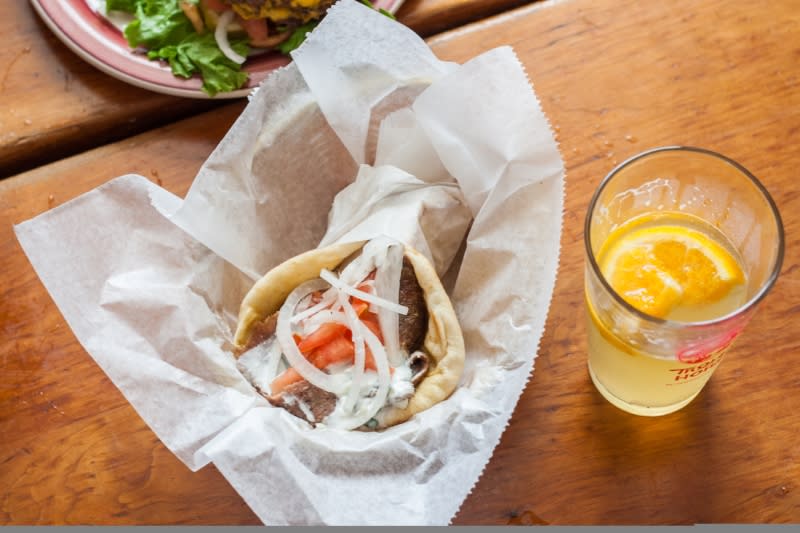 Trojan Horse
Nick's English Hut  - Get a great burger just steps from Indiana University's campus at Nick's English Hut. Made with local Fischer Farms beef, this 1/3 burger is a steal at $8.65.
Trojan Horse - There are so many delicious Mediterranean dishes at the Trojan Horse but the Gyro is a favorite among most. If you want to really splurge, try their baklava ice cream after dinner. 
Rockit's Famous Pizza - This is the late-night pizza joint, open after 5 pm til 3 am. Build your own or try one of their creations. One of their most popular picks is the Roll Special - 14" 2 topping pizza for $9.99. That's hard to beat.
Ami - This campus eatery has tons of weekly specials so make sure to ask when you dine in. The Donburi Dinner, rice bowl with veggies, noodles, and choice of meat, is HUGE and cheap. It clocks in at $11. Try it with the Bulgogi and you'll have plenty of leftovers. 
Buffalouie's - Just steps away from the Sample Gates, try some of Buffalouies' world famous wings or chicken tenders for under $12. They have great burgers and sandwiches too for under $10. 
DATS - If you're craving Cajun cuisine DATS is the place. So much of their menu is under $12. The restaurant is located on Grant Street, just off legendary 4th Street and conveniently located to IU's campus. If you want to keep it classic, try the Gumbo.
Office Lounge - The Office Lounge isn't just one of Bloomington's coolest dive bars, they grill up great burgers and steaks too. The Butt Steak is a local favorite. 
Mother Bear's - This IU Campus staple, of course, made the list. If you're trying to stay under budget, go for 10 wings (classic) with blue cheese and celery. If you're not into wings, try a gourmet personal pan pizza or one of their awesome sub sandwiches.

Nick's English Hut