Monday, February 14, 2022
Bloomington's Best Cheap Lunch Spots
Categories: Wine & Culinary
Bloomington is a foodie's dream destination. From "International Restaurant Row" on the famous 4th Street to award-winning establishments like BuffaLouie's and Mother Bear's Pizza, there's a seemingly never-ending list of restaurants to choose from. The best part? There's something delicious for every budget. If you want to grab a quality meal at a great price, follow this helpful guide to cheap* lunch spots around B-Town.
*For the purpose of this article, we've defined "cheap" as $15.00 or less.
 
International Cuisine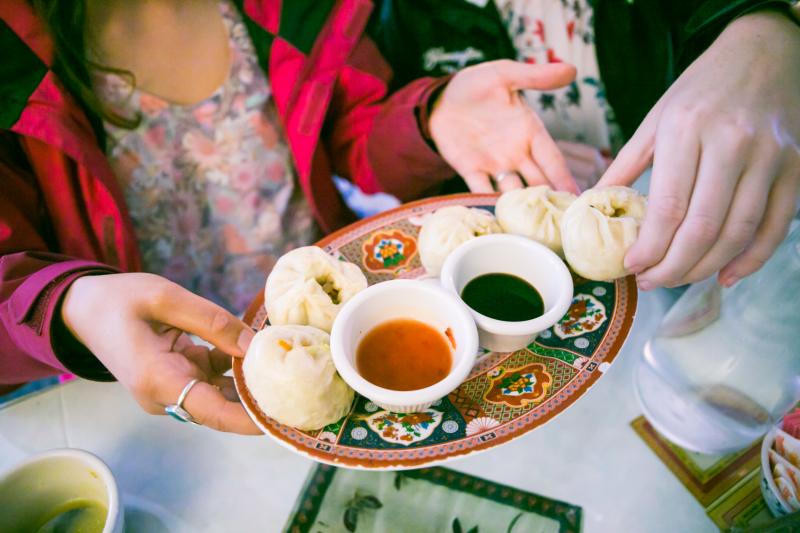 Anyetsang's Little Tibet Restaurant
Head to picture-perfect 4th Street for lunch at local-favorite Tibetan eatery, Anyetsang's Little Tibet Restaurant. In addition to Tibetan food, the restaurant also offers Indian and Thai dishes. Lunch is served from 11:00 am-3:00 pm, and the entire menu is priced under $9.00.
 
Juannita's
This authentic Mexican restaurant located on West Kirkwood Avenue offers 7 build-your-own taqueria plates at $9.95 or less, as well as an a la carte menu of items priced no higher than $8.99. Juannita's also serves complimentary chips & salsa for dine-in patrons, which means you get even more bang for your buck! 
 
My Thai
Serving lunch Tuesday through Sunday, My Thai is a local favorite when it comes to Thai food. They offer 17 different lunch specials, from massaman curry to orange chicken, all of which are priced at $9.99. After you've tried one dish, you'll keep coming back to try the rest! 
 
Restaurant Ami
Restaurant Ami is a popular spot in town when it comes to sushi and Japanese fare. All but four of their 30 Maki rolls are less than $10.00, and if you aren't in the mood for sushi, they have a variety of hot entrees, such as bulgogi, bibimbap, and beef udon, priced under $10.00.
 
American Grub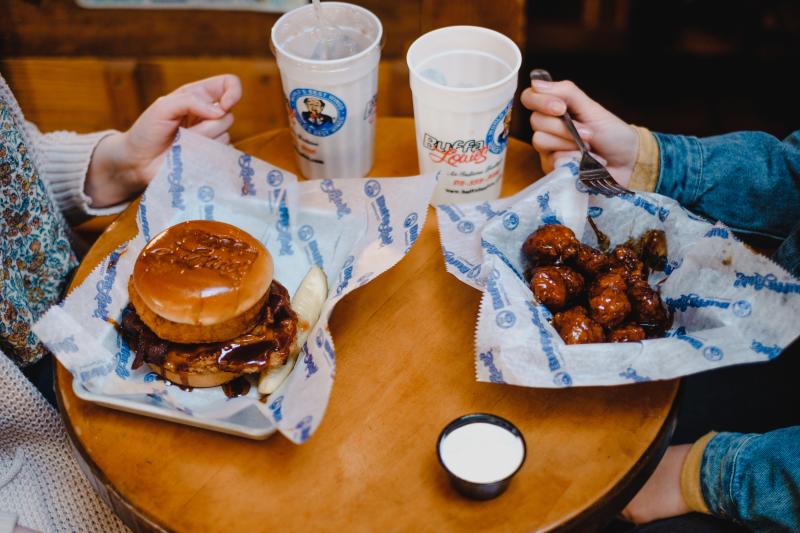 Bub's Burgers
Bub's Burgers & Ice Cream is a delicious burger joint in town that also offers out-of-this-world hotdogs and chili, both loaded up with all of your favorite toppings. You can enjoy a 10-inch Angus dog or a bowl of beef chili in a bread bowl for under $10.00, or if you're feeling a burger, you can order a quarter-pound beef or elk burger for under $13.00.
 
BuffaLouie's
Voted one of America's Top 10 Wing Joints by USA Today, BuffaLouie's is a must for wing fanatics. Although they're famous for their wings, you can also get an incredible burger, hot sandwich, sub, fish & chips, chicken tenders, and buffalo mac 'n' cheese for under $12.00 any day of the week.
 
Hinkle's Hamburgers
Hinkle's Hamburgers one of those classic burger joints you might see on Diners, Drive-Ins & Dives one day. The family-owned restaurant has been a Bloomington staple since the 1930s, and their menu hasn't changed much since. They offer pressed hamburgers & cheeseburgers, chicken sandwiches, tenderloin sandwiches, and a number of sides — none of it priced at more than $8.00, making it the perfect lunchtime stop. 
 
Lennie's
Lennie's is a local-favorite spot for pizza, Stromboli, sandwiches, and beer. They offer a great lunch special: soup & slice, salad & slice, or soup & salad for $11.25 and under. While you are limited to the soup and slice of the day, the options are always incredibly flavorful & delicious.
 
Healthier Options

inBloom Juicery
inBloom Juicery is Bloomington's original juice & smoothie bowl spot. On Tuesday through Sunday, they offer two different superfood smoothie bowls that are perfect for a healthy and fresh lunch under $10.25. Both bowls are very unique, and you can customize them even further with toppings including kiwi, cocoa nibs, chia seeds, and more for just $.50 per addition. 
 
Soul Juice
Soul Juice is the newest health-focused eatery in town. They offer a variety of organic & vegan bowls, smoothies, waffles, gourmet toasts, yogurt parfaits, chia puddings, and oatmeals for $12.00 or less. You'll definitely feel at one with your health after lunching here!
 
Looking for more local food favorites? Check out these blogs: