Wednesday, February 2, 2022
Eat Like a Local in Bloomington
Categories: Wine & Culinary
Bloomington's food scene is a collection of an impressively robust variety of cuisines — you'll find Thai curries and Tibetan momos, elevated burgers and upscale pub plates, vegan hand pies and gluten-free cupcakes, handspun milkshakes and organic acai bowls, and so much more. If you're in B-Town on a mission to eat like a local, look no further than this list of local-favorite establishments.
 
Anyetsang's Little Tibet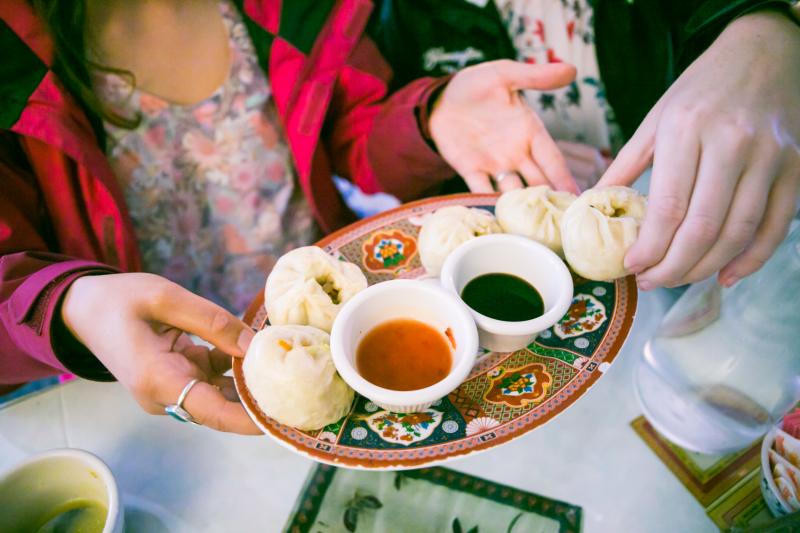 Those who enjoy experiencing other cultures' cuisine will find great joy and delicious flavors at this local Himalayan restaurant. Located on 4th Street, Anyetsang's Little Tibet offers a wonderful variety of dumplings, curries, soups, and noodle dishes, perfect for warming up in the midst of winter or enjoying with a Thai iced tea during the summer. Sitting in the garden next to a bubbling fountain and eating momos — Tibetan dumplings — on a balmy summer night in Bloomington is its own kind of bliss. 
 
Bloomington Bagel Company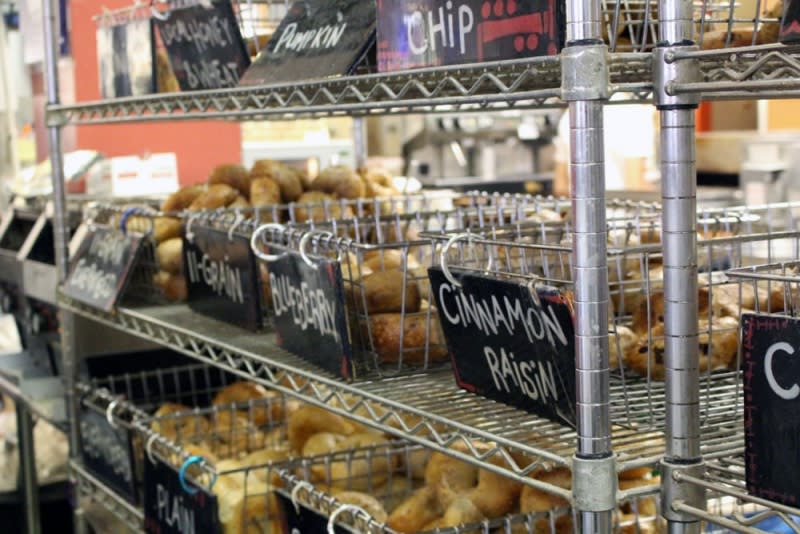 Bloomington Bagel Company is the place to get a bagel in B-Town. The local chain carries an impressive variety of bagel flavors and an equally-robust selection of "schmears" — their term for cream cheese spreads. It doesn't stop there, though. BBC also offers a menu of mouthwateringly-tasty bagel sandwiches for every occasion. Order the Hangover to cure yourself from a late night out, the Hot Mess for a particularly ravenous morning, or the Lotsa Lox for a taste of the Scandinavian sea. Bonus: BBC serves up convenience as well, with four locations in Bloomington.
 
BuffaLouie's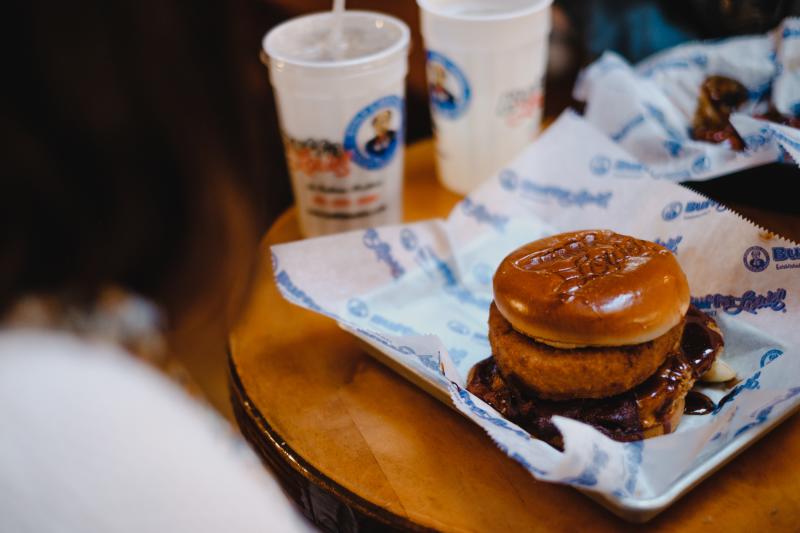 BuffaLouie's is the local go-to for wings, especially on game days. The eclectic joint has been named one of the best wing destinations in the country by USA Today, and they definitely live up to the accolade. Crispy wings (bone-in, boneless, and vegetarian) and a huge variety of sauces & sides give you the freedom to customize every order. Before you leave, be sure to check out their incredible collection of IU sports memorabilia lining every inch of the restaurant's walls.
 
The Chocolate Moose
The iconic Chocolate Moose shack may be gone, but this cold treats hot spot is still popular as ever. The Chocolate Moose has 20+ homemade ice cream flavors (some of them being vegan), plus soft serve, coffee, slushies, Dole Whip, cookies, kombucha, and more. They're even offering a variety of hot sandwiches & burgers these days! It's a one-stop-shop for all things sweet+ in Bloomington. Bonus: the side of their building features a cute mural — the perfect backdrop for your Instagram photos.
 
Crazy Horse

A local-favorite watering hole and place to watch IU sporting events, Crazy Horse is one of Bloomington's most beloved taverns. It's a particularly fond location for university students and alumni, due to the daily drink specials for the former and the nostalgia of many-a-night spent at the tavern in college for the latter. Their menu is comprised predominantly of classic American pub food, but some dishes feature an unexpected twist, such as Scott's Pulled Pork Nachos. Crazy Horse's large patio is also known as one of the best places in Bloomington to people watch and kick back for a few hours with friends.
 
The Irish Lion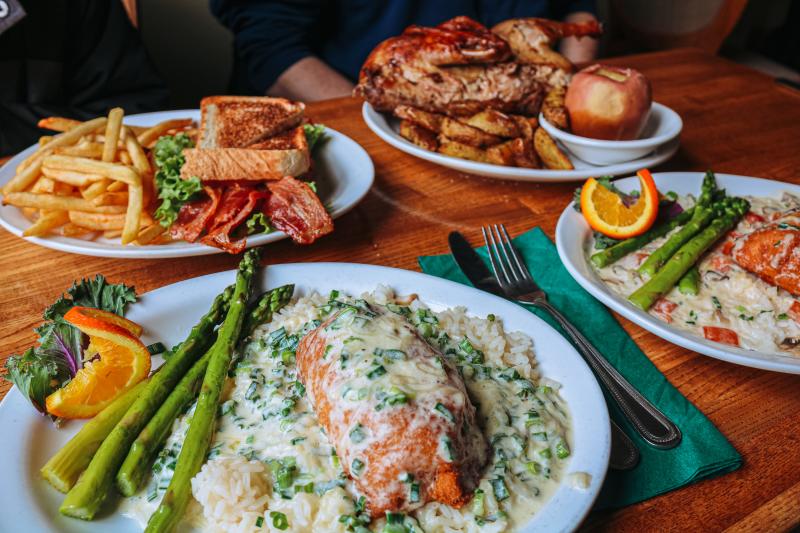 The Irish Lion is a Bloomington mainstay for authentic Irish comfort food. The pub is located in a remodeled building that's stood in town since the 1800s, and on any given night, you can find families enjoying dinner on The Glen or friends catching up over a Guinness at the bar. Their soda bread is a delight, the Coddle is hearty enough to keep you full for hours, and their famous Blarney Puffballs are an absolute must. Don't get us started on their duck and lamb entrees — simply trust us and head downtown to experience it all for yourself.
 
Hinkle's Hamburgers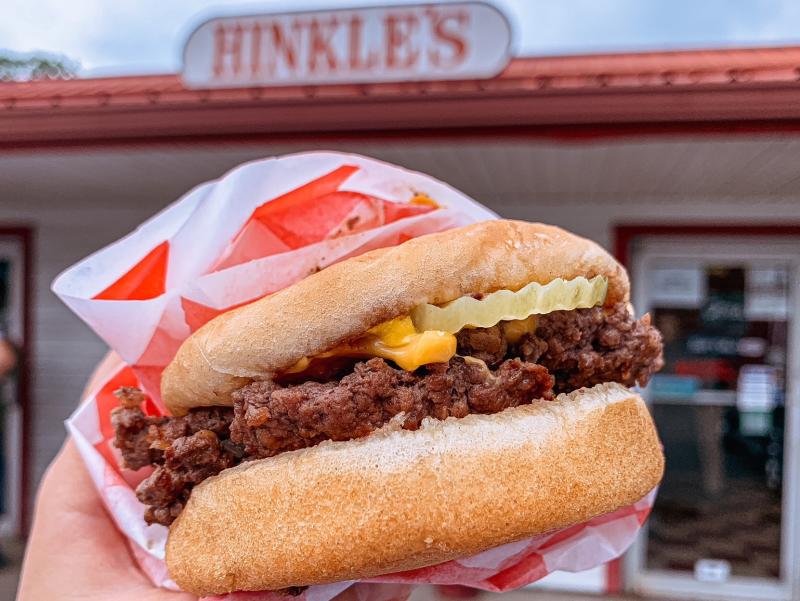 Hinkle's Hamburgers is Bloomington's no fuss, no frills burger joint. Serving the community since 1930, Hinkle's is that hole-in-the-wall establishment you want to find in every town you visit. Their burger selection is extremely simple: the Hinkle Burger, the Hinkle Burger with Cheese, the Double Hinkle, and the Double Hinkle with Cheese. King of cheap lunches, the Hinkle Burger rings in at the low price of $2.49, and the Double Hinkle with Cheese comes out to be a whopping $4.89. Be sure to save room for a hand-dipped milkshake for the perfect cherry-on-top of your nostalgic diner meal.
 
Janko's Little Zagreb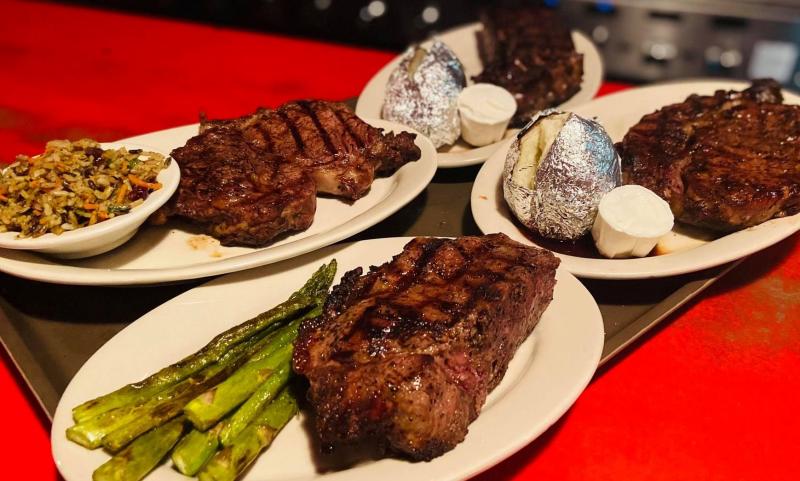 Photo by Janko's Little Zagreb
Janko's Little Zagreb is a local-favorite steakhouse, offering daily hand-cut selections grilled to perfection in a casual, IU-themed atmosphere. Aside from their incredible steaks, Janko's is also known for their famous Meatballs Bucharest and robust wine selection. It's always a good idea to make a reservation when you want to dine at the Little Zagreb — the steakhouse is usually booked on the weekends and special occasions, especially when parents of IU students are in town.
 
Lennie's
Lennie's is Bloomington's modern-day version of Cheers — cozy, welcoming, and full of conversation & laughter. Lennie's started out with gourmet pizzas, but the menu has grown to also include gigantic salads, even bigger strombolis, and delicious pasta plates. Lennie's sources local produce & animal products, uses an extensive composting & recycling program, and carries local Bloomington Brewing Company beers, making it the perfect place to dine if you want to support Bloomington down to the last penny.
 
Mother Bear's Pizza

Mother Bear's Pizza is a food experience that all visitors should check off their B-Town bucket list. Over the years, they've been named "Best Pizza in Bloomington" by the Indiana Daily Student, "one of America's top nine pizzas" by People Magazine, "Best Pizza in Indiana" by USA Today, and have earned Final Four status at the International Pizza Expo in Las Vegas twice. Their unique, delicious pies are made with toppings and cheese all the way to the edge of the pizza for maximum flavor in every bite. Order one of their signature pies or create your own — everything that comes out of this B-Town mainstay's pizza oven is pure perfection.
 
Nick's English Hut

Nick's English Hut, simply put, is a Bloomington and Indiana University icon. Every square-inch of the restaurant's interior is adorned with historic IU memorabilia, and the food & drinks are everything you want out of a classic pub meal. For the complete experience (for those of-age), be sure to play a game of Sink the Biz (a drinking game in which an empty, weighted glass — the Biz — is placed in the middle of a metal bucket full of beer, and players must take turns pouring beer from their own glasses into the floating cup. The player who sinks the Biz must recover the glass and drink its contents.) and order a bucket of Biz Fries to share.
 
Osteria Rago

Located in the alley between Village Deli and Tracks, Osteria Rago is one of Bloomington's best hidden gems and most delicious Italian restaurants. The restaurant's owners wanted to mimic the best eateries in Italy, often found off-the-beaten-path in narrow alleys & ancient passageways — which is a large part of the restaurant's charm. Osteria's menu includes options for every budget and every Italian craving: sandwiches, wood-fired pizzas, house-made pasta, traditional entrees, and incredible Italian desserts — all of which are positively molto bene. And we'd be remiss not to mention this fun fact: Nick's is Osteria Rago's sister restaurant!
 
Runcible Spoon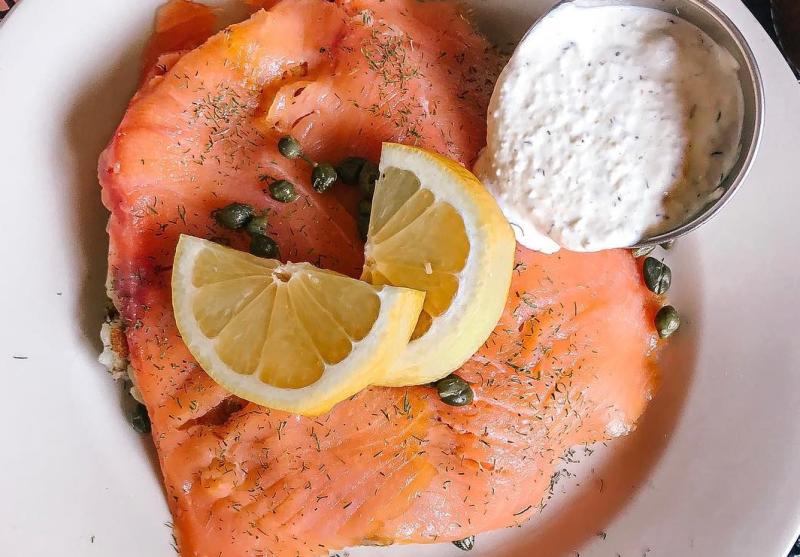 Photo by @katerudl on Instagram
Seated near the very top of the list of local-favorite restaurants is the charmingly quirky Runcible Spoon. The Spoon's eclectic, Bohemian-style decor sets the restaurant apart from others in town, and their incredible menu of affordable fare is what keeps people coming back. Breakfast is where The Spoon truly shines, so much so that they serve it all day. You can enjoy classic egg-toast-protein combos, as well as pancakes & French toast, or you can branch out to try one of their signature dishes, such as the Smoked Salmon & Croissant Bennie or the Corned Beef Hash. Coffee fanatics should also be sure to try a cup of Runcible's brew of the day, as the restaurant began as Bloomington's first coffee roastery in 1976.
 
Siam House

Serving incredible Thai fare on 4th Street, Siam House is loved by locals for their flavorful food and whimsical patio. Their authentic dishes come piled high enough for leftovers or to split between two people, and everything on the menu is priced very affordably considering the amount of food you get with any dish. Siam House's Pad Thai and Orange Chicken are practically famous around these parts, and there's no better way to enjoy them than on their shady patio on a mild spring, summer, or fall day.
 
Taste of India

When it comes to authentic Indian cuisine, Taste of India is a stand-out favorite among Bloomingtonians. Family-owned and operated on 4th Street (have you caught on to the international restaurant theme of this iconic Bloomington street?), Taste of India's menu features cuisine from both the northern & southern regions of India and is the only Indian restaurant in town to offer Southern Indian fare. The restaurant's robust menu features vegetarian dishes and those of a wide variety of proteins, so there's something for everyone to savor. Their patio is also noted as one of the best in town, so be sure to snag a seat outdoors when the weather allows it.
 
Trojan Horse

Trojan Horse has been a cornerstone of Bloomington since 1978 — a quite literal statement, as the tavern sits on the corner of Kirkwood Avenue and Walnut Street. Their gyros and falafel are some of the best in town, and both locals & visitors love peering in the window of their public-view kitchen to see lamb and beef being carved on the spit. Designed to mimic the feel of traditional Greek sandwich shops in Chicago, Trojan Horse does so while maintaining Bloomington's eclectic downtown atmosphere. Stop in for all your Greek & American favorites, and don't skip their house-made baklava — order it a la mode with their baklava ice cream, the only of it's kind in B-Town!
 
Upland Brewing Co.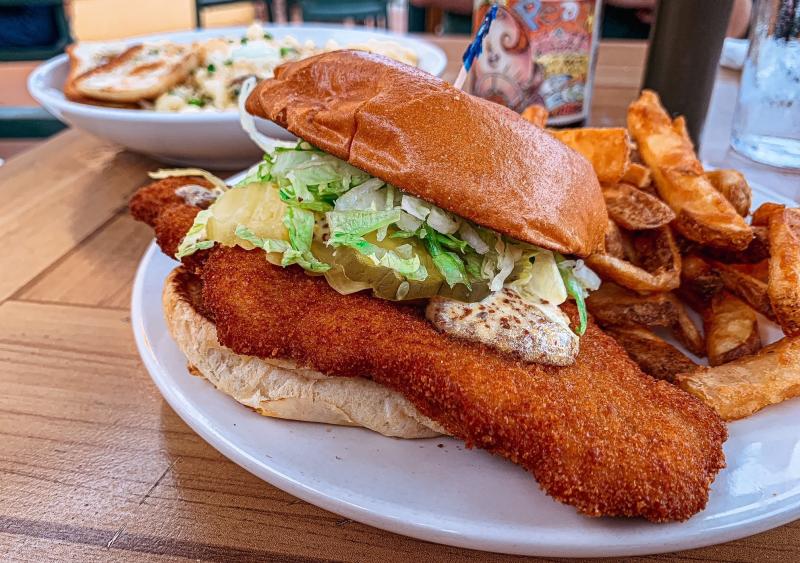 Upland Brewing Co. has been a local-favorite since 1998 for many reasons: their quirky-cool ambiance, elevated & unique take on several classic dishes, and extremely robust line of Upland brews are just a few. Their menu changes on a seasonal basis, so there's always something new and exciting to try, but you can also expect a few favorites to stick around throughout the year. In addition to excellent food and beer, the brewpub offers a large, dog-and-family-friendly patio, which is one of the very best spots to soak up the sun and catch up with friends during the warmer months. It just doesn't get much more Bloomington than an Upland Dragonfly IPA with a Bad Elmer's Fav Burger and a side of Brewery Fries. Was that your stomach growling or ours?
 
Uptown Cafe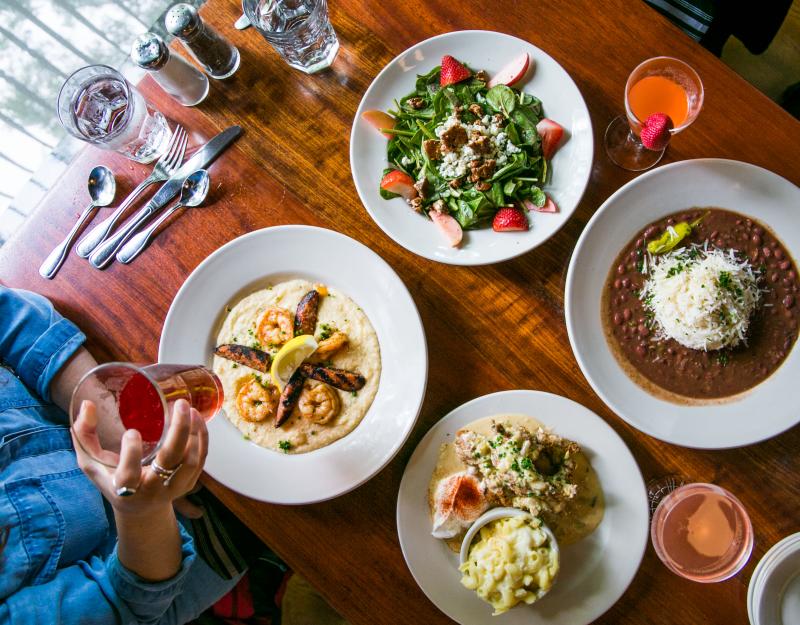 Another of Bloomington's most beloved restaurants, Uptown Cafe is known for their upscale New Orleans-style cuisine and warm, soulful atmosphere. Specializing in elevated renditions of Cajun-Creole classics, Uptown is a bit of Louisiana right here in B-Town. Offering a sizeable menu of breakfast, brunch, lunch, and dinner plates, there's a savory dish waiting to be devoured by you at every stage of the day — and none of them disappoint when it comes to bold, dynamic flavors. Be sure to pair one of their signature cocktails with your meal for the full Uptown experience — it's one that'll keep you coming back to town for more. 
 
Village Deli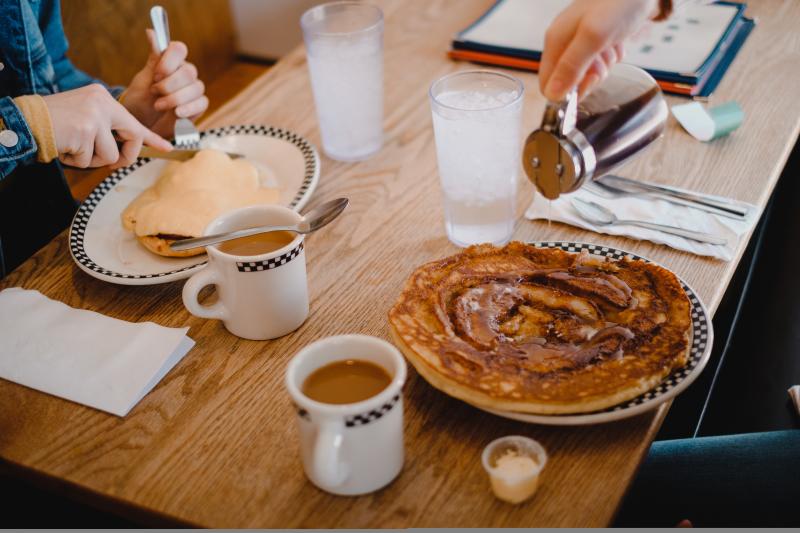 Right up there with Runcible Spoon in terms of beloved breakfasts joints is Village Deli. So good that the patio is often jam-packed and the sidewalk is full of breakfast-goers waiting to be seated, dining at the Kirkwood deli is pretty much a bucket list experience. Their plate-sized buttermilk pancakes and Paxton's Potatoes are two of their most-talked-about dishes, but you really can't go wrong with anything on the menu. If you're visiting during fall, you'd be remiss not to order their famous plate-sized pumpkin pancakes, made with local Dillman Farm Pumpkin Butter. To make the experience as magical as possible, dine on the patio amidst the fall leaves and roaming football fans on a mild Saturday morning.
 

Looking for more local favorites? Check out these blogs: