Icons of Indiana University
Categories: Indiana University, The IU Student Perspective
Often cited as one of the most stunning campuses in the country, the beauty of Indiana University is well-known and widely admired. While certain iconic landmarks, such as Sample Gates and Assembly Hall, are very popular (and rightly so), there are many other icons on campus worth your admiration. Next time you're on the Hoosier grounds, see how many of the following legendary buildings, rooms, and landmarks you can visit.
 
Beck Chapel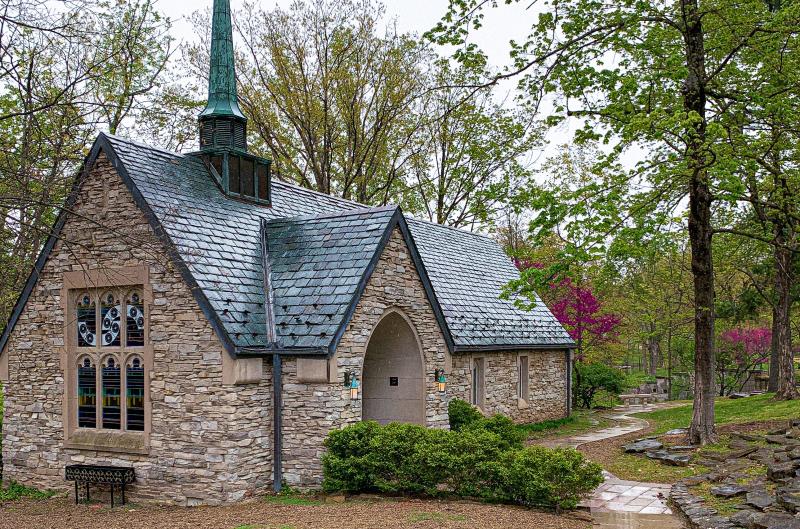 Beck Chapel is a small, non-denominational chapel that serves as a prayer space, a quiet area for meditation or study, and a place in which many IU alumni get married. The chapel has stood between the Indiana Memorial Union and Dunn Meadow since 1956.
 
Biology Greenhouse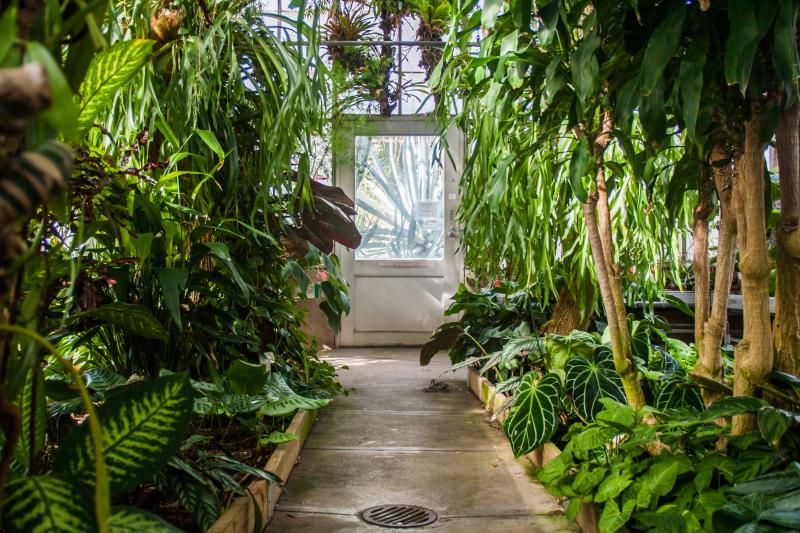 Home to rainforest, desert, and insectivorous plants from around the globe, the Biology Greenhouse transports you to lands far from Indiana. It's a popular spot for engagement, graduation, and family photos — and it's a great location to share a pic of on the 'Gram.
 
Cox Arboretum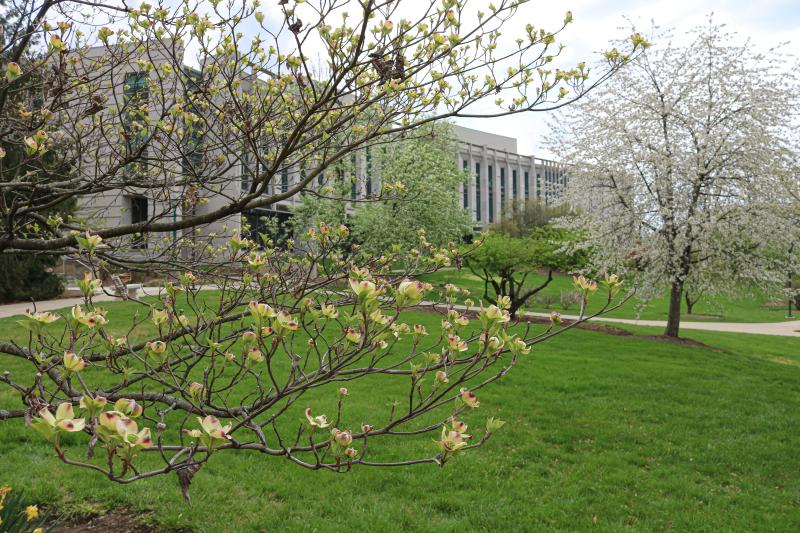 What was once the site of IU's first Memorial Stadium is now an 11-acre arboretum, home to a vast collection of trees & plant life from North America and around the world. The lush area, nestled between the Wells Library, Eskenazi Museum of Art, and Kelley School of Business, is a great place to relax in a hammock on a warm day, enjoy a picnic, explore with kids, or stroll through as you wander around campus.

Dunn Woods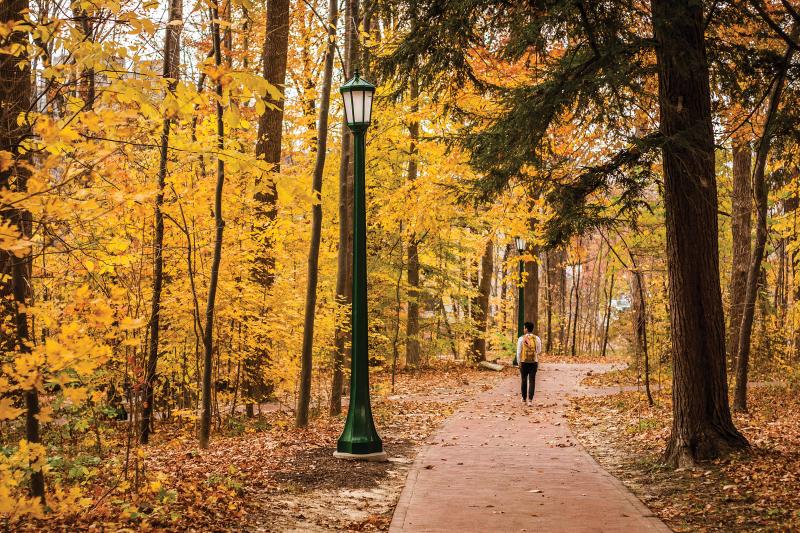 Dunn Woods is a gorgeous 20-acre woodland plot on the southwest side of campus near Sample Gates. It serves as a stunning backdrop for the Rose Well House and offers several brick paths for peaceful exploration among the centuries-old trees.
 
Ernie Pyle Statue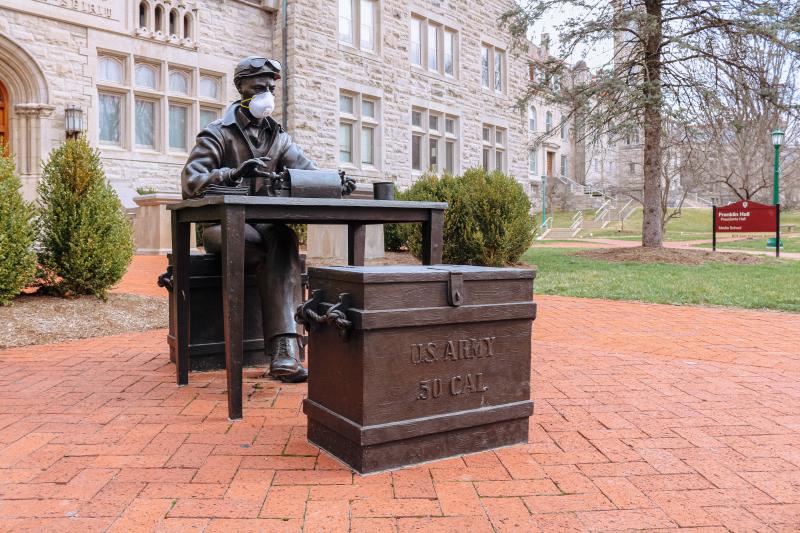 Ernie Pyle is an icon in the journalism world. His statue sits in front of the main entrance to Franklin Hall, inspiring Media School students to think critically and effectively communicate within the ever-changing media landscape.
 
Eskenazi Museum of Art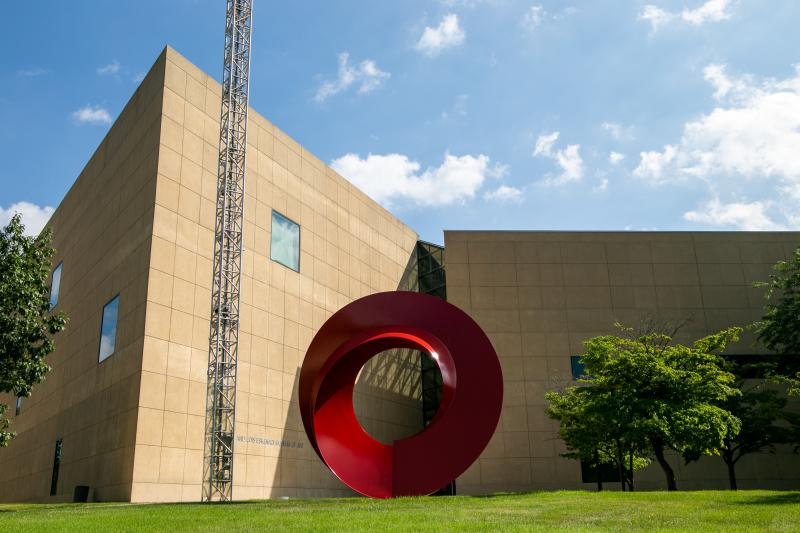 The Eskenazi Museum of Art is home to ancient artifacts, Renaissance masterpieces, works by Pablo Picasso & Claude Monet, and much more. The museum's unique structure was designed by I.M. Pei, the architect who also designed the Louvre Pyramid. 
 
Herman B Wells Statue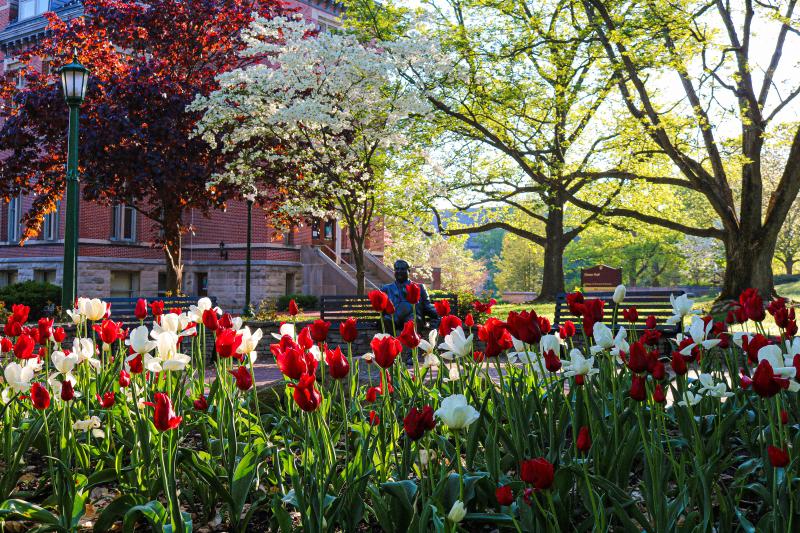 Herman B Wells is the most well-known president of IU, and as such, the university honors him and his legacy with a statue of him extending his hand to greet any passersby. Legend has it that shaking his hand is good luck — it's a tradition for first-year students to do so while they visit the campus for orientation.
 
Hoagy Carmichael Statue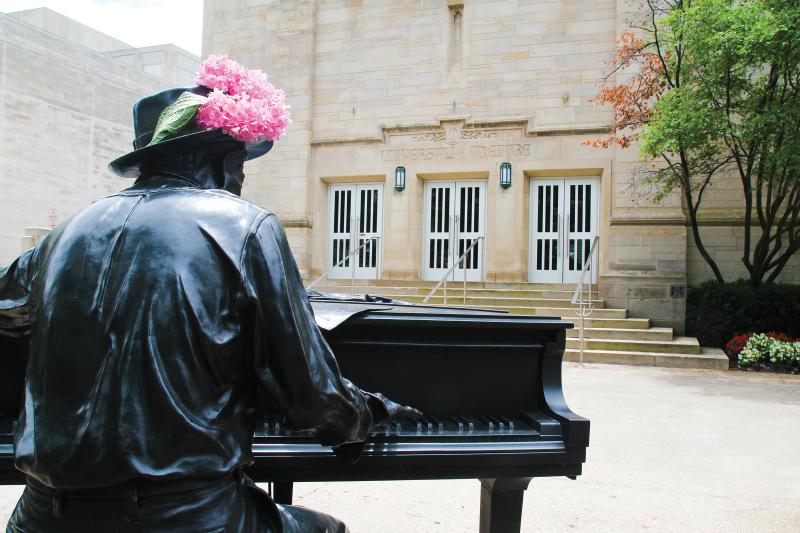 Hoagy Carmichael was a Bloomington native, IU alumnus, and legendary jazz composer. The "Stardust" musician's statue sits in front of the IU Cinema, inspiring performing arts students all over campus. 
 
Indiana Memorial Union East Lounge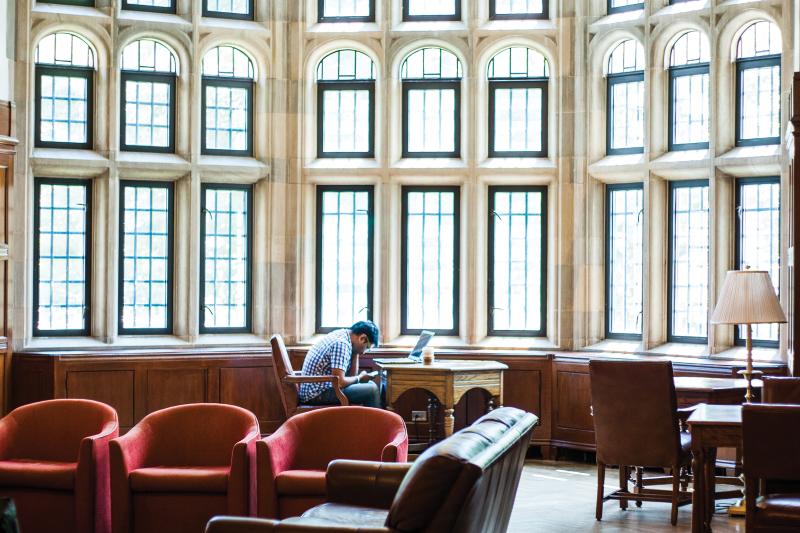 The entire Indiana Memorial Union building is iconic, but there's something extra special about the East Lounge's roaring fireplace, comfortable armchairs, and abundant natural light. It's a great place to study, take a nap, enjoy a coffee, and quietly meditate.
 
Lilly Library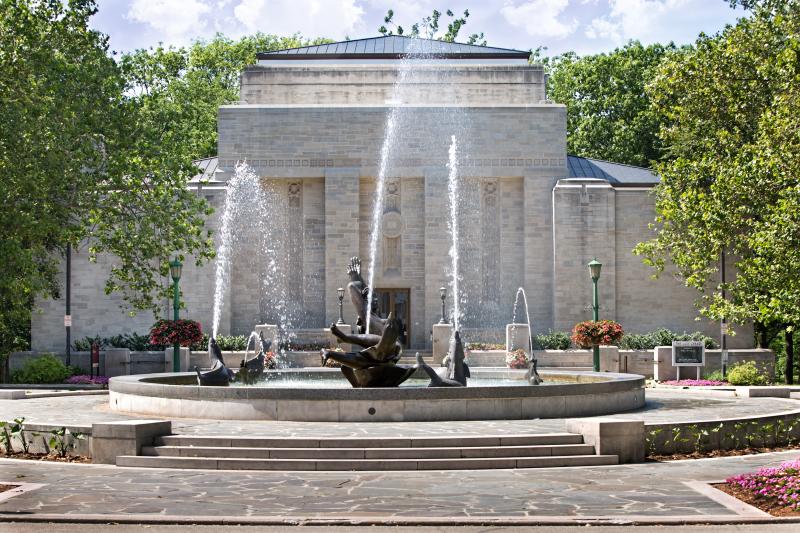 The Lilly Library is an internationally-revered collection of millions of cultural & literary artifacts that documents some of humanity's highest achievements, available for observation & admiration to all in Bloomington, incredibly, at no cost. Notable items include a New Testament of the Gutenberg Bible, the First Folio of Shakespeare's works, the first printed edition of The Canterbury Tales, and much, much more.
 
Red Clocks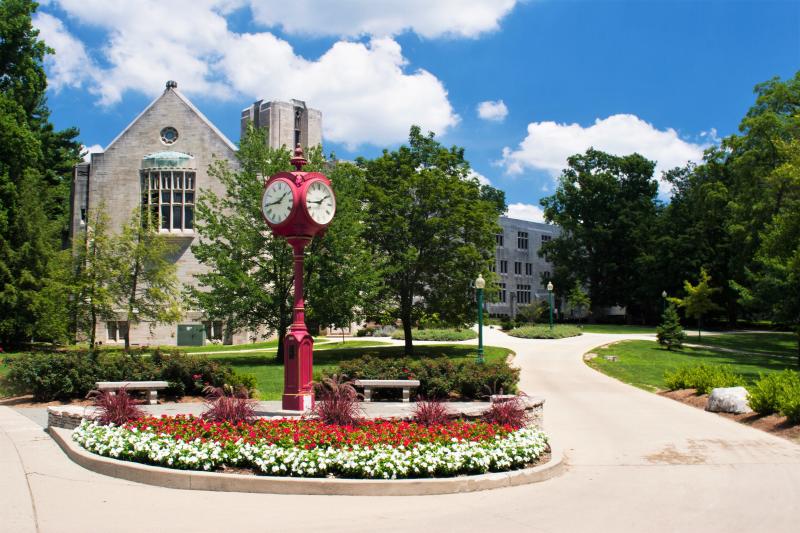 Four of these picturesque red clocks stand in various locations around campus, and each one plays the IU fight song at the top of every hour. Walk around on a nice, sunny day to see if you can find them all!
 
Rose Well House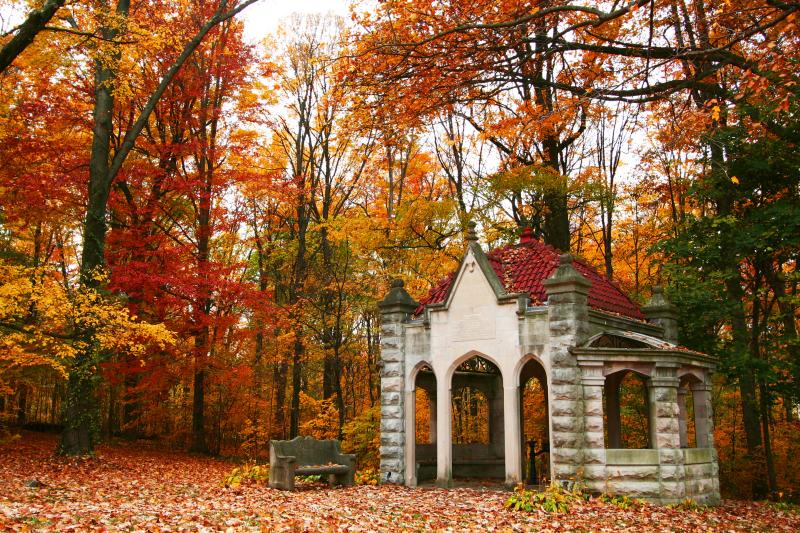 The Rose Well House is a beautiful limestone gazebo, located right up the hill from Sample Gates. Surrounded by beautiful trees and greenery, there's an almost fairytale-like charm to this iconic landmark. The Rose Well House is known for its romantic tradition — it's considered good luck to kiss your significant other here! 
 
Sample Gates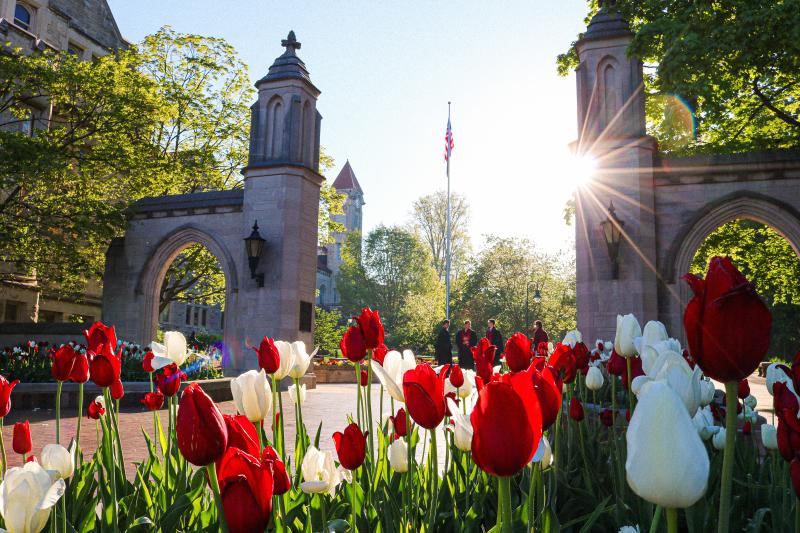 The most iconic of all Indiana University landmarks, Sample Gates is a sight to behold. Stand facing campus for a gorgeous view of the entrance to Old IU, or stand facing the legendary Kirkwood Avenue for a great view of Bloomington's most iconic promenade. Sample Gates is stunning any time of year, but it's especially magical in late spring when the cream & crimson tulips are in full bloom.
 
Showalter Fountain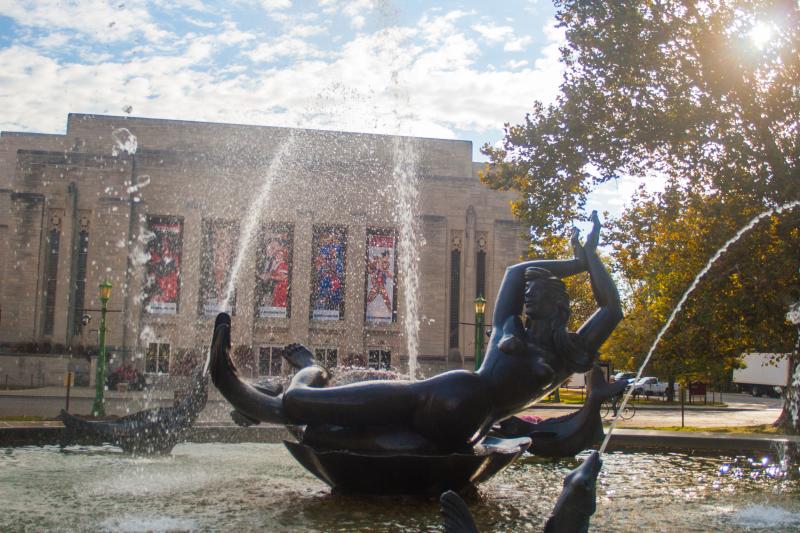 Showalter Fountain stands at the center of the Fine Arts Plaza between the Eskenazi Museum of Art, IU Auditorium, and Lilly Library. The fountain is a depiction of the birth of Venus and is known for its legendary missing fish of 1987 — look up the hilarious mystery if you aren't familiar!
 
Simon Skjodt Assembly Hall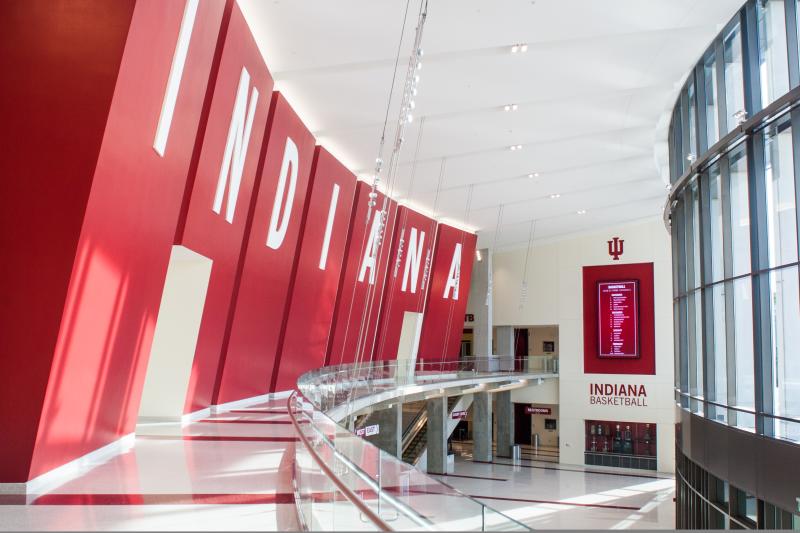 Simon Skjodt Assembly Hall is not only an IU icon, but also a sports icon. It's the site of Hoosier tradition, lore, victory, and comradery; a venue with rich basketball history — practically holy ground for college basketball enthusiasts. There's nothing quite like attending an IU Basketball game and singing "Sweet Caroline" with 17,000 people as the Big Red Pep Band jovially plays the tune from the stands.

 
Looking for more Indiana University content? Check out these blogs: