Life on the Water in Bloomington
Categories: General, Outdoors, Wine & Culinary
Almost every outdoor destination in Bloomington shares a common variable: water. Lakes, rivers, and springs can all be found just minutes away from the hustle and bustle of downtown. Monroe Lake, the largest inland lake in Indiana, resides in Bloomington, along with the smaller but still popular Griffy Lake. Lake Lemon is located just 10 miles north of Bloomington in Unionville, a neighboring Monroe County town. Yellowwood State Forest and Morgan-Monroe State Forest both offer three lakes each for fishing. Clear Creek River winds through Cedar Bluffs Nature Preserve and alongside several urban trails, and an assortment of other nature preserves feature wetlands, springs, and ponds. If you're looking to explore life on the water in Monroe County, there are an abundance of ways to do so.
 
Boating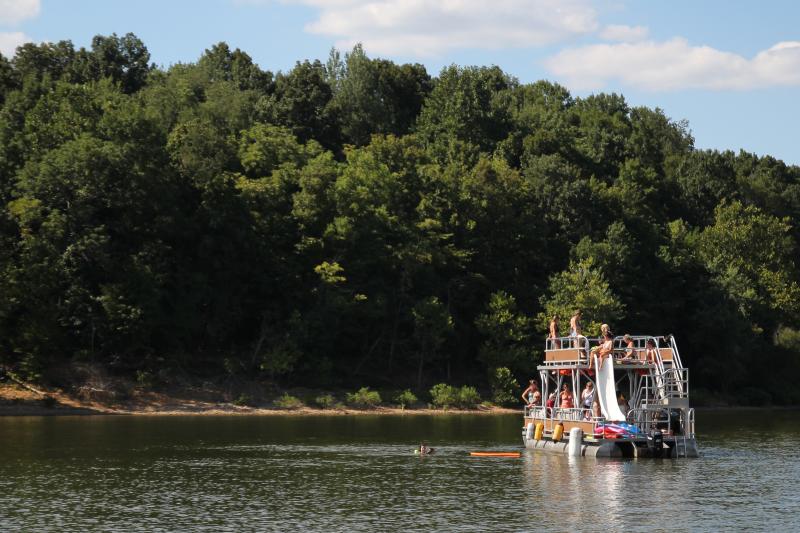 Boating is a great way to spend a day on the lake in Bloomington. Head out to Lake Monroe Boat Rental at the Paynetown State Recreation Area or Paradise Boat Rentals at the Fairfax State Recreation Area to rent a pontoon, jet ski, paddleboard, canoe, kayak, or other watercraft. If you're looking for solely non-motorized boating, head over to Griffy Lake. Smaller than Monroe Lake this lake offers a quieter alternative for recreation. Like Lake Monroe Boat Rental, the Griffy Lake Boathouse offers rental options for paddleboards, canoes, kayaks, and rowboats for anyone looking to enjoy a day on the water.
Boating at Lake Lemon will feel like a peaceful respite from the busyness of everyday life. The 1,650-acre lake, located just outside of Bloomington, is nestled amongst scenic ridges and ravines. Bring your own watercraft and explore the lake that's host to Indiana University's Rowing practices.
 
Beaching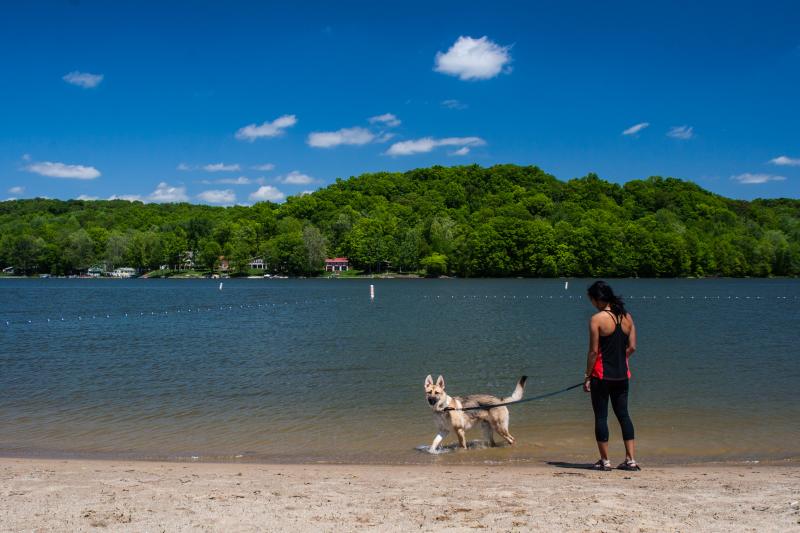 If you'd rather dip your toes in the water and lay under the sun in the sand, several Monroe County lakes offer beaches for you to enjoy. Along the north shore of Monroe Lake, you'll find the Paynetown and Fairfax State Recreation Areas, each offering a public beach perfect for sunbathing, swimming, and picnicking. Hardin Ridge Recreation Area offers another public beach on the southern shore of the lake.
Riddle Point Park at Lake Lemon is another excellent place to swim. You'll find the beach at the end of a beautiful drive down Tunnel Road — enjoy a swim surrounded by lush trees & blue water, and pack a picnic to feast on from a blanket in the sand. If you're looking to have a beach-side get together with friends and family, the lake offers a shelter house for rent.
 
Fishing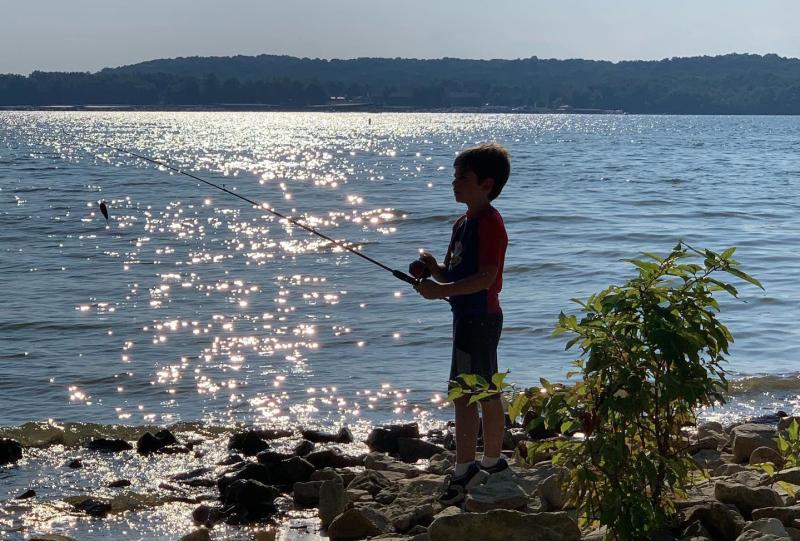 If you're interested in fishing, you'll be thrilled to know Monroe County offers seven stocked bodies of water. Monroe Lake's nearly 11,000 acres are home to populations of bluegill, largemouth & yellow bass, walleye, black & white crappie, channel & flathead catfish, and bullhead & hybrid stripers. Lake Lemon is known as one of Indiana's most popular & productive fishing areas, stocked with largemouth & yellow bass, channel & flathead catfish, bluegill, and crappie.
For a quieter, less competitive fishing hole, check out Griffy Lake, the pond at Will Detmer Park, or one of the three secluded lakes at Morgan-Monroe State Forest. Anglers can expect to catch bluegill, redear sunfish, and channel catfish at all locations. 
 
Hiking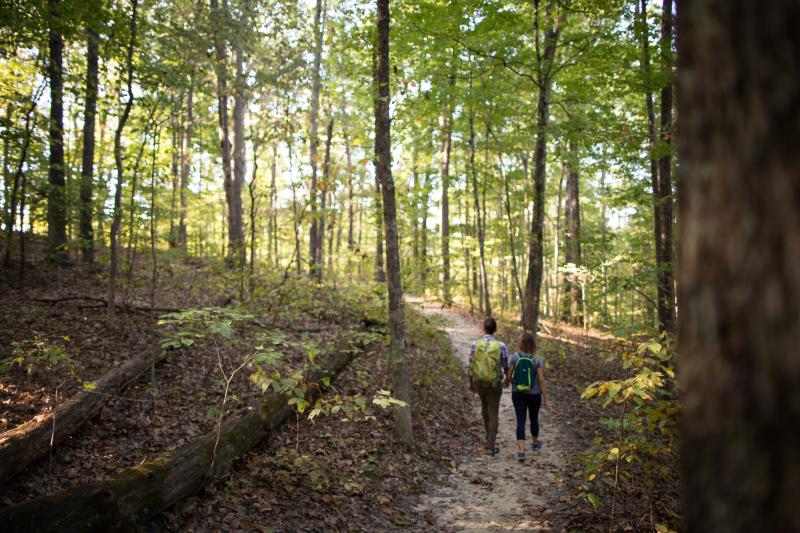 Spending a day on the water in Bloomington doesn't mean you have to spend a day in the water. The beautiful lakes around Monroe County are also home to ample hiking, with popular paved & rugged trails at both Griffy Lake and Monroe Lake, offering a hiking experience for everyone to enjoy. The scenic waterfront and thick forestry at both locations offer incredible views of Bloomington's nature — you'll definitely want to snap a pic to share on Instagram.
 
Dining
After a long day spent enjoying the water, a good meal is in order. Some of Bloomington's favorite eateries can be found lakeside, allowing you to refuel without leaving B-Town's sandy shores.
If you're looking for a place to dine at Lake Lemon, stop by Port Hole Inn Bar & Grill. The restaurant offers live music, ribs, fried catfish, and cold drinks in a relaxed atmosphere.
If you're closer to Monroe Lake, you have a few options to try. Scenic View Restaurant gives diners sweeping views of the lake and surrounding forestry from the hilltop while enjoying traditional American food. The scenic drive to the restaurant is a treat in itself!
For those staying at the Fourwinds Lakeside Inn & Marina or beaching at the Fairfax State Recreation Area, pop into the Windjammer Bar & Grill inside the inn. The eatery offers everything from salads to pork tenderloins alongside creative cocktail specials — if you dine in on a weekend, you might be treated to live music as well. 
 
Camping (& "Glamping")

If you want to extend your stay on your waterfront of choice, Bloomington offers plenty of camping and lakeside-lodging options. You'll find primitive campsites at Charles C. Deam Wilderness, Hardin Ridge Recreation Area, and Paynetown State Recreation Area. Lake Monroe Village and Jellystone Park both offer RV sites and cabins for a slightly more elevated stay in nature.
For more of a "glamping" experience, consider a stay at the Fourwinds Lakeside Inn & Marina or the Scenic View Lodge. The Fourwinds offers a stay right on the shores of Monroe Lake with access to the Windjammer Bar & Grill, marina, heated pools, mini-golf, and the Fairfax State Recreation Area beach. Scenic View is another option for food and rest all in one place. Its close proximity to the Hoosier National Forest offers miles of trails to hike and sights to see if you want to wander into the leaves alongside the lake.
The best part about staying close to the water? Getting up the next morning and finding a new day's adventure, right past your doorstep.
 
Looking for more lakeside activities? Check out these blogs: