Restaurants, Shops & Other Attractions on the B-Line Trail
Categories: Shopping, Wine & Culinary
Bloomington is home to quite a few promenades that offer a robust variety of shops, eateries, recreational activities, and other venues to enjoy while strolling through B-Town — The Square and Kirkwood Avenue are two local-favorites, as is the B-Line Trail. While The Square and Kirkwood are downtown's most popular areas, the B-Line is a little more of a hidden gem, especially when it comes to the local businesses and venues scattered along the 3.1-mile trail. Next time you're in town, take a walk down the urban trail and discover all it has to offer.
 
Art Galleries & Museums
Dimensions Gallery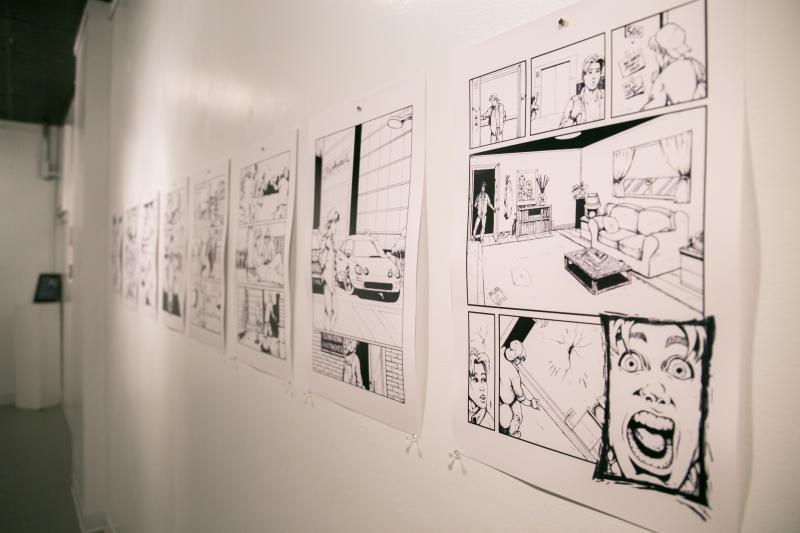 Dimensions Gallery, located in Artisan Alley, is an art space for artists, run by artists, with the mission of fostering a greater artistic culture in our area. The gallery features rotating exhibits of contemporary work by local and regional artists. Art lovers on the B-Line should take a break from moving and spend some time observing the interesting creations showcased at Dimensions — stop in each time you visit Bloomington to admire a new show.
 
WonderLab Museum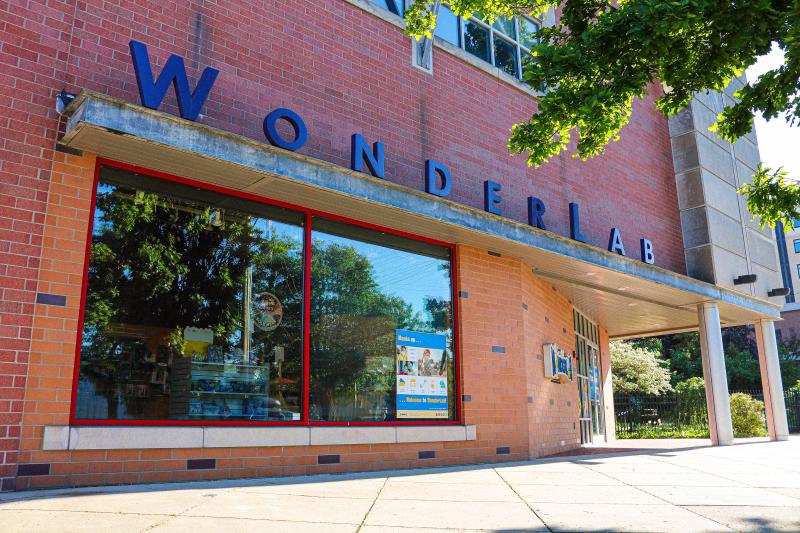 The WonderLab Museum is an award-winning children's museum that strives to cultivate an excitement and curiosity for science through interactive exhibits & programs. Exhibits include an outdoor garden for nature observation and learning about the science of sound, a gallery that showcases live insects, amphibians, and reptiles in their natural habitats, a bubble exhibit for exploring "soapy science," and much more. If you're walking the B-Line with kids, the WonderLab is a must-see attraction!

Parks & Recreation
Bluetip Billiards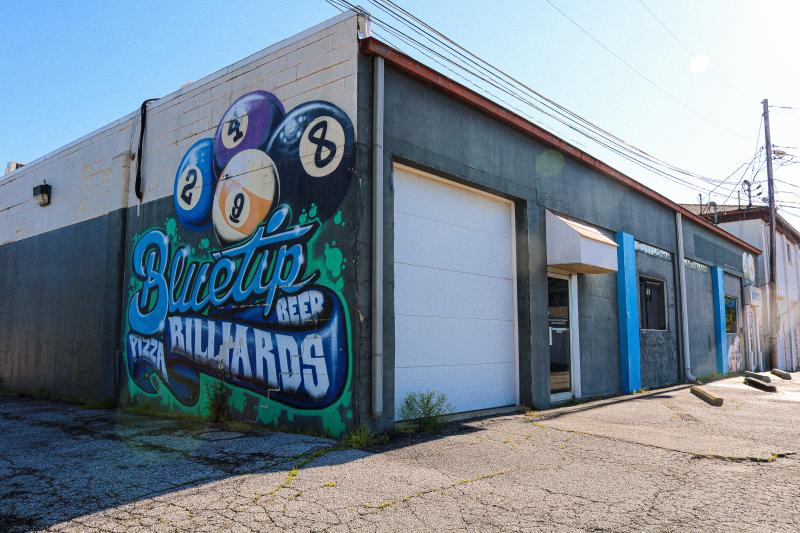 Bluetip Billiards is a pool hall with six valley tables and six diamond tables. They offer game play in a relaxed atmosphere, a menu full of sandwich & pizza options, and a lengthy list of beers to enjoy while you shoot your way around the table. Stroll down the B-Line, stop in for a game or two at Bluetip, then hop back on the trail to see what other B-Town treasures are in store.
 
Switchyard Park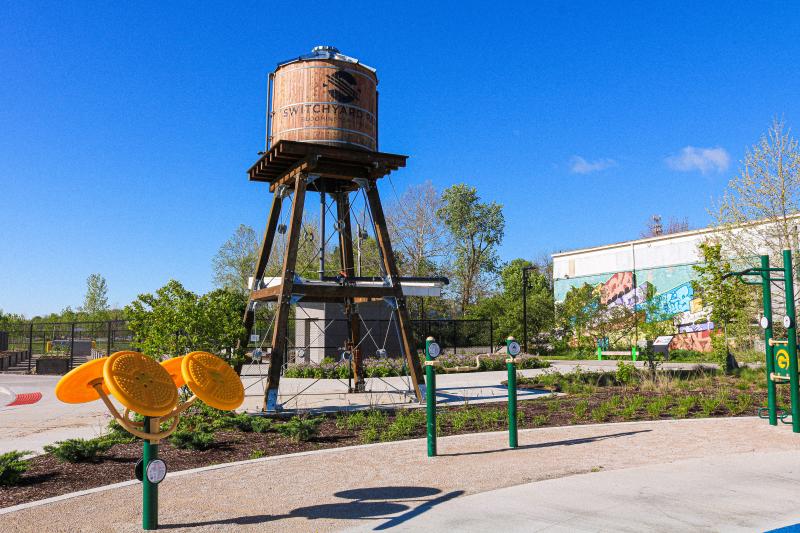 Switchyard Park is 57.2 acres of outdoor fun! An entire mile of the B-Line Trail runs through the park, which features a skate park, splash pad, dog park, playground, amphitheater, basketball courts, community gardens, fitness stations, and even more. Switchyard is a great place to play at and explore while you traverse downtown's urban trail. 
 
The Warehouse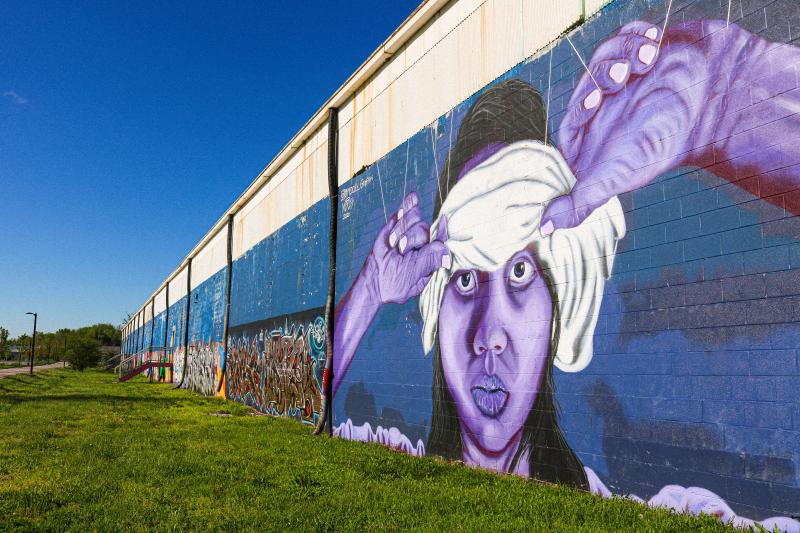 The Warehouse is an indoor recreation center for kids & teens that offers skateboarding, rock climbing, basketball, ping pong, soccer, pottery classes, a two-story playground, and more. Located opposite of Switchyard Park, The Warehouse is another great destination for those exploring the B-Line with kids — especially if you need a break from the sun on a hot day! The large building is also home to a variety of interesting murals and graffiti, which are fun to admire as you walk the urban trail.
 
Public Art
Captain Kathryn Janeway Statue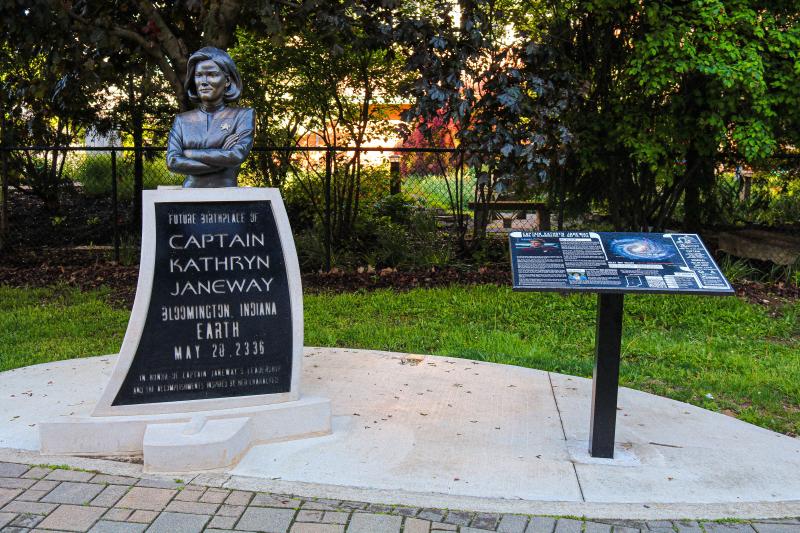 Just outside of the WonderLab Museum's outdoor garden stands the Captain Kathryn Janeway statue, a monument installed to honor the Star Trek character's birth in Bloomington on May 20, 2336. The statue celebrates Janeway's leadership, humanity, integrity, determination in the face of repeated challenges, and connection to her future birthplace. The monument is one of Bloomington's most unique attractions, and is especially exciting for those who are fans of the sci-fi enterprise.
 
Murals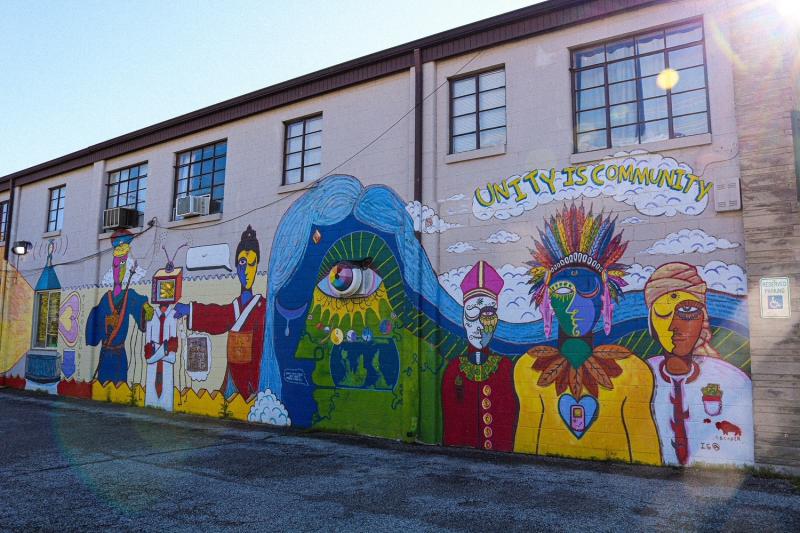 Bloomington is passionate about public art, so much so that our town boasts dozens of exterior murals around the community, many of which are located on the B-Line Trail. See how many you can spot on your B-Line adventure — bonus points for stopping to take a photo of your favorite ones and tagging us on Instagram using #visitbtown. The trail (and its murals) is one of the most Instagrammable spots in Bloomington, after all.
 
Restaurants, Cafes & More
Cardinal Spirits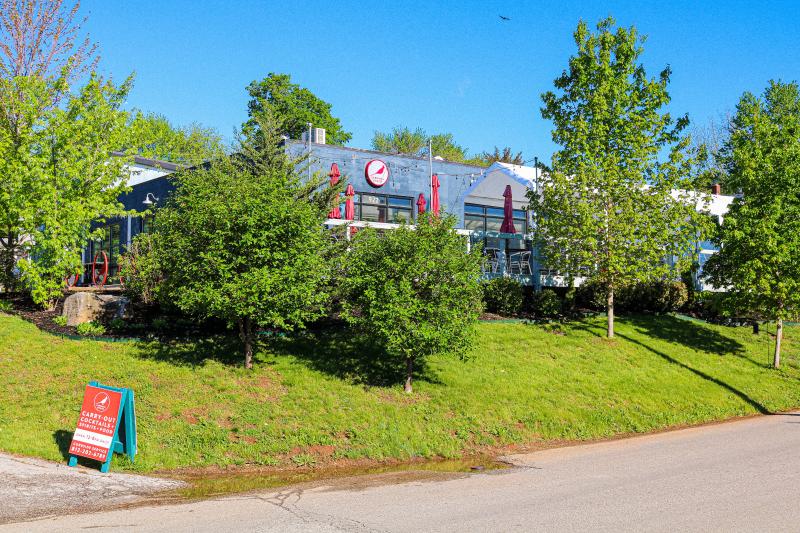 Cardinal Spirits is an award-winning craft distillery with a great outdoor patio, right on the B-Line Trail. The distillery offers some of the best cocktails in town, producing their own vodkas, gins, rums, liqueurs, and canned cocktails. All spirits are made with real ingredients, locally-sourced whenever possible, and Cardinal also serves up craft dishes for daily dinner, Saturday lunch, and Sunday brunch to pair with your adult beverage(s) of choice. Stop in for a tasting, a cocktail, or a meal the next time you're on the B-Line.
 
Community Farmers' Market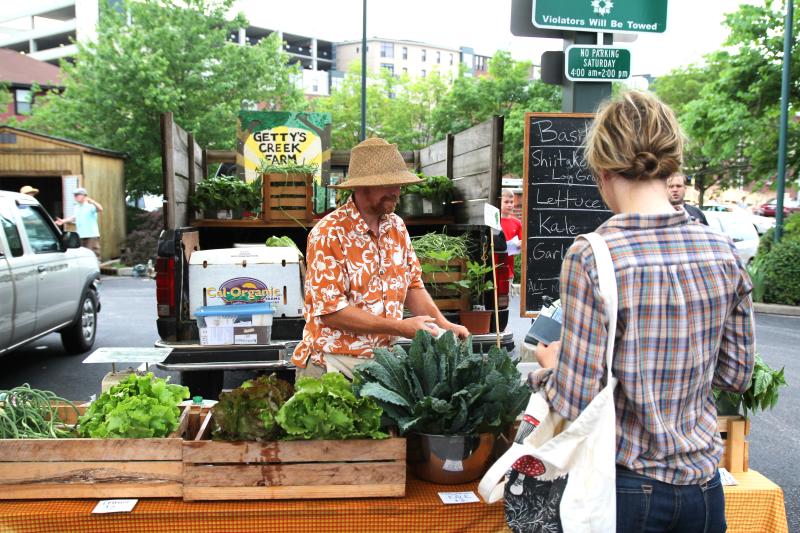 The Community Farmers' Market is a local-favorite event that takes place every Saturday from April through November. Located just one block north and another block west of The Square, this farmers' market features goods from local & regional farmers, freshly prepared food from local food vendors (including Pili's Party Taco Truck and Feast Market & Cellar), live music & buskers, and the occasional food tasting or contest. Plan to check out the B-Line on a Saturday so you can peruse the Community Farmers' Market, too!
 
Friendly Beasts Cider Company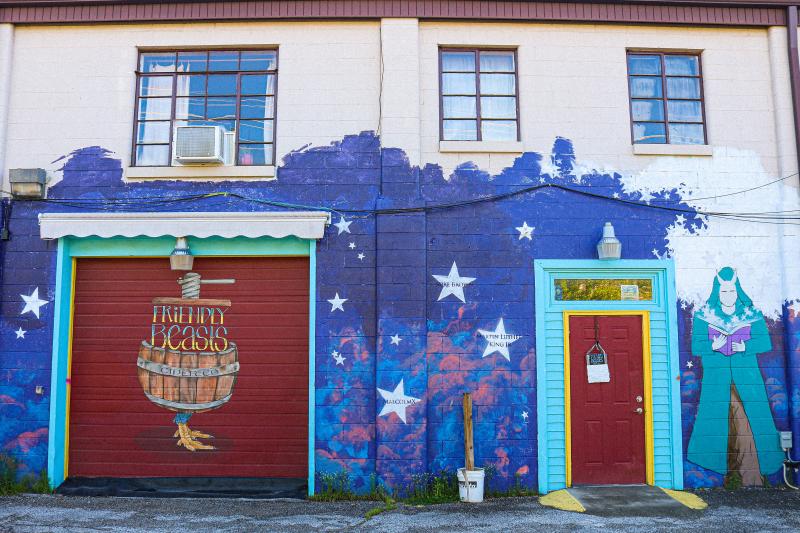 Friendly Beasts is a must for cider lovers. Their production operation and taproom are located in the Artisan Alley building, and the taproom is open to people of all ages. They offer over 30 ciders, all with varying flavors & notes, and light snacks & soft drinks are available as well. Take a break from Bloomington's breweries and wineries to give our only cidery a try.
 
Hopscotch Coffee + Kitchen & Hopscotch Coffee Roastery / To Go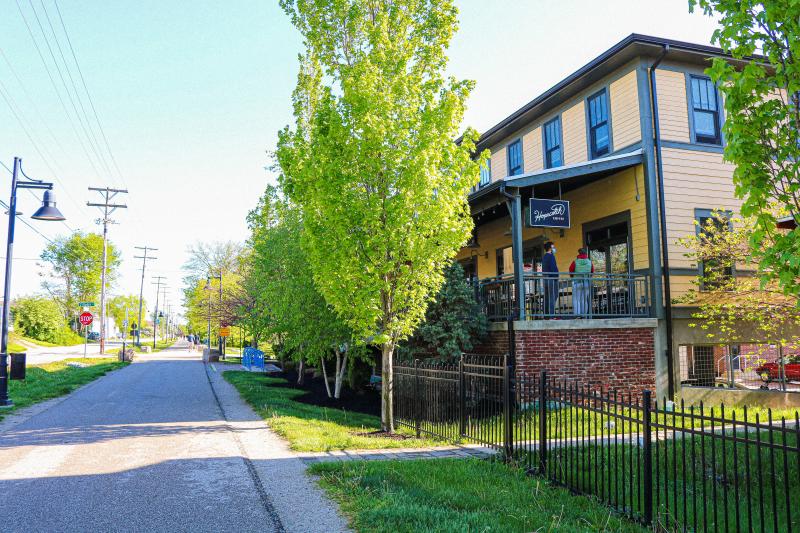 Hopscotch Coffee offers two locations in Bloomington, both located on the B-Line Trail just under a mile apart from one another. Both the cafe + kitchen and the to-go roastery offer an assortment of hot & iced coffee, house specials, hot & iced teas, pastries, and signature bagged coffee beans. The to-go location offers a smaller menu of pastries, but menu-wise, there's no other difference in the two locations. The cafe offers indoor seating and a large covered porch on which you can enjoy your order, while the to-go roastery simply offers grab & go treats — which is perfect for those walking the B-Line!
 
Janko's Little Zagreb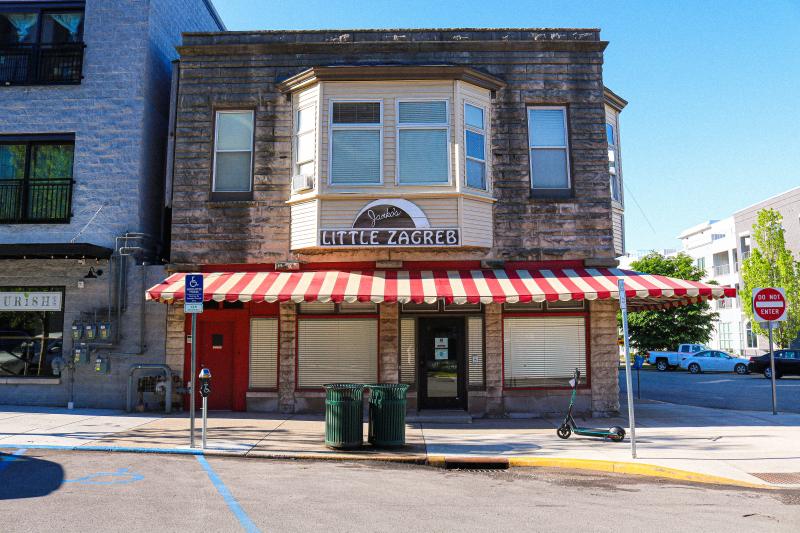 Take a romantic, post-dinner stroll down the B-Line after dining at Janko's Little Zagreb. This hidden gem is a local-favorite steakhouse, offering daily hand-cut selections grilled to perfection in a casual, IU-themed atmosphere. Aside from their incredible steaks, Janko's is also known for their famous spicy meatballs and robust wine selection. It's always a good idea to make a reservation when you want to dine at the Little Zagreb — the steakhouse is usually booked on the weekends and on special occasions.
 
Le Petit Cafe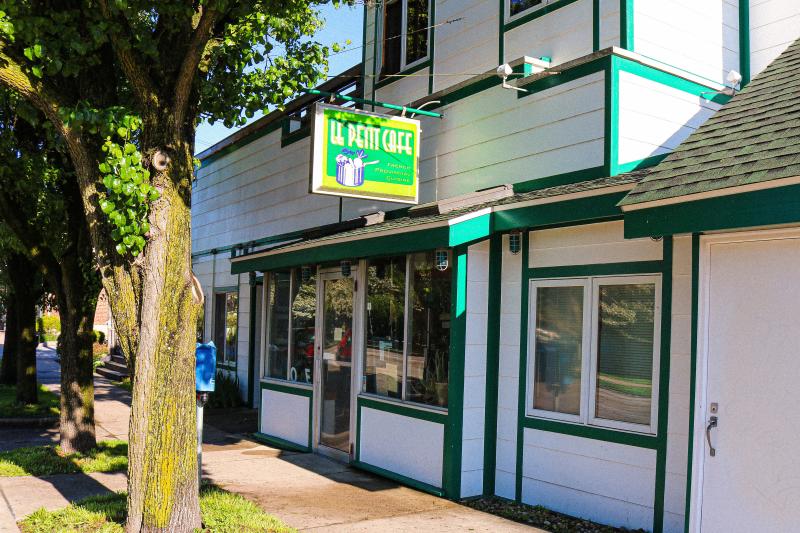 Le Petit Cafe is a quaint Provincial French bistro, owned and operated by a husband & wife team, both of whom are also chefs. Le Petit Cafe is unique in that they offer a walk-up window on the B-Line side of their restaurant where patrons can order select breakfast and brunch offerings to grab & go on the weekends in season. This unique restaurant is definitely worth a try if you find yourself getting hungry while walking downtown's urban trail.

Shops
Bloomington Antique Mall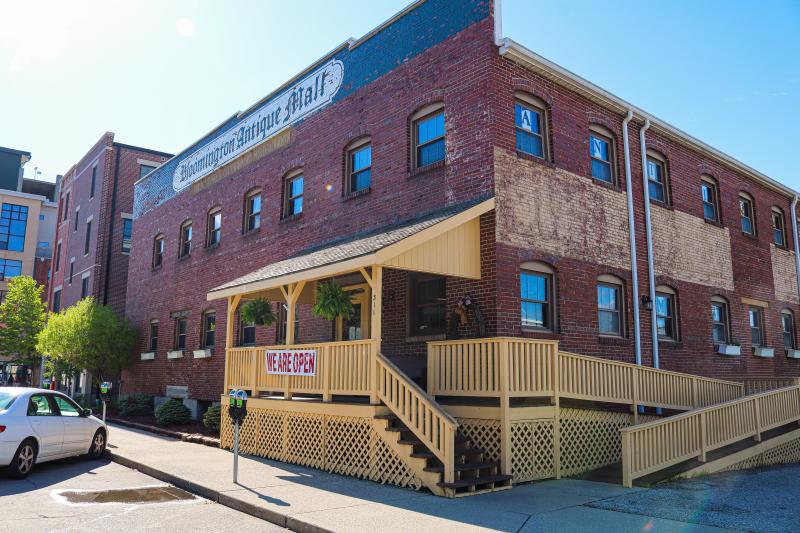 The Bloomington Antique Mall is vintage shopping heaven. With three floors of unique treasures, there's an outrageous amount of collectibles and one-of-a-kind items to discover. Shoppers will find furniture, clothing, books, housewares, jewelry, vintage signs, antique dolls, kitchenware, and more — you could easily spend a few hours poring over it all! For those who love vintage shopping, or just shopping in general, the Bloomington Antique Mall is a must.

 
Looking for more information about downtown Bloomington? Check out these blogs: