Monday, September 21, 2020
Top 10 Photo-Worthy Fall Foliage Places in Bloomington
Categories: Indiana University, General, Outdoors, Family Fun
With so many colors decorating the landscape in Bloomington, fall is the perfect time to explore with your camera. We've picked 10 of our favorite places to experience fall in Bloomington whether you want to shoot the golden hues of fall foliage, IU campus icons, or pumpkins of all shapes and sizes. 
Hickory Ridge Fire Tower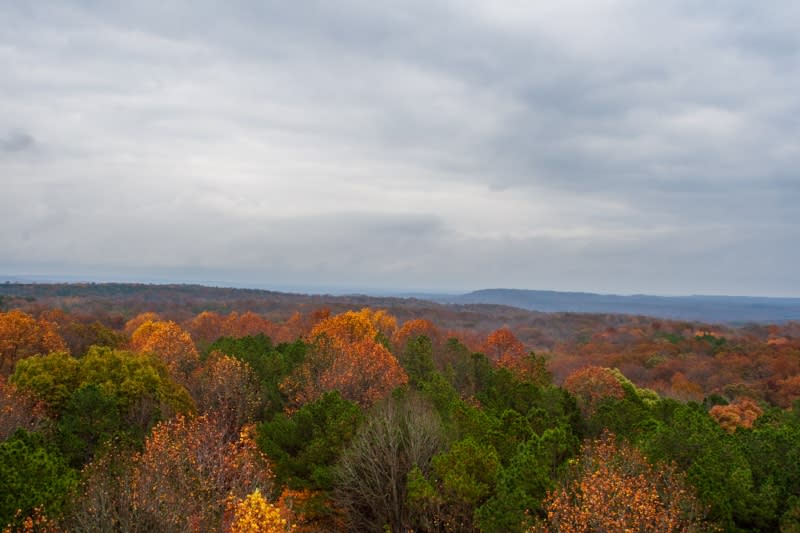 The Hickory Ridge Fire Tower gives an incredible view of the Hoosier National Forest any time of year but it is especially stunning in the fall. Climb up before the sun rises or sets to catch a 360-degree view of the changing leaves. After the sun sets, watch twilight roll over the treetops and catch some star photos while you're away from the lights of the city!
 
Rose Well House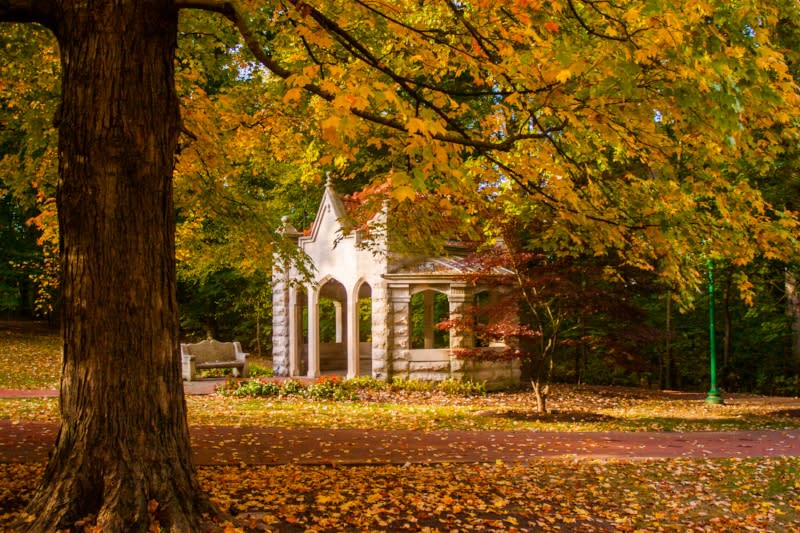 The Rose Well House is one of the most iconic buildings at Indiana University. It has long been a popular meeting place and one of the most romantic campus locations. Historically couples were known to get engaged and "pinned" at the Well House. Eventually, kissing at the Well House at midnight became a rite of passage for Indiana University students. The kiss had to last the duration of the full twelve strokes of midnight, (noon doesn't count, notes the 1967 Arbutus). A woman was said to be a "true coed" only after this requirement was met. When the women's curfew was 11 pm, this could be a risky endeavor." There are no longer curfews on campus but many couples still observe this storied tradition. Could this be more picture-perfect for a proposal? Source: IU Archives
 
Beanblossom Bottoms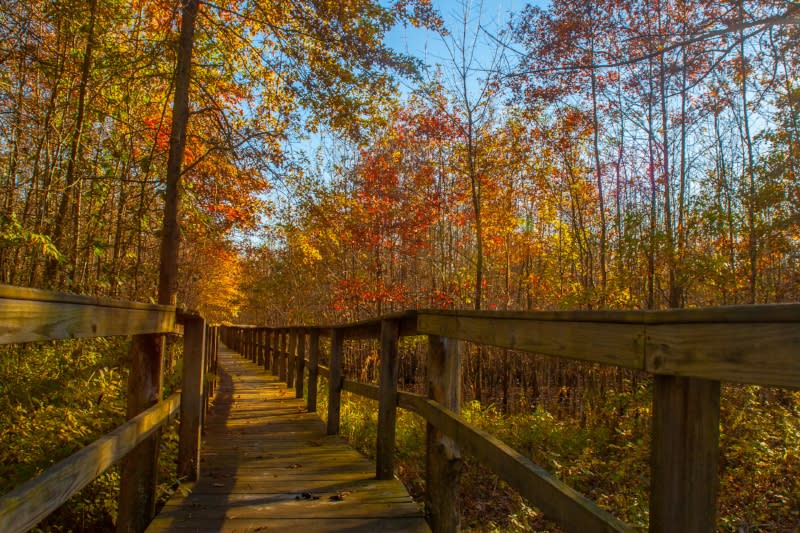 Beanblossom Bottoms Nature Preserve is managed by the Sycamore Land Trust, is dedicated as an Indiana State Nature Preserve by the Indiana Department of Natural Resources, and has been designated a state Important Bird Area by the National Audubon Society. Eighty bird species have been documented during the breeding season, including bald eagles that have actively nested there for the past several years. The two-mile trail is an easy walk on a raised boardwalk through all sorts of native Indiana trees, providing perfect photo opportunities for foliage-lovers and bird-watchers alike.
 
Clear Creek Trail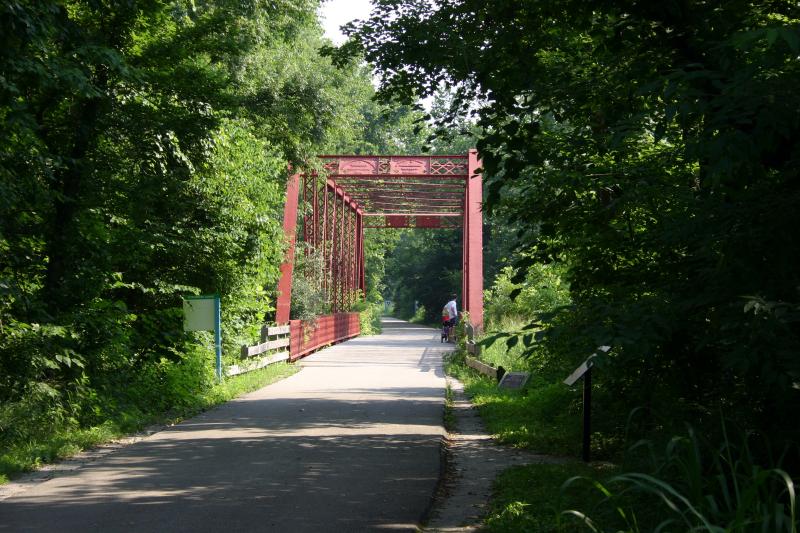 The wooded canopy is all aglow in the fall making it a beautiful bike ride or stroll. Clear Creek Trail is flat, making it an easy trail for kiddos too. This trail connects with the B-Line Trail as well if you want to cruise downtown for a longer ride and get photos of some of Bloomington's best street art as well as beautiful natural scenes!
Fowler Pumpkin Patch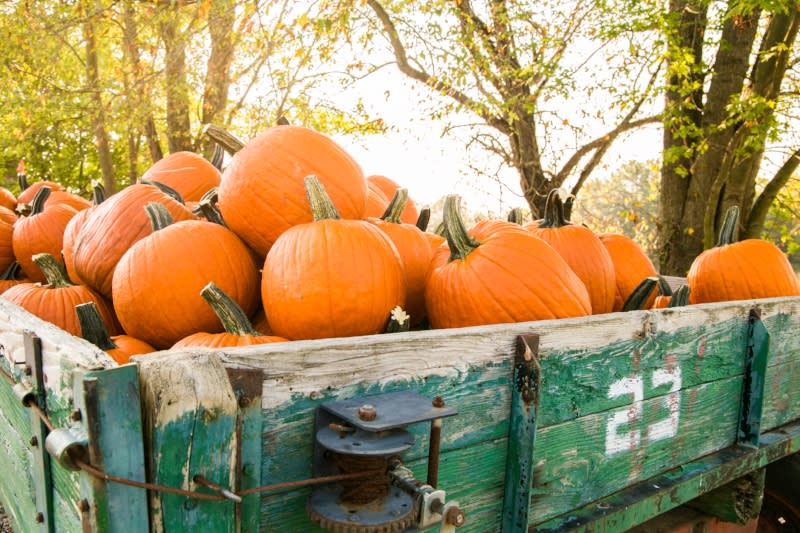 We're head over heels for the Fowler Pumpkin Patch. Thousands of pumpkins are up for grabs this fall, making this classic autumn scene worthy of documentation. You can even take a hayride, explore a corn maze, and hang out with some really cute goats and donkeys. This pumpkin patch is the perfect place for fall engagement photos, family scenes, or snapshots of a beautiful autumn landscape!
 
Griffy Nature Preserve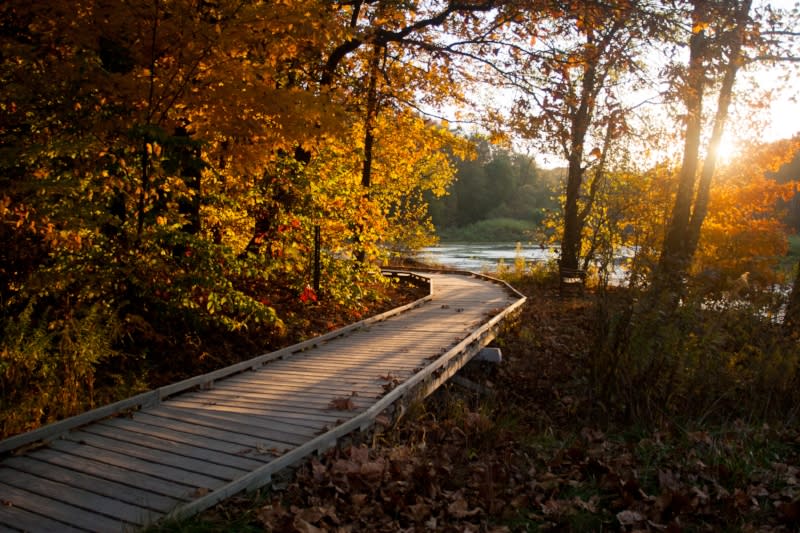 The trails and lake are picture-perfect at Griffy in the fall. Rent a boat or bring your own for a peaceful paddle around the lake or hike a variety of trails that will make you feel like you're out in the wild, even though you're still within the city limits. Make sure to keep your eye out (and a zoom lens handy!) to capture some shots of the wildlife that call this place home.
 
Bloomington Community Farmers' Market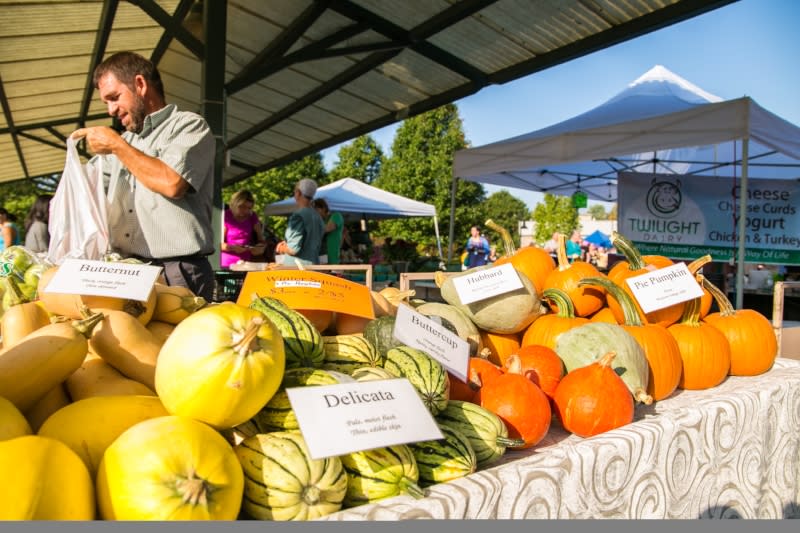 Grab a cup of hot chocolate from Le Petit Cafe's window or coffee and stroll the B-Line before or after you hit the market to take in all of the fall colors around you. The Bloomington Community Farmers' Market looks good no matter the season, but with pumpkins, gourds, and apples galore, it's hard not to love the photo ops. Not to mention that autumnal glow in the early morning. 
Oliver Winery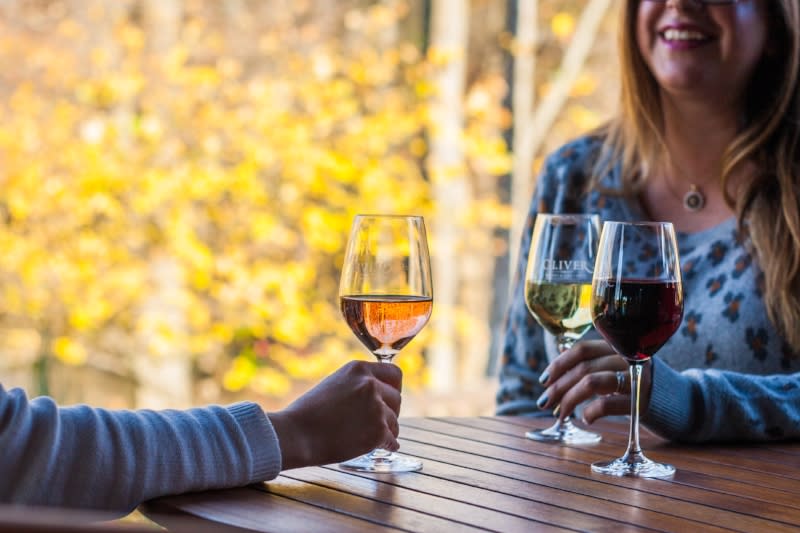 Wine tasting on the porch at Oliver Winery is absolutely blissful in the fall. The colors are in full bloom and the air is crisp enough to let you sit for hours enjoying the afternoon. Want to stay awhile? Book a picnic with them to enjoy. The Oliver Winery gardens turn into a pumpkin patch in the fall as well so don't forget to pick out a pumpkin before you go. 
 
Sample Gates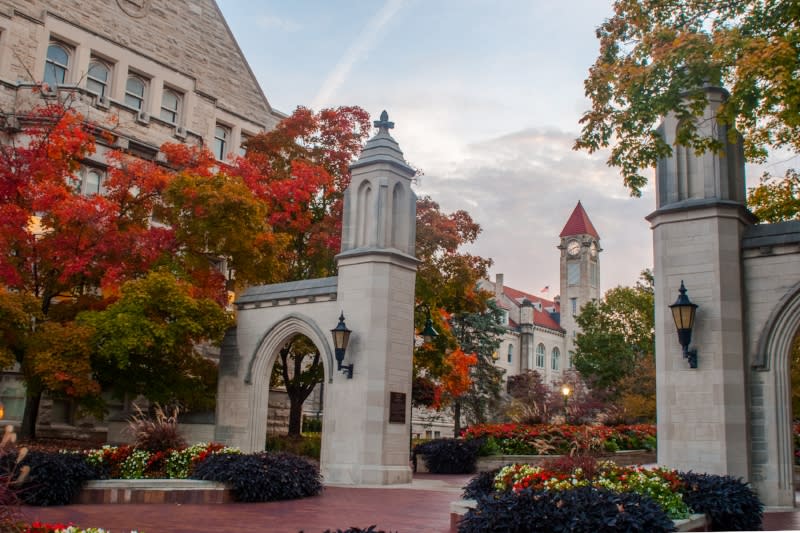 With over 4,000 photos of the Sample Gates posted on Instagram, they are bound to be one of the most photographed places in all of Bloomington. It should come as no surprise that the colors of fall look especially beautiful here. Deep crimson and gold frame the gates as you walk onto Indiana University's campus, and even the flower beds reflect the changing of the season with deep autumnal colors. If you're an early riser, head to the gates to watch one of the most stunning sunrises you'll ever see and witness a peacefully quiet Kirkwood Avenue.
 
Showalter Fountain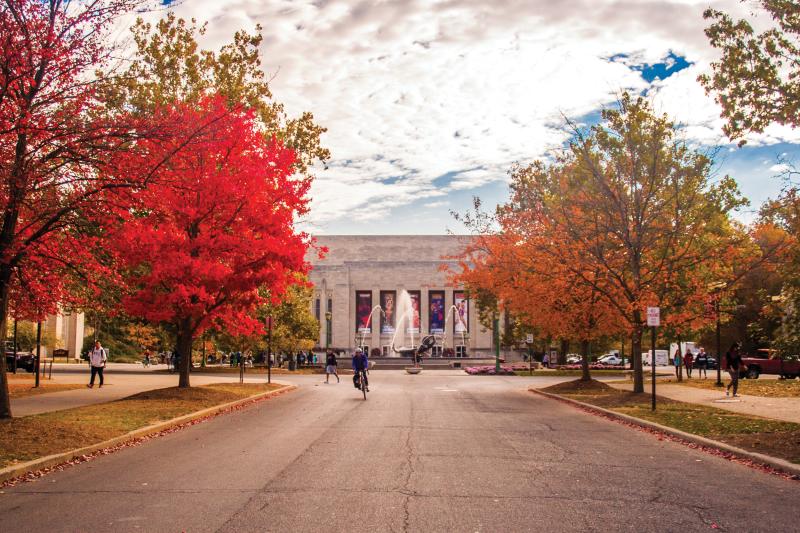 Another iconic spot on Indiana University's campus, the Showalter Fountain is a beautiful place to snap some photos this fall. A street lined with beautiful fall leaves leads up to the famous fountain, which is surrounded by colorful mums and other fall flowers. While you're in the area, make sure to stop by the Eskenazi Museum of Art to check out some world-renowned art. For more info on their hours, click here. 
 
4th Street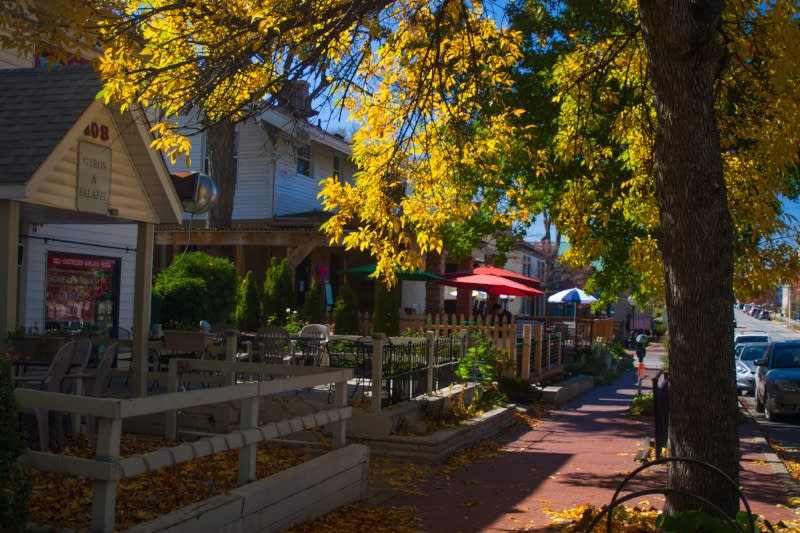 4th Street in downtown Bloomington is known for its unique and global cuisine but it also has some noteworthy fall foliage. The trees lining the street shine a vibrant gold starting in September and last through the month of October. After you enjoy the view, pop into one of the international restaurants for some worldly cuisine.