Bloomington's Best Brunches
Categories: Wine & Culinary
Brunch offers a great opportunity to explore local Bloomington flavors.  Whether you're in the mood for an egg-centric entree or need a little hair of the dog, there is no shortage of local offerings to satisfy your cravings. Keep scrolling to find several ideas for your next brunch outing.
 
Uptown Cafe
The Uptown Cafe has been a Bloomington institution for more than 40 years so it's no surprise they offer an epic brunch menu on Saturdays and Sundays. Their Classic eggs benedict dish is a fan favorite.  If you're looking for something more adventurous consider the cottage cheese pancakes with blueberries or eggs sardou.
Cardinal Spirits 
Definitely one of the most photogenic places in town, Cardinal Spirits offers imaginative and delicious cuisine to go along with their cocktails. Brunch is available Saturdays and Sundays from 10 am - 2 pm. The bakery items are made in-house and so yummy but a favorite will always be the porchetta eggs benedict alongside a Bloody Mary.
Scenic View Restaurant
Scenic View is just a few minutes outside of town but absolutely worth the drive for the food and the incredible view of the Hoosier National Forest and Monroe Lake. Everyone raves about the crab cake benedict and the biscuits and gravy. They make mean brunch cocktails too. Don't miss the opportunity to try their mimosas and bloody marys.
Tudor Room 
Pretend you're brunching alongside fellow Gryffindors when you dine in style at The Tudor Room inside the Indiana Memorial Union. On Sundays, you can enjoy a huge spread on their brunch buffet including a carving station, a dessert bar and classics like pancakes and eggs benedict. Reservations are recommended.
Runcible Spoon
Students, alums, locals, and visitors love Runcible Spoon! They have a lovely patio when the weather cooperates or you can cozy up in their little historic house for one of their giant omelets, corned beef hash, or bennies. You can't go wrong with brunch at the Spoon.
FARMbloomington
FARMbloomington serves up farm-to-table goodness every day of the week but they always kill the brunch game. Their menu changes with the season but have mainstays like omelets and of course their famous FARM fries. Something you'll only find in Bloomington is the Hoosier Poutine - two poached local eggs, fries, Indiana sausage gravy, and fresh cheese curds.
Social Cantina
Pack your weekend brunch with flavor at Social Cantina. The menu may be small but you will want to try everything. From pork belly tacos to huevos rancheros to a classic breakfast burrito, you will leave there with a full stomach and a big smile. Also while you're there, check out their special brunch drinks like a tequila-infused mimosa and a "Bloody Maria" which is a Bloody Mary with you guessed it, tequila. 
The Tap
There's a good chance you've been to The Tap for their awesome burgers or extensive beer list, but have you tried their brunch? It's a mix of sweet and savory perfect for a Sunday afternoon. There are many options, but you can't go wrong with the chicken and waffles. 
Irish Lion
Have brunch as if you are in Ireland at Irish Lion. Their Sunday brunch has all the staple Irish dishes like corned beef hash & eggs, a Reuben sandwich, and a Dublin City Breakfast. The Irish influence stretches to the drink menu with their take on a Bloody Mary and Kir Royale.
Crazy Horse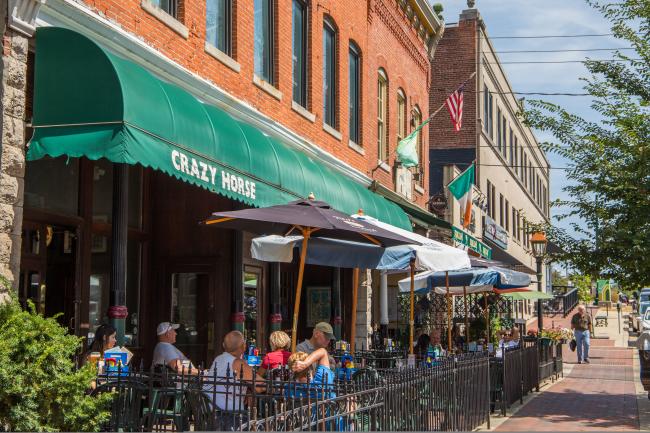 Crazy Horse has 80 beers from around the world, over 220 varieties of whiskey, and a brunch menu worth toasting to. They have steak & eggs, French toast, and so much more. We, however, recommend the Crazy Horse Breakfast -- eggs, sausage or bacon, and three cinnamon waffles.