Wednesday, February 22, 2023
Bloomington's Best Brunch Spots
Categories: Wine & Culinary
As a city with a rich culinary culture and foodie mindset, Bloomington does not mess around when it comes to brunch. Offering sweet & savory classics and wildly unique (and delicious) mid-day meals, brunch at the following B-Town restaurants will be the highlight of your day — we'll raise a mimosa to that.
 
Bedräk Cafe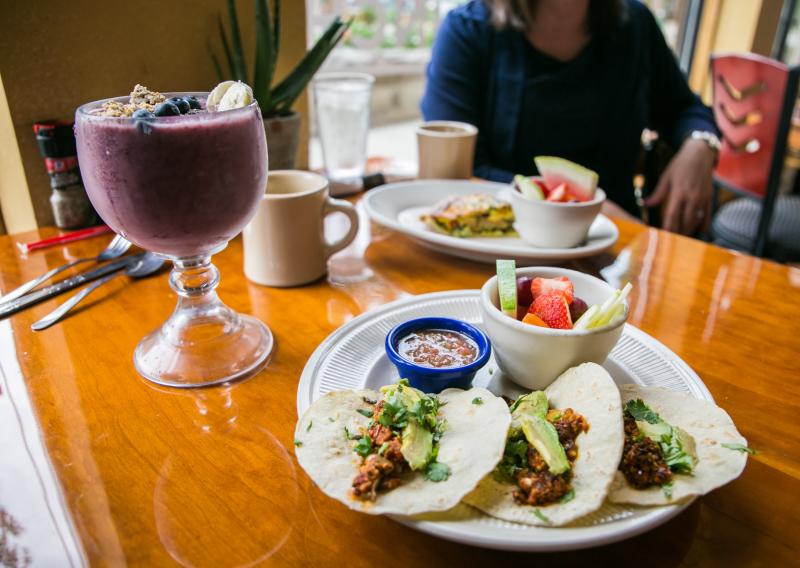 Bedräk Cafe has a robust brunch menu that is sure to satisfy any craving, and it's available every day of the week. If you're looking for a savory option, try the Jalapeno Cheddar Cornbread Waffle. For the brunch-goers with a sweet tooth, we recommend the French Toast Bites—you'll love the maple cream sauce that's served on the side. Be sure to order a juice flight to accompany your meal — make it a mimosa flight if you're 21+.
 
Crazy Horse
In addition to Crazy Horse's 80 beers from around the world and over 220 varieties of whiskey, the local-favorite tavern offers a short weekend brunch menu that packs a punch. You can't go wrong with the Crazy Horse Breakfast — eggs your way, sausage or bacon, "Tavern Taters," and two mini cinnamon waffles. Go all-out with their maple sausage gravy-smothered Hoosier Tenderloin Benedict, or keep it healthy with their Avocado Toast. 
 
FARMbloomington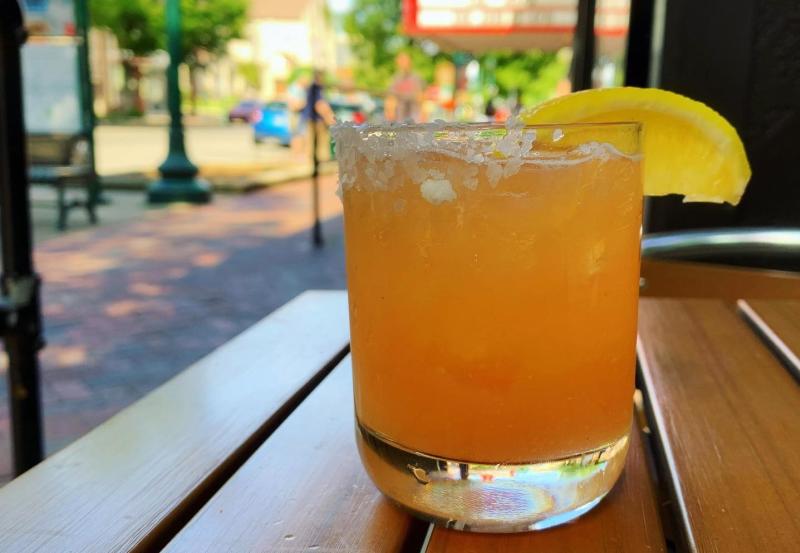 Photo by @ashhatesbrunch on Instagram
FARMbloomington serves up farm-to-table goodness every day of the week, but their weekend brunch is something extra special. One of their most unique dishes is the Hoosier Poutine — French fries and fresh cheese curds smothered in Kielbasa gravy, topped with two poached eggs. If you're a pizza-for-breakfast person, the Bacon & Egg Pizza is a must. No matter what you get, be sure to order a bowl of FARMfamous Garlic Fries — they really are famous, if you ask the locals.
 
Feast Market & Cellar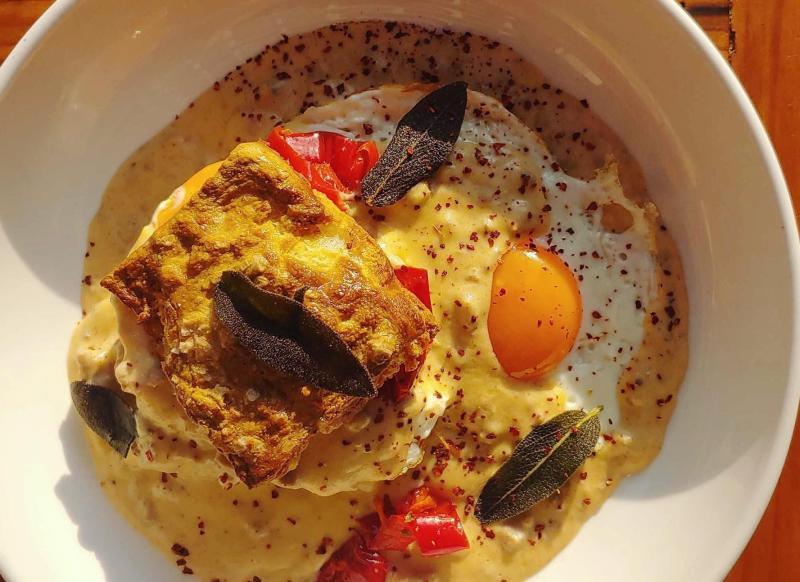 Photo by Feast Market & Cellar
Feast Market & Cellar is one of the most eclectic restaurants in town, offering an inventive, astoundingly delicious weekend brunch menu that changes each season. Passionate foodies will delight in a trip to the intimate restaurant — it's a culinary treat from start-to-finish. In addition to their menu offerings, they also serve some of the best espresso beverages and most incredible baked goods in town. If you don't have room to spare after your meal, be sure to order a few treats to-go from the bakery case.
 
Hive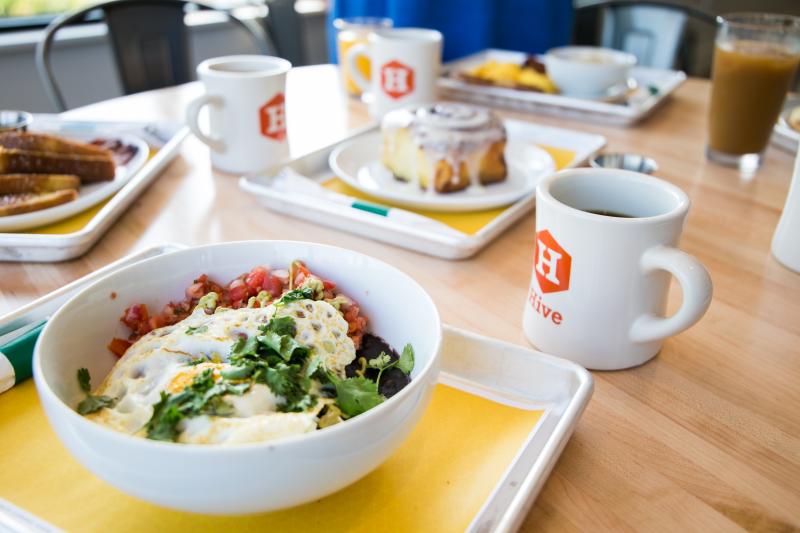 If you're looking for a healthy brunch meal without sacrificing flavor, Hive is the place to go to. Offered every weekend, the restaurant's brunch menu includes a Cuban Breakfast  (eggs, black beans, rice, Cotija, pico, avocado salsa, and cilantro ), Avocado Toast, and several other dishes, many of which are vegan-friendly. Don't worry if you're not interested in a more health-conscious meal — Hive also offers a Pancake Breakfast, giant cinnamon rolls, and their spectacularly delicious Hive Burger, which is truly one of the best burgers in Bloomington.
 
The Irish Lion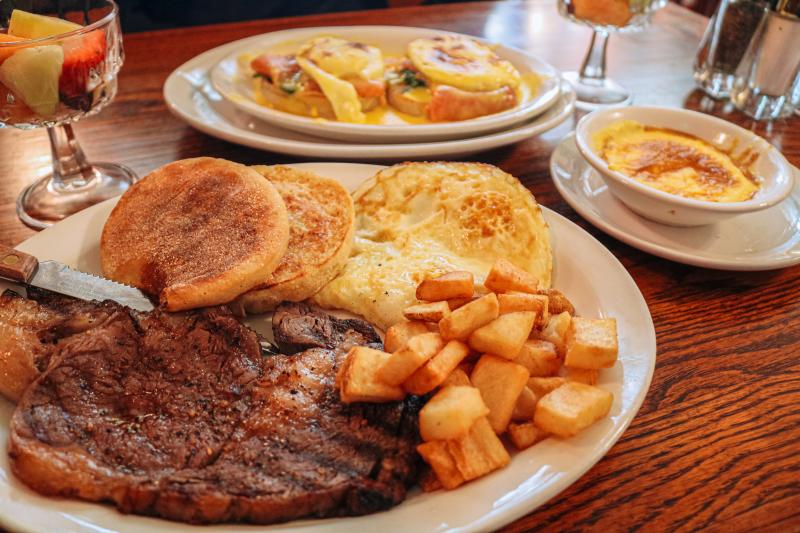 Having brunch at The Irish Lion is the next best thing to actually having brunch in Ireland. Available exclusively on Sundays, the pub's menu stays true to its authentic Irish roots, offering classics like Corned Beef Hash & Eggs, a Reuben Sandwich, a Dublin City Breakfast (scrambled eggs with melted cheese, bangers, and rashers), in addition to several other dishes. The authenticity doesn't stop at the food menu — the cocktail menu includes a Dublin Mary, which is a Bloody Mary with a touch of Guinness, and a Black Velvet, which is champagne and Guinness. Sláinte to that!
 
Runcible Spoon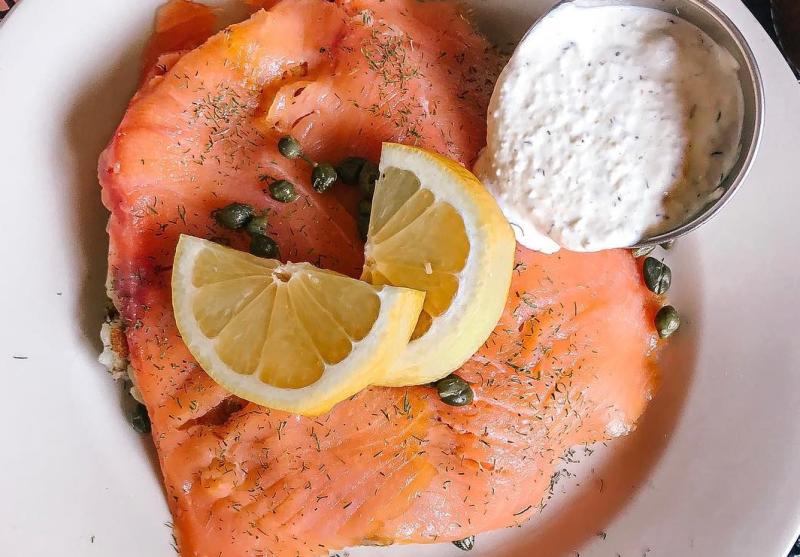 Photo by @katerudl on Instagram
One of the most beloved restaurants in town, Runcible Spoon serves a quirky menu of classics and unique dishes in an equally-as-quirky house just a block from the Indiana University campus. Served all day every day, favorites include the Corned Beef Hash and Croissant & Salmon Bennie. Perhaps the most unique dish on the menu is the Smoked Salmon Hash — smoked salmon over smashed potatoes, topped with dill & horseradish sauce. Sounds a little out there, we know, but if you're an adventurous eater, you're likely to be blown away by the savory plate.
 
Scenic View Restaurant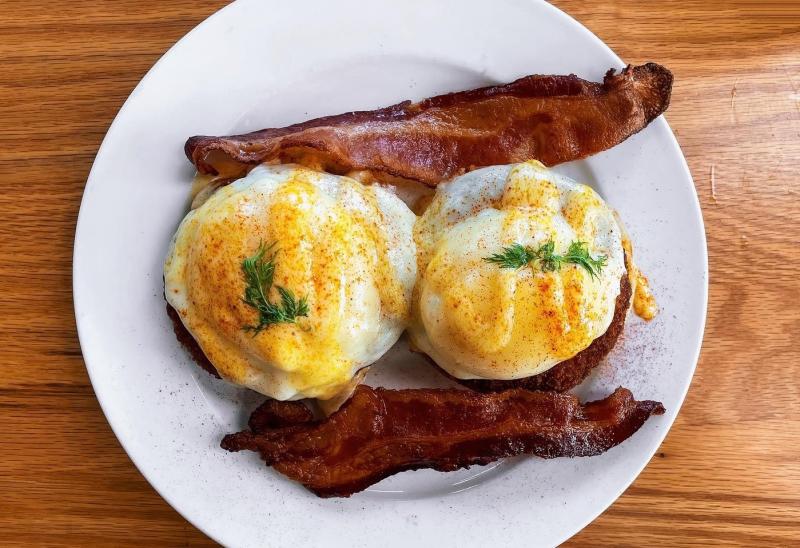 Photo by @rollsbyben on Instagram
If you're looking for brunch with a view, Scenic View is your spot. Named after the incredible view of the Hoosier National Forest and Monroe Lake from its hilltop location, Scenic View offers one of the best patio dining experiences with a view of Bloomington's natural beauty that no other restaurant in the area matches. Available on weekends, their brunch menu includes healthy options like the Egg White Scramble and Mediterranean Egg Bake, less healthy classics like Pancakes and Biscuits & Gravy, and the local-favorite Crab Cake Benedict and Bloody Mary.
 
Southern Stone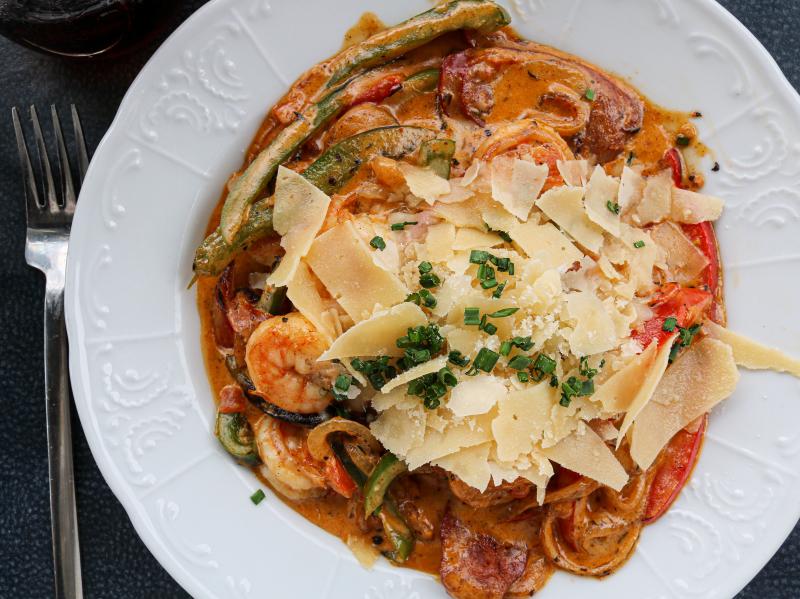 Offering upscale southern comfort food, Southern Stone is the perfect brunch spot on a slow and leisurely weekend. Sip a refreshing Southern Sweet Tea on the patio, split an order of Fried Pickles with your crew (the Cajun horseradish ranch that comes with them will take you to Flavortown), and trust us when we say the Shrimp & Grits is the best dish on the menu — it's also a dish you won't find anywhere else in B-Town. Even if you're not a grits person, we promise Southern Stone's gouda grits will change your mind. 

Tudor Room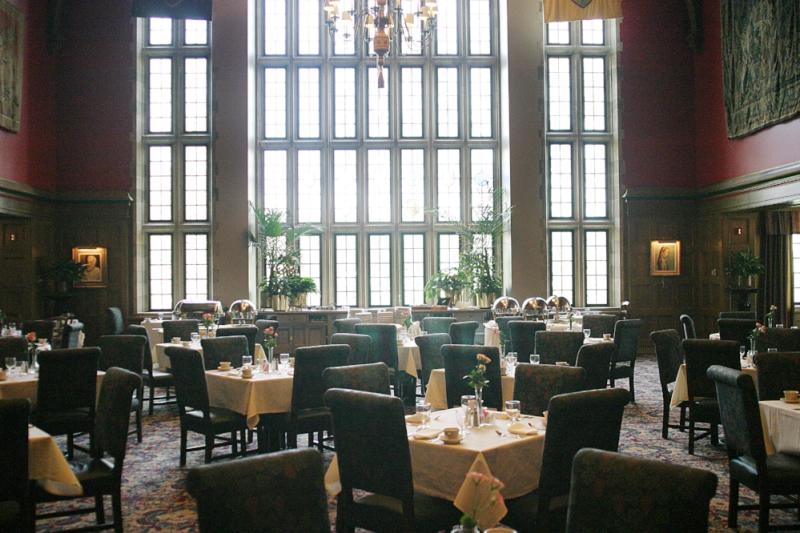 Pretend you're brunching alongside fellow Gryffindors while you dine in style at The Tudor Room inside the Indiana Memorial Union. On Sundays, you can enjoy a huge spread on their brunch buffet, which includes a carving station, a dessert bar, and classics like pancakes and eggs benedict. Reservations are recommended.
 
Uptown Cafe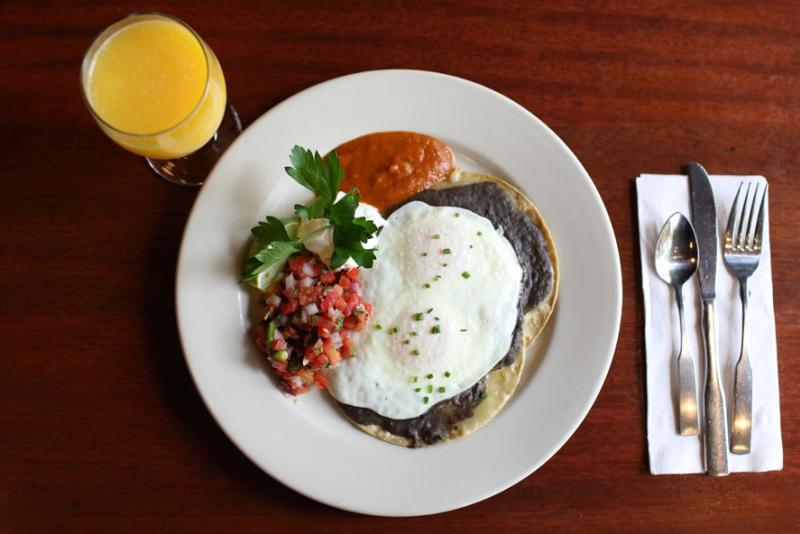 Another beloved B-Town restaurant, Uptown Cafe serves a weekend brunch menu with a flavorful New Orleans flair. There are so many delicious dishes to choose from that it's hard to pick just one — we suggest getting around this by splitting a few dishes with your brunch buddies. Local favorites include the Huevos Rancheros, Creme Brulee French Toast, and Sam's Benedict, but you truly can't go wrong with anything on the menu. Be sure to wash down your meal with an Espresso Martini, Bloody Mary, or Mimosa — the Holy Trinity of boozy brunch beverages.
 

Looking for more of Bloomington's best food? Check out these blogs: