Outdoor Adventure in Bloomington
Categories: Outdoors
The possibilities for outdoor adventure in Bloomington are aplenty. With three large lakes, twelve nature preserves, hundreds of miles of trails, two state forests, a national forest, and (believe it or not) much more, there's an outdoor experience for every type of person in B-Town. The question is, which adventure will you choose?

At the Lake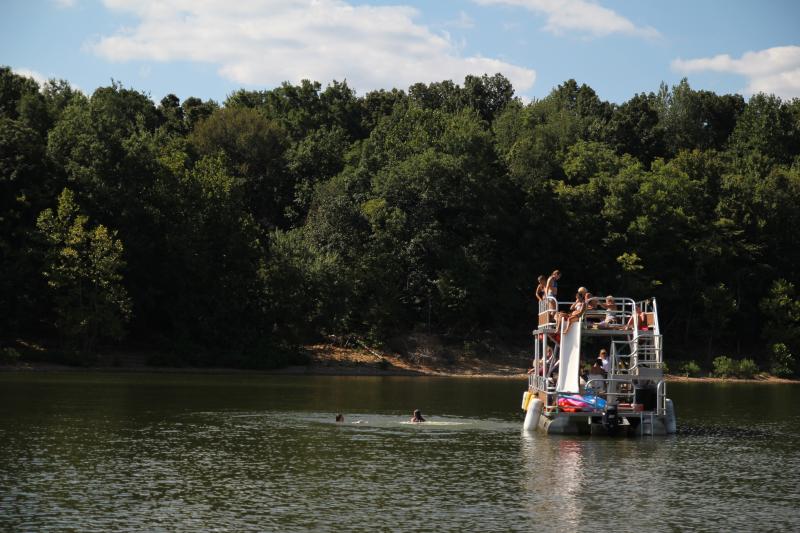 If it's a day by the water you're seeking, Bloomington has a few options for you. Head over to Monroe Lake, the largest lake in Indiana, for the ultimate lake excursion. Rent a double-decker pontoon boat with a waterslide for an adventure you won't soon forget. Those seeking an adrenaline rush will love speeding along the water on a jet-ski — both pontoons and jet-skis are available for rent at Lake Monroe Boat Rental. If you'd rather spend the day on the shore, both the Fairfax and Paynetown State Recreation Areas offer public beaches. Lay out under the sun, make a sandcastle, have a picnic, fly a kite, and pass a volleyball back-and-forth for a day full of action on the shoreline.
Avid fishers should make a trip to Lake Lemon for a great day of fishing in Monroe County. Known as our most popular and productive fishing lake, Lake Lemon is home to largemouth & yellow bass, channel & flathead catfish, bluegill, and crappie. Choose a spot on the lake's near 25 miles of shore to cast your line, or launch your own motorized/non-motorized boat from the ramp at Riddle Point Park. Refuel after a long day of reeling in your catches with a fried catfish dinner at the Port Hole Bar & Grill.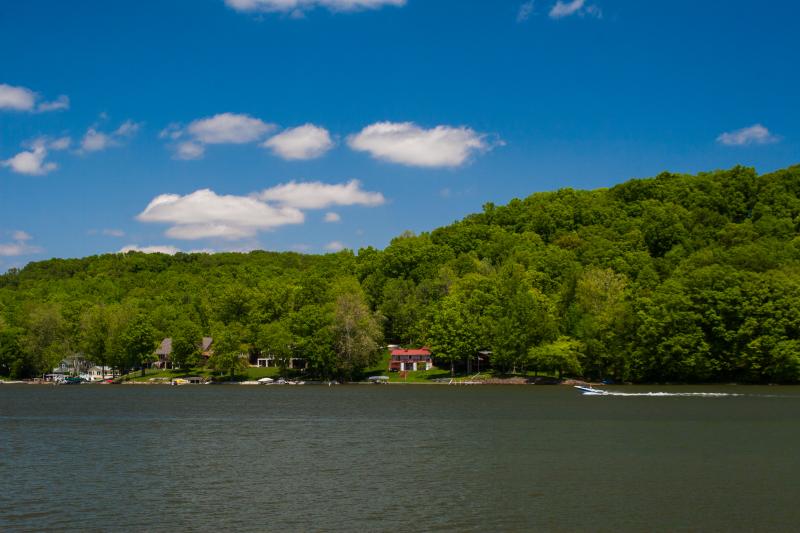 Those who are chasing a tranquil day on the water should drive over to Griffy Lake. The peaceful lake, part of a nature preserve, is a great destination for lazing along the calm water in a canoe or kayak. Enjoy simply floating under the sun, or get some exercise by paddling along the perimeter. In addition to canoes and kayaks, the Griffy Lake Boathouse also rents stand-up paddleboards. Embrace adventure to the fullest extent and give paddleboarding a try. If you're looking for additional activities at the nature preserve, go for a hike on one of their many scenic trails. For lake views through the beautiful woodland, try the West North Shore Loop, East North Shore Loop, Hiking Trail, or Wetlands Trail. 
 
In the Woods
If you prefer the forest to the lake, have no fear — we have an abundance of adventure options for you, too. Hiking enthusiasts should visit the Hoosier National Forest, home to over 200 miles of hiking trails. With 27 different trail systems with lengths ranging from 0.8 miles to nearly 49 miles, there's a hike in the national forest for every experience level. One local-favorite trail is the Sycamore Trail. It's a 4.9-mile trail that's widely loved due to the 110-foot Hickory Ridge Fire Tower at the trailhead — climb all 133 steps for a view of Monroe County like no other.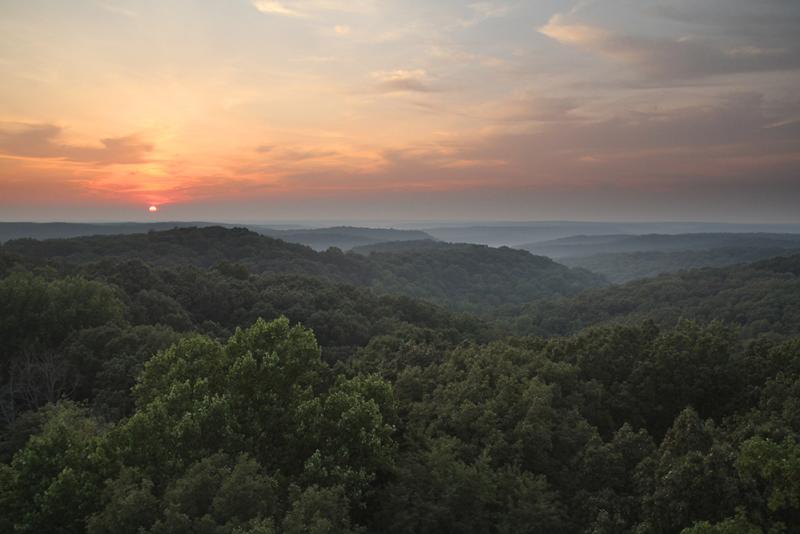 Yellowwood State Forest is another popular location for hiking. Of the forest's 50+ miles of trail, local favorites include the Scarce O' Fat Trail, a four-mile jaunt, and the Tecumseh Trail, a 42-mile journey. The Tecumseh Trail follows the proposed national pioneer route that was to span from Canada to Florida. It has five different trailheads, offering shorter segments of the trail for those who don't want to trek the entire route. The trail winds through ridgetops, wild hollows, many streams, and Yellowwood Lake, ending at the Morgan-Monroe State Forest office. Those who do want to backpack the entire Tecumseh Trail can pitch a tent at designated spots throughout Yellowwood State Forest, two of which are near trailheads on the Tecumseh route.  
 
Urban Experience
Craving outdoor adventure, but not so deep into the outdoors? Head to one of Bloomington's many parks. Karst Farm Park is a favorite for its many amenities, including a splash pad, several playgrounds, basketball & volleyball courts, nine-hole disc golf course, dog park, shuffle board courts, horseshoe pits, four trails, and 4.5-mile greenway. Other local favorites include Will Detmer Park and Lower Cascades Park. Will Detmer Park offers a paved trail, a fishing pond, a playground, and a basketball court. Lower Cascades Park features a huge accessible playground, several picnic areas, a paved trail, and a short hike that passes by a small waterfall and Griffy Lake.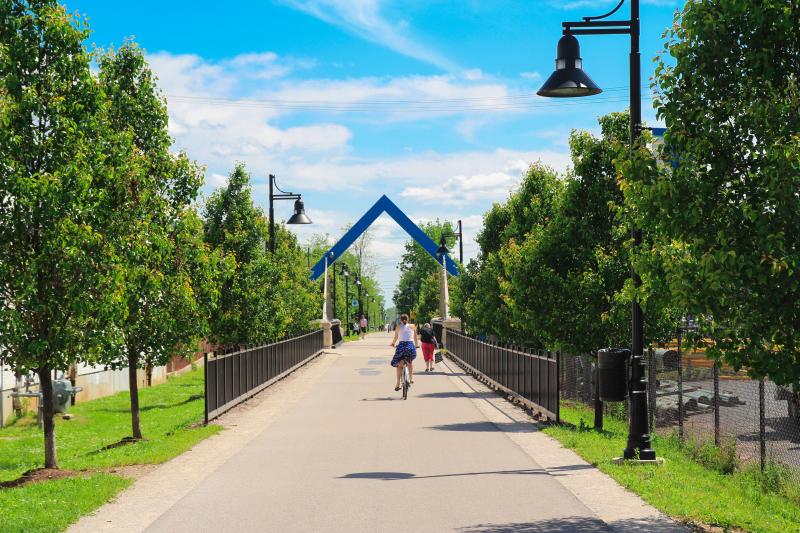 If you enjoy exploring the outdoors on two wheels, check out some of the urban trails in Monroe County. Several trails connect with one another, creating a miles-long outdoor adventure path through the heart of town. The B-Line Trail, Bloomington Rail Trail, and Limestone Greenway create the longest trail connection in town, meeting with one another in that order to create a 6.8-mile stretch. For the ultimate urban cycling excursion, bike the trail from the beginning of the B-Line to the end of the Limestone Greenway, then turn around and bike back. 
 
Overnight Adventure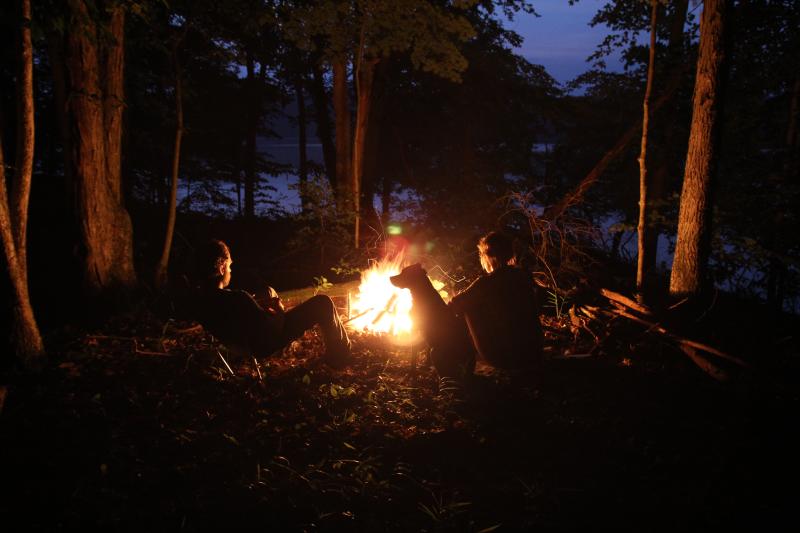 Can't get enough of Bloomington's beautiful nature in one day? Extend your outdoor adventure overnight into the following day by pitching a tent or renting a cabin at one of our many campgrounds. Primitive campsites are offered at Hardin Ridge Recreation Area and Paynetown State Recreation Area. Cabins are available at Lake Monroe Village and Jellystone Park at Lake Monroe, Jellystone being a favorite for families due to their fun, kid-friendly amenities. Guests can enjoy an outdoor pool, splash pad, playground, jumping pillow, and more!
Wanting outdoor activities that are accessibility-friendly? Read our Accessible Activities in Bloomington blog. 
Looking for more to do in Monroe County's great outdoors? Check out these blogs: