Staff Picks: Brunch
Categories: Wine & Culinary
We get a lot of questions at the visitors center, and many times, visitors want our staff recommendations.  That's a tough one!  There are so many great restaurants, museums, galleries, theater groups, music venues, parks, lakes... you get the idea.  So I decided to start a blog series, asking our staff for their picks on certain topics.  We'll try to keep it specific, so you get a helpful recommendation on something you might actually want to try.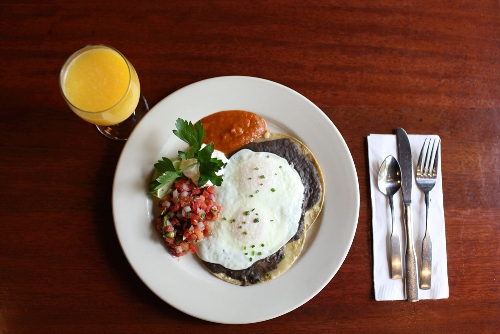 For this first post, I asked our staff for their favorite places to have brunch.  Since it's nearing Easter and Mother's Day, we're pretty much in the heart of brunch season.  And brunch is not something that's served at every restaurant, so these tips should help out.  This is most definitely NOT an exhaustive list of all the places to get brunch (and none of these lists will be), just our staff picks.  So order up some eggs or waffles or prime rib (that's what's awesome about brunch-the variety!) at one of these locations:
Erin (group sales savant) - Lennie's: they've got chicken and waffles, plus some delicious champagne coolies.
Ryan (makes all our stuff look pretty) - The Owlery: where else can you get lentils and kale for breakfast?
Mike H (intern- got a job for him?)- Village Deli: it's not too pricey, and the portions are huge.
Laura (does a little of everything, and a lot of some things) - Sweetgrass: the cinnamon roll is killer, and the other items are unique and at a good price.
Mike M (boss man) - Uptown: great food and great service. 
Tosha (online media maven) - The Tamale Cart: they're amazing, and they're at the Farmers' Market on Saturdays and Atlas Ballroom on Sunday mornings.
Marcia (pays the bills, and sends the bills) - Uptown: the crème brulee French toast is delicious!
Teal (takes care of the details)- Bobby's Colorado Steakhouse: there's so much variety, but the French toast is so good-it's battered and dipped in cereal bits!
Jordan (sports champion) - FARMbloomington: I'm a breakfast guy so I go with the Bloomington classic breakfast with over medium eggs.
Carol (keeper of all brochures) - Uptown: Popeye's omelet is the best!
Julie (marketing master) - Runciple Spoon: it's cozy, and they have the classics plus a few with an Irish twist.  And the bacon is perfectly cooked.
Did we miss any?  Share your faves in the comments!