Tuesday, February 7, 2023
Best Sweets in Bloomington
Leave it to B-Town to satisfy all of your sweet tooth needs — we have you covered. From personalized cookies to funky ice cream flavors, our local shops have something unique for everyone. That sounds sweet, doesn't it?
Baked!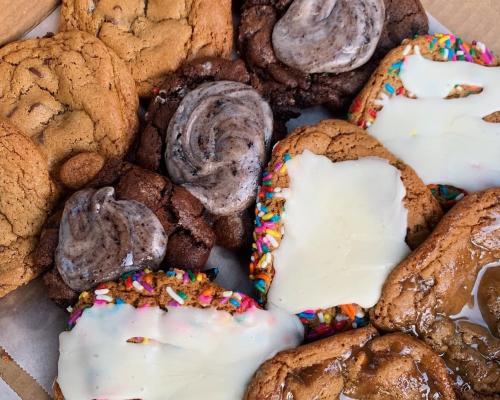 Baked! is known as the late-night cookie spot in Bloomington. A favorite of the college students, Baked! is served straight out of the oven and are inspired by family recipe's. They also offer gluten-free and vegan options, customizable cookie cakes, and unbaked cookie dough.
Bloomington Chocolate Company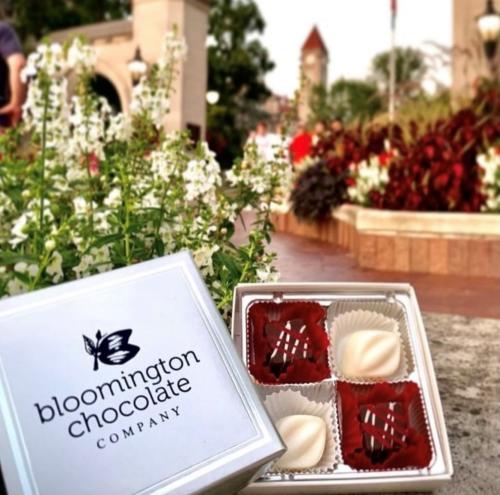 Photo by @bloomingtonchocolatecompany on Instagram
Bloomington Chocolate Company, located inside of Olive Leaf, makes truffles, chocolates, and their famous Blooming - O's — a chocolate dipped sandwich cookie. With only using the finest ingredients, whatever you eat is guaranteed to be a delicious treat. 
Blu Boy Chocolate Cafe & Cakery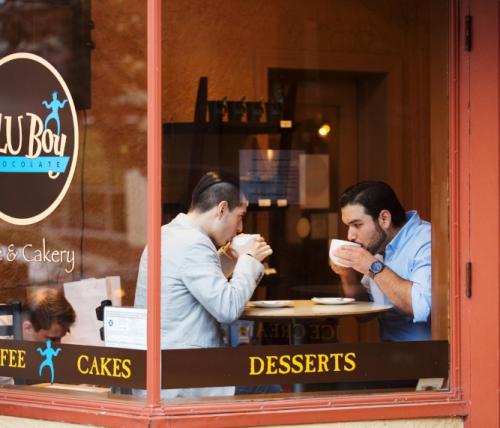 Blu Boy Chocolate Cafe & Cakery is a Bloomington favorite with their hand-crafted chocolate. Using no preservatives, they not only make chocolates, but also make cakes, coffee, and European-style desserts, including pastries and ice cream. 
The Chocolate Moose 
The Chocolate Moose makes all of their ice cream homemade. Whether it is a cup, a cone, or a shake, they've got you covered and will make sure you get exactly what you came for. Not wanting something sweet? The Chocolate Moose also offers burgers, sandwiches, and hot dogs. 
Crumble Coffee & Bakery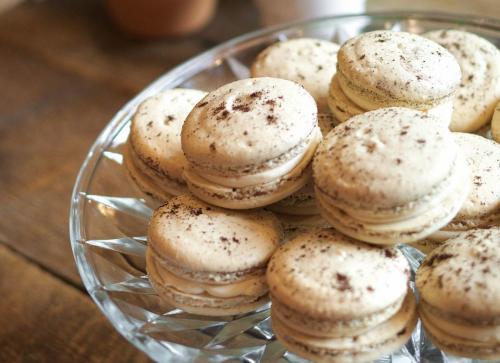 Crumble Coffee & Bakery excitedly offers tea, locally roasted coffee, and homemade pastries. Gluten-full and gluten-free pastries are available daily and there are often dairy-free and vegan options as well. Coconut, oat, and almond milk are offered. Stop by Crumble Cookie & Bakery for a drink and delicious pastry made locally. 
Hartzell's Ice Cream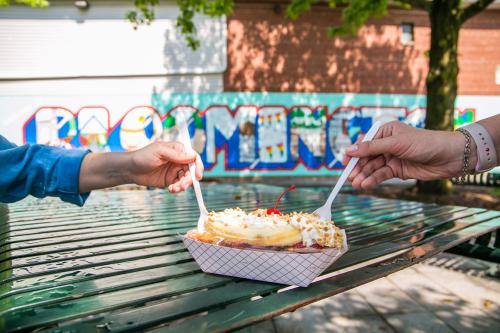 Hartzell's Ice Cream makes homemade and inventive ice cream for anyone passing through Bloomington. Each ingredient is carefully selected and locally sourced when possible. Come try Hartzell's Ice Cream — you will be happy with what you find. 
Jiffy Treet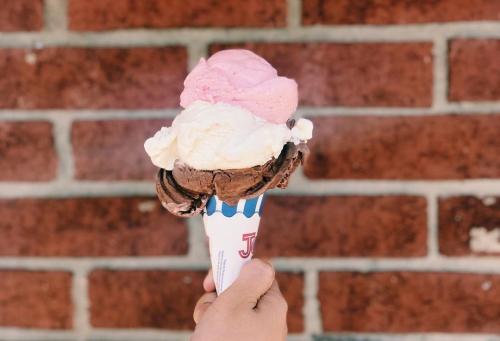 A student favorite, Jiffy Treet preserves the old-fashioned ice cream experience. They have everything from soft serve ice cream to homemade ice cream to shakes and floats. Before dessert, try their food and snacks as well.
Parlor Doughnuts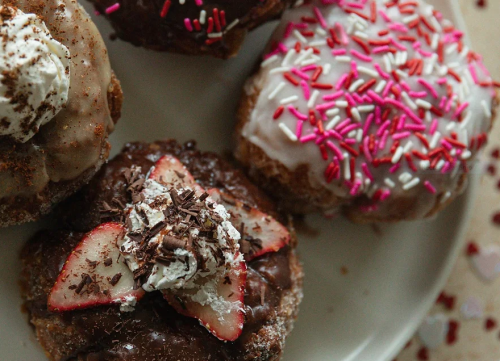 Photo by Parlor Doughnuts 
Parlor Doughnuts are a donut and coffee shop that are known for their original layered donuts. They have every type of donut from carnival to coconut cream filled to strawberry shortcake. They also offer vegan, gluten-free, and keto-friendly options. 
Rainbow Bakery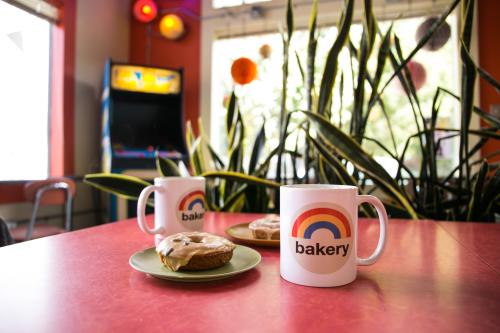 Rainbow Bakery's treats are available for walk-up, pick-up, and delivery. They have regular cupcakes and cookie cakes, but if you are not finding what you want, you can make special orders ahead of time for your next event. 
Square Donuts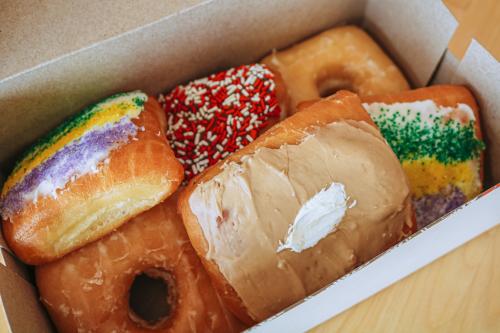 Thought donuts were only round? Think again. Square Donuts offers a variety of different kinds of square donuts from classic glaze to jelly-filled to tractor tires. Stop by one of Bloomington's three locations to try their amazing donuts. 
Sugar and Spice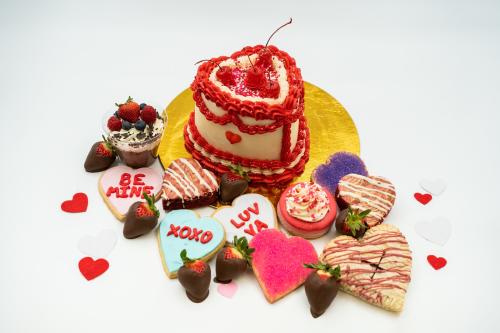 Photo provided by the Indiana Memorial Union
Sugar and Spice - located inside of the Indiana Memorial Union on campus - makes cookies, pastries, and other sweets daily on site. Not only do they have treats, but they also have hot and cold coffee available. Stop by Sugar and Spice to grab a sweet and see the beautiful Indiana Memorial Union.
Two Sticks Bakery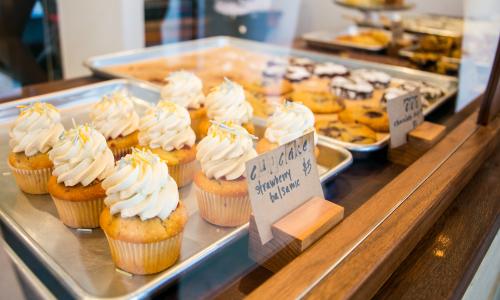 Two Sticks Bakery is a woman-owned, from-scratch bakery located in B-Town. All items are made fresh everyday and are locally sourced and organic products when possible. At Two Sticks Bakery, you can find morning pastries, savory pastries, and sweet treats, including cookies, bars, and sliced cake. 
For more ideas on how to spend a tasty day in Bloomington, check out our best coffee, best bakeries, and must-try local restaurants. There is never a bland day in B-Town.