Thursday, October 14, 2021
Bloomington's Most Iconic Restaurants
Categories: Wine & Culinary, General
Bloomington boasts a great many restaurants with mouthwateringly delicious food, but a certain few have reached an iconic status due to their rich history, character, and charm. If you're looking for the most Bloomington-Esque restaurants, the following will deliver the B-Town food experience you're seeking.
 
Anyetsang's Little Tibet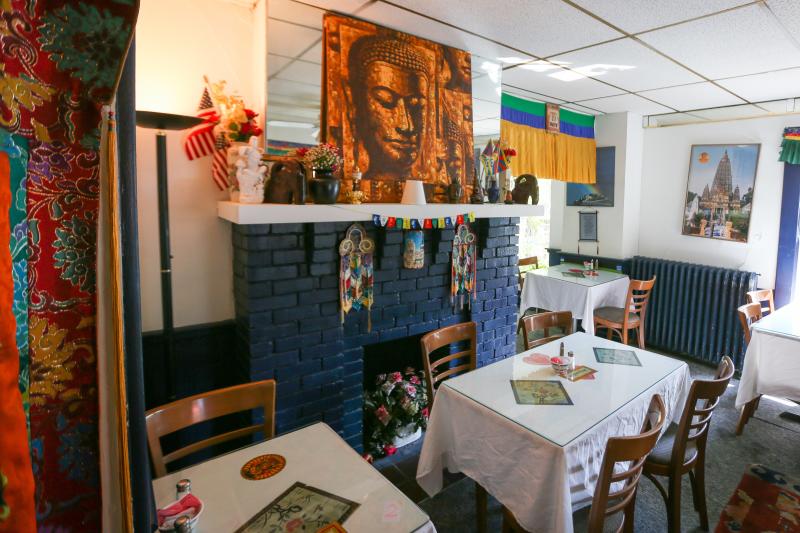 Family-owned & operated by a Tibetan refugee and former monk, Anyetsang's Little Tibet is one of 4th Street's most popular restaurants — the Dalai Lama himself once dined there during a visit to Bloomington. Prayer flags adorn the restaurant's patio and interior, along with many photos, artwork, and other mementos celebrating Tibetan culture.
Must-Try Menu Recommendation: Little Tibet's momos (Tibetan dumplings) are a must — choose from the classic momo or one of the restaurant's other varieties. If you enjoy spicy food, be sure to dip your momos in Little Tibet's house hot sauce.
 
BuffaLouie's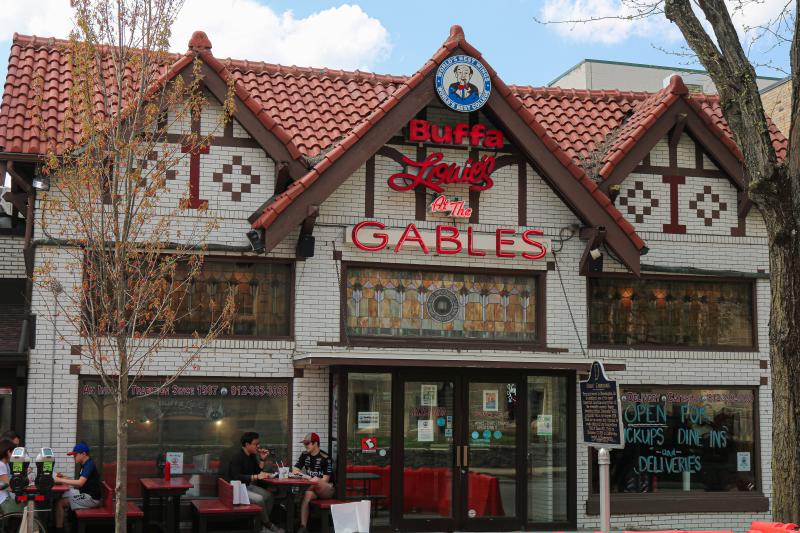 Located in the historic Gables building where Hoagy Carmichael wrote the famous jazz hit, "Stardust," BuffaLouie's is an Indiana University mainstay located just across from Sample Gates. Every square inch of the restaurant's walls is covered in IU memorabilia, which is largely sports-related.
Must-Try Menu Recommendation: Keep it classic with BuffaLouie's traditional wings doused in the buffalo sauce of your preferred spice level. Kick it up a notch by pairing your wings with a basket of curly fries and cheese sauce.
 
The Irish Lion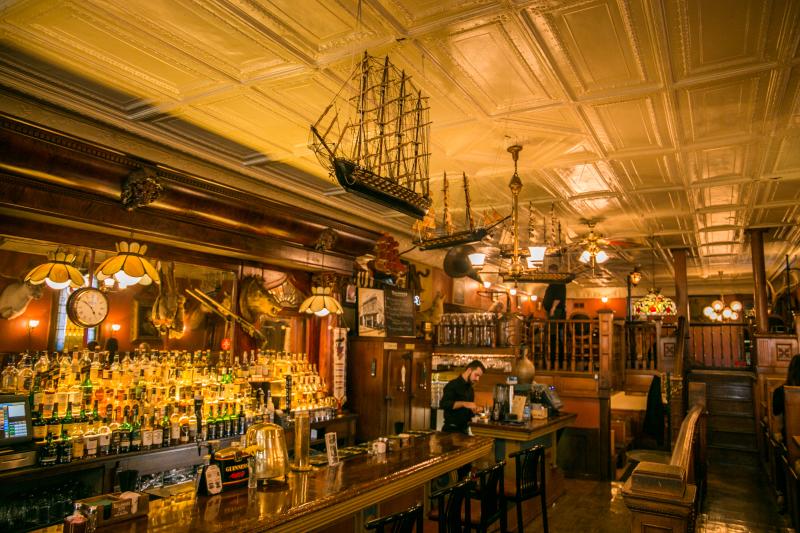 Originally designed as an inn and pub in 1882, The Irish Lion is one of the oldest buildings in Bloomington — several architectural features, including the double doors and surrounding woodwork at the entrance, are original to the building. Its 1800s-style mahogany bar, ornate copper ceiling, and welcoming tavern ambiance offer what feels like an authentic Irish pub experience right here in B-Town.
Must-Try Menu Recommendation: You simply cannot experience The Irish Lion to its fullest without ordering the Blarney Puffballs and a yard of beer. Their Rack of Lamb and Roast Duckling Rineanna are each an authentic Irish treat as well.
 
Janko's Little Zagreb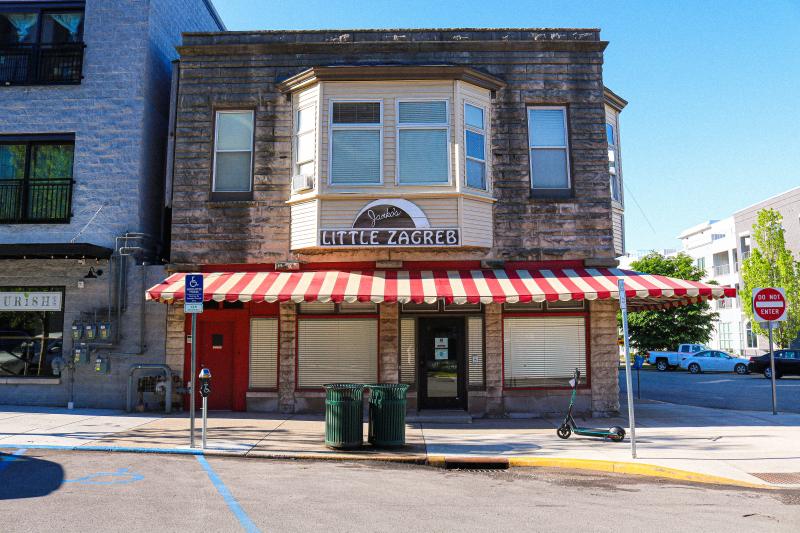 If you're in the vicinity of The Square during dinnertime, you'll smell the mouthwatering scent of Janko's perfectly seared steaks wafting through the streets. A mainstay for IU alumni and students' visiting families, the restaurant is known for its red and white checkered tablecloths, upscale plates, and casual atmosphere.
Must-Try Menu Recommendation: You'd be remiss not to try an order of Meatballs Bucharest and your favorite cut of steak while dining at Janko's.
 
Michael's Uptown Café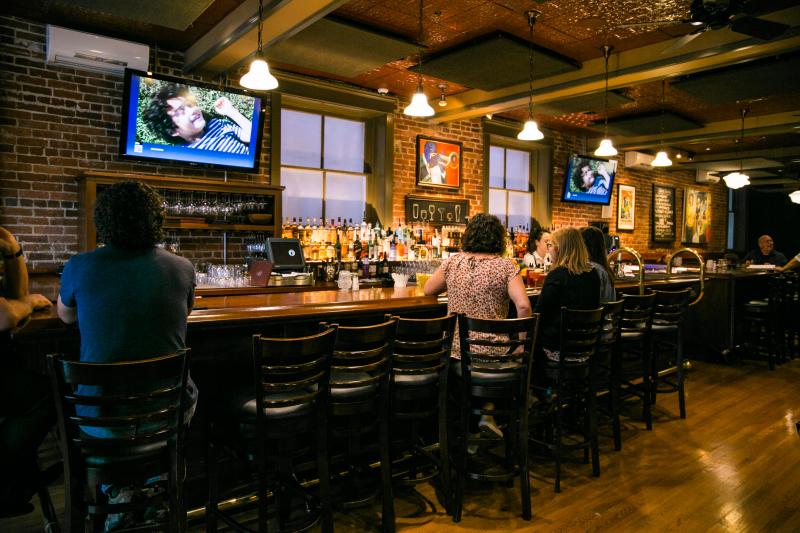 Bringing a New Orleans flair to Kirkwood Avenue for over 40 years, Michael's Uptown Café is one of Bloomington's most beloved restaurants. The jazzy bistro features vibrant paintings and an exposed brick wall, offering a bold yet inviting ambiance, exuding comfort from the door to the décor to the dish.
Must-Try Menu Recommendation: Try the Huevos Rancheros or Crème Brûlée French Toast for breakfast/brunch and the Uptown Pot Roast or Spaghetti Agliata for lunch/dinner.
 
Mother Bear's Pizza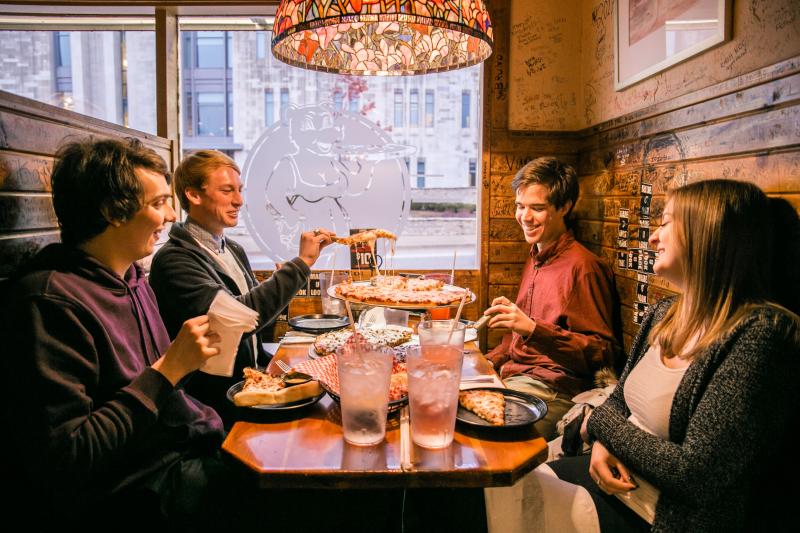 Awarded Final Four status at the International Pizza Expo, Best Pizza in Indiana by USA Today, and one of America's top nine pizzas by People Magazine, Mother Bear's is Bloomington's foremost pizza restaurant. Writing your name in Sharpie on the doodle-clad wood-paneled walls is a rite of passage for incoming university students and visitors alike, making dining at the restaurant is more than just mealtime — it's a Bloomington experience.
Must-Try Menu Recommendation: If you're ordering carryout or delivery, the Munchie Madness special is a must — it includes a 10-inch, one-topping pizza, an order of cheese bread or breadsticks, a two-liter bottle of soda, and two house-made brownies. Dining at the restaurant? Try the House Salad (famous for coming with Goldfish as croutons) and any specialty pizza — they're all incredible.
 
Nick's English Hut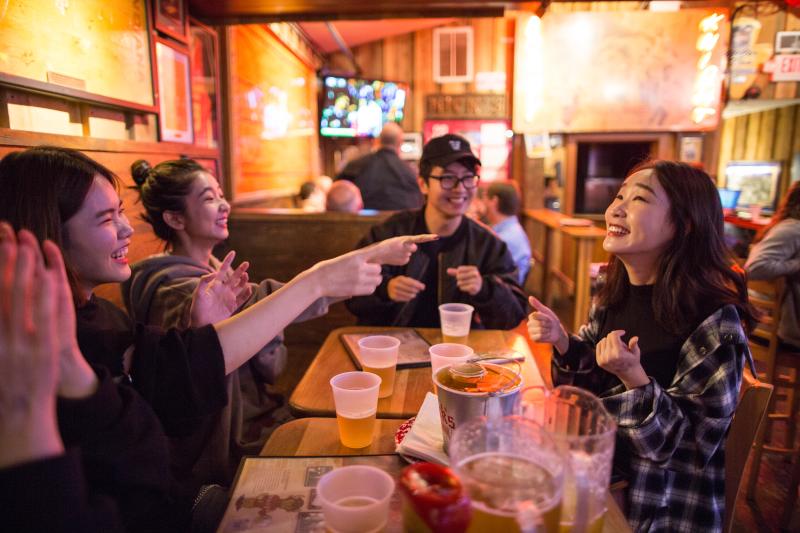 Originally opened in 1927, Nick's English Hut is perhaps Bloomington's very most iconic and beloved restaurant. Every square inch of the restaurant's interior is dedicated to IU memorabilia, from the walls to the booths and even the ceilings. You'd be remiss to not play a round of Sink the Biz, the tavern's legendary game, during a visit to this Cream & Crimson mainstay.
Must-Try Menu Recommendation: Nick's Submarine and a bucket of Sink the Biz Fries, point blank period.
 
Pizza X
You're unlikely to make it through a visit to Bloomington without hearing about Pizza X. Known for its late-night hours, fast delivery, Little 500 breadstix special, and iconic plastic cups, the pizza restaurant is extremely popular among university students, nostalgic alumni, and midnight munchers. If you're craving a slice of 'za at 2:00 AM, Pizza X is the only answer — which is far from a bad thing.
Must-Try Menu Recommendation: Pizza X is known for their Big X Bargain — a large, one-topping pizza with two drinks of your choice (served in their famous plastic cups) and a bag of breadsticks with dipping sauce. 
 
Runcible Spoon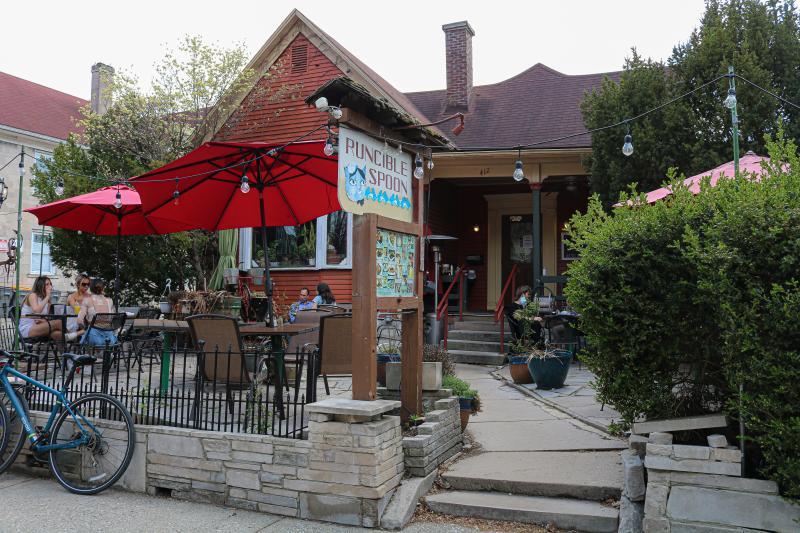 Named after a children's story, Runcible Spoon is Bloomington's most whimsical, cozy coffee roastery-turned-restaurant. The atmosphere is very much professor's den meets old school hippie's living room meets English teahouse — in the best way possible.
Must-Try Menu Recommendation: Fans of The Spoon rave about the Eggs Benedict, which is your classic rendition of two poached eggs, Swiss-American cheese, ham, and hollandaise over an English muffin. For those who enjoy smoked salmon, their Smoked Salmon & Croissant Bennie is next-level — swap the ham for the salmon and the English muffin for the croissant, and voila. 
 
Upland Brewing Company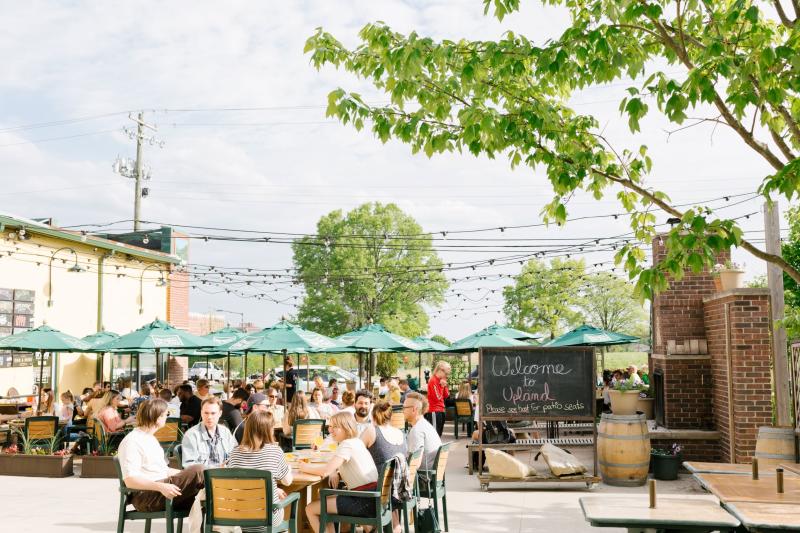 Upland Brewing Company is an accumulation of all the best things about Bloomington: progressive ideas, community, imagination, innovation, and bold flavors, all of which are evident in their beer, food, and brewery atmosphere. One of B-Town's O.G. brewpubs, Upland is now a nationally-revered beer brand and beloved food destination at its many locations across the state.
Must-Try Menu Recommendation: You can't go to Upland without experiencing a pint of their beer and the mountainous plate of Upland Nachos. They also serve a mean pork tenderloin sandwich, and their French fries are some of the most delicious in town.

Looking for more B-Town food content? Check out these blogs: