A Brief History of Simon Skjodt Assembly Hall
By Terry Hutchens
This story was originally published in 2017. Some of the information may now be out-of-date.
ABOUT THE AUTHOR​

Terry Hutchens (1958-2018) has covered Indiana University football and basketball for the past 19 seasons and is currently the IU beat writer for CNHI Sports Indiana. Terry has also worked for the Indianapolis Star and Scout.com as the site publisher for AllHoosiers.com. Terry has been honored as Indiana's Sportswriter of the Year five times. He has written nine books, eight on IU topics, including his first IU Basketball Children's Book titled Hoo-Hoo-Hoo Hoosiers! that was released in the fall of 2016. Other titles by Terry include So You Think You Know Indiana University Basketball, So You Think You Know Indiana University Football, Missing Banners, Hoosiers Through and Through, Rising From The Ashes: The Return of Indiana University Basketball, Never Ever Quit, Hep Remembered and Let 'Er Rip. All of Terry's books are available at www.TerryHutchensPublications.com. Terry is also an adjunct professor at IU Bloomington in the Media School. Terry and his wife Susan live in Indianapolis and have two grown sons, Bryan and Kevin.
The legendary home of IU basketball has undergone major renovations in the last year. The beautiful Simon Skjodt Assembly Hall now truly represents the greatness that is Hoosier hoops.
Think of Indiana University basketball and you picture candy-striped warmup pants. You think of the five national championship banners, Martha the Mop Lady, and the William Tell Overture at the under-8 minute timeout. You think of Branch McCracken, Bob Knight and most recently Tom Crean. You remember the last undefeated college basketball team in history, the 1976 Indiana Hoosiers. You think of one of the most iconic, blueblood, elite college basketball programs in America.
And you think of Assembly Hall.
For 46 years, Assembly Hall has been one of the most revered basketball arenas in the country, a place where the Hoosiers have won 84 percent of their games and where crowds of 17,400 rabid fans have made the arena a daunting atmosphere for opposing teams.
"I don't think there's any place quite like it anywhere else in the country,'' said retired longtime Bloomington Herald Times Sports Editor Bob Hammel. "I think it's just the configuration where it looks like it's red all the way up to the ceiling on both sides. I'm not sure of any other place that I've been where you just really have the feeling like you're taking on the multitude and not just the home team.''
Indiana home games have always been a tough ticket and there continues to be a waiting list for season tickets. The best chance to see Indiana play in Assembly Hall is to buy either a three-game or six-game package that is offered for games played when the students are gone for Christmas break in late December/early January. IU has the largest student section in the nation in Assembly Hall, boasting 7,200 seats and when students are on break there's a much better opportunity for fans to see IU play.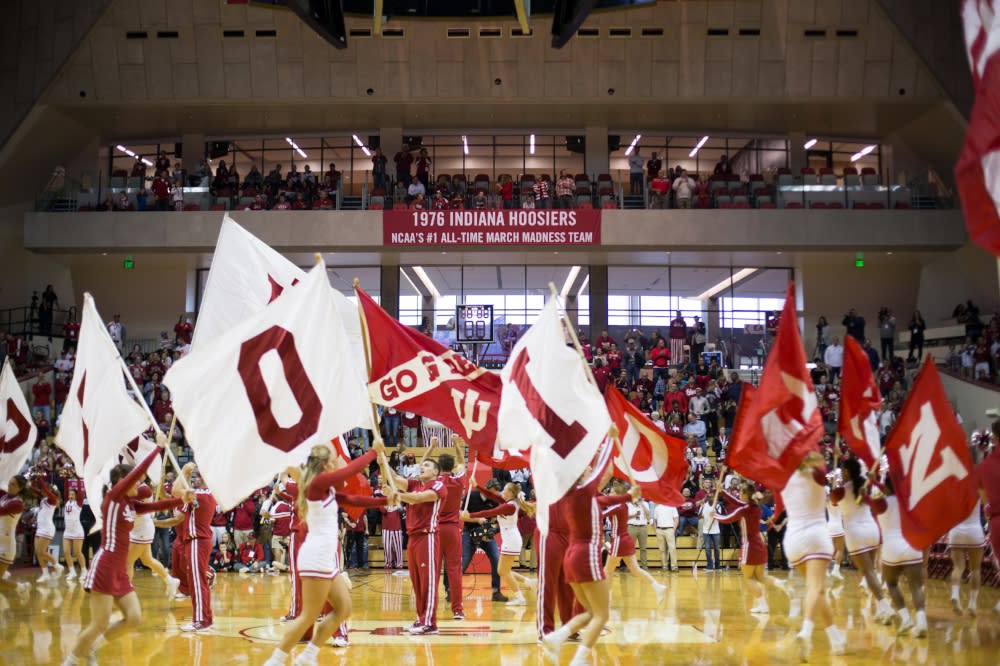 A three-game package in the main seating area runs $132 per adult. A six-game package is double that at $264. Some think that's a small price to pay to see games in the iconic arena.
As the venue has gotten up in years, however, and with other schools building new, sterile, state-of-the-art arenas every year, the question of what to do with Assembly Hall has loomed large. Rebuild or renovate has been a question asked in Indiana circles since the mid-1990s. Ultimately, the decision was made to preserve IU's rich history in the building and give Assembly Hall a much-needed face-lift. Eighteen months and $45 million dollars later, the new-look Assembly Hall debuted in time for the start of the current 2016-17 basketball season.
"I am thrilled that this project will preserve the best home-court advantage in college basketball while also greatly enhancing the total game day experience for every fan, player, coach, and visitor,'' said IU Director of Athletics, Fred Glass, the day that IU broke ground on the new building.
Eric Neuburger, IU's Associate Athletic Director for Facilities and External Alliances, said Indiana could not just simply kick an IU treasure like Assembly Hall to the curb. Preserving the iconic building made the most sense. "The building is part of our character,'' Neuburger said. "It's our home-court advantage. It's an intimidating place to play in. You walk in and you look up and you see two steep walls of fans looking down on you and that's like no other place. "We feel like it has become the most unique basketball facility in the country and that's what we didn't want to lose.''
Indiana coach Tom Crean said that Assembly Hall is vital to the future of the Indiana program.
"All over the country, people know what an intimidating environment Assembly Hall can be,'' Crean said. "It's one of our greatest assets and we're excited to see improvements made to our legendary facility that will dramatically improve the Hoosier fan experience.''
And it's not just the IU men's team that is benefiting from the Assembly Hall facelift but the women's program under the direction of Teri Moren, too. While there's a waiting list for season tickets for IU men's basketball, fans of the women's game can get season tickets that are $42 for 14 home games, or $3 per ticket. Fans over age 65 and under age 18 can get the same package for $1 per game. Many believe the Indiana women's team is clearly on the upswing and fans have a chance to get in on the ground floor.
"I think with the Cook Hall practice facility and the renovated Assembly Hall, and all that we've done the last eight years in women's basketball, our program could be a sleeping giant,'' said Deputy Athletic Director Scott Dolson. "I think we're really close and I'd be shocked if we don't see our women's basketball program consistently going to NCAA tournaments… and getting a Final Four and maybe hanging that banner up. I can see that happening. We've got the resources in place to make that happen.''
Don Fischer remembers fondly the dedication game he attended at Indiana's Assembly Hall in its inaugural season in 1971. Bob Knight was in his first season as the Indiana coach and Digger Phelps was making his debut as the head coach at Notre Dame. The teams met on Dec. 18 in IU's new basketball facility. Fischer has been the play-by-play voice of Indiana football and basketball for 44 seasons, beginning with the 1973-74 basketball season. But that game, he attended as a spectator. "All I remember is how magical the entire arena seemed back then and then two years later I found myself broadcasting in that facility.
The building has a storied tradition. The first event held there was a Homecoming Variety Review featuring Bob Hope and Petula Clark on Oct. 23, 1971. Its design was based on a cattle auction house and the land where it was built was originally the Faris family farm through 1950. It was the home court of three Indiana basketball national championship teams in 1976, 1981 and 1987. Going into the 2016-17 season, IU's all-time record at Assembly Hall was
551-106.
Chuck Crabb is in his 41st season working for IU Athletics. His current position is Assistant Athletic Director for facilities. He is probably best known for being the public address announcer for Indiana basketball for the past 40 years. Chills have been known to run down the spines of IU basketball fans when Crabb announces "Your Indiana Hooooooooooooooooosiers!" Crabb was a junior at Indiana in 1971 when Assembly Hall opened its doors. He remembers how Assembly Hall was the final structure that trumpeted athletics' relocation from the center of the Bloomington campus (7th Street) to the current athletics footprint that is bordered by 17th Street to the south, the bypass to the north, Dunn Street to west and Fee Lane to the east.
"We moved to where a lot of people said was 'halfway to Martinsville','' Crabb said with a smile. "We moved out to the edge of the bypass and there were three structures in particular that made up the new home of athletics on our campus. It was the (Gladstein) field house that was used temporarily for basketball, it was Memorial Stadium and it was finally the Assembly Hall in the 1971-72 season. All the sports, as the program existed at that time, were pretty much accommodated by those facilities.''
There's no way to understate the financial impact that Assembly Hall has had over the years that has supported the existence of so many of IU's athletic programs. Most years, Assembly Hall ranks in the top 10 nationally in average attendance. In fact, the lowest national attendance average in the building's history was 17th. At some point, however, the big attendance wasn't enough. In the early 2000s, IU, in search of revenue streams to help fund those programs, first introduced advertising signage into Assembly Hall. "It takes a significant amount of revenue to support a program of our size,'' Crabb said. "And advertising done in a tasteful manner has not had an earth-shattering impact on how that building is seen."
For the most part, the first 45 plus years of Assembly Hall came and went with very few changes. The arena got a new basketball floor in 1976 and again in 1995. In 2005, it got a new $1.99 million scoreboard/video board. But the changes to that point were very cosmetic. That changed with the current renovation. Thanks to a $40 million dollar gift from alumna Cindy Simon Skjodt, Indiana was able to renovate rather than rebuild. In honor of that landmark gift made by Simon Skjodt and her philanthropic organization, IU announced in 2013 it would rename Assembly Hall the Simon Skjodt Assembly Hall.
In addition, athletics received a $5 million dollar gift from IU alumnus Mark Cuban to establish the Mark Cuban Center for Sports Media and Technology that will be housed on the west side of the Simon Skjodt Assembly Hall. The renovation was able to blend the old with the new in the arena. From the outside, the most significant change is to the south lobby that has received an extreme facelift. On the interior, floors have been replaced, concession stands and restrooms remodeled, and escalators added. The old zig-zag ramps, however, will still be used but only in the north lobby.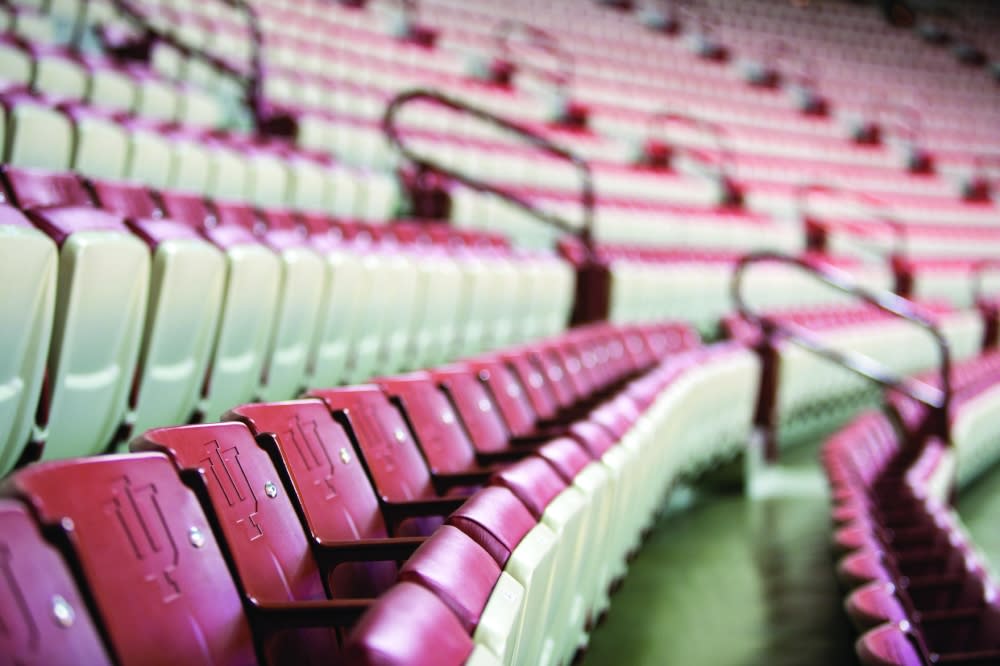 Except for the bleachers at court level, all the seats in the arena have been replaced and all are now red. The only part of the seats that was not replaced was the cast iron armrests. A few seats were removed to accommodate changes in press seating but there won't be a noticeable difference in the arena's 17,400-seating capacity.
The Hall of Fame portraits that once hung in the lobby have been digitized and adapted into an interactive display in the south atrium. Assembly Hall also has a new video board that is three times wider and has all the bells and whistles so that fans can enjoy better replays.
"There is a significant wow factor when people walk into that building,'' Crabb said. "It's entirely different than what they experienced for the first 45 years of the Assembly Hall.'' Crabb said it only takes a moment for fans to realize the difference when they enter the south lobby.
"I just think it's the sheer size,'' Crabb said. "Instead of coming in under a 12-foot high ceiling as they come through those six entry doors on the south lobby there is 70 feet of clear space overhead. Directly ahead of them is a connecting bridge that goes in front of the Spirit of '76 suite. There are touch-screen LED video presentations that they see. The old arena now has a very modern look to it.''
Neuburger said the best part about the new Assembly Hall is that Indiana was able to renovate without changing the atmosphere. "I think people are hit with the fact of how familiar the building is and how new it is at the same time,'' Neuburger said. "Everything has been touched in some way but nothing anyone would have wanted to stay has been disrupted in any way. It's still the masterpiece of a building that everyone expects to see when they come to Assembly Hall.''
One major improvement has to do with restrooms in the arena. Before the renovation, there were 184 toilets in Assembly Hall. In the new Assembly Hall, there are 314 toilets; 154 for men and 134 for women, plus 16 all-gender restrooms where there were none before. Improvements to cellular reception and Wi-Fi have also been significant in recent years. "People want to sit in the arena now, pull out their smartphones and watch the multitude of ESPN family apps or BTN apps that are available for either the game they're watching or other games,'' Crabb said. "We have a statistics program that allows people to follow the game and they see the box score just the same as our media people on press row.''
Most of all, the renovation has allowed the university to preserve a venue that has wonderful memories for long-time Indiana fans. "Alumni take great pride when they come back to the Bloomington campus and they want to come to facilities that are clean, that are modern and that are a wonderful experience to enjoy,'' Crabb said. "We've been very fortunate with this half-mile square that we call the IU Athletics complex to accommodate upwards of 5,000 to 6,000 vehicles on a football Saturday or a basketball weekend. That means tailgate opportunities, it means a great opportunity to come into the stadium or the arena and cheer on the cream and crimson, and it means being a part of a very proud Hoosier Nation.''