You'll always be home in Bloomington.
How long has it been since you sang Sweet Caroline at an IU game, admired the tulips on campus, or played a round of Sink the Biz at Nick's English Hut? Don't wait until Homecoming to come back to Bloomington — it's a homecoming every time you return. Relive the glory days, visit your old stomping grounds, and create some new traditions when you reunite with B-Town once again.
Plan a trip around one of the big events on campus or the major annual Bloomington events you might have missed as a student. Visit to introduce your kids to the land of the Cream & Crimson, or come back solely because you miss your Hoosier home. In any case, use this page as your guide to reminiscing your college days at Indiana University and visiting Bloomington as an alum.
 
Reexperience the Bucket List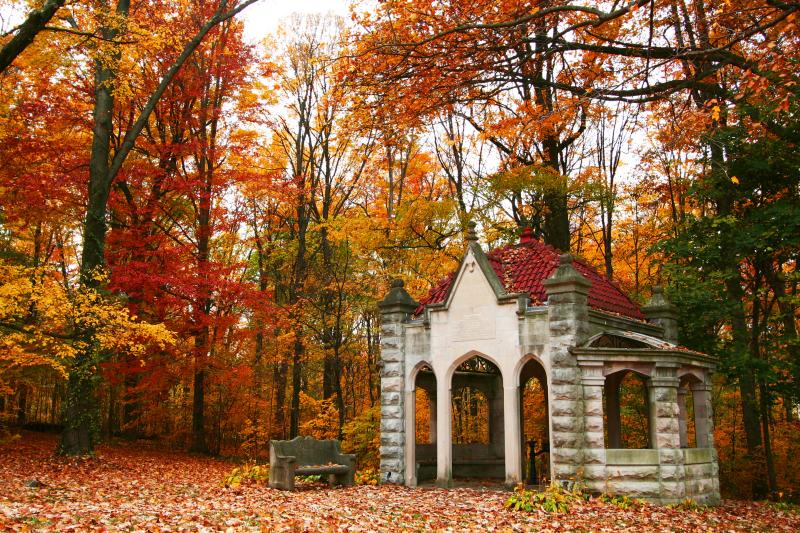 As a first-year student, all new Hoosiers are introduced to a list of traditions to take part in to really get the full IU experience. Revisit some of those bucket list activities to relive the Hoosier magic, have fun with your kids, and adventure around campus.
Looking for more bucket list activities? Check out this IU bucket list, this Bloomington bucket list, and this autumn bucket list.
 
Revisit Hoosier Mainstays
It wouldn't be a proper visit to Bloomington without hitting some of the age-old Hoosier mainstays. Bask in the nostalgia of your college years by visiting these popular IU haunts:
BuffaLouie's
Munch on an order of Bloomington's best wings while watching a sports game at BuffaLouie's.
The Chocolate Moose
The Chocolate Moose may not be the charming, old-school stand it used to be, but their ice cream is just as good as it always has been.
Janko's Little Zagreb
Treat yourself to an upscale dinner at the famous B-Town steakhouse, Janko's Little Zagreb.
Kilroy's on Kirkwood
Relive the glory days to the fullest by grabbing a drink at KOK.
Lennie's
Lennie's may have moved from their original location on 10th Street, but they still offer the same great ambiance, food, and Bloomington Brewing Company brews.
Mother Bear's Pizza
Grab a slice of B-Town's best 'za and write your name on the wall once more at Mother Bear's.
Nick's English Hut
Play a game of Sink the Biz and enjoy a bucket of Biz fries at IU's favorite tavern.
Pizza X
There's no better way to relive your Hoosier college days than by ordering a pizza at 2:00 am from Pizza X.
Runcible Spoon
Enjoy the cozy ambiance and delicious breakfast food at Bloomington's whimsical Runcible Spoon.
The Tudor Room
Head to the Indiana Memorial Union's Tudor Room for a buffet-style meal reminiscent of a feast at Hogwarts.
Upland Brewing Co.
Sip a beer at one of Indiana's best breweries, located right here in B-Town.
Yogi's Bar & Grill
Yogi's may no longer be located at their 10th & Indiana building, but their elevated environment and food is something every alum should experience.
Create New Traditions 
There's nothing like revisiting the old stomping grounds, but it's great to discover some new favorites, too! Bloomington is constantly growing, so you can count on new restaurants to try and attractions to check out. 
Attractions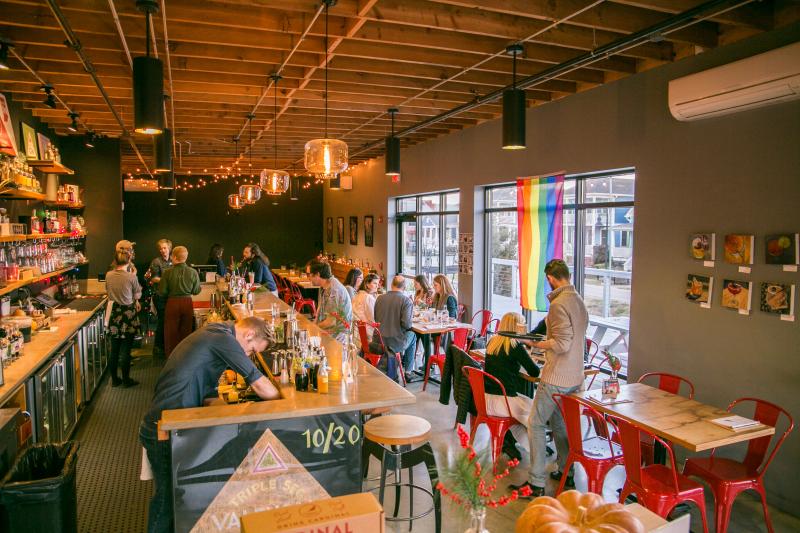 The Back Door
Get your dance on, catch a drag show, and celebrate the queer community at Bloomington's only gay bar, The Back Door.
Cardinal Spirits
Check out B-Town's sole distillery and enjoy a handcrafted cocktail at Cardinal Spirits.
Crumbl Cookies
Bloomington is now home to the nation's favorite, most Instagrammable cookies — pop into our Crumbl Cookies location during your visit.
Food Truck Friday
Experience B-Town's food truck scene at Switchyard Park during Food Truck Friday.
Friendly Beasts Cider Company
Sip a glass of locally fermented hard cider at Bloomington's first and only cidery, Friendly Beasts.
Metal Works Brewing Company
Discover one of B-Town's newer local breweries, Metal Works Brewing.
Switchyard Brewing Co.
Another of B-Town's newer local breweries, Switchyard is a laid-back place to catch up with old friends and sip a craft brew.
The Tap
Try one of The Tap's 400+ beers while experiencing Bloomington's vibrant downtown nightlife scene.
WonderLab Museum
Showing your young kids around B-Town? A trip to the WonderLab Museum is a must.
 
Restaurants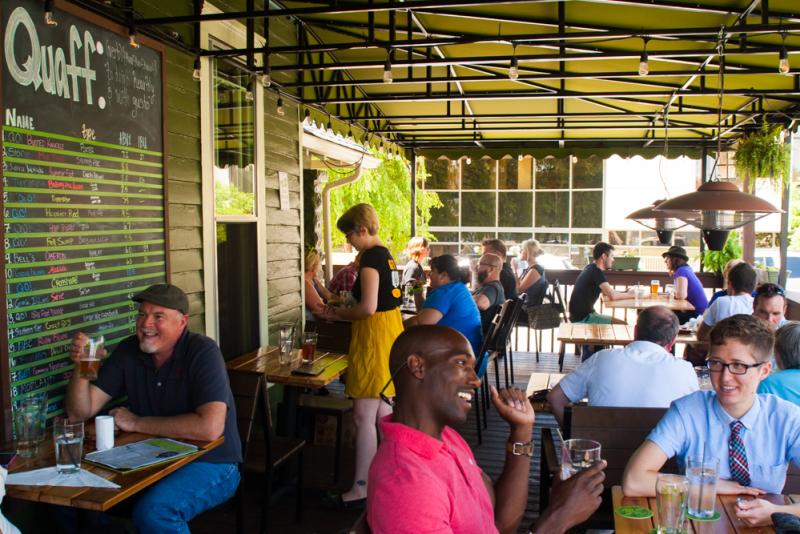 Big Woods Bloomington
Big Woods is a great spot for patio dining, artisanal pub food, and craft beer that's brewed at Quaff On! Brewing Co. in nearby Nashville, IN.
C3
One of Bloomington's best fine dining establishments, C3 is perfect for a romantic evening and/or an elevated B-Town experience.
FARMbloomington
Another fine dining restaurant, FARMbloomington is famous for their garlic fries, award-winning Lugar Burger, and farm-to-table-style food.
La Una Cantina
One of B-Town's newest Mexican restaurants, La Una Cantina is known for their tequila selection, authentic Oaxaca-style cuisine, and vibrant ambiance.
Osteria Rago
One of Kirkwood's finest hidden gems, Osteria Rago serves authentic, rustic Italian food in a cozy cottage behind Nick's.
NOURISH Bar
Located next to Janko's, NOURISH Bar serves fresh, unique, and healthful plates for lunch and dinner.
Attend Cream & Crimson Events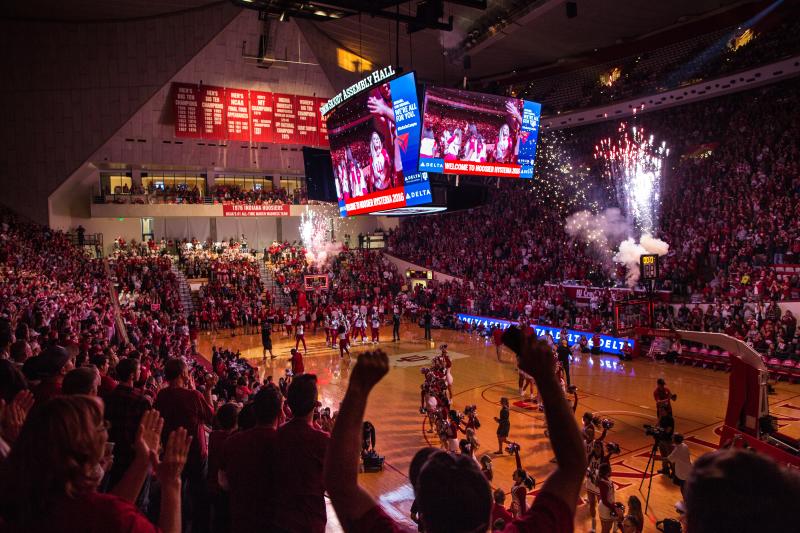 While we're happy to have you back in town any time of the year, we know you're most likely to visit during university events. Find everything you need to know about annual events including the Little 500 and Homecoming Weekend here. For information about IU Athletics and upcoming sporting events, check out this page. If you'd like information on upcoming performances and events at the IU Auditorium, Musical Arts Center, and other campus venues, browse our events calendar.

Stay Connected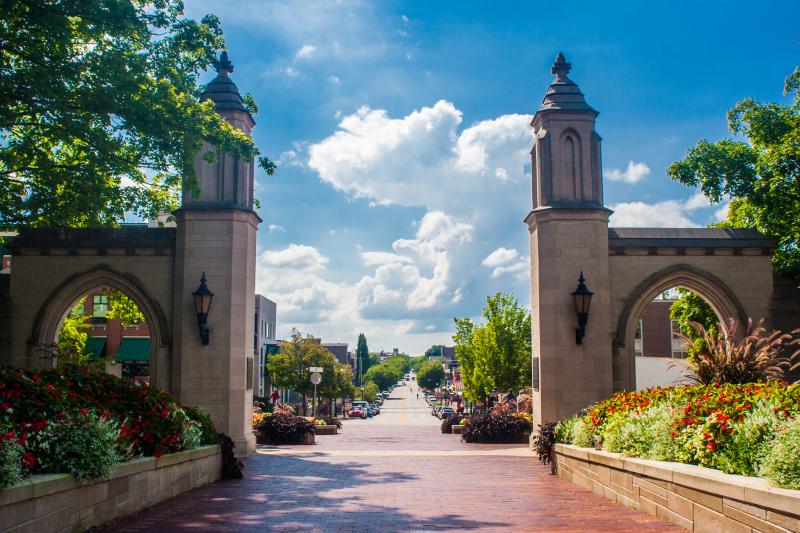 It's okay to miss Bloomington after you've graduated and moved away — we miss you, too! Stay connected with us by signing up for our bi-weekly e-newsletter, which features trip ideas, best-of-Bloomington listicles, contests & giveaways, and more.
As Monroe County's primary travel & tourism resource, Visit Bloomington offers everything you need to plan a trip to the area. You can browse lodging options, search for upcoming events on our events calendar, get trip ideas & tips from The Backstage Blog, and find information on all things IU to help you map out the ultimate alumni adventure.
To stay even more connected, follow us on Facebook, Twitter, and Instagram for happenings at your alma mater, occasional giveaways for Hoosier experiences & events, and top-notch photos of everything IU and Bloomington have to offer. When you come to town, share your own photos with #visitbtown for a chance to be featured on our channels.
Follow along with what's happening on campus and in the IU community through the Indiana Daily Student — it's just as informative and impressive as when you were a student.
We look forward to seeing you back in Bloomington soon. Go Hoosiers!