Whether you seek a destination with world-class art, rare books, local history, world cultures, human sexuality or hands-on science, you'll find it and a friendly Hoosier welcome at a Bloomington museum.  The Alliance of Bloomington Museums (ABM) promotes the diverse range of cultural and educational resources that member museums offer to visitors. For more information, explore each museum's website.
Several of the museums offer special programs, and, if admission is charged, discounts for groups with advance reservations. Some of the museums may be rented for private functions.
For more information about museum package tours, as well as the Bloomington area's many attractions, contact the Bloomington/Monroe County Visitors Center at 866.333.0088 or go to www.visitbloomington.com.
---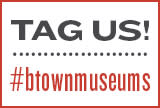 Be sure to tag the images you share via social media while visiting Bloomington's museums. We'd love to see your Bloomington museums experiences... and we'll be adding a new photos page to this site in the coming weeks to showcase those experiences for other visitors! Please feel free to use the hashtag on any social platform you share from. All Instagram images tagged with #btownmuseums will be pulled into the new page on this site.