Tuesday, September 13, 2022
How to Spend a Day in Greene County
Categories: Arts & Culture, Outdoors, Wine & Culinary, Family Fun, General
Just an hour southwest of Bloomington is Greene County, home of a variety of great outdoor attractions. From Goose Pond Fish & Wildlife Area to the Sculpture Trails Outdoor Museum, there's much to do during a day in the area. Enjoy Greene County's peaceful nature activities and sight-seeing, then return to Bloomington for the downtown nightlife scene and to extend your stay at a nearby hotel — we've planned the entire day's trip for you!
 
Morning
The Golden Star Family Restaurant

Photo by The Golden Star Family Restaurant
The first stop of the day is The Golden Star, a popular diner in Linton that specializes in classic comfort food for breakfast, lunch, and dinner. Stop in for breakfast before you start the day's activities — fuel up with a breakfast skillet, pancakes, biscuits & gravy, or an omelet. Whatever you get, be sure to also order a side of their homemade Cinnamon Swirl Toast — you may like it so much that you purchase a loaf of the house-made bread before you leave.
 
Redbird State Recreation Area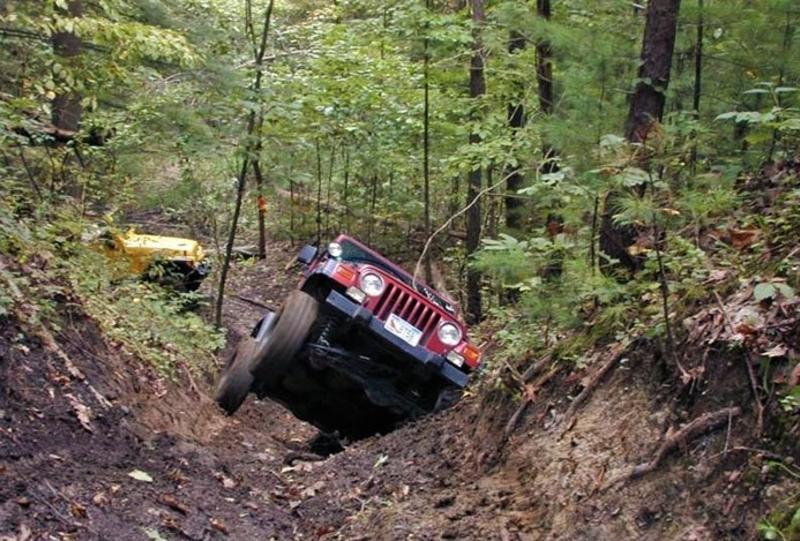 Photo by Visit Indiana
Those who enjoy off-roading will have a blast spending much of the morning at Redbird State Recreation Area (SRA). The 1,450-acre property was once an underground coal mine, and it now offers nearly 20 miles of off-road trails across 700 acres that are loved by off-road vehicles (ORV) enthusiasts due to the dramatic topographical changes left behind by the mine. Dirt bikes, ATVs, side x sides, and full-size ORVs, including trucks & SUVs, are allowed on Redbird's trails — in fact, the SRA is one of the few properties in Indiana that allow full-size ORVs on its trails.
Several of the trails are multi-use, so those who enjoy mountain biking and hiking will also enjoy navigating the rugged property. Keep an eye out for mushrooms during your adventure — the SRA is known to be a great place for hunting fungi.
 
Afternoon
Union Station Cafe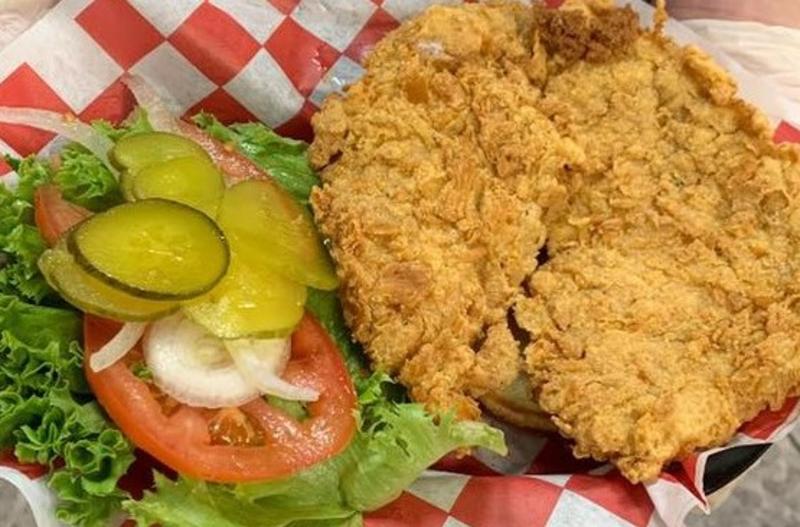 Photo by Union Station Cafe
After a morning of adventurous activity at Redbird SRA, take a very short drive to Union Station Cafe for lunch. The restaurant, well-loved by locals, serves a variety of burgers and sandwiches — go with the Indiana-classic Tenderloin Sandwich, or step outside the box with the Garlic Burger: a beef patty topped with garlic cheese curds, garlic butter, garlic parmesan sauce, garlic aioli, and bacon served on a garlic-buttered toasted bun. Vampires beware!
 
Goose Pond Fish & Wildlife Area

After lunch, take a short drive to Goose Pond Fish & Wildlife Area, a 9,098-acre prairie and marsh habitat comprised of over 30 miles of levees, 1,300 acres of prairie, and nearly 5,000 acres of shallow water. The peaceful property is a popular location for wildlife watching, birding, fishing, trapping, and hunting.
Many people visit the area in October for the annual Great Sandhill Crane migration, but there are over 260 species of birds to be admired at the property throughout the year, including endangered species such as the Bald Eagle, Northern Harrier, Short-Eared Owl, Whooping Crane, and more. Observe and admire the area's bird population yourself, or look into a guided tour with IndiGo Birding Nature Tours.
 
Tulip Trestle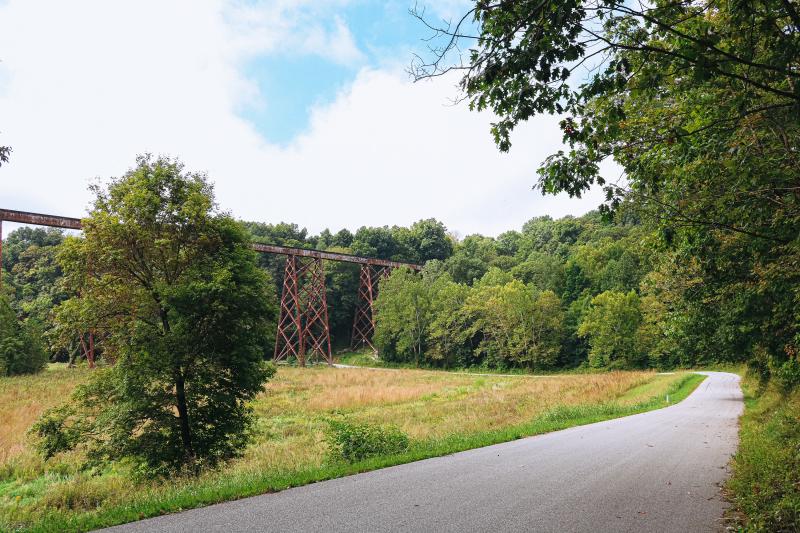 Start heading back toward Bloomington to hit the next attraction on the Greene County tour: the Tulip Trestle. Standing at 157 feet tall and 2,307 feet long, the Tulip Trestle is a steel-girded railroad trestle built in 1906. Locally known as the Viaduct, the bridge is one of the longest of its kind in the world that's still in use today. The massive structure stretches from hill-to-hill across the Richland Creek Valley — it's one of the most scenic areas of Greene County and is thus a must-see attraction for anyone visiting the area. Guests can safely admire the trestle from the recently-built observation deck located at a safe distance from the mammoth structure.
 
Sculpture Trails Outdoor Museum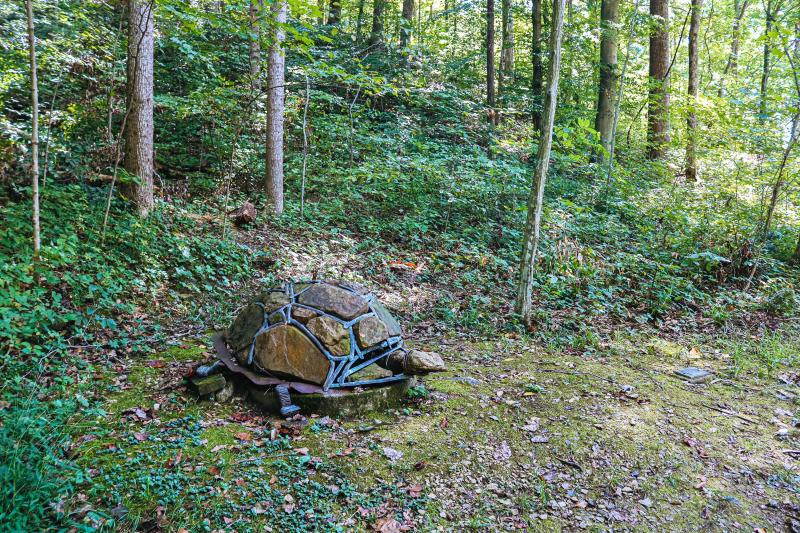 Founded in 2002, the Sculpture Trails Outdoor Museum is comprised of over 100 large-scale sculptures created by artists from around the world, spread out over three miles of trails in the wooded, rolling hills of Solsberry. Nearly every sculpture is constructed from iron and/or concrete, which is an interesting, juxtaposing feel from the surrounding natural, wooded land. Self-guided tours are welcomed between 9:00 am and 5:00 pm — laminated trail maps are provided at the trailhead.
 
Yoho General Store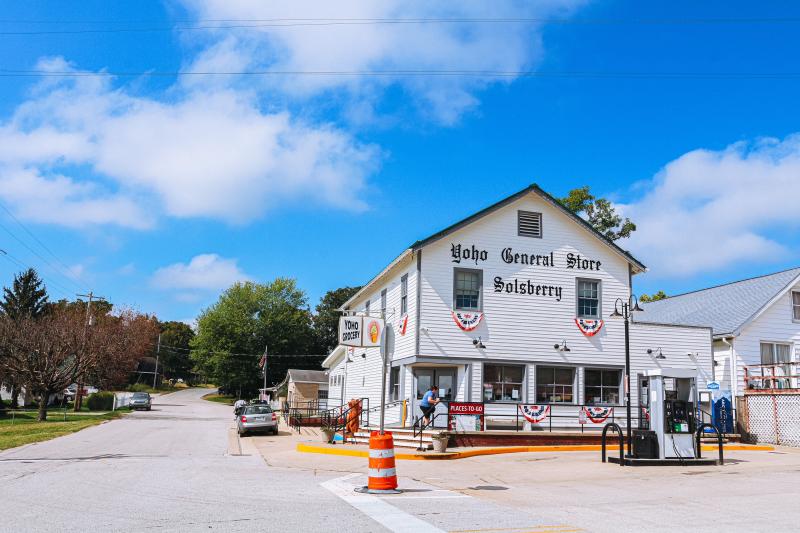 The final stop of the Greene County day trip is the Yoho General Store, which has served as a gathering place for residents of Solsberry and visitors of the area since 1934. In addition to goods, the store serves deli-style breakfast, lunch, and dinner, as well as their own hand-scooped ice cream. While you could order a deli sandwich or a burger, we recommend ordering the daily special during your dinnertime visit, which could be Beef Manhattan, Chicken 'n' Noodles, Meatloaf, Pot Pie, or one of the store's other savory plates.
The Yoho is also known for their annual events, including their Thanksgiving Meal, Holiday Meal, and Santa Train in which the big man himself visits on his train with Mrs. Claus and various Disney characters. Santa visits during breakfast to collect children's wish lists and take photos, then his train crosses the Tulip Trestle as he heads back to the North Pole. The two experiences make for a magical morning for both local and visiting families!

Evening
Back to Bloomington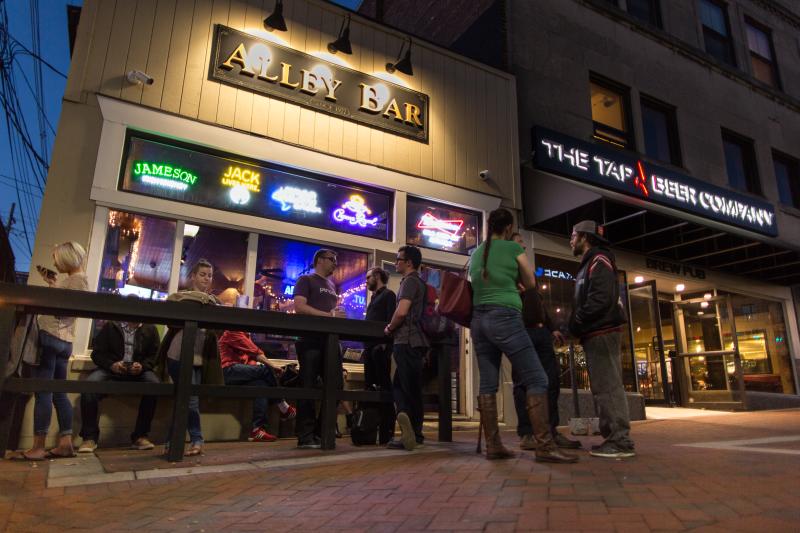 Extend your day trip to an overnight excursion — head back to Bloomington to check into a hotel, then hit the downtown streets for a brewery crawl, arcade games & drinks at The Cade, an underground evening at The Root Cellar or Orbit Room, dancing at The Back Door, or pool & darts at The Vid. Take your time getting up & around the following morning, then grab brunch from a local-favorite restaurant before you hit the road to go back home.