Where to Take the Perfect Graduation Photos
Categories: General, Indiana University
Congratulations! You're in the home stretch of completing your education at Indiana University, which is an incredible accomplishment. Your family will be coming to town to celebrate your milestone achievement, and something as significant as your college graduation deserves to be properly documented — that's why we put together this list of picture-perfect locations for you to snap graduation photos on the big day. Put up the fists & blades one last time before you say "see you later" to the cream & crimson campus. Go IU!
 
Sample Gates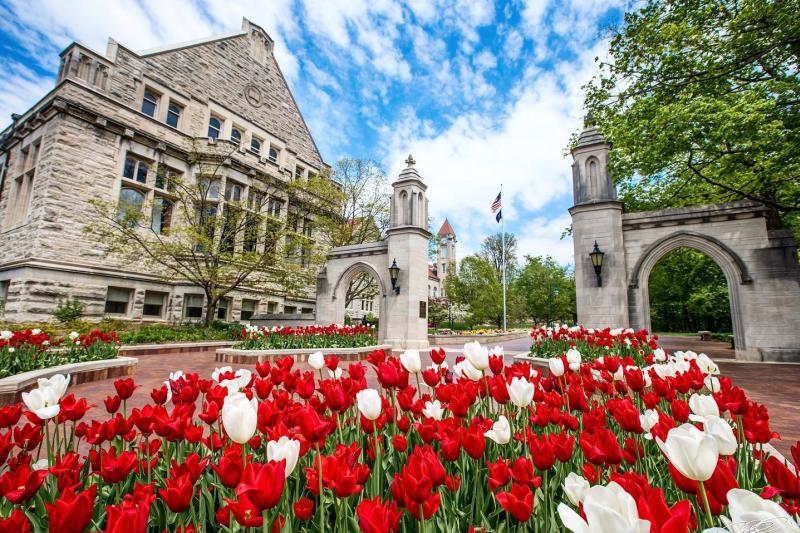 Photo by Joey Lax-Salinas
Let's start with the most obvious location: Sample Gates. The Sample Gates welcomed you as a freshman, so it's only right to say farewell to the university by taking a photo in your grad garb between the two iconic limestone pillars that represent the spirit of the Hoosiers.
​
Insider Tip: Pick an off-time to take your photos at Sample Gates. This is the most popular place on campus to take pictures, so it can get pretty crowded. 
 
Kirkwood Avenue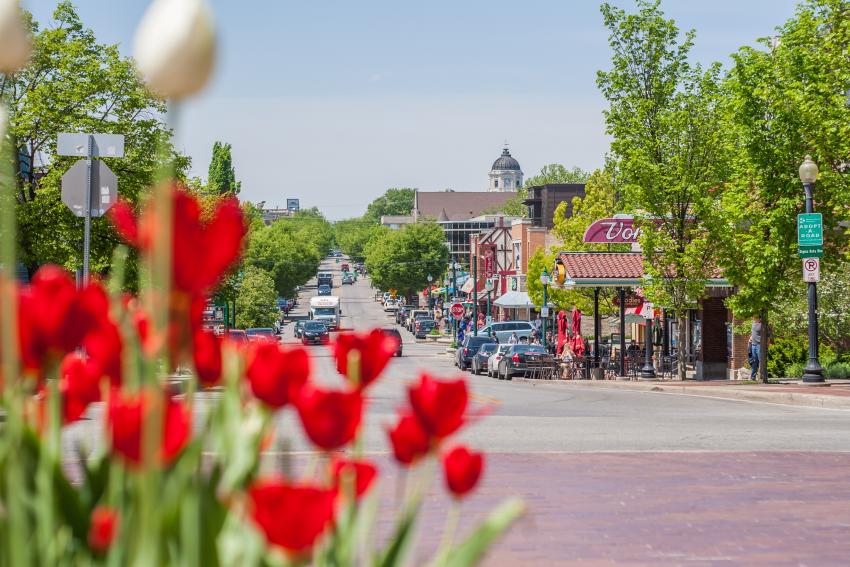 Bloomington's most iconic street, Kirkwood Avenue, is a must on your list of grad photo locations. The street is heavily associated with all things IU, with legendary venues such as Nick's and Kilroy's on Kirkwood lining the avenue. Snapping a shot in your cap & gown at the top of the street you likely frequented during your time at IU will serve as a fond memory of graduation day and all the fun times that led up to it.

Insider Tip: Stand in the middle of the crosswalk at Kirkwood & Indiana for a great photo. Just remember to watch for cars and be safe! 
 
Rose Well House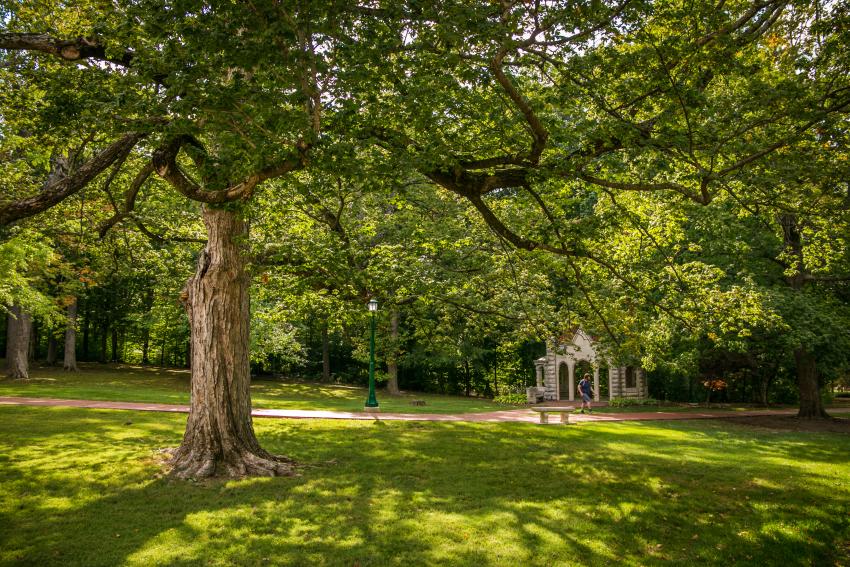 The Rose Well House is a beautiful limestone gazebo on IU's campus, right up the hill from Sample Gates. Surrounded by beautiful trees and greenery, there's an almost fairytale-like charm to this graduation photo destination.

Insider Tip: The Rose Well House is known for its romantic tradition — it's considered good luck to kiss your significant other here! Snap a shot of you kissing your partner on grad day in the name of good luck for the next adventure in your lives.
 
Old Crescent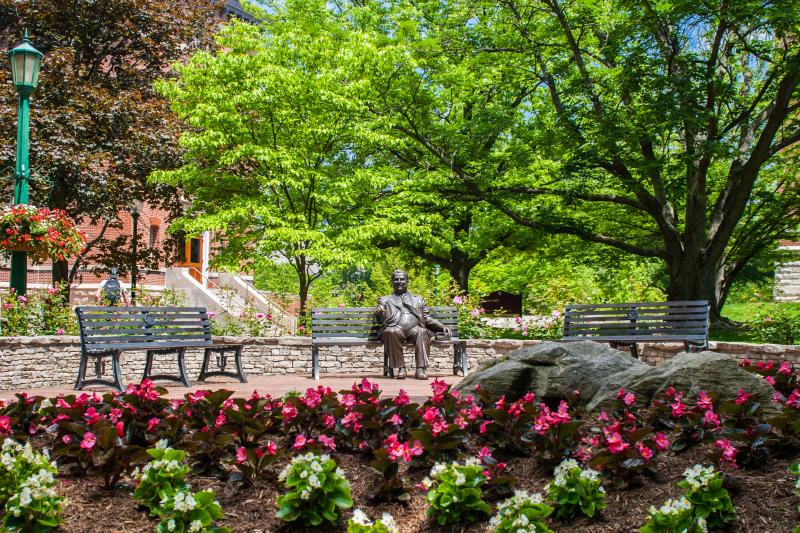 The Old Crescent is filled with beautiful landscaping, IU benches, and Herman B Wells' statue! There are several spots to have your photo taken in this little area of campus — its open, spacious courtyard is great for family and group photos!

Insider Tip: Get a shot of you shaking Herman B Wells hand. It's a good luck tradition for freshmen during their new student orientation tour, so take the good luck into the next phase of your life by shaking his hand farewell!
 
Dunn Meadow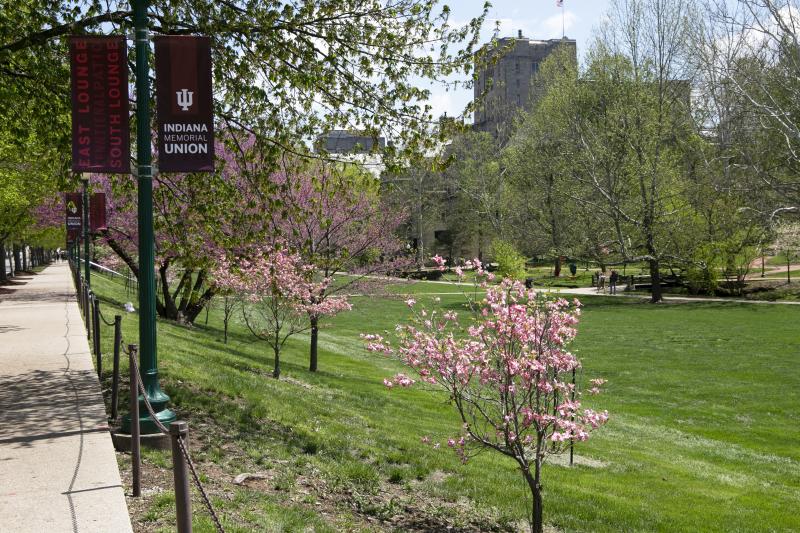 Dunn Meadow is one of the most beautiful, lush areas on campus. Home to an expanse of trees, the Jordan River, and the Indiana Memorial Union, you're likely to find several spots to stop at for a quick photo as you walk along. 
Insider Tip: Pose on one of the Jordan River bridges or on the steps of the IMU — or both!
 
Simon Skjodt Assembly Hall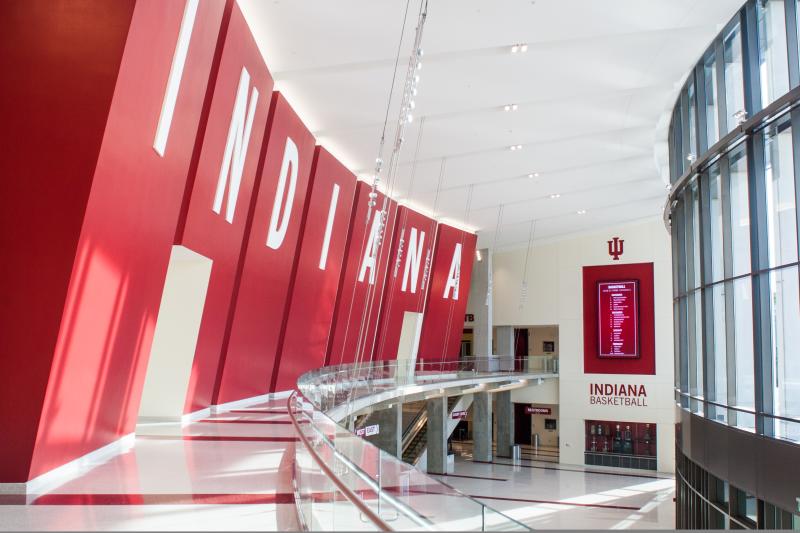 Simon Skjodt Assembly Hall is the home of the Hoosier spirit. It's where students learn school sporting traditions, cheer on the home team, and get emotional during senior night. Any photo taken on grad day at Assembly Hall is guaranteed to be extraordinarily meaningful. 

Insider Tip: Don your cap & gown early and take your pics at Assembly Hall before graduation day. The facility isn't open on weekends, so you won't be able to take photos inside on the big day.
 
Showalter Fountain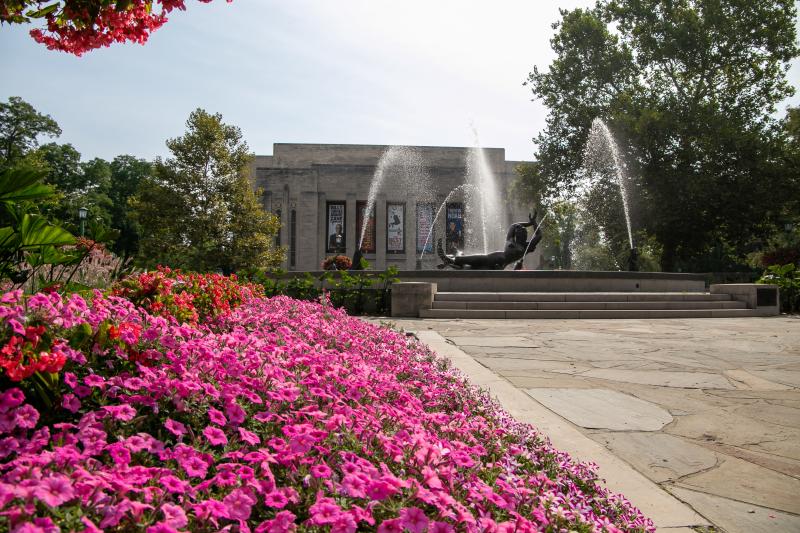 If the Sample Gates is the #1 place to take graduation photos, Showalter Fountain is an easy second. The gorgeous landscaping, IU Auditorium in the background, and dancing water make for a picture-perfect graduation shot!

Insider Tip: Take your photo at Showalter Fountain last so you can dip your feet in the fountain one final time without worrying about your clothes getting wet for other photos.
 
Your School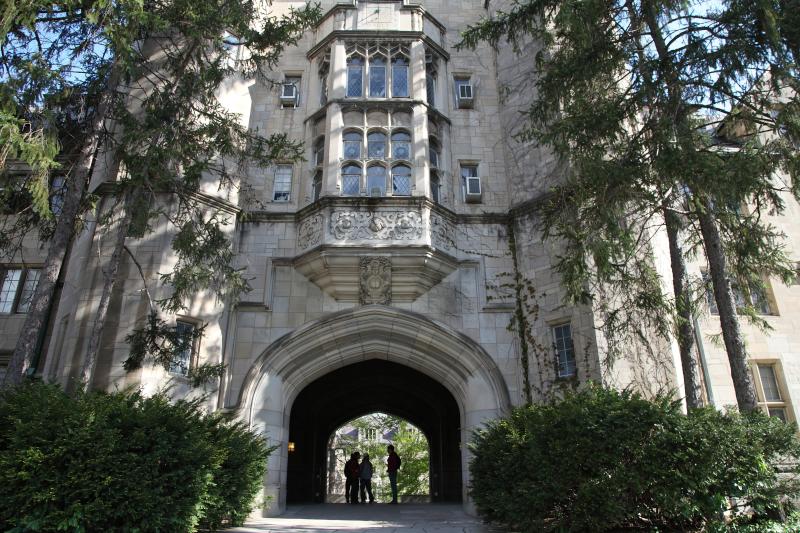 College of Arts & Sciences, Jacobs School of Music, O'Neill School of Public & Environmental Affairs, School of Education, Kelley School of Business — whichever college or school you belong to, be sure to have someone snap a shot of you tossing that cap in the air and saying peace out to the place where you spent most of your time learning & growing.

Looking for more IU graduation content? Check out these pages: