A Nature Lover's Guide to Summer in Bloomington
By Phil Bloom 
Built by the US Army Corps of Engineers in the 1960s, Monroe Lake is a flood-control reservoir that sprawls across parts of three counties as it collects and stores water from Salt Creek.
The main basin of the lake is within namesake Monroe County, but protected bays and coves reach deep into forested surroundings to create ample room for high-powered bass and ski boats, as well as smaller jon boats and fishing kayaks.
Monroe Lake has eight state recreation areas managed by the Indiana Department of Natural Resources and another that the US Forest Service oversees. There are nine public access ramps, two private marinas, and a whole lot of fish waiting to be caught.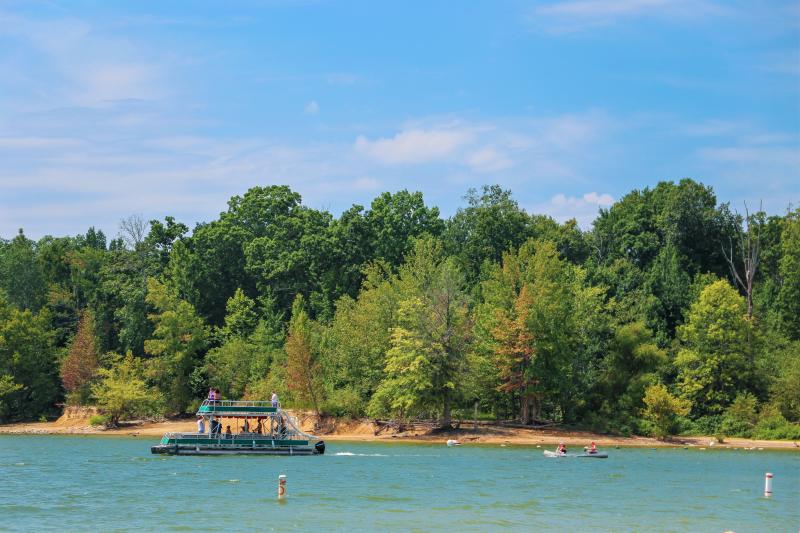 Monroe's fishing reputation was built on largemouth bass that attract a steady schedule of organized fishing tournaments as well as the everyday angler. But anyone targeting just one fish species at Monroe is, well, missing the boat. Bluegill, catfish, and crappie are equally abundant, and hybrid striped bass (aka "wipers," an artificial cross of striped bass and white bass) are another popular target for some anglers. 
But a real under-the-radar game fish roaming Monroe's depths are walleye.
Indiana DNR has been stocking walleye in Monroe for decades. Millions of inch-long walleye fingerlings are released annually in hopes enough will survive and eventually grow to meet the 14-inch minimum size required for anglers to keep. But fingerlings are an easy snack for predator fish, so the results of the mass stockings have been somewhat marginal.
So, DNR tweaked its approach by supplementing the annual fingerling stockings with fewer but larger walleye – six-to-eight inches long. The switch has given a jump-start to the program. The bigger fingerlings are avoiding predation and growing fast enough to reach legal size in about two years. DNR research surveys are collecting 10-year-old walleye that are 24-inches long.
What's puzzling is an indifferent angler attitude toward Monroe's walleye. In DNR surveys, anglers consistently rank walleye as the most-preferred stocked fish species, but walleye tumble to sixth place when anglers are asked what they fish for at Monroe.
The good news? Walleye are an untapped resource just waiting to be caught.
And don't overlook Monroe's tailwaters. 
Monroe Lake's wide-open waters accommodate other water sports, including swimming and boating.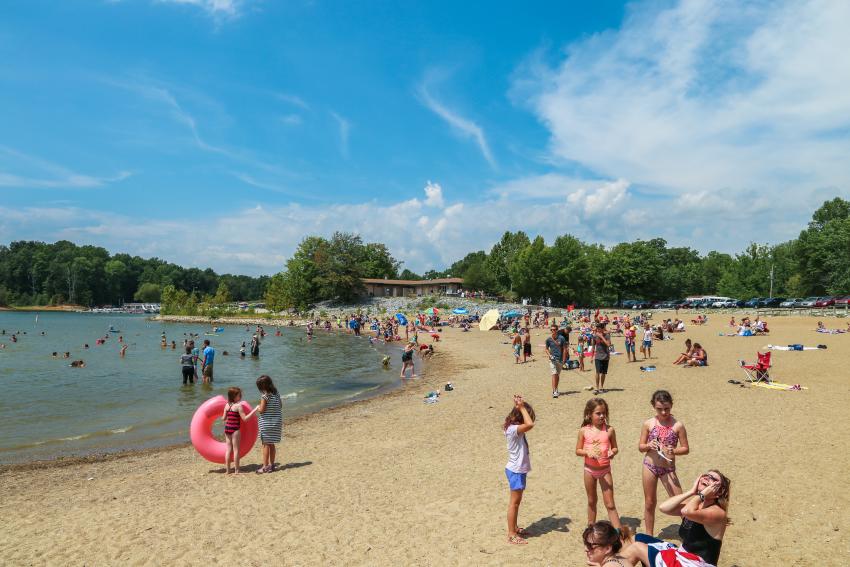 Public beaches are found at Fairfax SRA, Paynetown SRA, and Hardin Ridge, and boats of all sizes – personal watercraft to 35-passenger party boats – can be rented at the two marinas, which offer a full menu of services to boaters.
If you're looking for something a little quieter, the Lake Monroe Sailing Association can put wind in your sails. A member-run group, LMSA operates a marina at Moores Creek State Recreation Area.
In association with the Bloomington Parks & Recreation Department, LMSA offers sailing instructions through the summer. There are beginner classes on weekends for adults and five-day camps for youth ages nine and older. Or you can let an experienced skipper take you on one of LMSA's Family Sails aboard a 24-foot keelboat.
The idle zone associated with sailors using Moores Creek SRA is a benefit to canoers and kayakers, who can find similar quiet water areas at Monroe's Pine Grove and Crooked Creek SRAs.
Two other fishing spots to check out are Lake Lemon and Griffy Lake, both north of Bloomington. Like Monroe, they are reservoirs built to supply water to the community, with recreation a bonus.
Lemon is the larger of the two at 1,650 acres and is managed by a conservancy district that oversees lake access at Riddle Point Park. Boat rentals are not offered, and there's a fee to use the park's boat ramp. Good-sized largemouth bass are a prime target, and the lake also contains bluegill, catfish, and crappie.
At just over 100 acres, Griffy limits boats to electric-trolling motors only. A boat launch fee is charged. A city-managed boathouse rents canoes, kayaks, and rowboats. Griffy was drained in 2012 to repair the dam and spillway, but the lake has since been restocked with bass and other species.
Landlubbers aren't left out of summer fun. Trails for hiking, biking, or jogging can be found at city and county parks. Trails and campsites at Monroe Lake and Morgan-Monroe State Forest, and a solid roster of nature preserves (Beanblossom Bottoms, Amy Weingartner Branigin Peninsula, and Cedar Bluffs) will help you get in touch with your wild side.