Bloomington's Best Juiceries & Teahouses
Categories: Wine & Culinary
Coffee seems to be the "mainstream" choice for a morning beverage or afternoon pick-me-up, but java just doesn't satisfy every beverage connoisseur's cravings. The non-coffee drinker is in luck in Bloomington — our town offers an abundance of delicious teahouses & juiceries to quench your thirst and provide an alternative source of caffeine. With bubble tea, fresh-pressed juice, smoothies & smoothie bowls, and iced & hot teas, there's plenty to choose from for your next tea or juice run.
 
Bubble Tea
Bapu Teahouse
Bapu Teahouse offers a robust list of milk teas, fruit teas, and smoothies, all of which either come with boba or can have boba added. Bapu Teahouse offers nearly 40 different flavors of teas and smoothies for their customers to enjoy — milk tea flavors include taro, lychee, and peanut butter; fruit tea flavors include kiwi, passion fruit, and green apple, and smoothie flavors include strawberry banana, mango peach, and avocado.
 
Blooming Thai
Blooming Thai is a Thai restaurant that serves both food and drinks. Similar to Bapu Teahouse, Blooming Thai offers a variety of milk teas and smoothies which can be customized to include boba. The restaurant offers 10 flavors of milk tea, including cocoa, honeydew, and matcha green tea. They offer four smoothie flavors: coconut, fresh milk, mango, and taro.
 
Zero Degrees
Zero Degrees offers a huge menu of milk teas, fruit teas, smoothies, and iced milk drinks with boba. There are nearly 50 flavors to choose from across the variety of drinks, including honey boba iced milk, red bean smoothie, kumquat fruit tea, and papaya milk tea. Like Blooming Thai and Bapu Teahouse, Zero Degrees also allows for boba to be added to drinks that don't come with it. 
 
Fresh-Pressed Juice & Smoothies
Bedrak Cafe
Bedrak Cafe is a brunch joint in Bloomington that offers a fresh and additive-free juice & smoothie bar. Their menu is extremely robust, offering nearly 15 juices plus a "make your own juice" option, nearly 10 smoothies plus a "blend your own smoothie" option, and six smoothie bowls with add-on options for customization. For those who are new to Bedrak or fresh-pressed juice in general, the restaurant offers a juice flight comprised of their four most popular juices. 
 
Feta Kitchen & Cafe
Feta Kitchen & Cafe is known for their Mediterranean cuisine, but they also serve a variety of gluten-free, vegan smoothies and smoothie bowls. Flavors include Strawberry Banana, Berry Good, Chocolate Cherry, Sweet Greens, Monkey Business, Strawberry Fields, and Blue + Green. Any flavor of smoothie can be made into a smoothie bowl, which is topped with house-made granola, sliced banana & strawberries, blueberries, and chia seeds.
 
Healthy Hoosiers
Healthy Hoosiers is a smoothie shop that focuses on providing low-calorie, low-sugar, nutrient-dense options for those seeking smoothies in Bloomington. Their menu offers nearly 70 different smoothie flavors, including blueberry muffin, vanilla wafer, buckeye, banana cream pie, fruity pebbles, salted caramel pretzel, and chocolate latte. 
 
inBloom Eats + Juice
inBloom Eats + Juice is a smoothie bowl and pressed juice joint that strives to provide the tastiest, healthiest menu possible at an affordable price. Founded by an IU alumnus, inBloom serves five varieties of smoothie bowls and nearly 15 fresh-pressed juices. The PB acai smoothie bowl is a fan-favorite, although every bowl is delicious and equally stunning for an Instagram photo. There are three categories of juices: greens, citrus & fruits, and roots. Each aims to provide an abundance of nutrients without compromising flavor. 

Rush Bowls
Rush Bowls is another smoothie bowl shop, but their menu is quite different from inBloom's. Offering both traditional smoothies and smoothie bowls, the menu is divided into the following three categories: destination, endurance, and wellness. Destination bowls & smoothies are created with flavor combinations that will transport you to another place. Endurance bowls & smoothies are meant to give you a boost of energy — many of them include protein, which makes for a great pre- or post-workout meal. Lastly, wellness smoothies & bowls aim to be nutrient-dense. 
 
Soma Coffeehouse & Juice Bar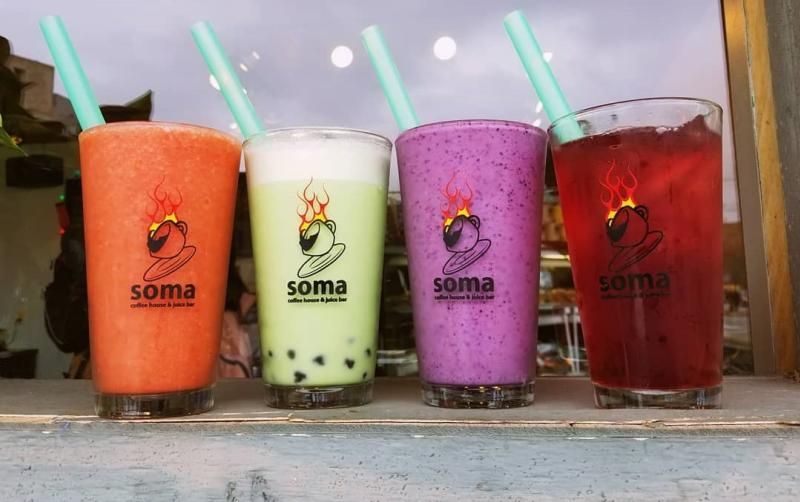 Photo by Soma Coffeehouse & Juice Bar
Soma Coffeehouse & Juice Bar offers many things, but today, we're focusing on their whole-fruit smoothies, organic juices, and "fancy teas." Their menu boasts over 20 varieties of loose-leaf tea for tea lattes or your standard cup of hot tea, a rotating selection of black, green, and herbal iced teas, over 10 different whole-fruit smoothies, and nearly 10 types of fresh-pressed, organic juices. Dr. D's Tonic is comparable to Starbucks' Medicine Ball, and the Farm Boy Tim smoothie is a must on a hot summer day.
 
Soul Juice

Photo by Soul Juice
Soul Juice's mission is to bring the fresh taste and healthy, gentle way of living in the Caribbean to our Midwestern town. They serve over 11 organic juices, 15 organic smoothies, nearly 10 smoothie bowls, and a handful of wellness shots, in addition to a variety of other healthy meals. They also feature a variety of specials that change with each season. 
 
Tropical Smoothie Cafe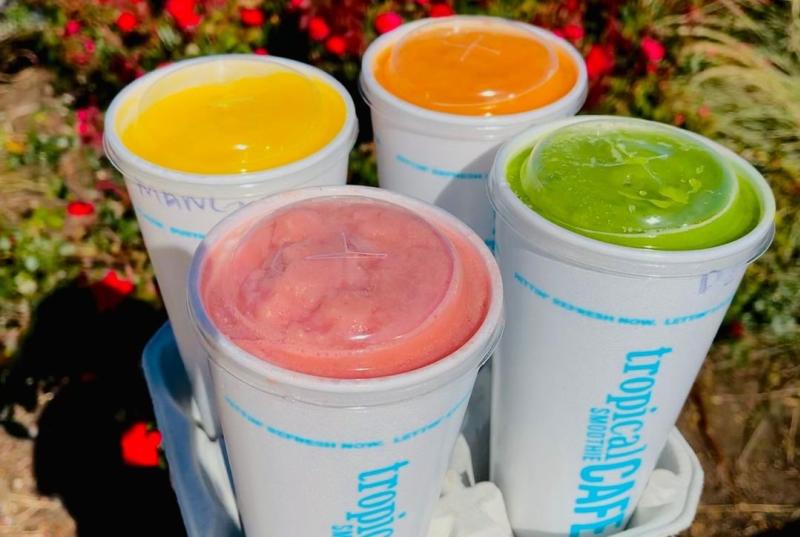 Photo by Tropical Smoothie Cafe
Tropical Smoothie Cafe is a bit of a hidden gem, as it's located inside College Mall. The cafe serves an entire menu of food, but their smoothie selections are broken into the following categories: super veggie, balanced fusions, fruit blends, and tropical treats. Fan favorites are their Avocolada, Acia Berry Boost, Detox Island Green, and Sunrise Sunset smoothies. Any smoothie can be customized with a range of supplements and add-ins for an extra health boost.
 
Iced & Hot Teas
 
Crumble Coffee & Bakery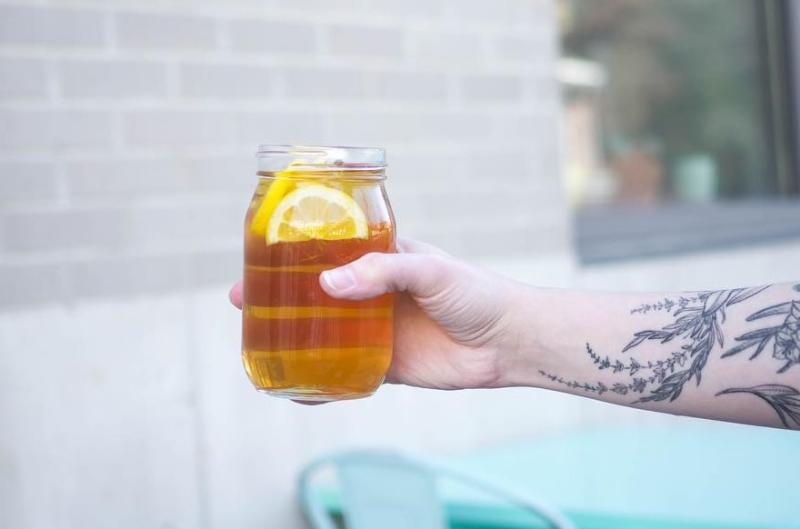 Photo by Crumble Coffee & Bakery
Crumble Coffee & Bakery primarily serves (you guessed it) coffee and baked goods, but they also offer a small variety of smoothies and teas. Smoothie flavors include peach, strawberry, and banana, and their tea selection includes London Fog plus the following varieties of Hugo Tea, which can be made hot or iced: Black, Earl Grey, Jasmine Green, Regular Green, Peppermint, Chamomile Blend, Regular Rooibos, and Berry Rooibos.
 
Cup & Kettle Tea Co.
Cup & Kettle Tea Co. is the aforementioned second dedicated Bloomington teahouse. They serve 50 different teas in the following categories: black teas, black tea blends, green teas, green tea blends, Pu'erh teas, oolong teas, white teas, white tea blends, Rooibos, and herbal blends. While they serve tea in-house, their unique offering is their monthly tea subscription: for $15.00 per month, subscribers receive four different varieties of tea plus a tea ball infuser to get started on the tea journey.

Looking for more of Bloomington's best food & drinks? Check out the following blogs: